Quick Cottage Cheese Buns are light in texture, quick to prepare (only 15 minutes of prep!) and so delicious. You will be in love with these buns at first bite.
If you love this recipe, you will also love our brioche buns recipe.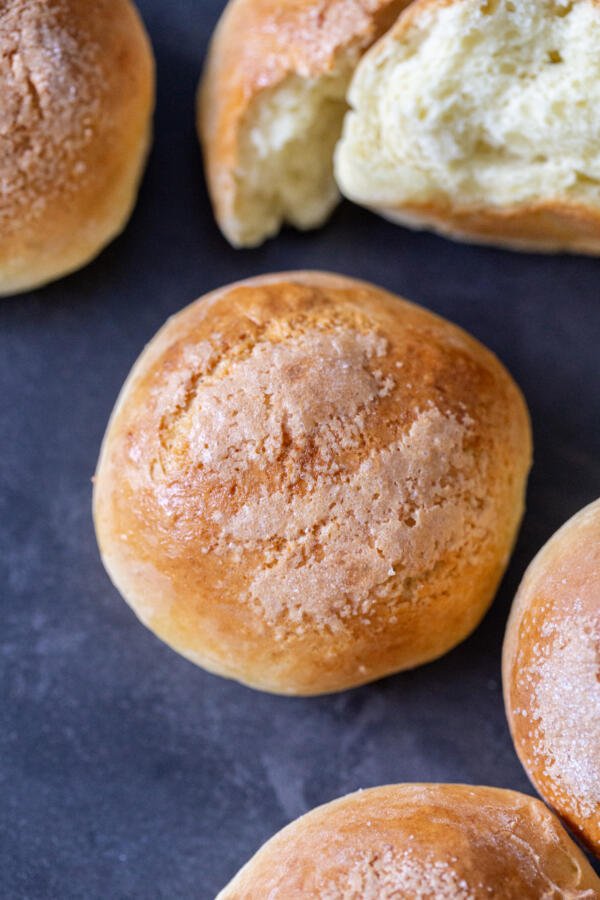 Quick Cottage Cheese Buns might sound a little strange to you. Cottage cheese? In a dessert?! Oh yes! Eastern Europeans have been baking with cottage cheese (or farmer's cheese) forever. Be prepared to become addicted!
Cottage cheese buns are so light and creamy — they will just melt in your mouth! Pair them with a hot cup of coffee or tea and let your worries melt away too…
These yeast-free buns are as low-maintenance as it gets. When a sweet tooth calls, nothing is worse than leafing through recipes trying to find a recipe that you have the time to make. Not having to wait for the dough to rise makes these buns a no-brainer.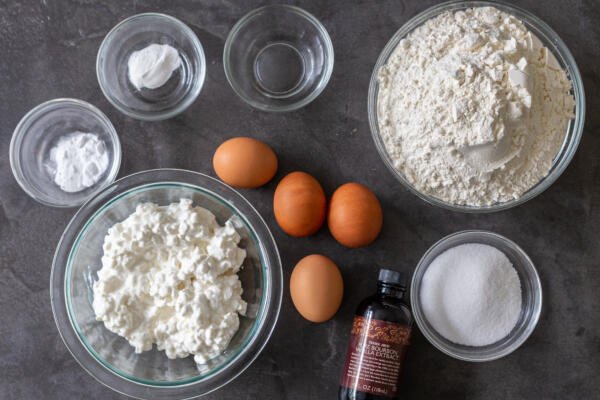 Tips for Cottage Cheese Buns
Here's all the top tips to nailing cottage cheese buns each time:
Dough Texture: Your dough should be sticky, but still workable on a floured surface. You may need to adjust the amount of flour, as some brands have more protein than others. Simply add a cup at a time until you have the texture just right.
Use a Mixer. To make the dough batter smooth, use a mixer instead of a whisk or spoon.
Choose Small Curds. Use small curd, full-fat cottage cheese if you can. The smaller curds are easier to blend and make for a more well-incorporated dough.
Savory Cottage Cheese Buns: In the mood for savory? Skip out on the sugar and vanilla and sprinkle sesame seeds on top of the buns.
Add a Filling: While the dough is sticky and you can still work it with floured hands, add any of your favorite jams on the inside. Make sure to seal it perfectly to prevent any leaking.
Brush the tops. Brush the tops with egg wash to create those bakery-perfect browned tops. Then, sprinkle with powdered sugar.
Cooking with Cottage Cheese
Cottage cheese isn't a boring diet food! In fact, it adds a TON of great health and texture benefits to cooking. I am always trying to look for new ways to add it to my food. Try substituting it for yogurt, sour cream or ricotta in some of your favorite recipes. It's lower in calories, higher in protein and lends a really nice, creamy texture.
Cottage Cheese Recipes
At this point, you probably can see that we absolutely love cottage cheese. Check out these other recipes:
Storing Cottage Cheese Buns
If you have leftover cottage cheese buns (go, you!), here's how to store them:
Room Temperature: Keep the cottage cheese buns in a sealed container on the counter. When you're ready to eat one, reheat them for about 15 seconds in a microwave before serving them.
Freezing: First, allow your buns to completely cool to room temperature. Pop them into a Ziploc bag and into the freezer. When you're ready to eat one, thaw at room temperature and microwave for 15 seconds before serving.
Hot Tip: You always want to reheat them for at least a few seconds before serving again because they are soft and delicious that way.
Recipe
Quick Cottage Cheese Buns are light in texture, quick to prepare (only 30 minutes of prep!) and so delicious. You will be in love with these buns at first bite.
Note: The texture of the buns will be different than the yeast-based buns. The are soft but not as chewy.
Nutrition Facts
Quick Cottage Cheese Buns
Amount Per Serving
Calories 151
Calories from Fat 18
% Daily Value*
Fat 2g3%
Cholesterol 36mg12%
Sodium 135mg6%
Potassium 90mg3%
Carbohydrates 28g9%
Protein 6g12%
Vitamin A 75IU2%
Calcium 38mg4%
Iron 1.4mg8%
* Percent Daily Values are based on a 2000 calorie diet.