This crepe has the most raving feedback, it's always a hit! It's sweet, rich, filled with delicious creamy filling. Follow this guide to make your favorite crepes in no time.
If you're looking to make plain crepes, check out my other recipe – How to Make the Perfect Crepes.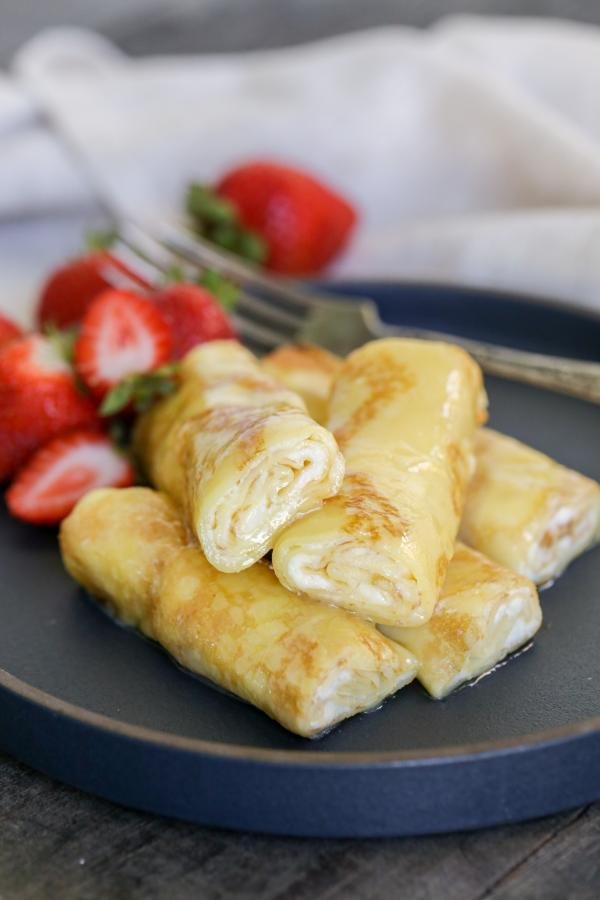 When I have guests coming into town or a party to attend, I always think crepes. They bring everyone together and there is nothing like having a crowd of friends and family in the kitchen while you whip them up. Trust me, a bit of conversation comes in handy when you are the designated "crepe flipper".
Difference Between Crepes and Pancakes
Crepes are often described as thin pancakes. While the terms "pancake" and "crepe" are often used interchangeably, the two are not the same. The main difference is that pancakes use a rising agent like baking powder or baking soda. This is what makes them distinctively fluffy. Crepes, on the other hand, use no rising agent, making them much flatter.
Despite their differences, pancakes and crepes are often enjoyed the same way – covered in butter, syrup, fruit, etc. – which probably adds to the confusion. Now the next time you see a crepe called a pancake (or vice versa), you will be able to flex your newfound breakfast knowledge!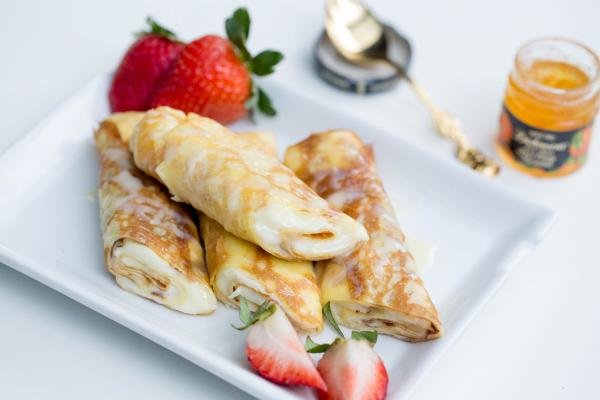 The BEST Ever Crepe Filling
Okay, now it's finally time to spill the beans and tell you what my FAVORITE crepe filling is. I like to slather my crepes with a filling comprised of cream cheese, cottage cheese or Farmers Cheese and sweetened condensed milk. I know, super indulgent, but you only live once right?
Side Note: If you haven't tried sweetened condensed milk before, you are missing out! In short, it is cow's milk with all the water removed and loads of sugar added in. The end result is a thick, milky syrup. It is used quite often in Eastern European desserts, such as Ducle de Leche and Cake Prague.
Once you stuff your crepes and roll them, you will bake them all together in the oven. Typically, crepes are served straight off the griddle, but this special recipe requires an extra step that makes all the difference! As they cook, the filling becomes ridiculously creamy and smooth and the outer edges caramelize. Get. Ready. To. Swoon.
Tip: The longer you allow your crepes to cook on low in the oven, the more caramelized they will become. If you like, leave them in a bit longer than 30 minutes to get them extra crispy. Just make sure to keep a close eye on them so they don't burn!
Variations to the Best Crepe Recipe
You can also make many other variations of fillings, such as crepes with just simple filling of fruit, ice cream and Nutella. Here are a few more options:
Warm fruit sprinkled with cinnamon and sugar
Ham & Cheese is always a hit!
Ricotta or mascarpone paired with your favorite fruit
Old fashioned with Peanut Butter and Bananas.
Oh and be sure to check out my Stuffed Chicken Crepe Pockets recipe!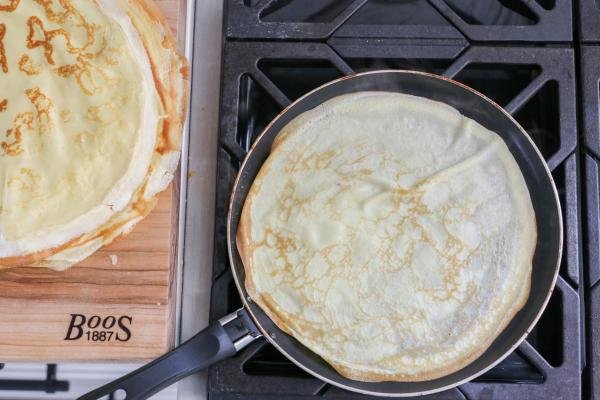 Tips for Making The Best Crepes
Whether you whisk your ingredients for the crepes or use a blender to make the batter, both are easy options.
Use 1/4 measuring cup to ensure every crepe is the right size.
You want your batter to be a little thinner than traditional pancake mix.
Also, keep in mind, when pouring the batter into a skillet, you want it to be thin, but, not see-through thin.
Use a few nonstick frying pans to speed up the process.
What are Crepes Made of?
Besides their overwhelmingly great taste, the best thing about crepes is they only require a few ingredients you probably already have on hand in your kitchen. Eggs, sugar, flour, milk and vegetable oil are all you need to make a knock-out crepe.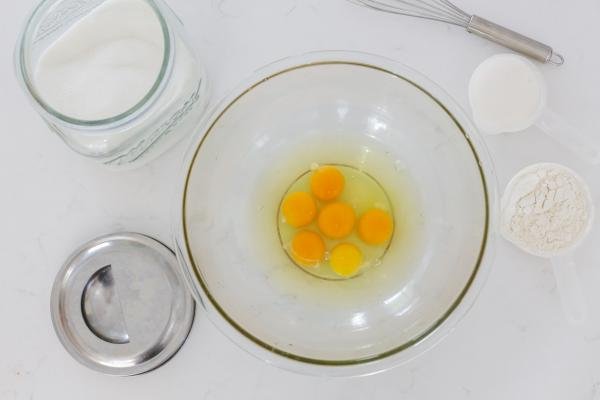 What to Serve Crepes With
Right before serving my crepes, I love to drizzle them with more sweetened condensed milk and butter. I mean, why not?
If you want to make a full breakfast spread, I suggest pairing crepes with the classics. Try making my Breakfast Quiche or Potato Mushroom Breakfast to offset the sweetness of the crepes with some savory goodness. Or, take it easy and make a big side of Air Fryer bacon for your guests to indulge in.
Are Crepes Healthy?
My husband Tim and I always argue about whether or not crepes are healthy. I keep telling him that they are loaded with protein-rich eggs, but he isn't buying it. Okay, they are definitely a treat, but a treat with a ton of protein… a girl can dream, right?!
Other Breakfast Recipes
Recipe
This crepe has the most raving feedback, it's always a hit! It's sweet, rich, filled with delicious creamy filling. Follow this guide to make your favorite crepes in no time.
Ingredients
Nutrition Facts
Crepes With Cream Cheese Filling
Amount Per Serving
Calories 101
Calories from Fat 54
% Daily Value*
Fat 6g9%
Cholesterol 41mg14%
Sodium 72mg3%
Potassium 83mg2%
Carbohydrates 8g3%
Protein 3g6%
Vitamin A 232IU5%
Vitamin C 0.2mg0%
Calcium 54mg5%
Iron 0.4mg2%
* Percent Daily Values are based on a 2000 calorie diet.