This spinach lasagna recipe features tender pasta alternated with creamy, garlicky cottage cheese & bacon bits. Decadent, comforting, & great for meal-prep!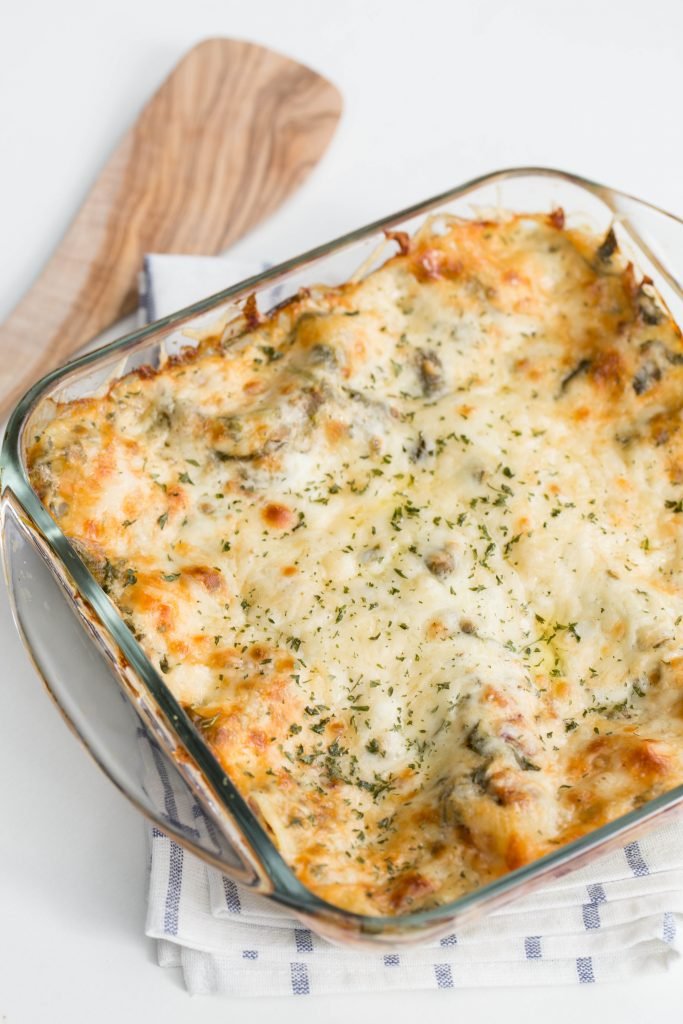 If you're looking to add a new lasagna recipe to your regular rotation, this creamy spinach lasagna recipe is just what you need. The combination of lasagna noodles, spinach, cottage cheese, mozzarella, parmesan, and bacon bits is out of this world good and a refreshing departure from the typical red sauce and ground beef lasagna.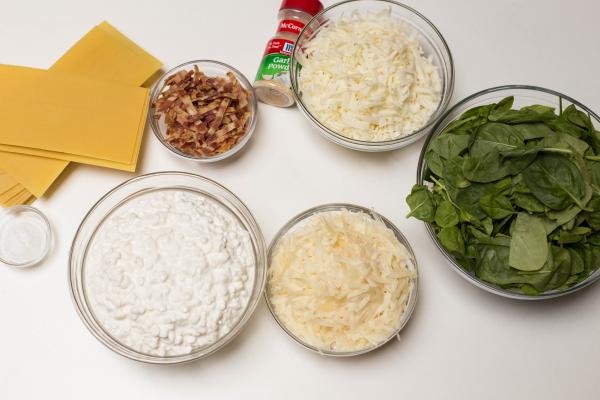 How Many Layers Lasagna Should Have
Before we get into the recipe, let's cover off on one of the most common questions associated with lasagna-making. How many layers should you have? In short, there's no right or wrong way to go about it. So long as you have at least three layers of noodles, you'll be golden. If you pan is big enough, feel free to double the recipe and do as many as you'd like!
How to Make this Cheesy Spinach Lasagna Recipe
Making this spinach lasagna recipe requires a boatload of cheese and a bit of light assembly. Then, the oven takes care of the rest!
Prepare the Bacon & Cheese: First, dice the bacon into tiny pieces and crisp them up in a large skillet over medium heat. Next, grate the parmesan and mozzarella cheese into a bowl. Set them aside.
Blend the Cottage Cheese: Next, pulse the cottage cheese in a blender with garlic powder until creamy and smooth.
Chop the Spinach: Chop the spinach leaves into medium-sized pieces.
Prepare the Baking Dish: Next, butter the baking dish and place the lasagna sheet into the bottom of the baking dish. Top with a little bit of the cottage cheese mixture, spinach, bacon bits, mozzarella cheese, and parmesan cheese. Repeat until you run out of ingredients and top the finished lasagna with cheese.
Bake the Lasagna: Lastly, cover the lasagna with foil or a lid and bake it at 250°F for 45 minutes. Remove the cover towards the end of baking until the top is golden brown. Serve immediately and enjoy!
A Couple Handy Tips & Tricks
A few foolproof tips and tricks will help you make a killer lasagna.
Add the lasagna noodles in raw. There's no need to boil the lasagna noodles before baking them. The moisture from the ricotta will slowly soften them as they cook and allow them to reach a perfect al dente texture.
If you're using frozen spinach, make sure it's thawed first. If you don't have fresh spinach, feel free to use frozen. However, you'll want to make sure it's completely thawed and drained of excess moisture before adding it to the lasagna to prevent it from turning soggy.
Add in your favorite ingredients. For additional flavor, feel free to add fresh basil, roasted garlic cloves, red pepper flakes, caramelized onions, freshly cracked black pepper, or your favorite protein (think: spicy Italian sausage or shredded chicken). The sky's the limit!
Bake the lasagna covered first. To prevent the top from burning and turning rubbery, make sure to bake the lasagna covered first. You'll only pull the foil off at the very end of baking for 10-15 minutes to crisp up the top.
Serving this Spinach Lasagna Recipe
While this spinach lasagna recipe is filling as a meal in and of itself, you can pair it with a couple of tasty side dishes to make it a well-rounded meal. A homemade caesar salad, air fryer asparagus, or cheesy bread are all great options.
Make-Ahead & Storage Tips
This spinach lasagna recipe is great for meal-prep and reheating. It's also the perfect gift for new neighbors!
Storing Leftovers: To keep your leftovers on hand for up to a week, store the lasagna in an airtight container in the fridge. This will keep the noodles from drying out and hardening.
Make-Ahead Tips: You can prep this lasagna up to 3 days in advance and keep it covered in the fridge raw. When you're ready, simply pop it in the oven and bake according to instruction. You can also freeze it whole for up to a month. To heat it up from frozen, add on 30 more minutes to the bake time.
FAQ
Should you cook spinach before putting in lasagna?
There's no need to cook the spinach before adding it to the lasagna. It will wilt as it bakes in the oven.
What can you use instead of lasagna sheets?
If you don't want to use lasagna, feel free to swap in sheets of zucchini instead. To get the perfect thickness, use a vegetable slicers on your preferred setting.
Can you freeze cottage cheese filling for lasagna?
Yes, you can freeze the cottage cheese filling for up to 3 months in an airtight container in the freezer. To thaw it, place it in the fridge overnight.
What's a good substitute for cottage cheese?
If you don't have cottage cheese on hand, feel free to use ricotta or farmer's cheese instead. They both will lend that same, creamy texture.
More Tasty Pasta Recipes to Try
Recipe
This decadent spinach lasagna recipe combines two irresistible ingredients – wilted spinach and garlicky cottage cheese. Insanely delicious and crave-worthy!
Ingredients
24

oz

cottage cheese

1

tsp

garlic powder

3

cups

spinach

8

slices

crispy bacon

3

cups

grated mozzarella cheese

2

cups

grated parmesan cheese

12

sheets

lasagna noodles
Nutrition Facts
Spinach Lasagna Recipe
Amount Per Serving
Calories 591
Calories from Fat 378
% Daily Value*
Fat 42g65%
Cholesterol 117mg39%
Sodium 1533mg64%
Potassium 366mg10%
Carbohydrates 9g3%
Protein 43g86%
Vitamin A 2245IU45%
Vitamin C 4.2mg5%
Calcium 763mg76%
Iron 1.2mg7%
* Percent Daily Values are based on a 2000 calorie diet.