Cottage Cheese Pancakes are to-die-for! They have wonderfully crispy edges and a melty center that will have you HOOKED.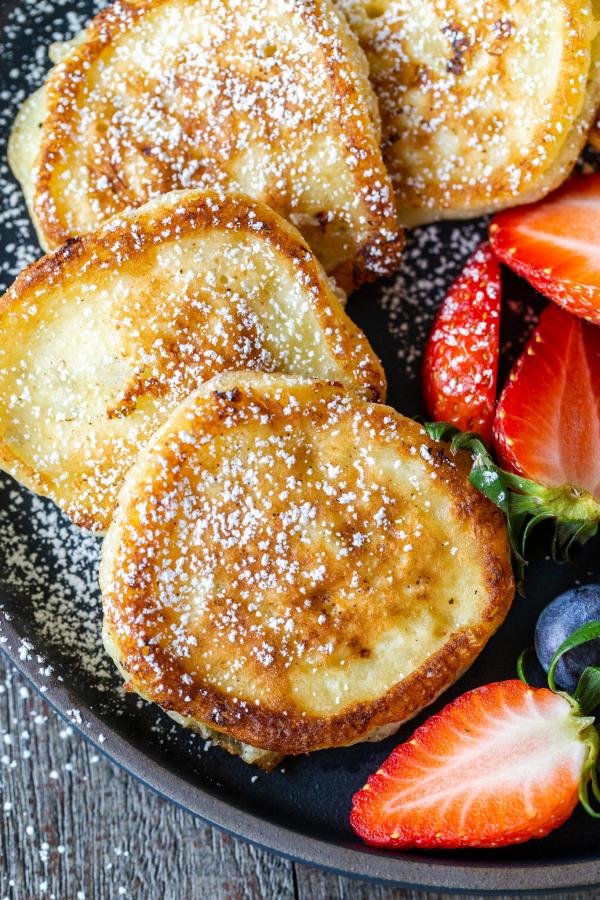 Cottage Cheese Pancakes are one of the best quick breakfasts to keep in your toolbelt. You might not have the best impression of cottage cheese, but trust me, this recipe is going to change your mind about these yummy curds forever!
Cooking with cottage cheese is a habit in our home. It ups the protein content and makes for perfect dessert fillings. If you enjoy this recipe, try your hand at making our amazing cottage cheese buns.
Tips for Making Cottage Cheese Pancakes
Keep reapplying oil. Use canola oil, light olive oil or even coconut oil to fry up your pancakes. Just make sure to keep reapplying between pancakes to prevent sticking.
Not all curds are created equal. You can use non-fat, low-fat or full-fat cottage cheese. Just make sure to purchase a cottage cheese with small curds. This style makes for the most consistent pancake batter and is the easiest to mix.
Flour, flour, flour. Whole wheat, all-purpose or oatmeal flour will work great.
Use a non-Stick Pan. Even though you are going to be sure to reapply cooking oil in between adding pancake batter, it is best to also use a non-stick pan.
Cook on medium heat. Resist cranking up the heat to cook your pancakes faster! Medium-heat ensures they won't burn and come out a perfect brown color.
Keep it consistent. Use an ice cream scoop or large spoon to measure out the same sized pancakes. About ⅓ cup of batter per pancake will do.
Keep it chunky or blend it up. It's super tasty to hand mix your batter and get pockets of melty, cottage cheese. However, if you want the cheesy taste without the chunks, feel free to blend up the batter for a smoother texture.
How to Serve Cottage Cheese Pancakes
Serve Cottage Cheese Pancakes the way you would regular. A nice drizzle of maple syrup or warmed honey is welcome. You can also top your pancakes with fresh or stewed fruits. Just make sure you have a cup of warm coffee to wash your pancakes down with!
Make Cottage Cheese Pancake Dough in Advance
The best thing about these pancakes is the crispy edges! Make them right before serving for the best texture and results. However, if you want to prepare the batter early, go right on ahead! Refrigerate the dough in a bowl and keep the bowl covered to prevent the top from drying up.
Storing Cottage Cheese Pancakes
If you are lucky enough to have leftovers, here is how to store and reheat them:
Refrigerating: Refrigerate leftovers for up to three days stored in an airtight container. Reheat them in the microwave or with a bit of oil in a skillet.
Freezing: Layer pancakes in between layers of wax paper in an airtight container. They can be frozen for up to 3 months. Reheat them in a skillet with a bit of oil until crispy on the outside and melty on the inside.
Other Breakfast Recipes
Breakfast is the most important meal of the day! Here are some Momsdish favorites:
Egg Bites – These low-carb breakfast bites can be customized with any filling you like and are perfect for a quick weekday breakfast.
Donut Recipe – Because homemade is always better!
Breakfast Quiche – Quiche is sure to impress at your next brunch gathering.
Crazy Easy Sourdough Pancakes – Classic pancakes with a sourdough kick
Recipe
Cottage Cheese Pancakes are to-die-for! They have wonderfully crispy edges and a melty center that will have you HOOKED.
Instructions
Combine all ingredients in the following order – cheese, eggs, vanilla extract, sugar, baking powder and flour. Mix in each time you add an ingredient.

Preheat a skillet with canola oil on a medium heat. Fry the cottage cheese pancakes on each side until golden brown.
Note:
This recipe makes roughly 2 pancakes per serving. I used a large cookie scoop (3 tbsp) for each pancake. The full recipe yields ~16 pancakes.
Nutrition Facts
Cottage Cheese Pancakes
Amount Per Serving
Calories 214
Calories from Fat 99
% Daily Value*
Fat 11g17%
Cholesterol 90mg30%
Sodium 215mg9%
Potassium 251mg7%
Carbohydrates 18g6%
Protein 10g20%
Vitamin A 189IU4%
Calcium 121mg12%
Iron 1mg6%
* Percent Daily Values are based on a 2000 calorie diet.