This black bean corn salad is colorful, vibrant, and packed with different textures. Made with corn, black beans, avocado, and a savory lemony dressing!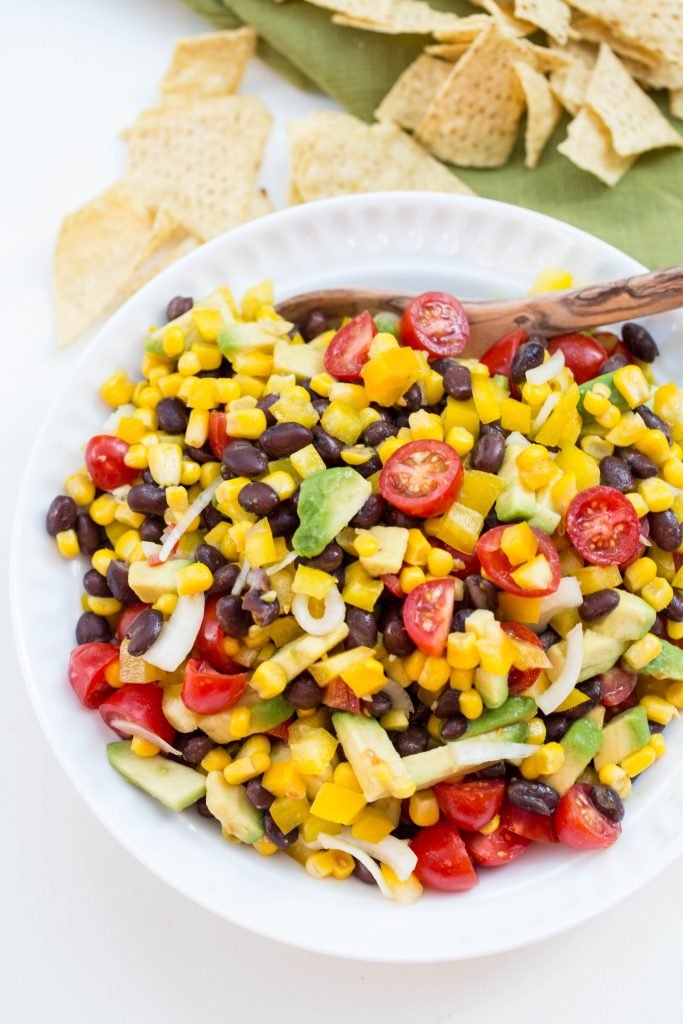 Let's be honest, black beans, corn, and avocado were simply made for one another. In this simple salad recipe, these wonder ingredients are tossed with a tasty citrus vinaigrette and allowed to shine in their simplicity. Eat it straight, serve it as a dip with tortilla chips, or nestle it on top of your favorite tacos like a salsa.
Health Benefits of Beans and Corn
Pairing beans and corn together is a quick way to get a substantial amount of fiber, folate, and potassium in your diet. Not only are both ingredients delicious together, but they are also low in calories. When tossed together for everything from salads to vegetarian chili, they're incredibly filling and healthy for you.
Assembling this Black Bean Corn Salad Recipe
This simple black bean corn salad is made primarily with veggies and only requires a little bit of light assembly.
Rinse the Corn & Veggies: Firstly, drain and rinse the canned beans and corn.
Dice the Veggies: Next, dice the red bell pepper, avocado, and red onion into small pieces. Then, slice the cherry tomatoes into halves or quarters.
Make the Dressing: In a small bowl, add the olive oil, fresh lime juice or lemon juice, salt, and pepper together. Then, whisk until well-combined.
Toss the Salad: Finally, combine all the ingredients in a large bowl and toss them with the dressing. Enjoy!
Handy Tips & Tricks
From our kitchen to yours, find a couple of handy tips for the best black bean corn salad possible.
Slice the veggies into similar-sized pieces. For the best possible texture, make sure all the veggies are sliced into similar-sized pieces.
Allow frozen corn kernels to completely thaw before using them. If you're using frozen corn kernels. allow them to thaw and drain them of any excess moisture before tossing them in the salad.
Assemble the salad right before you plan to eat it. This salad is best eaten fresh. Prepare it only right before you plan to eat it to prevent the avocado from turning brown.
Hot Tip: Have fresh corn on the cob? Throw them on the grill until lightly charred and shave the corn kernels off with a knife. Toss them in the salad for a nice, smokey flavor!
Different Ways to Serve Black Bean Corn Salad
Below, find a handful of fun ways to serve this tasty black bean salad recipe.
Dip & Chips: Serve the black bean corn salad with air fryer tortilla chips as a tasty side dish for taco night.
Taco Topper: Spoon some of the salad on top of crispy air fryer cod fish tacos.
Burrito Bowl: Top cilantro lime rice with a scoop of black bean corn salad and air fryer shrimp. Garnish with fresh limes and a dollop of sour cream.
Chicken Black Bean Corn Salad: For extra protein, toss in some shredded Instant Pot chicken and a tablespoon of cumin.
Best Practices for Storage
To keep the salad on hand for up to three days, store it in an airtight container in the fridge without the avocado. Since avocado is prone to browning, so it's best to leave it out until right before you plan to serve the salad.
FAQ
How much is a serving of this recipe?
A serving of this recipe is about a cup for a nice side dish. However, if you're eating it as a standalone meal, two cups is a filling portion.
What else can you add to this salad for flavor?
You can add grated garlic for more zest or chopped cilantro to give it more of a salsa-like flavor.
Can you freeze black bean corn salad?
This salad doesn't freeze well and is best eaten fresh. The thawed veggies and beans simply wouldn't provide the same texture and crunch.
Should you rinse canned black beans?
Yes! Canned black beans are stored in a brine that should be thoroughly rinsed off before you use the beans. It's a bit flavorless and has a somewhat slimy, starchy texture.
Other Tasty Salad Recipes
Recipe
This black bean corn salad is somewhere in between a salsa and a salad. Serve it alongside your favorite bag of tortilla chips for dipping!
Nutrition Facts
Black Bean Corn Salad Recipe
Amount Per Serving
Calories 84
Calories from Fat 63
% Daily Value*
Fat 7g11%
Sodium 54mg2%
Potassium 230mg7%
Carbohydrates 5g2%
Protein 1g2%
Vitamin A 206IU4%
Vitamin C 38mg46%
Calcium 10mg1%
Iron 1mg6%
* Percent Daily Values are based on a 2000 calorie diet.