The air fryer is all-the-rage for a reason. In under 15 minutes, my Crispy Air Fryer Cod has a perfect outer crust, a juicy and tender inside, and a fraction of the calories of traditionally fried fish.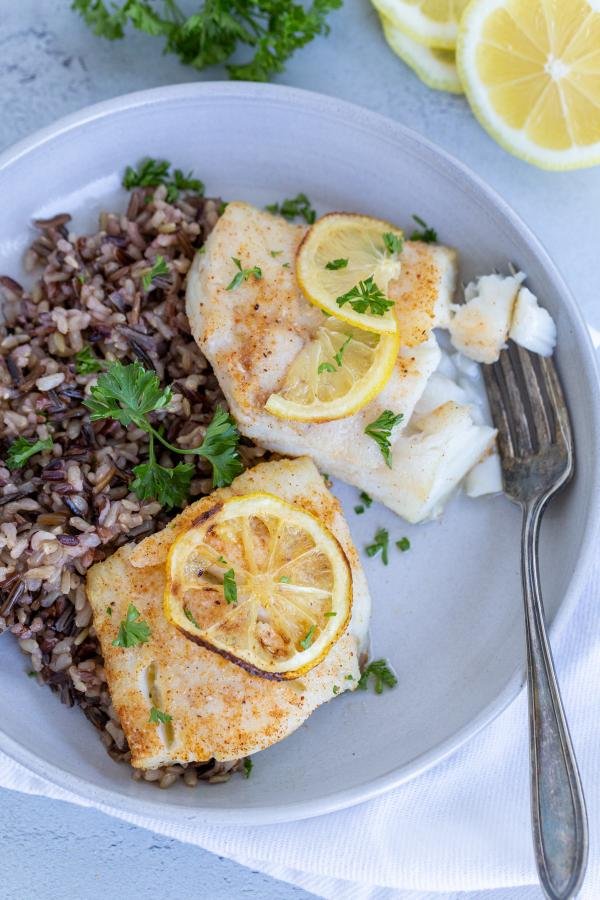 Not familiar with an Air Fryer? In short, this popular appliance can use under a tablespoon of oil or a couple sprays of cooking spray to create super crispy meat, potatoes, vegetables, and just about anything! It is great for cutting down on calories and cholesterol, while also mimicking the texture of your favorite fried foods.
Perhaps the most amazing thing about my recipe for Crispy Air Fryer Cod is that it requires no breading. Celiacs and gluten-free dieters rejoice!

Since my husband Tim and my son Jacob are seafood addicts, we like to have fish at least once a week in my house. Investing in an air fryer has allowed me to quickly put perfectly cooked fish on my dinner table on busy weeknights.
How to Air Fry Cod
Tips for Cooking Air Fryer Fish
Season your fish generously with salt and pepper. Since you won't be actually "frying" your fish, you will need to make sure that it is well-seasoned. In traditional frying, a lot of flavor comes from the immense amount of oil used to cook it. Since you are skipping the fat, don't skip the flavor!
In order to make sure your fish comes out moist, put a pat of butter on top of each filet.
If you can, air fry the cod with its skin on. Air frying fish with the skin on locks the flavors and moisture inside the fish. Don't like skin? Don't worry! When your fish air fries, the skin will stick to the bottom of the air fryer and you can easily pull off the skinless filet. If you are a fan of the skin, use a spatula to remove the filet.
If the bottom of your fish filet loses its crisp, flip it over and cook it for 1 more minute. Be careful not to cook it for too much longer! You don't want it to lose its crispiness and juiciness.
Really craving fish and chips? Garnish your Crispy Air Fryer Cod with some fresh lemon wedges and tartar sauce and use my recipe for 15-Minute Air Fryer French Fries.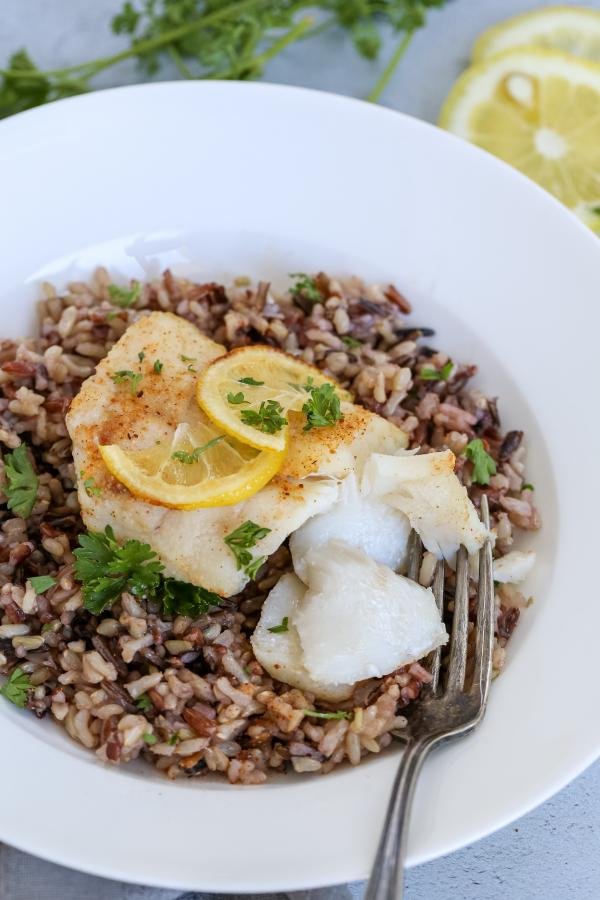 How Long do I Cook Fish in the Air Fryer?
Typically, fish cooked in the air fryer takes about 10 minutes at 400 °F. However, this depends on the thickness of each filet. I know I often preach the importance of investing in a meat thermometer, and you guessed it, I will preach it here again! Due to the variation of filet sizes, you will want to check that the internal temperature has reached 145 °F to ensure doneness.
Frying Frozen Fish Sticks in the Air Fryer
Here's a little bonus tip for all the fish stick lovers out there. Air fryers are awesome for cooking your favorite frozen fish sticks in a fraction of the time. Preheat the air fryer to 360 °F and cook the sticks for only 8 minutes! We have been doing this in our home for a while and we absolutely LOVE the outcome.
Gourmia 5 Qt Air Fryer
There are some pretty expensive air fryers on the market. But, if I am being completely honest, I love my Gourmia 5 Qt Air Fryer. It's only $59.99 and it never leaves you disappointed. Originally, I purchased it to see what the hype was about without breaking bank. To my delight, I haven't had to upgrade, despite using it several times a week for quick and healthy dinners. If you don't want to spend an arm and a leg on your first (and only!) air fryer, I definitely recommend it!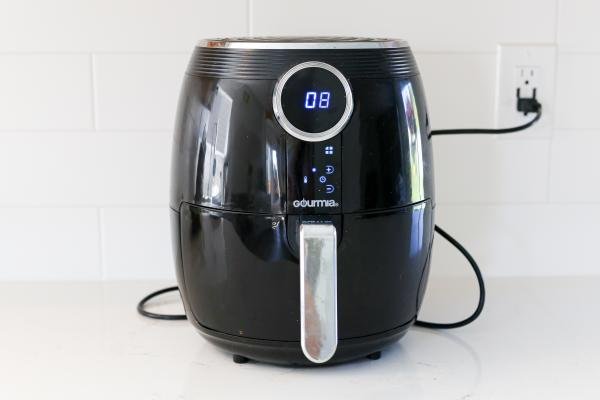 Serving Air Fryer Cod
Air fryer cod is perfect served with a simple grain like rice or bulgar. Take it to the next level by creating a taco bowl (Chipotle lovers, this is for you!). On top of heaping pile of rice, add your air fryer cod, a dollop of guacamole, pickled onions and jalapeños and a sprinkling of cheddar cheese.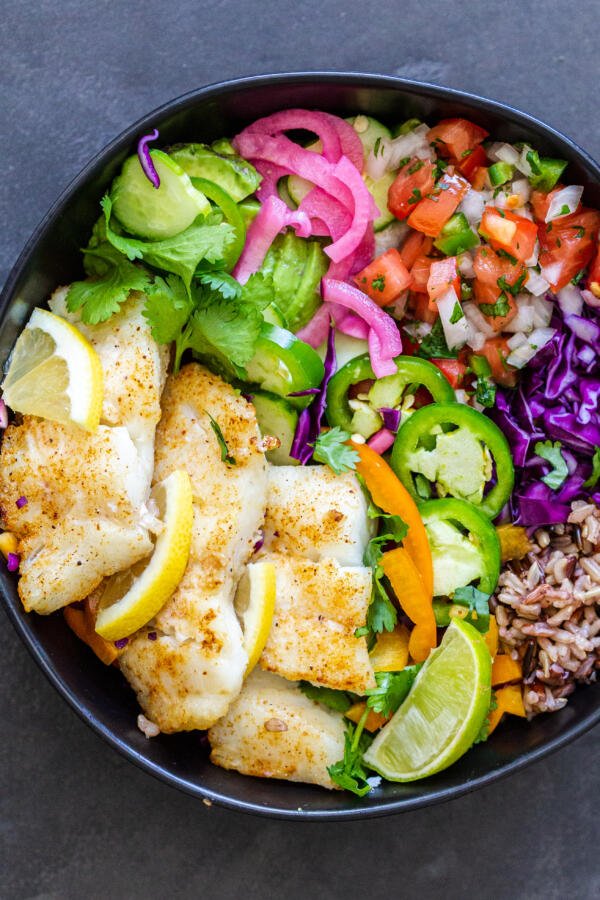 More of Fish Recipes
Recipe
The air fryer is all-the-rage for a reason. In under 15 minutes, my Crispy Air Fryer Cod has a perfect outer crust, a juicy and tender inside, and a fraction of the calories of traditionally fried fish.
Ingredients
1

lb

cod fillet

1

lemon

1/4

cup

Unsalted Butter

1

tsp

salt

1

tsp

seasoning salt
Instructions
Brush the air fryer basket with oil. Place fillets in the basket. Top it off with butter and lemon slices.

Nutrition Facts
Crispy Air Fryer Cod
Amount Per Serving
Calories 405
Calories from Fat 225
% Daily Value*
Fat 25g38%
Cholesterol 159mg53%
Sodium 1489mg62%
Potassium 1011mg29%
Carbohydrates 5g2%
Protein 41g82%
Vitamin A 800IU16%
Vitamin C 31mg38%
Calcium 57mg6%
Iron 1mg6%
* Percent Daily Values are based on a 2000 calorie diet.