This Mexican street corn salad features grilled corn kernels, cilantro, jalapeno, and cilantro tossed in a tangy dressing. Great for BBQs and taco nights!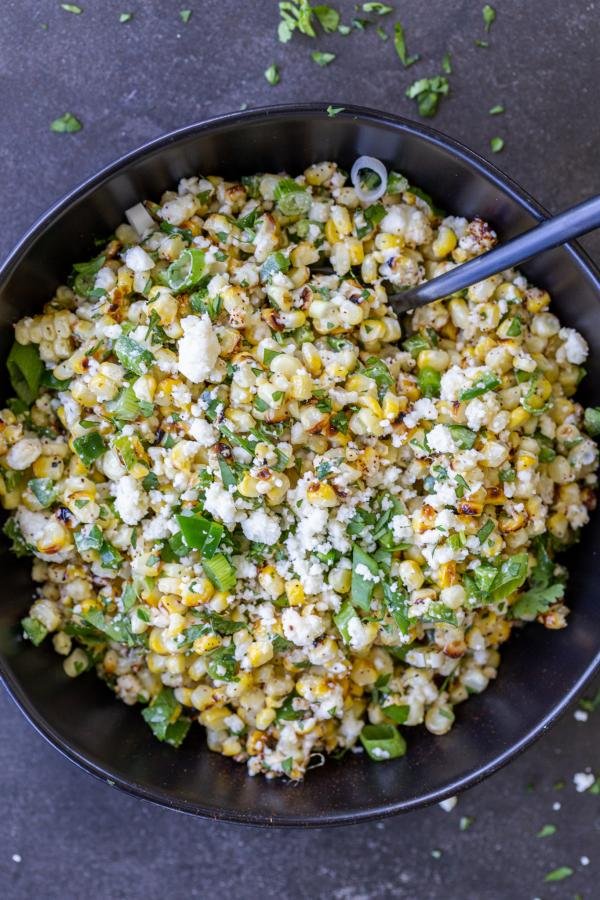 You can liken this Mexican street corn salad, or "esquites", to a deconstructed elote – a popular style of grilled corn served throughout the Southwestern United States and Mexico. It features charred grilled corn on the cob slathered with mayo, salty crumbled cheese, and various spices. If you already know and love elote, this salad is for you!
Note: Garlic is typically not included in traditional street corn, but we love adding it. If it's not your thing, feel free to leave it out!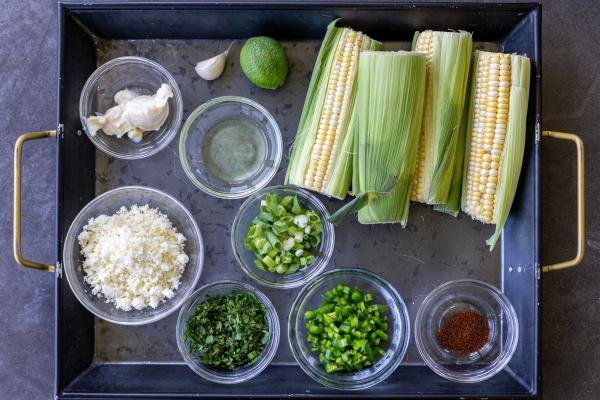 Two Different Ways to Prepare the Corn
For this recipe, you'll want to use either fresh corn or frozen/canned corn. No matter which kind of corn you use, you'll need to brown or char it to get that signature smokey flavor.
Fresh Corn (Recommended): We recommend using fresh corn, as it gives the salad the most amazing flavor. To do so, follow our recipe on how to boil corn and finish the corn on the grill for a quick sear.
Frozen or Canned Corn: Your other option is to use either frozen and thawed corn or canned corn. If you use either of these, brown the corn in small batches in a skillet with oil over high heat.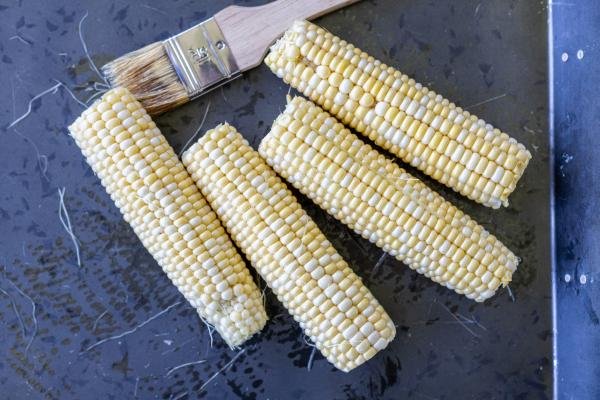 Making this Mexican Street Corn Salad Recipe
Once you either grill or pan-sear your corn, the process of tossing the salad together is a no-brainer.
Make the Dressing: First, combine the mayonnaise, lime juice, and garlic in a large bowl. Whisk to combine.
Grill or Pan-Sear the Corn: If you're using fresh corn, grill it and slice the kernels off the cob. If you're using thawed frozen corn or canned corn, pan-sear the kernels in a skillet over high heat.
Assemble the Salad: Next, add the corn into the bowl with the dressing, followed by the cotija cheese, green onion, cilantro, jalapeño, and chili powder.
Toss the Salad: Stir the dressing and ingredients until well-mixed and season to taste with salt if necessary. Serve immediately and dig in!
Tips for Nailing Mexican Street Corn Salad
A couple of helpful tips will help you make a salad that's balanced, full of flavor, and customized to your tastebuds.
Make sure canned or frozen corn is fully drained. If you're using canned corn, drain it completely of the brine that it's stored in and rinse it under cold water in a colander. The brine has a pretty yucky flavor to it and can affect the flavor of the salad. If you're using frozen corn, make sure that it's thawed and drained of excess water to prevent your salad from turning out watery.
Substitute the cotija cheese for feta cheese or parmesan cheese. If you can't get your hand on cotija cheese or just aren't a fan of it, swap it in with tangy crumbled feta or parmesan cheese. It works just as great!
Make it spicy. To add a kick of heat, add cayenne pepper to taste. But, be careful, a little goes a long way for most people!
Swap out the mayo for sour cream and greek yogurt. If you don't want to use mayo, you can use half sour cream and half greek yogurt. You can also use Mexican crema if you can get your hands on it.
Serving Suggestions
There are a million and one different ways to serve this tasty Mexican corn salad. You can serve it as a side dish alongside carne asada street tacos with pico de gallo or pair it with ground beef quesadillas or chicken fajita quesadillas. We also love to serve it as a dip with air fryer tortilla chips or baked tortilla chips. It's also an amazing and unexpected topper for grilled ribeye steak!
Storage Tips & Tricks
If you're going to prep this salad ahead of time, it's best not to prepare it more than 1-2 hours early if you toss it in the dressing. If you are going to prep it any earlier, you'll want to store the dressing and the salad in separate storage containers in the fridge for up to 2 days. It's best to toss it only right before you plan to serve it!
FAQ
What's the difference between elote and Mexican street corn salad?
While elotes and Mexican street corn salads have similar ingredients and flavor profiles, they are quite different – especially in presentation. Elotes are whole ears of grilled corn slathered in creamy mayo, cheese, and spices, while Mexican street corn salad is a tossed salad of kernels, creamy mayo, and spices.
Is Mexican street corn salad served hot or cold?
Mexican street corn salad is best served cold and refreshing. However, there's nothing wrong with tossing the salad while the corn kernels are still a bit warm off the grill or skillet. It's really up to you!
Can you freeze Mexican street corn salad?
It is not a good idea to freeze Mexican street corn salad. Too many of the ingredients – primarily the herbs and cheese – don't thaw well at all. Some things are best eaten fresh and this salad is one of them!
What kind of corn is best for Mexican street corn salad?
The best kind of corn for Mexican street corn salad is sweet corn. It brings the perfect balance of flavor to the salad and provides a wonderful contrast to the savory ingredients. If you can find it while it's in season in the summer, you won't be disappointed!
More Tasty Corn Recipes to Check Out
Recipe
This easy recipe for Mexican street corn salad is full of texture and zest. Somewhere in between a salsa and salad, it's great as a side dish or a dip!
Ingredients
2

tbsp

mayonnaise

1

lime

juiced

1

garlic clove

pressed

4

cups

corn kernels

(about 5-6 ears)

1

tbsp

olive oil

1/2

cup

cotija cheese

crumbled

1/4

cup

green onion

chopped

1/4

cup

cilantro

chopped

1

jalapeño

diced

1/3

tsp

chili powder

salt

to taste
Nutrition Facts
Mexican Street Corn Salad (Crazy Easy)
Amount Per Serving
Calories 286
Calories from Fat 135
% Daily Value*
Fat 15g23%
Cholesterol 20mg7%
Sodium 265mg11%
Potassium 403mg12%
Carbohydrates 36g12%
Protein 8g16%
Vitamin A 714IU14%
Vitamin C 19mg23%
Calcium 111mg11%
Iron 1mg6%
* Percent Daily Values are based on a 2000 calorie diet.