Crunchy, fresh, and vibrant, the Classic Garden Cucumber Tomato Salad is a beloved side dish in our home. I am certain that this refreshing, colorful salad will find its place on your table as well.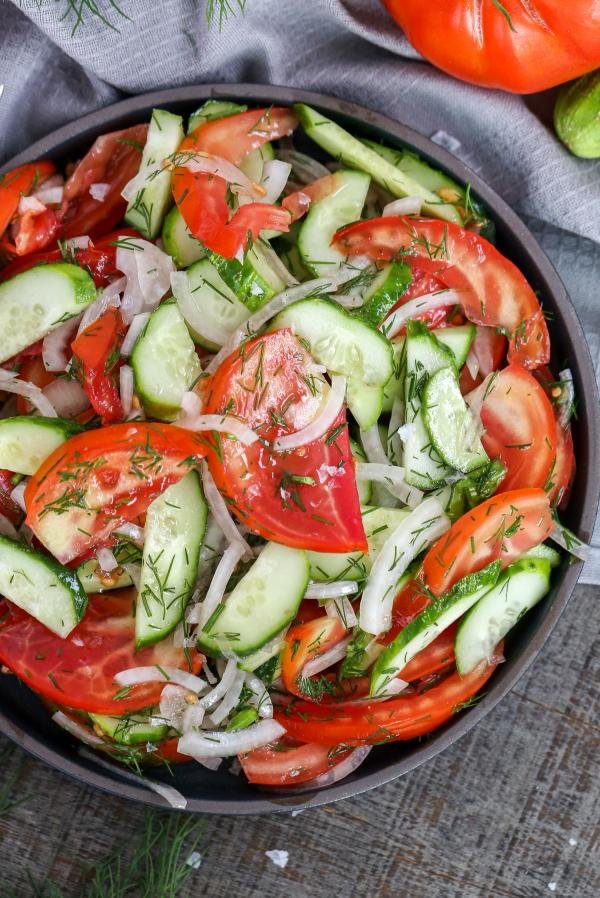 What really brings these fresh vegetables together is the light dressing of sunflower oil, vinegar, and salt. The sunflower oil is a must in this salad, it enhances the flavors of the tomato and cucumber so much, you will love it!
When I was a child, I looked forward to making this salad in the summertime when it's ingredients grew abundantly in our home garden. The cool thing nowadays is that you can find delicious tomatoes and cucumbers year round!

Tips for Making Cucumber Tomato Salad
Cutting Your Tomatoes
Have you ever chopped tomatoes just to have the insides squirt out all over the place? If so, you know how annoying it is to deal with a bunch of misshapen, messy tomato slices. For this recipe, I will detail how to slice your tomatoes into perfect wedges!
First, grab a sharp slicing/paring knife. If you don't trust the sharpness of your knives, opt for a serrated knife (like what you would use cut a loaf of bread with). It is important to use a sharp knife because it will prevent you from adding too much pressure to the delicate tomato. This means that you will keep the beautiful shape of the tomato intact!
Place your tomato stem side up on the cutting board. Make sure to remove the stems, if any.
Cut straight down the tomato through where the stem was, slicing the tomato in half.
Place each half flesh side down and slice your halves in half. It is crucial that you cut from the skin, as to prevent the tomato flesh and seeds from oozing out all over the place.
Proceed by cutting each quarter in half again (or more times depending on how thin you want your wedges).
Adding the Dressing and Salt
Cucumbers and tomatoes have a very high water content. In order to prevent your salad from becoming watery, you will want to make sure that you add the dressing and salt right before you serve it.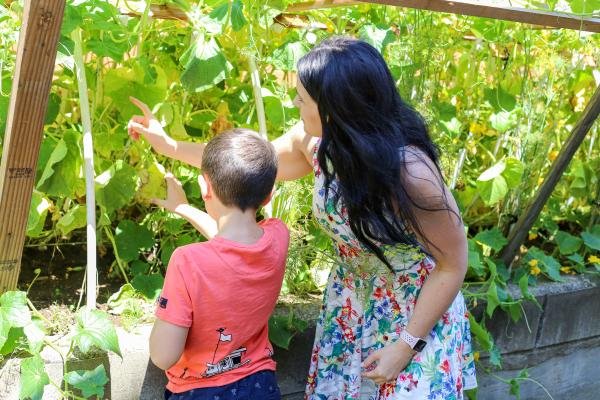 Making Cucumber Tomato Salad Ahead of Time
If you are anything like me, you like to plan and do things ahead of time! If you are going to prepare this salad early, make sure you follow a couple of rules. First, chop your veggies but make sure not to mix them together and store them in the refrigerator. Combining them together will make them soggy! And like I said above, make sure you don't add the dressing until you are ready to serve.
What Should I Serve Cucumber Tomato Salad With?
Here are a list of dishes that will make a great combination with the Cucumber Tomato Salad.
Ingredients to Add to Cucumber Tomato Salad
What I love about this salad is that it is super versatile. Below I have listed extra ingredients you can add to switch things up a bit:
Feta: Add in crumbled feta to give this salad a Greek spin!
Avocado: Looking to make this salad more filling? Add in avocados for extra healthy fat and protein.
Basil: Need a perfect side dish for pasta? Add in some rough-chopped, fresh basil to the salad.
Green Onions: Love onions? Double up with some fresh green onions. I think this variation pairs perfectly with a grilled steak.
Parsley: Add in some fresh parsley if you are craving a more earthy flavor profile.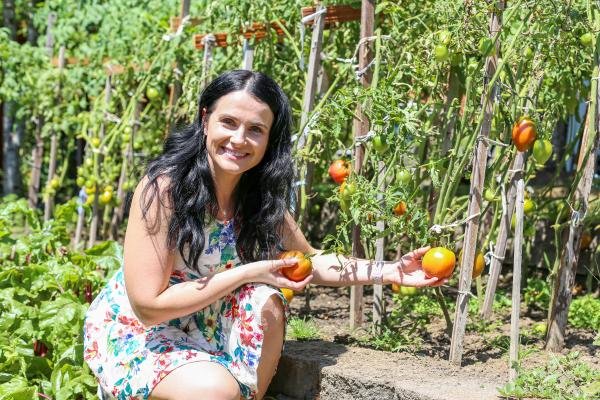 Best Tomatoes to Use in the Salad
I know, there are a million different tomatoes to choose from! For this recipe, you should go with heirloom tomatoes. They add the best flavors to the salad. You could also use cherry tomatoes, but be sure to only slice them into halves to prevent the tomato flesh from making your salad watery.
Health Benefits of Cucumber Tomato Salad
It probably goes without saying, but this salad is seriously healthy. It's low-fat, carb-free, and chock full of fiber and vitamins. Go you!
Recipe
Crunchy, fresh, and vibrant, this classic cucumber tomato salad recipe is a MUST! Mix in a light dressing of sunflower oil, vinegar, and salt and it'll be perfect!
Instructions
Nutrition Facts
Classic Garden Cucumber Tomato Salad
Amount Per Serving
Calories 115
Calories from Fat 72
% Daily Value*
Fat 8g12%
Sodium 399mg17%
Potassium 591mg17%
Carbohydrates 11g4%
Protein 2g4%
Vitamin A 1379IU28%
Vitamin C 27mg33%
Calcium 41mg4%
Iron 1mg6%
* Percent Daily Values are based on a 2000 calorie diet.