This Caprese pasta salad recipe is fresh and light. It's chock full of fresh mozzarella, juicy tomatoes, and chopped basil and is perfect for batch cooking.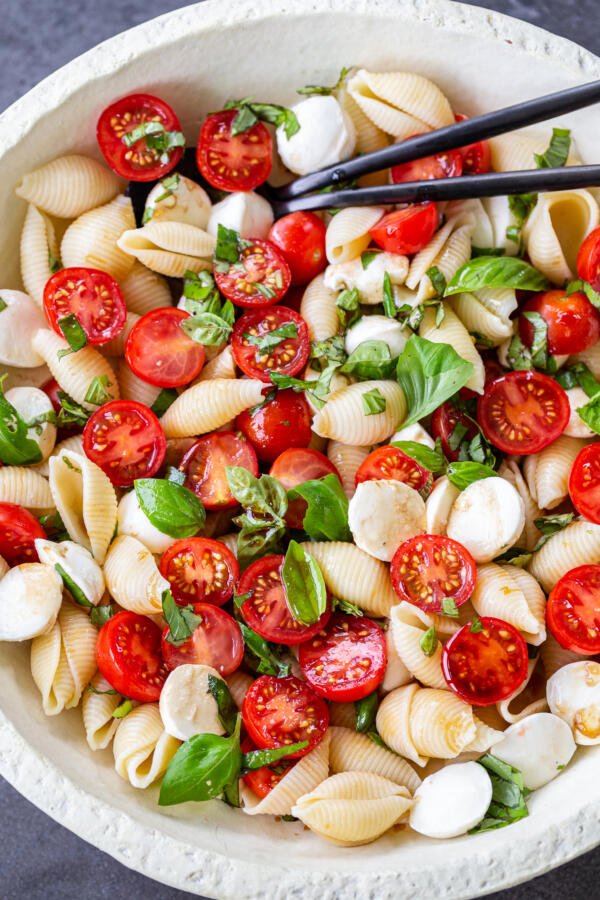 Nothing says summer quite like a gigantic bowl of pasta salad. Whether you're hosting a cookout or toiling over what to bring to the next company potluck, this easy Caprese pasta salad will surely be a crowd-pleaser. Bonus: It's full of so many pretty colors that the presentation takes care of itself.
Inspired by a traditional Caprese salad, this pasta salad is teeming with cherry tomatoes, mozzarella cheese, noodles, and fresh basil. It's ultra-simple to make and easy to batch cook.
Caprese salad originates from the Italian island Capri and is the definition of simplicity. Often eaten as a light lunch or served as an appetizer throughout Southern Italy, it's made when tomatoes and basil are at peak season. In this recipe, we add pasta to the mix for a more filling side dish.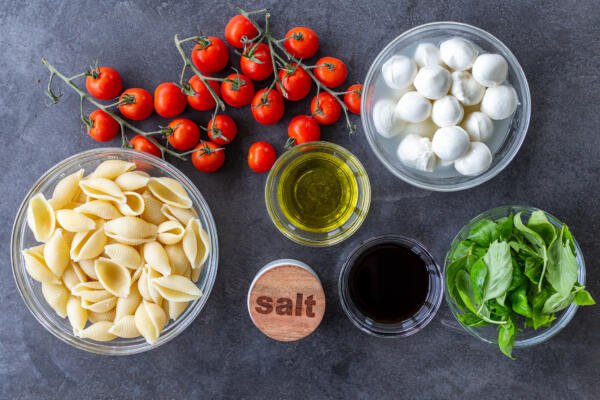 What is Caprese Pasta Salad?
Caprese pasta salad is a fun spin on traditional Caprese. Below, find an overview of the flavor, texture, and cooking time.
Flavor: This salad tastes like summer. It's light, refreshing, and bursting with fresh tomato and basil.
Texture: Like all great pasta salads, this caprese pasta salad is full of different textures – soft noodles, crunchy cherry tomatoes, and chewy chunks of mozzarella.
Time: From prep to table, this caprese pasta salad takes only 20 minutes to make.
How to Make Easy Caprese Pasta Salad
Making Caprese pasta salad truly couldn't get any easier. With just a bit of chopping and mixing, you can pull it together in just 20 quick minutes.
Cook & Rinse the Pasta: Cook, drain, and rinse the pasta. Set it aside.
Chop Veggies & Cheese: Slice the cherry tomatoes in half, dice the fresh mozzarella, and finely chop the basil. Place pasta, veggies, and cheese in a large mixing bowl.
Make the Dressing: Whisk together the oil and vinegar. Pour it on top of the salad, alongside a generous sprinkling of salt.
Toss the Salad: Using a spatula, toss the pasta salad. Serve and enjoy fresh!
What does "al dente" mean? If you've ever heard the phrase "al dente" thrown around and been confused about its meaning, you're not alone. In Italian, al dente translates to "to the tooth". It means cooking the pasta to the point where it still has a bite to it, versus over boiling it until it's soggy. This is key to making great pasta salad!
Tips for Making the Best Caprese Pasta Salad
Below, find some tips and tricks to help you make the best Caprese pasta salad.
Rinse the pasta after cooking. Before tossing the pasta with the other ingredients, rinse it in a colander to cool it down and stop it from cooking. Remember, you want the pasta to have a nice bite, not to be mushy and overcooked.
Use fresh produce and herbs. If you can, venture out to the local farmer's market and pick up the freshest tomatoes and basil you can find. This recipe is super simple, so the quality of the minimal ingredients really matters!
Toss the dressing with a canning jar. Instead of whisking your dressing, shake it in a sealed canning jar to combine the olive oil and vinegar thoroughly. Better yet? Double the dressing batch and pop the rest in the refrigerator for salads throughout the week.
Swap in colorful pasta for presentation. Snag a bag of colored pasta to uplevel the presentation and add a fun pop to the salad.
Hot Tip: Skip the cheese chopping and swap in mozzarella pieces for fresh mozzarella balls. This will also make for such a pretty presentation!
Serving Caprese Pasta Salad
Caprese salad can be eaten as a light meal or packed in school/work lunches. You can also serve it alongside other salads, soups, sandwiches, or BBQ for a well-rounded meal. Try pairing it with caesar salad, Philly cheesesteak, or BBQ ribs. It's also a super easy recipe to batch for large parties. Bring it to your next potluck or family party!
Storing Caprese Pasta Salad
Refrigerator: Store leftover caprese pasta salad in the refrigerator for up to three days. After that, it may turn soggy.
Freezer: Not recommended. Freezing pasta rarely turns out well. Once thawed, the noodles will turn to mush and ruin the texture of your salad.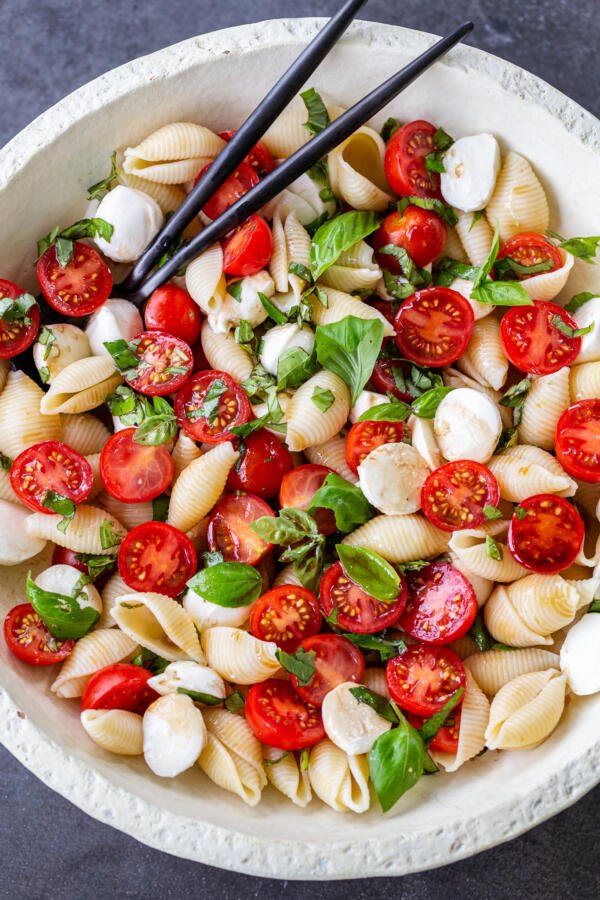 FAQ
What is in a traditional Caprese pasta salad?
A traditional Caprese salad contains fresh tomato, thick slices of fresh mozzarella, and whole basil leaves.
Is it best to make pasta salad the day before?
There's no need to make pasta salad the day before serving. In fact, it's best to make it only a couple of hours before serving to prevent it from turning soggy.
Should you rinse the pasta for pasta salad?
Always rinse the pasta after cooking it before making pasta salad.
Other Filling Salad Recipes
Recipe
This Caprese pasta salad recipe is fresh and light. It's chock full of fresh mozzarella, juicy tomatoes, and chopped basil.
Ingredients
1

cup

pasta

shells, fusilli or rotini

1

lb

cherry tomatoes

1

lb

fresh mozzarella

2

tbsp

olive oil

2

tbsp

balsamic vinegar

1

tsp

salt

adjust to taste

2

tbsp

basil

chopped
Nutrition Facts
Caprese Pasta Salad (Quick & Easy)
Amount Per Serving
Calories 324
Calories from Fat 198
% Daily Value*
Fat 22g34%
Cholesterol 60mg20%
Sodium 872mg36%
Potassium 253mg7%
Carbohydrates 13g4%
Protein 19g38%
Vitamin A 916IU18%
Vitamin C 17mg21%
Calcium 395mg40%
Iron 1mg6%
* Percent Daily Values are based on a 2000 calorie diet.