Easy Oven Baked Pork ribs are melt in your mouth delicious. Grab a napkin and get prepared for some fall-off-the-bone goodness.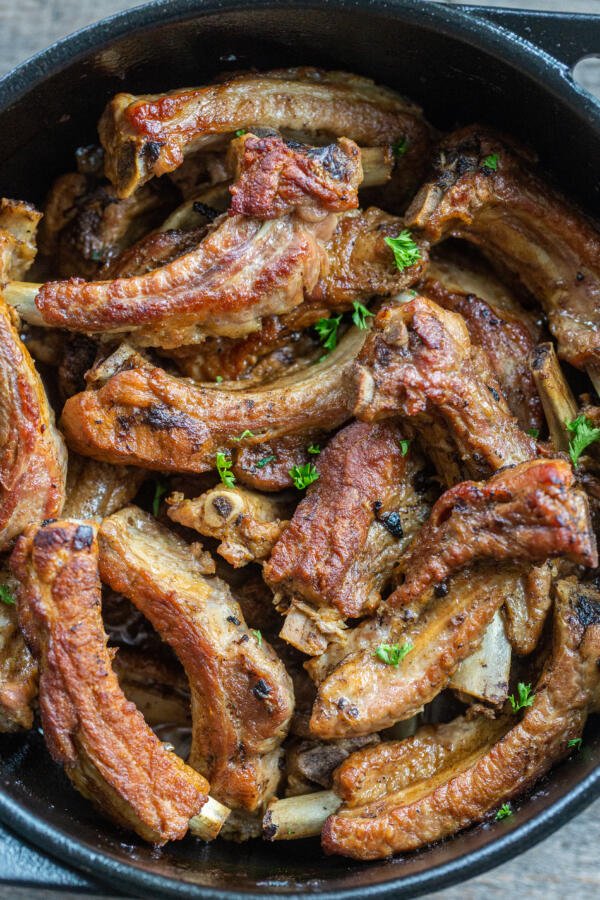 Oven Baked Pork Ribs are the definition of juicy and tender. The secret? Marinating them in Coca-Cola helps tenderize the meat, while also giving them a hint of sweetness. Gotta love the combination of sweet and salty, am I right?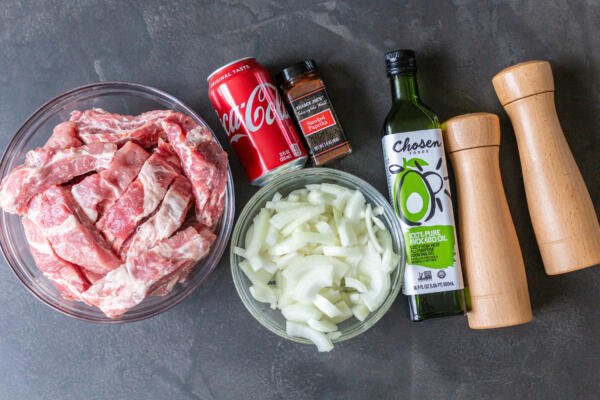 How to Make Oven Baked Pork Ribs
No need to fire up the grill here. These ribs are baked 100% in the oven, making it possible to bring the flavors of summer to your table year round. Follow the simple steps below and let the finger lickin' begin:
Preheat your dutch oven with oil. Season the rack liberally with salt, paprika and pepper. Brown each side for texture. Set aside.
Dice onions. Sautee in the fat from your seared ribs.
Place ribs back in dutch oven and pour coke right on top.
Bake!
Choosing Sauce to Serve With Pork Ribs
You can't have killer ribs without an equally killer sauce. Whip up one of the below (or all three!) and let's get to dippin'.
The Classic BBQ Sauce: Classic, smoky and sweet. The perfect sauce for a rib purest.
The Dipping Ranch Sauce – Creamy, tangy ranch really compliments the flavor of the ribs so well. Don't forget to make a batch of fries to round out your dipping party.
Tzatziki Sauce – For the adventurous eaters out there, try whipping up some tzatziki to dip your ribs in. This Greek yogurt dip is crisp and refreshing with fresh herbs and cucumber.
FAQ
Is it better to bake or grill ribs?
It really depends on what you prefer. Grilled ribs will be a bit more crispy and smoky, while baked ribs are fall-off-the-bone tender. I like making baked ribs in the winter when it's too cold to BBQ and grilled ribs during the summer when all you want to do is be outside in the sunshine.
What temperature do I cook ribs on?
The key here is to go low and slow. Cook your ribs on 280°F to prevent them from burning and to really extract all the juicy goodness. P.S. Your house is about to smell amazing.
How long to cook ribs in the oven?
It should take about an hour and a half on 280°F to get your ribs tender. However, feel free to keep them in a bit longer if you want them even more tender. The great thing about the dutch oven is that the ribs aren't on direct heat and they can really have the space to tenderize without burning.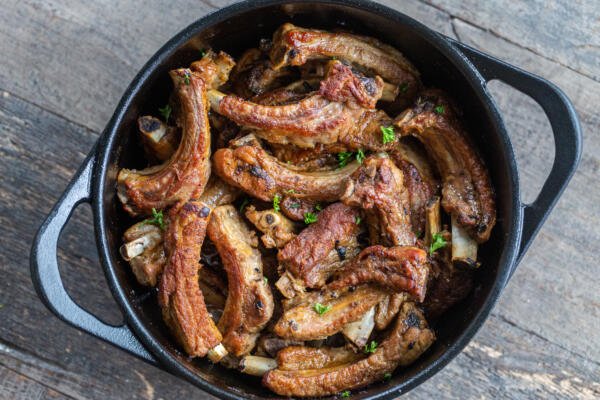 Storing Leftover Pork Ribs
Refrigerating – Store your ribs in an airtight container in the fridge. They should stay good for about a week. When you're ready to eat, pop them in the oven for a bit to heat them through or nuke them in the microwave.
Freezing – Allow your ribs to cool down completely. Transfer the into a freezer safe bag for storage. They should stay good for about three months. Allow them to defrost in the fridge overnight and reheat in the oven or microwave.
Pro Tip: When making chili, throw a couple of frozen ribs in the pot and allow the meat to fall off the bones. Remove the bones and have yourself a big bowl. Yum!
Other Ribs Recipes to Try
Recipe
Easy Oven Baked Pork ribs are melt in your mouth delicious. Grab a napkin and get prepared for some fall-off-the-bone goodness.
Nutrition Facts
Pork Ribs
Amount Per Serving
Calories 533
Calories from Fat 369
% Daily Value*
Fat 41g63%
Cholesterol 127mg42%
Sodium 1880mg78%
Potassium 525mg15%
Carbohydrates 15g5%
Protein 26g52%
Vitamin A 847IU17%
Vitamin C 4mg5%
Calcium 50mg5%
Iron 2mg11%
* Percent Daily Values are based on a 2000 calorie diet.