This amazing purple cabbage salad is so bright, healthy, and refreshing. You'll love how the tangy dressing and olives balance out the earthy vegetables!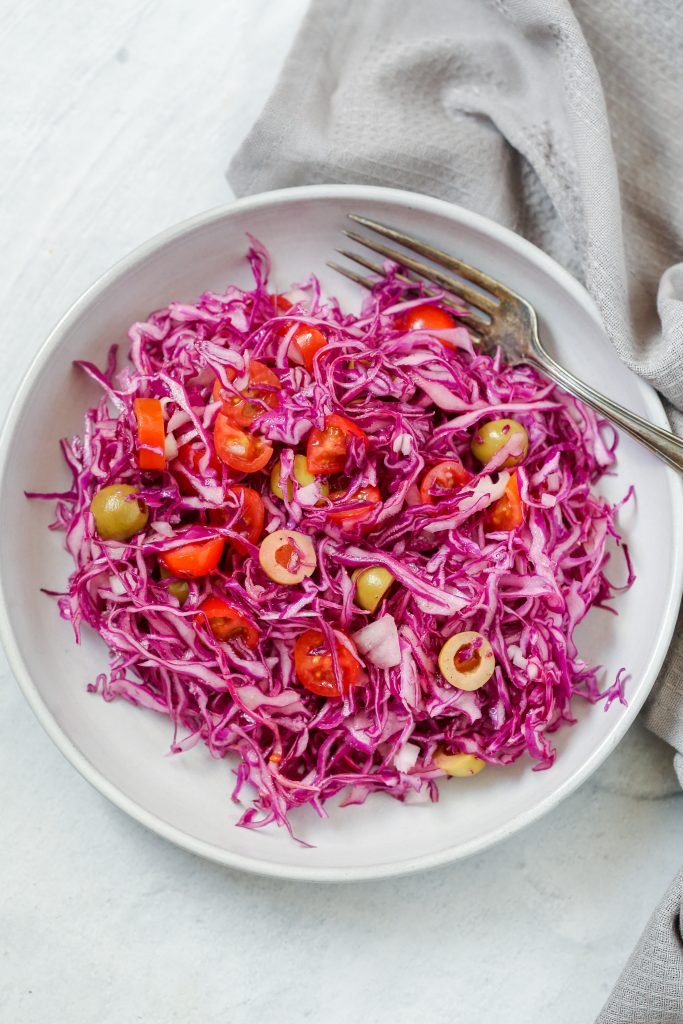 This red cabbage salad recipe is a refreshing departure from your typical mayo-heavy coleslaw. Packed with a vinegary dressing and puckery olives, it's the perfect side dish to cool down a hot piece of protein.
How to Prepare a Purple Cabbage Salad
This recipe for tangy cabbage slaw requires you to chop up all the veggies and toss them in a homemade salad dressing.
Make the Dressing: In a small bowl, whisk the oil, white wine vinegar, salt, cumin, minced garlic, and black pepper together. Set the dressing aside.
Prepare the Veggies: Shred the cabbage thinly, dice the onions, and cut the tomatoes and olives into halves.
Assemble the Salad: Place all the veggies in a bowl and toss the dressing in. Enjoy!
Tips for Purple Cabbage Salad
A couple of handy tips will help you make the tastiest purple cabbage salad on the planet.
Enlist the help of a mandoline slicer. A mandoline slicer not only makes it easier to slice the cabbage, but it also ensures that the texture is perfectly consistent
Prep the veggies ahead of time. If you are whipping this salad up for a party, prepare the vegetables ahead of time and keep them sealed in airtight containers in the refrigerator.
Whip up the dressing in advance. To cut down on prep work and get a more flavorful salad, prepare the dressing a day or two in advance and let it marinate in the fridge.
Different Variations
Looking to tweak this salad to your specific tastebuds? Find a couple of ideas below to inspire you.
Alter the Dressing: If you like it spicy, add some red pepper flakes to the dressing. If you want it more tangy, whisk in a tablespoon of dijon mustard or fresh lemon juice.
Add Some Crunch: For more texture, mix in some slivered almonds, sunflower seeds, or sesame seeds.
Toss in More Veggies: Swap half the cabbage out for sliced kale. You can also add in minced green onions or broccoli.
How to Serve Purple Cabbage Salad
Our all-time favorite way to serve purple cabbage salad is with a lamb shoulder chop and creamy mashed potatoes. You can also use it to top a steak sandwich for extra crunch and a tangy contrast to the beef.
Storing Purple Cabbage Salad
To keep the cabbage salad on hand for 1-2 days, store it in an airtight container in the fridge. While this salad is best eaten fresh, it's also wonderful after a day or two of marinating in the fridge.
FAQ
Do you have to cook the cabbage for purple cabbage salad?
No, you do not have to cook the cabbage down before adding into purple cabbage salad. If you slice it thinly enough, it's perfectly delicious eaten raw and will not be too fibrous.
Is purple cabbage salad good for you?
Yes! Purple cabbage salad is packed with vitamins and fiber. It's a great side dish and will keep you fuller than lighter, leafy green salads.
Can you swap green cabbage into purple cabbage salad?
Yes, you can swap the purple cabbage out for green cabbage in this salad no problem. The taste will be a bit milder, but it will be delicious all the same.
How do you properly slice cabbage for cabbage salad?
To properly slice cabbage for salad, you'll want to first remove the tough outer leaves. Next, slice the head in half and remove the core. Shred the cabbage into small strips and toss it in the salad!
More Healthy Cabbage Recipes
Recipe
This amazing purple cabbage salad is truly amazing and so refreshing. Bright flavors, vibrant colors and so filling. It'll be a hit at your next get-together!
Ingredients
Purple Cabbage Salad Dressing
Nutrition Facts
Amazing Purple Cabbage Salad
Amount Per Serving
Calories 128
Calories from Fat 99
% Daily Value*
Fat 11g17%
Sodium 526mg22%
Potassium 285mg8%
Carbohydrates 8g3%
Protein 2g4%
Vitamin A 1128IU23%
Vitamin C 46mg56%
Calcium 45mg5%
Iron 1mg6%
* Percent Daily Values are based on a 2000 calorie diet.