Italian pasta salad is perfect year-round. No matter the occassion, everyone loves a fresh pasta salad loaded with different flavors and textures.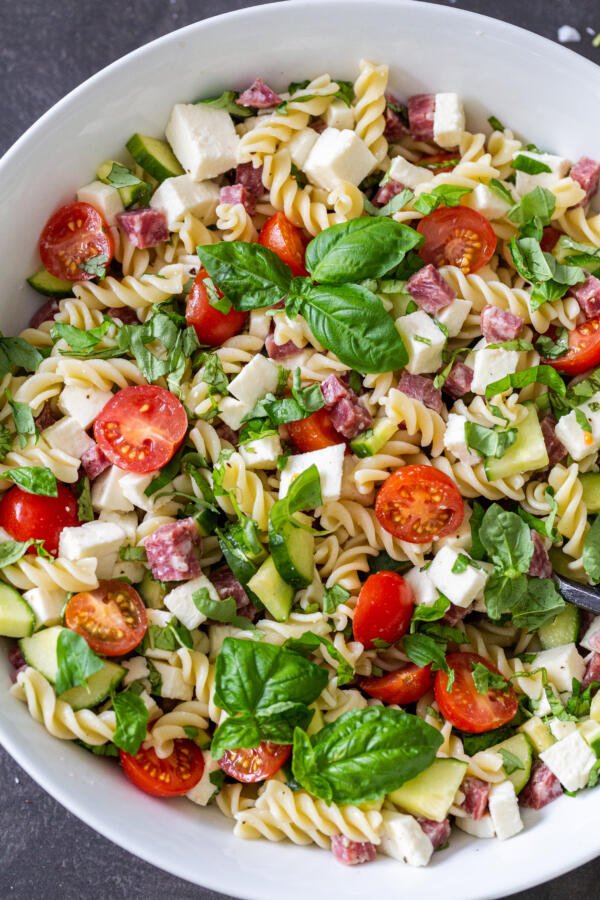 Italian Pasta salad is perfect as a side dish with dinner or for parties, picnics and barbecues. Unlike most uncooked salads, it doesn't lose taste or get soggy if it sits out for a long period of time. Prepare it ahead of your get-together and spend more time relaxing and less time cooking!
How do you Make Italian Pasta Salad
Pasta salad couldn't be easier to prepare. With just three simple steps, you'll have a side dish that can easily steal the show:
Combine cucumber, tomato, fresh mozzarella, cooked pasta and salami in a large bowl
Add in basil and season to taste with salt and pepper.
Toss in oil and balsamic to taste. Serve!
Best Pasta for Italian Salad
A sturdy shape is best for Italian pasta salad. My favorites include penne, fusilli, rotini and farfalle. You can even experiment with multi-colored pastas if you want to uplevel your presentation.
Hot tip: Don't use spaghetti noodles or angel hair pasta. Long, stringy noodles aren't so good for pasta salad. The short, stumpy pasta holds the most dressing and makes it easier to get a forkful of all the ingredients.
Variations of Italian Pasta Salad
Pasta salad can have many different variations. Play around with different ingredients and make the salad of your dreams. Here's a couple suggestions to get your creative juices flowing:
Vegetables – Red onion, zucchini, broccoli, celery, green beans, asparagus, roasted sweet potato and eggplant.
Meats – Prosciutto, bacon bits, roasted turkey, ham and chicken breast.
Cheese – Any hard cheese will work great. Provolone, sharp cheddar, manchengo, gouda, parmesan and even a simple homemade cheese.
Herbs – You can go crazy here! Fresh herbs really up level a pasta salad. Parsley, dill, green onion and arugula are some of our favorites.
Seasoning – A little salt and pepper goes a long way. If you like your pasta salad a little spicy, add a shake or two of dried chili flakes.
Dressing – While olive oil and balsamic always works, feel free to use red wine vinegar instead. You can also opt for a creamier salad and dress your pasta salad with a creamy vinaigrette or caesar dressing.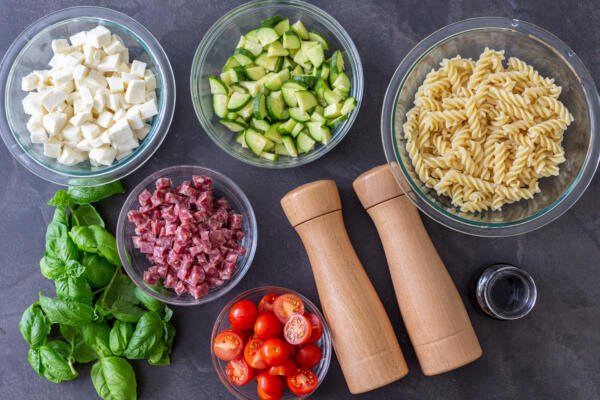 What Goes Well With Pasta Salad?
Pasta salad goes great as a side for sandwiches. Make a steak sandwich or Cuban sandwich and serve with a heaping pile of pasta salad for a Saturday hike and picnic.
Or, bust out the BBQ and grill Tilapia or some lamb kabobs. There's nothing like a cool and refreshing pasta salad paired with fresh, hot meat off the grill.
Other Salads to Try
Salads don't have to be boring! You're doing it wrong if you're not dying to dig into one. Here are a couple of our favorites:
Ultimate Garden Salad Recipe – A solid garden salad goes with just about every meal. Always keep this recipe in your back pocket.
Broccoli Cauliflower Salad – This salad is for those who love texture and a good crunch.
Caesar Salad – This classic salad should never come out of bag. Once you make it homemade once, you'll never go back again.
Beet Quinoa Salad – Perfect as a side dish or weekday lunch, this healthy salad packs and punch and keeps you full.
Recipe
Italian pasta salad is perfect year-round. No matter the occassion, everyone loves a fresh pasta salad loaded with different flavors and textures.
Ingredients
2

cup

cooked pasta

(cook according package instrucitons)

1

English cucumber

cut into bite-size pieces

2

cup

sweet cherry tomatoes

cut into bite-size pieces

1

cup

salami

cut into bite-size pieces

1

cup

fresh mozzarella

cut into bite-size pieces

1/4

cup

fresh basil

chopped

1

tsp

salt

adjust to taste

1/2

tsp

black pepper

adjust to taste
Instructions
Nutrition Facts
Italian Pasta Salad
Amount Per Serving
Calories 82
Calories from Fat 27
% Daily Value*
Fat 3g5%
Cholesterol 4mg1%
Sodium 179mg7%
Potassium 175mg5%
Carbohydrates 9g3%
Protein 4g8%
Vitamin A 742IU15%
Vitamin C 29mg35%
Calcium 82mg8%
Iron 1mg6%
* Percent Daily Values are based on a 2000 calorie diet.