This kale quinoa salad is packed with protein and fiber to keep you full. How often is a dish both healthy and irresistibly delicious?!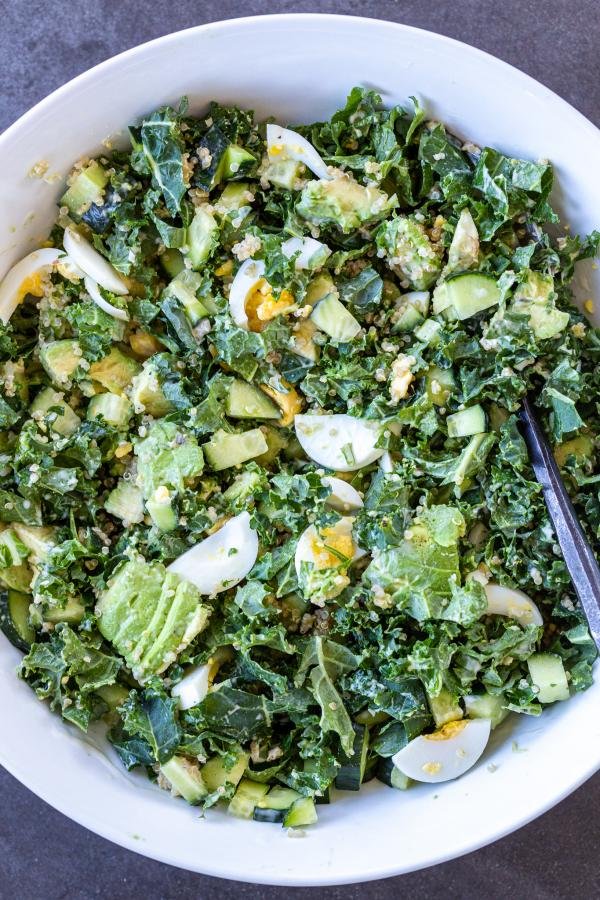 This kale salad is one of my favorite meal prepping recipes. I like to make a huge batch on Sunday and portion it out into airtight containers for quick, healthy lunches throughout the week. Just remember to keep the dressing on the side!
In all honesty, kale and quinoa can be pretty bland all on their own. This salad really elevates these superfoods by balancing them out with creamy cucumber, crunchy cucumbers, hard-boiled eggs, and ranch dressing. This makes for a salad that you actually want to eat. Imagine that!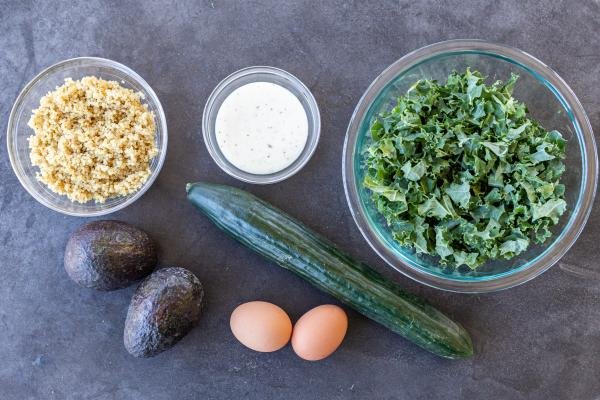 Quinoa Kale & Avocado Salad Video
How to Make Quinoa Kale & Avocado Salad
Making this tasty quinoa salad is so easy, you can hardly call it a recipe. Below, find a quick hitter overview of the recipe before you dive in.
Chop the Ingredients: Using a sharp knife, cut up kale, avocado, and cucumber into bite-sized pieces. Next, chop up the egg. Add all of the veggies and quinoa into a medium-sized bowl.
What kind of kale should I use? Experiment with any kind of kale you love best. From curly kale to baby kale, you can't go wrong!
Tips & Tricks
Below, find a handful of pro tips and tricks to help you make the best quinoa kale and avocado salad.
Chop the veggies and eggs into similar-sized pieces. Chopping the veggies into similar sizes isn't just for presentation, but also for ensuring each forkful is consistent in texture.
Toss the salad right before you plan to serve it. Even though kale is sturdier than other greens, it's still recommended that you toss the salad only right before you plan to serve it for maximum freshness.
Cook the quinoa until it's al dente. Quinoa is at its best when it's the perfect balance of firm and chewy. If you have had trouble getting it right in the past, check out the guide on how to cook kale perfectly.
Why do people "massage" kale? For those of you who don't like the fibrous nature of this green, gently massage it with your hands in a bowl with a bit of olive oil. This will soften the raw kale leaves and make them easier to chew!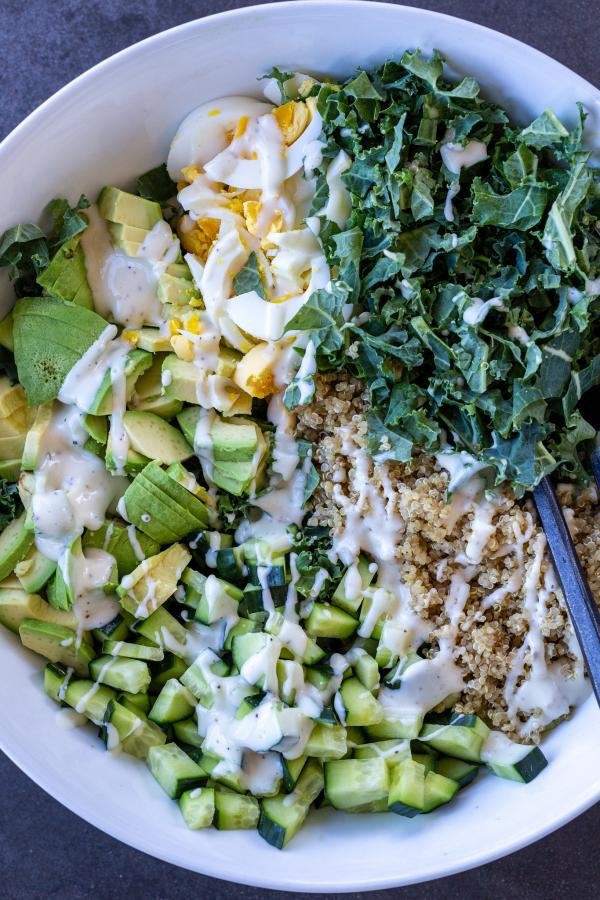 Serving Quinoa Kale & Avocado Salad
This quinoa kale salad is perfect for a quick weeknight meal or a dish to bring to your next potluck. If you're a vegetarian, this salad is filling enough to be eaten as a meal all on its own. It can also be served as a hearty side dish alongside any protein. A couple of favorites include leg of lamb, grilled chicken, or air fryer salmon.
Storing Leftovers
If the kale salad has been tossed with dressing, it will keep in the fridge for up to 2 days before it turns soggy. If you want to increase the shelf life, leave the dressing and avocado out until just before you plan to serve the salad. For the best leftovers, always store the salad in an airtight container to keep the kale from wilting or turning limp.
FAQ
Can you put raw quinoa in salad?
You should not put raw quinoa in a salad. It's gritty and hard raw and is best sprouted or cooked for salad.
What goes well in quinoa?
Quinoa can be swapped in anywhere you would use rice, buckwheat, or any other grain.
Should quinoa salad be hot or cold?
Quinoa salad can be hot or cold, it just depends on your preference.
What kale is best for salads?
Tuscan kale and curly kale are the best for salads. They are sold in bunches in most grocery stores these days.
How do you cut kale for a salad?
To slice kale for the salad, run a knife down both sides of the stem to remove it. Then, slice the kale into your desired thickness.
Other Healthy Salads to Try
Recipe
This kale quinoa salad is packed with protein and fiber to keep you full. How often is a dish both healthy and irresistibly delicious?!
Ingredients
1

cup

quinoa

4

cup

chopped kale

2

avocados

2

hard-boiled eggs

1

English cucumber

1/3

cup

ranch dressing

any brand
Nutrition Facts
Quinoa Kale and Avocado Salad Recipe
Amount Per Serving
Calories 331
Calories from Fat 189
% Daily Value*
Fat 21g32%
Cholesterol 67mg22%
Sodium 191mg8%
Potassium 807mg23%
Carbohydrates 31g10%
Protein 10g20%
Vitamin A 4708IU94%
Vitamin C 62mg75%
Calcium 109mg11%
Iron 3mg17%
* Percent Daily Values are based on a 2000 calorie diet.