Beef Shish Kabobs mean it's summertime! Even though the prep is quick-and-easy, they always come out so darn impressive. Fire up your grill!!!
We partnered with Beef. It's What's for Dinner., on behalf of the Beef Checkoff to show you how to make great tasting Beef Shish Kabobs!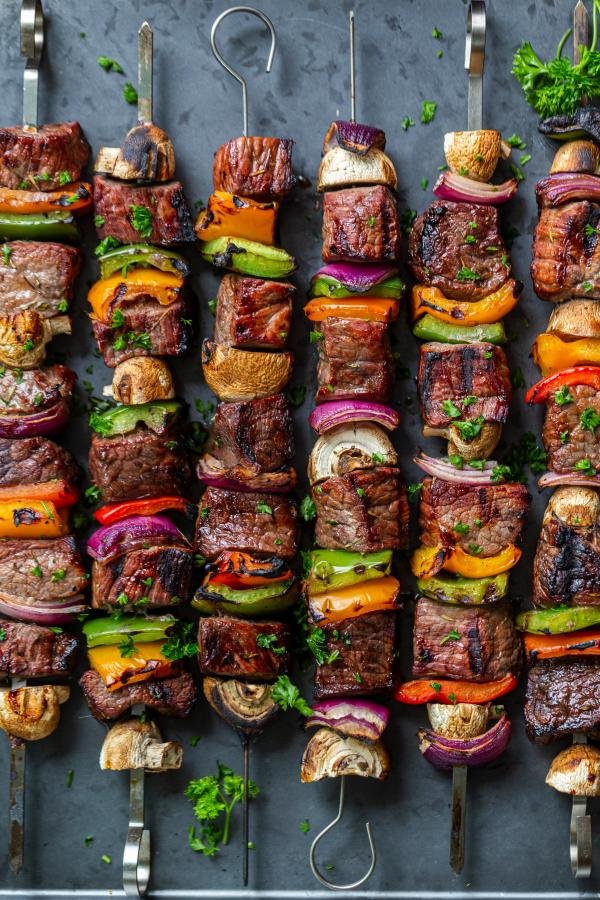 This summer, Beef. It's What's For Dinner. is bringing families across the country—from the farmers and ranchers who raise beef to the consumers who are enjoying it—to unite around our shared love of beef on the grill as we declare in unison, United We Steak.
Simply put, shish kabobs are a dish of cubed and skewered meats. In this popular Middle Eastern dish, each hunk of meat is typically separated with chunks of onion and bell peppers. The end result is a beautiful skewer full of flavor and color.
Shish kabobs are a grills' best friend. Let's get started!
What Is the Best Beef Cut for Shish Kabobs?
Top Sirloin is your best choice for shish kabobs as it's both flavorful and juicy. If you are looking for more options, sirloin tips, strip steak or even chuck steak also work great.
How do you Cook Beef Shish Kabobs?
Cut beef into cubes and marinate for at least 6 hours. For tender cuts, marinate it for 30 minutes to 2 hours.
Cut your veggies. Season them liberally.
Thread your beef and veggies on to a skewer.
Cook them on a hot grill!
Allow the skewers to rest to soak in the juices. Bon appetit!
Prepare Veggies for Kabobs
Onions: You really can't go wrong here. Use yellow, red or white – whatever you like best! For the kabob, cut the onion into 4 pieces and again in half so the pieces come out triangular.
Bell Peppers: Use red, yellow and green – the more color the better! Just make sure to cut them into similar-sized pieces as your beef. This way, the beef and veggies will hit the grill evenly, giving you perfect grill marks.
Mushrooms: You can use white bottom, cremini or portobello. Try to pick mushrooms that are similar in size to your beef pieces so you don't have to trim them down.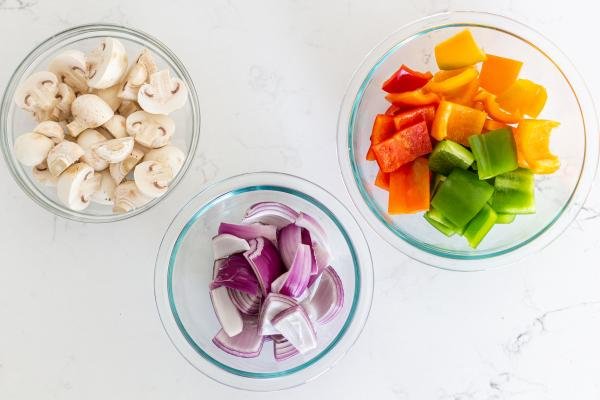 Tips for Beef Kabobs
Preparing your skewers. If you are using wooden skewers, allow them to soak in water for at least 10 minutes before grilling so they don't burn. You can also snag an affordable set of metal reusable skewers to prevent waste!
Marinating your beef. This step is a must and the flavors will prove it to you. Give your beef enough time to marinate – it makes all the difference.
Checking doneness. Use an instant-read thermometer to ensure beef is properly cooked. It takes all the guesswork out! Your internal temperature should read 145 °F for medium-rare.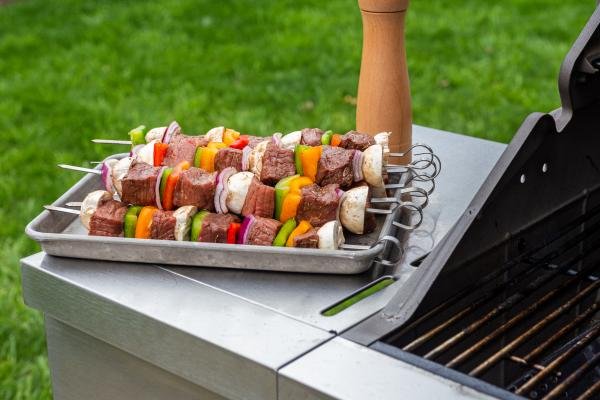 Preparing your grill. Make sure that your grill is clean before you get cooking. Residual grease or fat from your last bbq can cause flare ups that will burn your kabobs! Use a grill brush to do a quick scrub.
Crank up the heat. Kabobs cook best on medium-high heat. Make sure to preheat your grill to promote even cooking.
Don't overflip your kabobs. Flipping your kabobs too much can ruin the integrity of the skewer and cause it to fall apart. Try to stick to one flip per side!
Give it a rest. Allow your kabobs to rest for at least five minutes before serving. This will give the beef enough time to soak up all those wonderful juices.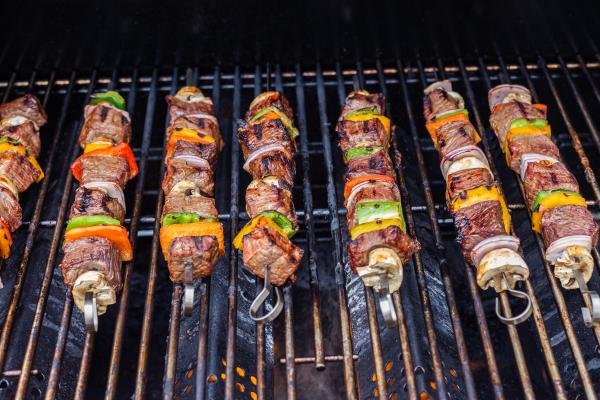 Other Beef Recipe You Will Love
Recipe
Beef Shish Kabobs mean it's summertime! Even though the prep is quick-and-easy, they always come out so darn impressive. Fire up your grill!!!
Ingredients
3

lb

beef

(Top Sirloin, Strip Steak)

1/4

cup

low- sodium soy sauce

1/2

cup

teriyaki sauce

1

tbsp

steak seasoning

(use your favorite)

1

cup

red wine

1

large green bell pepper

cut into cubes

1

large red bell pepper

cut into cubes

1

large yellow bell pepper

cut into cubes

8

oz

mushrooms

1

large onion

cut into pieces

1

tbsp

salt

adjust to taste

1

tbsp

ground black pepper

adjust to taste
Nutrition Facts
Amazing Shish Kabob Recipe (with Beef)
Amount Per Serving
Calories 336
Calories from Fat 207
% Daily Value*
Fat 23g35%
Cholesterol 81mg27%
Sodium 1298mg54%
Potassium 508mg15%
Carbohydrates 7g2%
Protein 22g44%
Vitamin A 376IU8%
Vitamin C 40mg48%
Calcium 36mg4%
Iron 3mg17%
* Percent Daily Values are based on a 2000 calorie diet.