Carne Asada Street Tacos are sure to hit the spot. This authentic Mexican dish is always a crowd-pleaser in our home. With just a few simple ingredients, you will get the most mouth-watering beef dinner at home!
We partnered with Beef. It's What's for Dinner., on behalf of the Beef Checkoff to show you how to make great tasting street taco, just like the one from a food truck! SO good!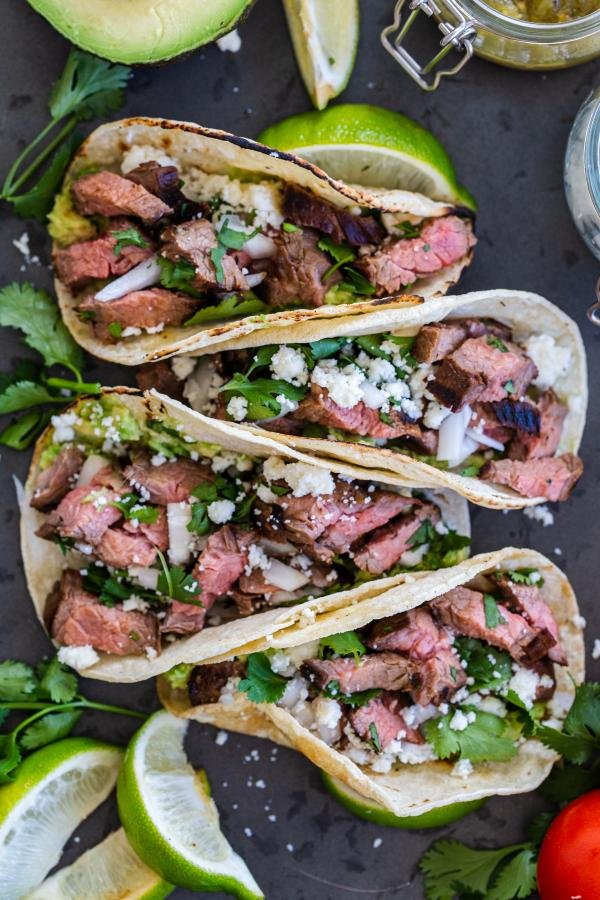 Carne asada street tacos? Yes, please! With everyone cooped up inside, this is the perfect time to bust out the BBQ and make this a takeout at home.
With the current state of the world, many of us are trying to balance having the kids at home, working remote and being forced to stay indoors. On top of this, you might already be struggling with picky eaters or a child that is "always bored". I can relate!
I have a really great trick that I want to share with you. It helps educate your kids about cooking, while also keeping them occupied.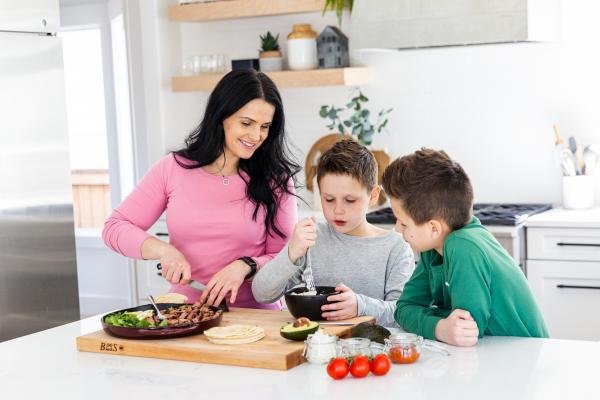 It's taco night! Our boys LOVE beef dinners and taco night is one of their favorites. They love getting involved with making their own taco creations. It's also a blast getting everyone involved in the kitchen. The kicker? They can't complain about the food because they made it themselves!
What's in a Street Taco?
Street tacos are made with carne asada, cilantro, avocado, onion and a sprinkling of Cotija cheese (think of it as Mexican feta). You can also top your taco off with your favorite salsa. The beauty of street tacos is that they are healthy and packed with fresh veggies.
When you are putting these tacos together with your little ones, they will get up close and personal with produce. This is the perfect opportunity to help them build a healthy relationship with whole foods! As a mom, that's priceless.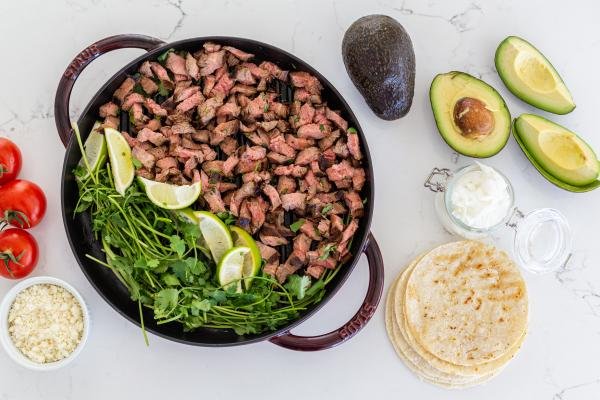 What Cut of Beef is Used for Carne Asada?
For Sure, Beef — there is nothing quite like it. I love the flavor and it is always welcome at our dinner table. Whether I am biting into a big, juicy ribeye or making these wonderful street tacos, I have to satiate my craving for red meat at least twice a week.
One of my favorite parts about carne asada tacos is that it calls for such a simple cut of beef. Great carne asada is made with flank or skirt steak. The overnight marinade makes it tender and juicy.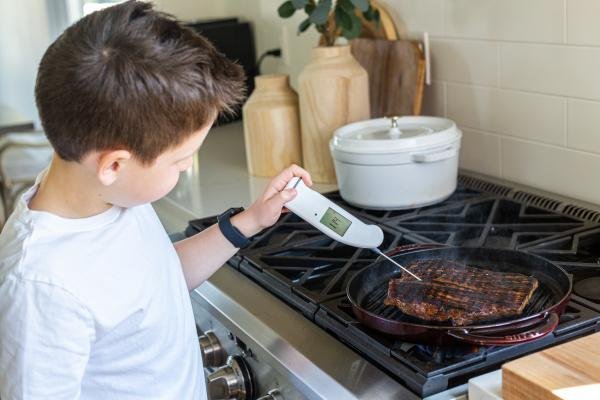 Hot tip: If you can, stick to cooking your flank or skirt steak to medium-rare. Anymore done and you risk it becoming super tough. If you are a bit nervous about gauging the doneness of your steak, invest in a meat thermometer. Your internal temperature should read 145 °F for medium-rare.
The internal temperature of your roast will continue to rise during this rest period.
How do you Cut Carne Asada for Tacos?
Now that you have grilled your meat to perfection, you have to cut it into bit pieces for tacos, burritos or salads. Easy peasy, right? Well, yes. But many folks are actually cutting their beef all wrong. The key to keeping your strips uniform and your pieces tender is cutting your beef against the grain.
You may be thinking: What is the grain? The grain is the natural, fibrous lines in muscles that run through all cuts of beef. If you look closely at your meat you will see them. Slicing against these lines (versus parallel to them) makes for a more pleasurable eating experience.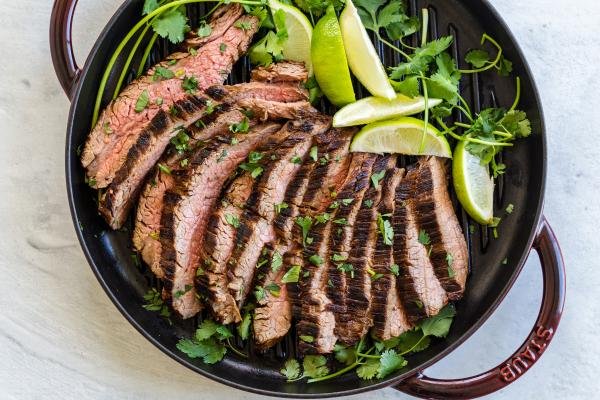 FAQ
What makes a street taco a street taco?
Street tacos are made with corn tortillas and stuffed with meat. Unlike other tacos, they are very meat-forward and tend to be topped with chopped white onions, cilantro, and lime juice.
What cut of meat do you use for carne asada street tacos?
Traditional carne asada is made with flank steak or skirt steak. It's marinated in a citrusy sauce and typically grilled over an open flame to create perfect sear-marks.
What does carne asada taste like?
Carne asada is super savory, with hints of citrus and onions. Oftentimes, the marinade is made with oranges and limes to offset the beefy flavor.
Why do some carne asada street tacos come with two tortillas?
Some carne asada tacos come with double-stacked tortillas simply to give the tacos more durability and structure. Some tacos come super stuffed with meat and this is necessary!
Other Mexican Recipes
Recipe
Carne Asada Street Tacos are sure to hit the spot. This authentic Mexican dish is always a crowd-pleaser. With just a few simple ingredients, you will get the most mouth-watering beef dinner at home!
Ingredients
Carne Asada
2

lb

beef Flank or Skirt Steak

1

cup

soy sauce

1

cup

cilantro

chopped

1

medium orange

2

small limes

4

green onions
Carne Asada Street Tacos
2

avocados

mashed

1/2

cup

cotija cheese

1

large onion

finely diced

1/2

cup

fresh cilantro

chopped

8

corn tortillas

2

limes

garnish
Instructions
Carne Asada
Place the Flank Steak in a large plastic storage bag. Add soy sauce, orange slices and lime juice. Chop green onions and cilantro and add them into the bag. Rub the seasoning all over the beef. Seal the bag and let it marinate for at least 6 hours.

Remove the meat from the marinade. Pat dry with a paper towel. Remove all excess herbs from the carne asada. Grill the carne asada until the internal temperature reaches medium-rare at 145 °F.

Hot tip: Don't have a grill? Snag a grill pan and make carne asada right on your stove top.
Nutrition Facts
Carne Asada Street Tacos
Amount Per Serving
Calories 360
Calories from Fat 144
% Daily Value*
Fat 16g25%
Cholesterol 76mg25%
Sodium 1803mg75%
Potassium 862mg25%
Carbohydrates 25g8%
Protein 32g64%
Vitamin A 429IU9%
Vitamin C 26mg32%
Calcium 129mg13%
Iron 3mg17%
* Percent Daily Values are based on a 2000 calorie diet.