These shishito peppers are an amazing appetizer or low-carb side dish. With just three ingredients, they're blistered to perfection and great for dipping!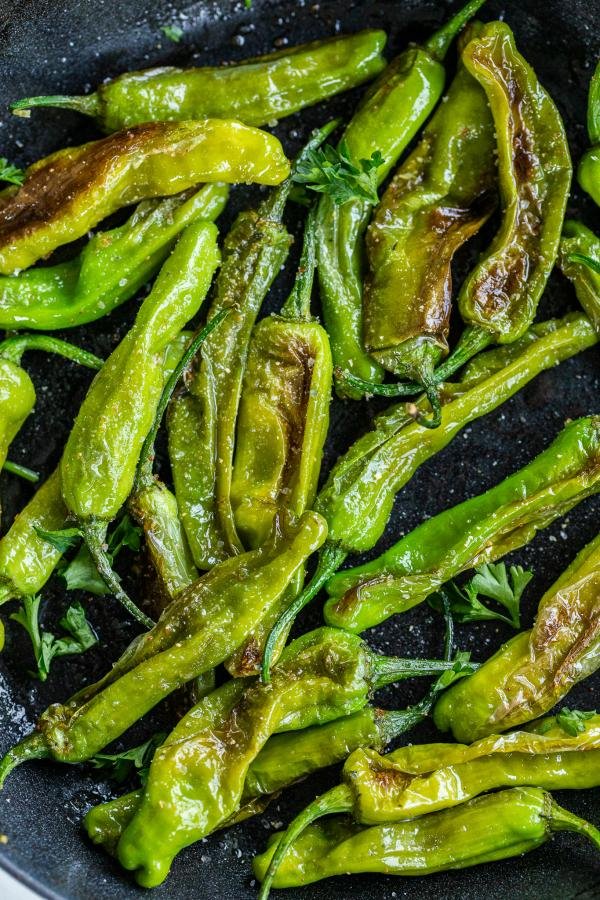 Shishito peppers are all-the-rage right now and for good reason. You don't have to fuss around with them much and they always turn out super delicious. When I'm in the mood for something a bit more interesting than jalapenos, they're first on my list. With just 3 ingredients and minimal prep work, I'm confident you'll fall for them just as hard!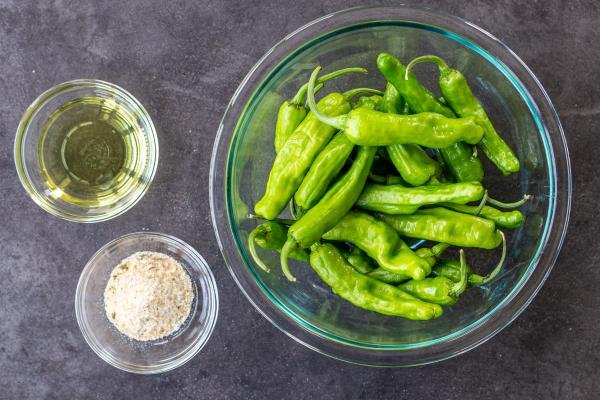 Where Can You Find Shishito Peppers?
Shishito peppers used to be a lot harder to find in traditional grocery stores, but not anymore. If you can't spot them, most Asian markets or farmers markets will carry amazing quality shishitos. On the rare chance you can't get your hands on them at all, use their close cousin the padron pepper instead.
What Does a Shishito Pepper Taste Like?
For the most part, shishitos are very mild in spice, slightly sweet, and a touch smokey. But beware: about one in ten shishitos are super spicy and can catch you slightly off guard. If you like a little mystery, this pepper is definitely for you.
A Guide to Making Blistered Shishito Peppers
The first step to making blistered shishito peppers is to preheat a cast iron skillet with oil over medium heat until it begins to smoke (yes – you want it THAT hot!):
Blister the Shishitos: Next, add in the shishito peppers and sprinkle them with garlic parsley salt. Once they begin to blister on the bottom, flip them over and blister them on the other side.
Remove the Shishitos from Heat: Once blistered, remove the shishitos from heat immediately and enjoy them right away!
3 Top Tips for Making Shishito Peppers
A couple of tips will go a long way in getting the perfect blister on these peppers.
Pat the peppers dry of excess moisture. To prevent the oil from popping and splattering, make sure you pat the peppers dry of any excess water after you rinse them. This will also help them blister up better!
Preheat the oil over medium heat, not high heat. A lot of recipes will insist that you blister shishitos over high heat, but that's a little aggressive for olive oil or avocado oil. Keep it at medium and you'll be golden.
Use high-quality oil. Since these shishitos only call for three ingredients – shishitos, oil, and garlic parsley salt – you'll want to make sure you use a full-flavored, high-quality oil to fry them in. Avoid blends for maximum flavor.
Getting Creative with Different Seasonings
If you want to go beyond garlic parsley salt, here's a couple of other ways you can elevate your shishitos.
Finish them with a couple of spritzes of lemon juice
Blister them alongside your favorite spicy chili pepper
Fry them in sesame oil and sesame seeds
Blister them in flakey sea salt and coarse ground black pepper
Ideas for Serving
Serve shishito peppers as an appetizer alongside a simple aioli for dipping. Mix equal parts of mayo and sriracha and you're set. If you're thinking more along the lines of dinner, serve them alongside a grilled ribeye steak or some air fryer pork chops.
Best Practices for Storing
Truth be told, shishitos are best eaten fresh out of the skillet. However, if you have leftovers that you don't want to go to waste store them in an airtight container in the fridge for up to 3 days. To reheat them, pop them back in the skillet or an air fryer until warmed through (just 1-2 minutes or else they'll overcook).
FAQ
What are shishito peppers good for?
Shishito peppers are good for blistering, stir fry, roasting, and even popping into salads raw.
Can you eat shishito peppers raw?
Yes, it's perfectly acceptable to eat these peppers raw. Dip them in light ranch dressing or use them as a low-carb dip for avocado hummus.
Are shishito peppers hotter than jalapenos?
Typically, shishitos are not as hot as jalapenos. Only every now and again will you get a really spicy one.
Do you need to remove seeds from shishito peppers?
You do not need to remove the seeds from shishito peppers. They can be cooked whole and they won't get ridiculously spicy with the seeds intact.
Do you need to store raw shishito peppers in the refrigerator?
You can store raw shishitos on the counter at room temperature, but storing them in the fridge will increase their shelf life.
Other Tasty Pepper Recipes
Recipe
These blistered shishito peppers are the perfect appetizer. You'll be happy you skipped on your typical jalapenos and tried something new!
Instructions
In a large skillet, over medium heat preheat the oil until it begins to smoke. Add in shisito pepper and sprinkle them with garlic parsley salt. Cook them until they begin to blister on the bottom.
Nutrition Facts
Shishito Peppers (Crazy Easy)
Amount Per Serving
Calories 63
Calories from Fat 36
% Daily Value*
Fat 4g6%
Sodium 1557mg65%
Potassium 1mg0%
Carbohydrates 8g3%
Vitamin C 14mg17%
Calcium 1mg0%
Iron 1mg6%
* Percent Daily Values are based on a 2000 calorie diet.