Stuffed bell peppers are a great way to enjoy one of the most flavorful veggies. Stuffed with a savory mixture of beef and buckwheat, these peppers are sure to satisfy.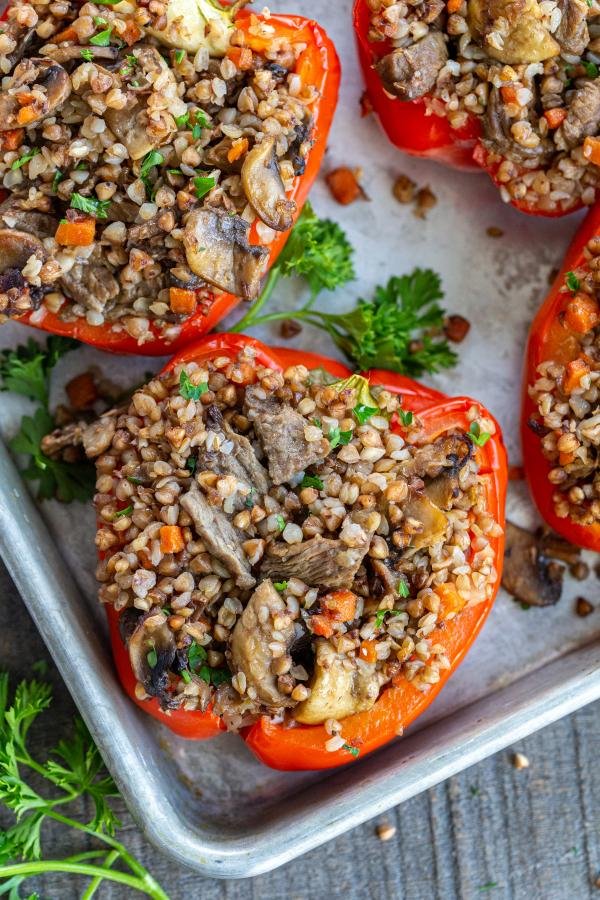 Stuffed bell peppers make for an easy weeknight dinner. This recipe acts as a great template, but I will show you how to modify it to fit your diet, tastebuds and leftovers. Yes, this recipe is an awesome way to repurpose whatever you have hanging out in the fridge!
If you are already a huge fan of stuffed bell peppers, try out my Philly Cheesesteak Stuffed Peppers. These bad boys were a lifesaver when I was on a low-carb diet. I ended up loving them so much that I eat them even when I am not watching my carbs!
Stuffed Bell Peppers
Like I said above, stuffed bell peppers are versatile as heck and are a great way to use leftovers. Depending on what you have in your fridge or what craving is nagging at you, there is a recipe for stuffed bell peppers that will do the trick. Here are some of my favorites:
Sides to Serve with Stuffed Bell Peppers
Depending on how hungry you are, stuffed bell peppers pair great with both light or indulgent sides! If I am trying to keep things healthy, I often pair them with a crunchy garden salad. You could also opt to serve them with flatbread or focaccia. Often times, a nice sauce forms as your peppers bake, making bread a perfect sidekick to sop it up with.
If you are feeling a bit more indulgent, serve your bell peppers with mashed potatoes or my special ranch roasted potatoes. If you're making a Mexican-style stuffed bell pepper, make a batch of guacamole and buy a bag of your favorite chips.
Peppers To Choose For Stuffed Bell Peppers
Choose whatever bell pepper you like best! Just try to find ones that look like they will stand up easily in a baking dish and hold a good amount of filling.
Red Peppers: Red bell peppers are the fully-ripened version of yellow and green peppers, so they are sweeter, fruitier and more expensive.
Yellow Peppers: These peppers fall right in the middle of red and greens when it comes to flavor. They are a little sweet and a tad bitter.
Green Peppers: Green peppers taste a bit grassy and bitter. Despite being the cheapest of the bunch and the easiest to grow, I still love their earthy flavor.
Mini Peppers: You can often find bags of mini bell peppers in the produce aisle. They will come in different colors and are perfect for making cute appetizers.
Tips for Stuffed Bell Peppers
Meat Options for Stuffed Peppers
Use any ground meat or very thinly sliced meat that suits your taste buds. I typically stick to beef, but turkey, chicken and pork work great as well. You could also combine a couple different types.
Grains Options for Stuffed Peppers
I love using buckwheat, white rice, but brown rice will work as well. You could also use quinoa or barley. If you are watching your carbs, try using cauliflower or broccoli "rice".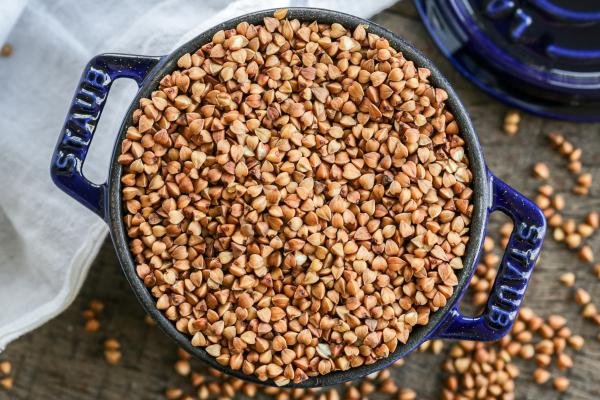 Top Stuffed Peppers with Cheese
Top your bell peppers with your favorite shredded cheese. Cheddar and parmesan are my favorites, but any cheese you like will work well and provide a nice touch of gooey-ness. Just make sure you don't add the cheese too early in the baking process, or it will burn. Add it on 10-15 minutes before removing the peppers from the oven.
Cooking Peppers
You can use make your bell peppers days in advance if you are trying to meal prep. You could bake them all at once and reheat them throughout the week, or keep them unbaked and cook them to order.
Reheat Stuffed Peppers
Reheat your stuffed bell peppers in the microwave, or throw them in the oven for 10 minutes at 350F, or until the filling starts to bubble.
Recipe
Stuffed bell peppers are a great way to enjoy one of the most flavorful veggies. Stuffed with a savory mixture of beef and buckwheat, these peppers are sure to satisfy.
Nutrition Facts
Stuffed Bell Peppers (Classic Ukrainian Recipe)
Amount Per Serving
Calories 329
Calories from Fat 180
% Daily Value*
Fat 20g31%
Cholesterol 54mg18%
Sodium 1248mg52%
Potassium 542mg15%
Carbohydrates 21g7%
Protein 16g32%
Vitamin A 8991IU180%
Vitamin C 80mg97%
Calcium 40mg4%
Iron 2mg11%
* Percent Daily Values are based on a 2000 calorie diet.