These delicious air fryer boneless pork chops are marinated in an herby marinade, then fried for a swift 15 minutes. Pork should always be this good!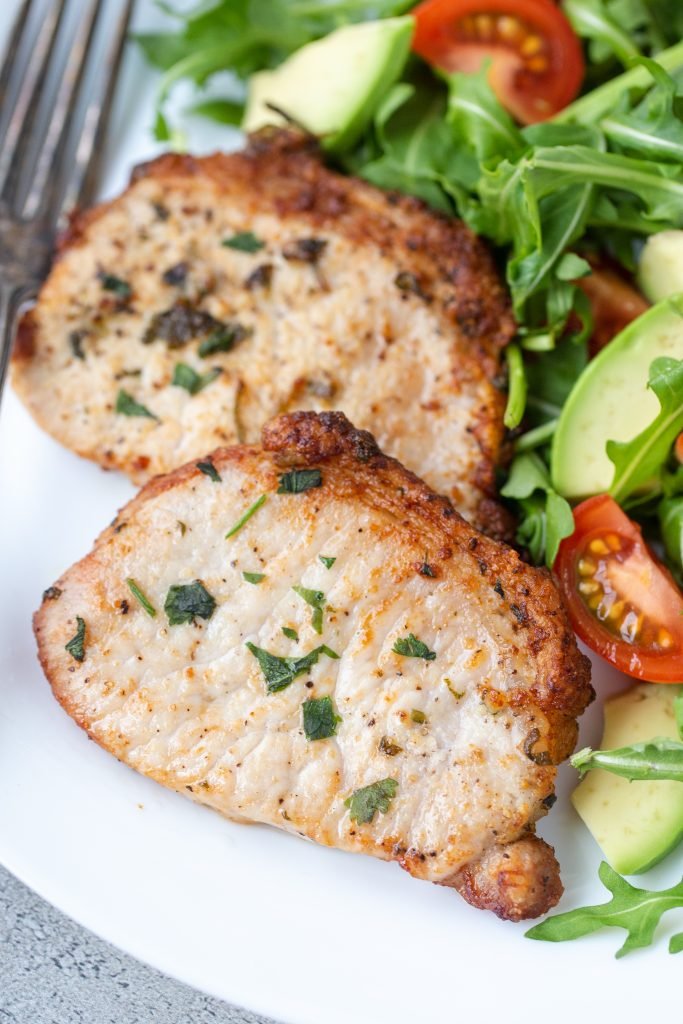 Why Air-Fry Pork Chops?
Boneless pork chops are one of the most foolproof air fryer recipes. Pork often tends to be finicky and prone to drying out and turning rubbery when pan-fried or baked in the oven. What a shame! But good news! When you leverage the powers of the air fryer, these pork chops turn out crispy on the outside and juicy on the inside – exactly the way it should be.
Air Fryer Pork Chops Video
What's the Best Type of Pork Chop Cut
When it comes to air frying, the best pork chops are the thickest ones you can find. The general rule of thumb is the thicker the pork chop, the juicier it is on the inside. From boneless to bone-in pork chops, use this quick-hitter guide to help you choose the right cut.
Boneless Chop: This is our preferred cut for this recipe. It come from the head of the loin and above the loin chops. It is boneless and very lean. For a quick dinner, use thin boneless chops. For more juicy cuts, use thicker chops.
Shoulder Chop: This is a cut from the shoulder. It has a fair amount of cartilage and blade bone, so it tends to be a tougher cut.
Rib Chop: Rib chop comes from the rib section of the loin. It contains the bone, has a medium amount of fat, and is tender yet lean.
Loin Chop: Loin chop is a combination of hip and loin meat. It's very lean and mildly flavored. The more tenderloin present in the chop, the more tender it is.
Sirloin Chop: Sirloin is cut from the hip area toward the back of the loin. It has the highest amount of bone in relation to other pork chops. It does have a lot of pork flavor, but tends to be on the tougher side.
How to Make Pork Chops in the Air Fryer
Air fryer pork chops take almost no time to prep and make! With only five minutes of prep and 15 minutes to fry, these chops are an invaluable protein option for your meal!
Season the chops: Pop the raw pork chops into a plastic storage bag. Mix in the seasonings, olive oil, parsley, and garlic. Massage the bag to evenly distribute the seasoning. Marinate for at least 10 minutes or overnight in the fridge.
Arrange the chops in the basket: Spray the air fryer basket with cooking oil (we love this avocado oil) and arrange the pork chops inside in a single layer. Set the temperature to 350°F and air fry for 15 minutes. Flip the chops halfway through.
Check the internal temperature: Before serving, use a meat thermometer to ensure the internal temperature of the pork reaches at least 150°F. Serve!
Hot tip: Looking for a great air fryer? We've tried a few and landed on this Cosori Pro air fryer as our top choice.
How Long To Air Fry Pork Chops?
Pork chops take anywhere between 15-20 minutes to cook in the air fryer. It depends on the thickness of the chop and your preferred doneness (see guide below). Typically, one-inch thick pork chops take about 15 minutes. Keep in mind bone-in chops take a few more minute to cook than boneless.
Pork Chops Temperature and Doneness
Pork chops are eaten at a range of temperatures, spanning from medium-rare to well done. We recommend medium for the most tender and juicy interior. Check out this guide to help you gauge doneness and cooking time.
Medium-rare: 145-150°F
Medium: 150-155°F (Recommended)
Medium-Well: 155-160°F
Well-Done: 160°F
Tips From the Kitchen
We've compiled a list of methods we use to consistently make perfectly air fried pork chops. Follow these tips for the tastiest, crispiest, and juiciest chops every time!
Spray the basket and chops: For the crispiest chops, spray the air fryer basket and the tops of the chops with oil.
Flip the chops halfway through: To achieve equally crispy chops on all sides, flip them halfway through the frying time. Both sides need equal love and attention from the hot air.
Add even more flavor: If you're a lover of super flavorful food, add a dash of paprika, garlic powder, and/or onion powder to the salt and pepper seasoning mixture.
Keep the temperature at 350°F: For a crispy outside and juicy inside, keep the air fryer temperature at 350°F. This temperature is the happy medium where both crispiness and juiciness lie.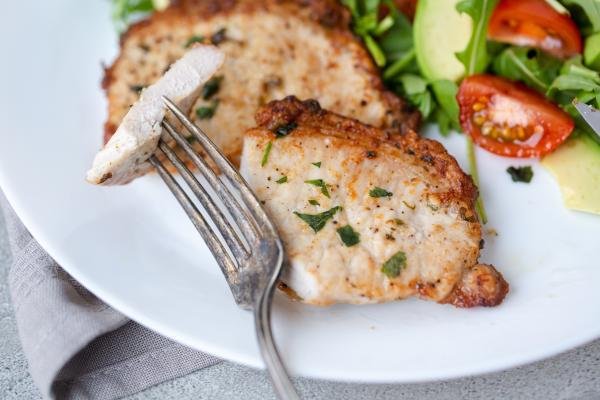 Serving the Chops
Pork chops taste their absolute best served hot and fresh. For a salad side, pair them alongside a classic cucumber and tomato salad (our family favorite!) or quinoa and kale salad. When you're looking to make a more elaborate spread, pair your chops with a veggie side dish like air fryer broccoli (you already have the air fryer out, so why not use it twice?) and garlic mashed potatoes or crispy smashed potatoes.
Preparing Pork Chops Ahead of Time
Air fryer pork chops are even better when prepared ahead of time. Although a quick 10 minute marinade is good, the longer the pork marinates, the better! Whip up the bagged marinade up to two days in advance and pull out individual chops as you need for air frying.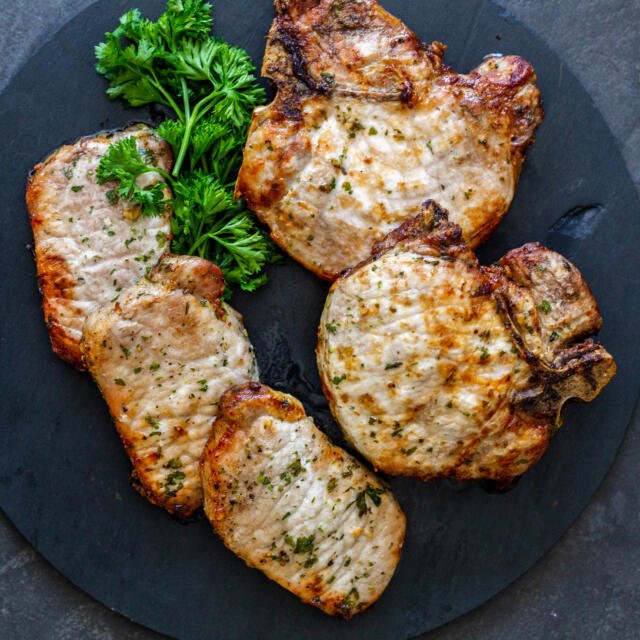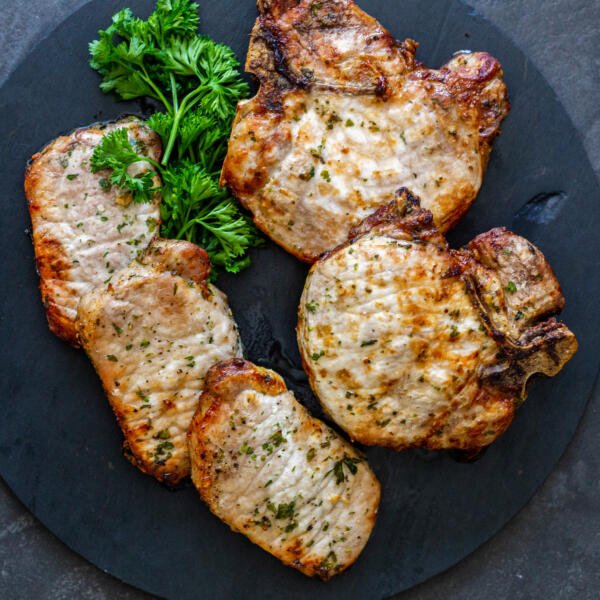 Storing & Reheating
Make an extra few pork chops to have a quick protein option on hand for a variety of meals — as a main entree, salad topping, or sandwich protein. Here's how to best store and reheat the meat the next time you eat it.
Refrigerator: To store for up to three days, place the leftovers into an airtight storage container in the fridge.
Freezer: To store for up to three months, cool the chops and place them into an airtight container or bag in the freezer. Thaw in the fridge overnight before reheating.
Reheating: Reheat the chops with – you guessed it – the air fryer. Place them in the tray at 350°F and heat for 1-3 minutes. This returns them back to their fresh and crispy state. For an easier alternative, zap the chops in the microwave for a few minutes until warm. When there is a large portion of chops, place them in the oven at 350° F and heat until warm.
FAQ
Can you stack meat in an air fryer?
For best results, avoid stacking meat in the air fryer. Since the air fryer operates by the circulation of hot air, stacking meat prevents the air fryer from cooking food properly. If you must stack meat in the air fryer, move chops around every 3-5 minutes to allow all sides to cook and increase the overall cooking time to compensate.
How do you cook pork chops without drying them out?
Prevent your pork chops from drying out by not overcooking them. Invest in a meat thermometer to help you gauge accurate doneness.
How do you preheat an air fryer?
Depending on the model, your air fryer might come programmed with a preheating setting. If you don't have a preheating setting, preheat it manually. Simply set the temperature to 350°F and give it about 2-3 minutes to warm up.
Why are my pork chops tough?
Pork chops become tough when they are overcooked or haven't been marinated. Next time, marinate them for longer and take care not to overcook them.
Can I use frozen pork chops in the air fryer?
You can definitely use frozen pork chops in the air fryer. Simply increase the cooking time by a couple of minutes. Halfway through, remove the pork chops. Season them according to the recipe. Return them to the air fryer basket to finish cooking.
More Air Fryer Recipes to Try
Recipe
These delicious air fryer boneless pork chops are marinated in an herby marinade, then fried for a swift 15 minutes. Pork should always be this good!
Nutrition Facts
Easy Air Fryer Pork Chops
Amount Per Serving
Calories 416
Calories from Fat 198
% Daily Value*
Fat 22g34%
Cholesterol 151mg50%
Sodium 109mg5%
Potassium 845mg24%
Protein 49g98%
Vitamin C 0.5mg1%
Calcium 19mg2%
Iron 1.2mg7%
* Percent Daily Values are based on a 2000 calorie diet.