These pickled jalapeños elevate about every dish! In just 10 mins, you will have the perfect topping for tacos, sandos, & whatever else your heart desires.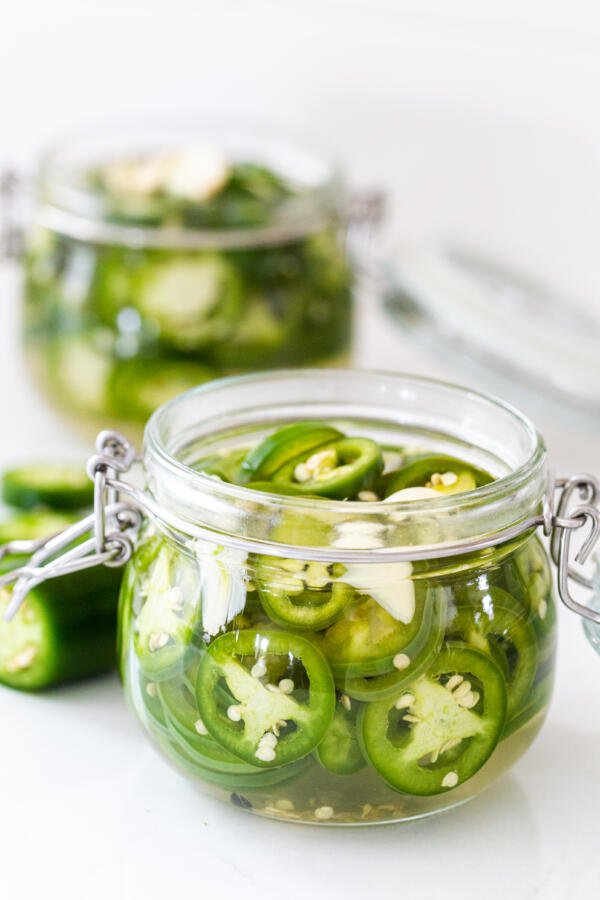 Homemade pickled jalapeños are super simple to make and they are a big money-saver. Instead of spending dollars on jarred peppers, you can make your own that are free of preservatives. That's a win-win…
If you have been my friend on here for a while, you know by now that I always have something pickled in the fridge. This pickled jalapeño recipe just happens to be the newest addition to my obsession with all things pickled. With summer right around the corner, you will want these on hand for every BBQ.
How to Make Pickled Jalapeños
Preparing your own crunchy, pickled peppers only requires you to make a quick pickling liquid and have a little patience for a 24-hour minimum marinade.
Prepare the Jalapeños. Cut the jalapeños into small rings and place them into a pint jar or a couple of smaller jars.
Prepare the brine. In a small saucepan, combine the water, white wine vinegar (or any other white vinegar), garlic cloves, peppercorns, salt, and sugar. Bring the mixture to a boil and remove it from heat.
Marinate the Peppers. Pour the pickling liquid over the sliced jalapeños and pop them in the refrigerator to marinate.
3 Tips for the Best Pickled Jalapeños
If this is your first time pickling peppers, these 3 foolproof tips will help you knock it out of the park.
Slice the pickles into even-sized pieces. To ensure that all the peppers pickle evenly, slice them into similar-sized rings.
Store the jalapeños in canning jars. Even though you won't be doing a traditional "canning job", store the peppers in a Mason Jar or another airtight canning jar. This will prevent them from smelling up your fridge with vinegar and will keep them nice and crunchy.
Allow the jalapeños to pickle for 1-2 days. To get the best possible texture, allow for the peppers to marinate for at least 24-48 hours untouched. Resist that urge to dig in too early!
How to Serve Pickled Jalapeños
The possibilities are endless. Here are a couple of my favorite ways to use pickled jalapeños:
Add them to your guacamole. Substitute fresh jalapeños for pickled in your guacamole. Oh my gosh! This is so, so good.
Use them as toppers for your favorite hot. Add them to carne asada tacos. This adds a wonderful pop of flavor and contrast to savory beef. You can also add them to steak sandwiches, burgers, pizza, or nachos.
Toss them into salads. Add to pretty much any garden salad or top off your eggs with a couple (my personal go-to!).
Serve them at your next BBQ. Place a jar on the table at your next BBQ. Grilled meats and pickled jalapeños were made for one another.
Wrap them into a burrito. Add them to your breakfast burrito.
More Seasoning Options
Plain pickled jalapeños are awesome — I don't have to tell you that! However, if you want to spice things up a bit, here are a couple of ingredients you can add to the jar to infuse some extra flavor in:
Cloves of Garlic. Garlic jalapeños are so tasty. Add in as many peeled cloves that you can handle. I find that the pickled cloves are also super delicious to munch on!
Bay leaves. Bay leaves aren't just for soup! This leaf adds a nice, earthy flavor to your jalapeños. Add one or two to the jar.
Cumin Seeds. Cumin spiced jalapeños are perfect for tacos and burritos. Add a tablespoon or two into your jar.
Oregano. Your favorite taqueria might already do this. Oregano adds an awesome herby flavor to your jalapeños. You can use fresh or dried.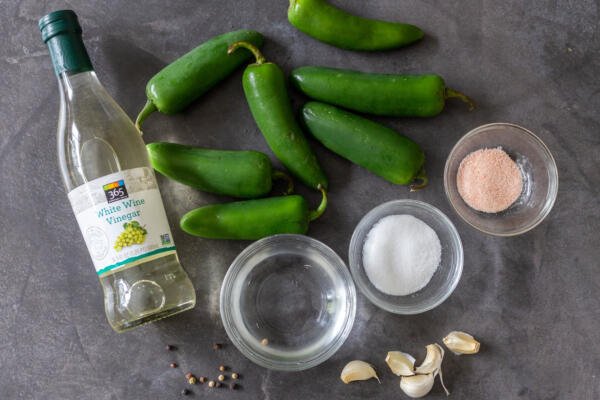 Storing Best Practices
To keep your pickled peppers on hand for up to 3 weeks, store them in an airtight canning jar with the lid closed tightly to create a seal. Keep them stored in the refrigerator, as they are not properly canned and not shelf stable. As they continue to marinate in the fridge, they will continue to get crunchier.
FAQ
Are fresh jalapeños hotter than pickled?
Fresh jalapeños are much hotter than pickled. The pickling process reduces the amount of capsaicin in your jalapeños and makes them much sweeter and significantly milder.
How long do pickled jalapeños last?
Quick pickled jalapeños last about three weeks. If you want them to last longer, you will need to do a proper sterilization canning for them. To learn how to can, use this recipe for sweet and spicy pickles. The process is more time-consuming, but your jalapeños will last for up to 6- 12 months.
Are pickled jalapeños healthy for you?
Yes, pickled jalapeños are indeed good for you. The vinegar is good for your gut and they are super low in calories, making them a great option for flavoring dishes without adding any additional fat.
Can you use pickled jalapeños instead of fresh in salsa?
Yes, you can use pickled jalapeños instead of fresh in just about any salsa. Just be aware that they will add an extra pop of tanginess, so you may need to add less lime juice if the recipe calls for it.
Can pickled jalapeños be frozen?
No, pickled jalapeños cannot be frozen. As a general rule of thumb, no pickled food is good frozen, as they don't tend to thaw well and get ultra-mushy. The whole point is to add that fresh crunch to the foods you love.
More Pickled Recipes
We love pickled recipes and we have a few other favorites that you must try! There's something about a vinegary punch that is so darn addicting.
Recipe
These easy pickled jalapeños come together in just 10 quick minutes. Soon, you'll always have a jar hanging out in the refrigerator for rainy day snacking!
Nutrition Facts
Pickled Jalapeños
Amount Per Serving
Calories 22
Calories from Fat 9
% Daily Value*
Fat 1g2%
Sodium 702mg29%
Potassium 56mg2%
Carbohydrates 4g1%
Protein 1g2%
Vitamin A 126IU3%
Vitamin C 14mg17%
Calcium 10mg1%
Iron 1mg6%
* Percent Daily Values are based on a 2000 calorie diet.