These chicken street tacos are made with grilled chicken marinated in a tangy orange-lime marinade, then topped with onion, avocado, and cilantro. Yum!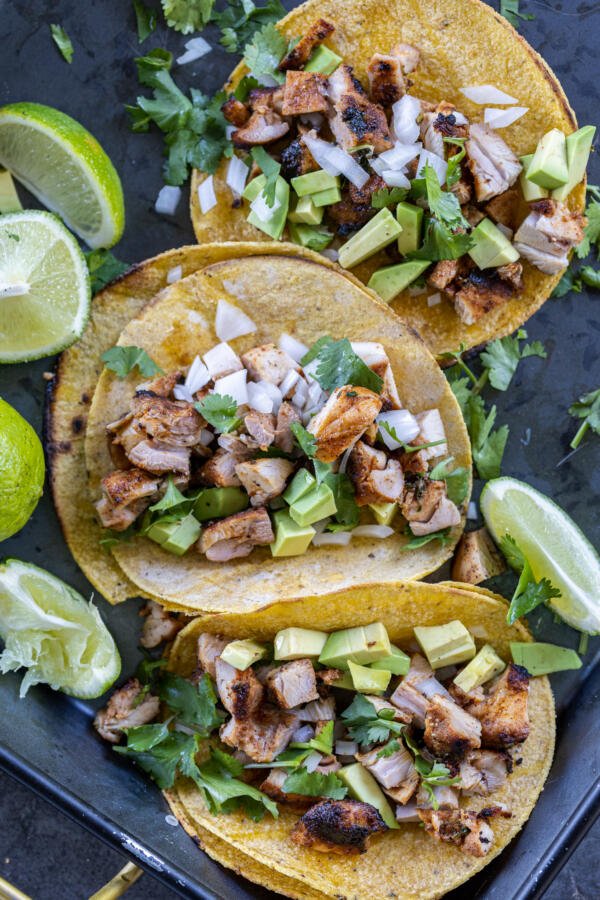 What are Chicken Street Tacos?
"Street tacos" are part of Tex-Mex cuisine, combining a mixture of Mexican and American flavors. The term "street taco" originated when Mexican migrants working on mines and railroads made tacos for their meals. Their tacos were called "street food" or "lower-class" food, but these delicious tacos have nothing low-class about them today.
Street tacos differ from regular tacos in the ingredients included. Regular tacos often use larger corn or flour tortillas and are served with additional toppings like shredded lettuce, tomatoes, and cheese. On the other hand, street tacos are quicker to make and they are more simple, containing only a few classic ingredients.
These chicken street tacos consist of cubes of juicy grilled chicken placed inside a corn tortilla and topped with cubed avocados, freshly diced onion, cilantro, and occasionally sliced radishes.
How to Make Grilled Chicken Street Tacos
This chicken street taco recipe has two easy parts — preparing the chicken and assembling the taco.
Prepare the Chicken
The most important part of the chicken street taco is the juicy, savory chicken. Prepare and grill the chicken ahead to save on time!
Remove extra fat: Cut off any extra fat from the chicken thighs, then place the thighs in a large ziplock bag.
Marinate the meat: Add the marinade ingredients to the bag and combine well. Marinate for 2-5 hours.
Grill the chicken: Preheat the grill to medium high heat, then grill the chicken until golden brown and internal temperature reaches 165°F.
Hot tip: This marinated chicken is great for more than just tacos! Use the chicken to add protein to your favorite salads.
Assemble the Taco
Once the chicken is grilled, the rest of the taco assembly is crazy easy.
Cut the ingredients: Cut the chicken and avocado into similar size pieces. Dice the onions and chop the cilantro.
Assemble the taco: Place chicken on the center of the tortilla, then top with remaining ingredients.
Serve: Serve alongside lime wedges.
Hot Tip: If you have a chance, char the tortillas a little bit for an extra good flavor and crisp!
Tips for the Best Tacos
This recipe is loved for the delicious chicken paired with fresh taco toppings. Here are ways to add the most to the flavor.
Use chicken thighs: Chicken thighs work the best for street tacos. They are more tender and retain more moisture compared to chicken breast.
Remove the fat: For more lean pieces of meat in the taco, remove any extra fat from the chicken prior to marinating.
Give ample time to marinate: Allow enough time for the chicken to marinate and soak in the delicious flavors.
Grill the chicken: Grilling the chicken gives the best flavor. However, pan frying or baking works well when grilling is not an option.
Check the temperature: Avoid under or over-grilling the chicken. Chicken is ready when the internal temperature reaches 165°F. We love using this instant read thermometer for an accurate measurement.
Rest the chicken: After the chicken is finished grilling, let it rest for a few minutes before cutting. This helps keep the juices inside the meat.
Add more spices to the marinade (optional): To change up the flavor, add your favorite special spices such as chili powder, paprika, cumin, and oregano. Or go with the classic spices like salt, garlic powder, and onion powder to increase the flavor.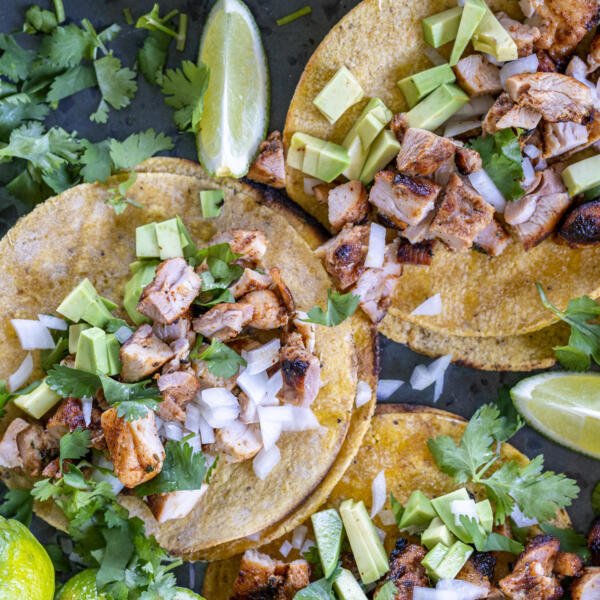 Serving the Tacos
Pair your chicken tacos with fresh tasting Mexican-cuisine salads such as mexican street corn salad and black bean and corn salsa. Or, add guacamole, pico de gallo, and cotija cheese directly into your tacos for extra flavor. If you prefer the guacamole and pico on the side, make sure to have a bowl of homemade air fryer tortilla chips ready to go for dipping.
Storage & Reheating Tips
Assembled street tacos don't store well, but there is good news — the chicken does! Store and reheat the chicken with our tips, and prepare the onion, avocado, and cilantro fresh when you're hungry for another taco.
Refrigerator: To store the cooked chicken for up to a week, place it in an airtight container in the fridge. Store it either cubed or as a whole grilled thigh.
Reheat: Reheat the chicken cubes in a skillet on medium high heat until warmed through.
FAQ
Why are they called street tacos?
"Street taco" is the name given to the tacos made by Mexican migrants working on mines and railroads when they entered the U.S. It was called "street food" or "lower-class" food then, but there's nothing low class about these delicious tacos today.
Are street tacos served cold or hot?
Street tacos are typically served with hot meat topped with fresh and cold toppings (avocado, cilantro, onion). However, street tacos with cold meat also taste delicious.
Why do street tacos often come with two tortillas?
Street tacos often come with two double-stacked corn tortillas because it makes the taco more sturdy. It is not necessary, but it helps prevent the taco contents from falling out of a cracked tortilla.
More Mexican Foods to Love
Recipe
These chicken street tacos are made with grilled chicken marinated in a tangy orange-lime marinade, then topped with onion, avocado, and cilantro. Yum!
Ingredients
Chicken Marinade
2

lbs

chicken thighs

boneless skinless

1/4

cup

orange juice

2

tbsp

lime juice

1

cup

cilantro

chopped

1/4

cup

oil

olive or avocado

3

tsp

chili powder

1

tsp

cumin

1

tsp

salt
To Serve Chicken Street Tacos
16

mini corn tortillas

2

avocados

cut into cubes

1

small white onion

diced

1/2

cup

cilantro

chopped

3

limes

sliced for garnish
Instructions
Chicken Marinade
Add in orange juice, lime juice, cilantro, oil, chili powder, salt and cumin. Stir to combine it all together. Leave it to marinate for 2-5 hours.
Nutrition Facts
Grilled Chicken Street Tacos
Amount Per Serving
Calories 525
Calories from Fat 315
% Daily Value*
Fat 35g54%
Cholesterol 111mg37%
Sodium 420mg18%
Potassium 673mg19%
Carbohydrates 33g11%
Protein 23g46%
Vitamin A 621IU12%
Vitamin C 19mg23%
Calcium 77mg8%
Iron 2mg11%
* Percent Daily Values are based on a 2000 calorie diet.