In this chocolate babka recipe, light and fluffy brioche bread is twisted with a layer of chocolate. There's nothing like a slice of this true work of art!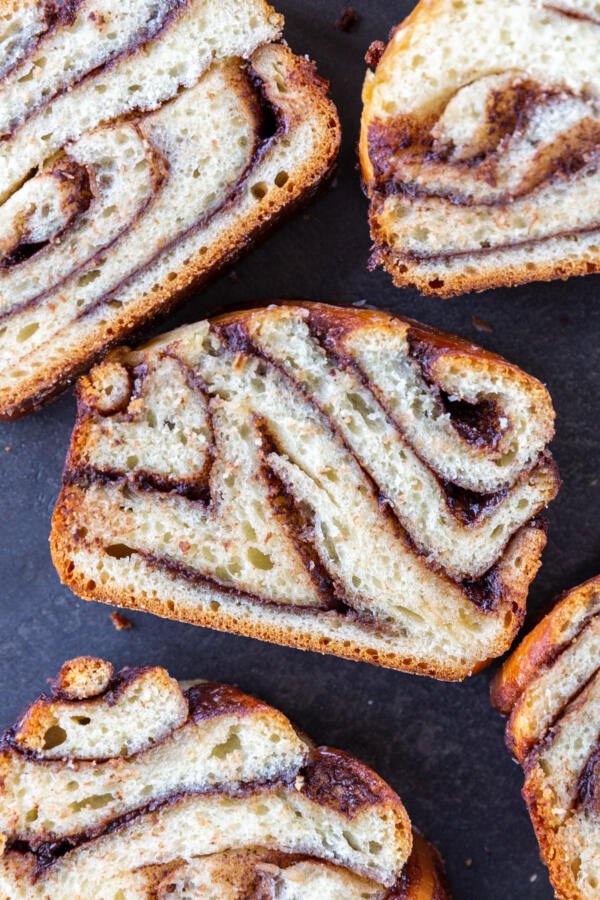 What Is Chocolate Babka?
Chocolate babka is a sweet braided brioche bread filled with a chocolate sauce. It is made by rolling a yeasted dough with a chocolate filling and then braiding the pieces together. Once baked, babka is tender, buttery, and is simply beautiful. It's most often eaten as a dessert, either warm or cold.
Babka is thought to be Jewish in heritage, but it is also very similar to German "krantz cake". The name is best translated as "little grandmother", most likely because grandmothers were often known to make this babka bread. Today, you'll find this sweet bread eaten all over Europe and the whole world!
How to Make Chocolate Babka from Scratch
To make things easier, we've broken up the process for making chocolate babka into four different steps – making the dough, making the filling, filling and shaping the loaf (braiding), and baking the babka.
Making the Babka Dough
Before making the babka dough, measure out the ingredients, ensure the water is lukewarm (about 110°F), and that the butter is soft and at room temperature.
Mix the dry ingredients: In the large bowl of a stand mixer, stir the all-purpose flour, sugar, active dry yeast, and salt together.
Add the wet ingredients: Stir in the eggs and water, then knead until everything is well incorporated.
Knead in the butter: Cut the butter into small cubes, then add in one cube at a time while kneading the dough. Keep going until the dough is shiny and elastic.
Refrigerate the dough: Place the dough into a large, oiled bowl. Cover with plastic wrap and refrigerate at least six hours or overnight.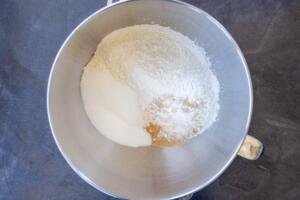 Making the Filling
While the dough is in the fridge, make the filling so it is ready to go when you're ready to shape the babka.
Combine ingredients in a saucepan: Combine the chocolate chips (or chopped chocolate bar), butter, sugar, and cocoa powder in a heavy saucepan.
Cook the sauce: Cook and stir the ingredients until the chocolate melts and the sauce is creamy. Set it into the fridge to cool and thicken into a spreadable consistency.
Hot tip: If you want even more flavor and texture to your filling, add in mini chocolate chips, cinnamon, or crushed nuts!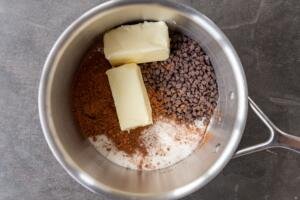 Filling & Shaping the Babka
Once you are ready to fill and shape the babka, remove the dough from the fridge and let it sit at room temperature for at least 40 minutes before filling and shaping.
Prepare the bread pans: Butter two loaf pans and line them with parchment paper.
Divide the dough: Divide the dough into two pieces and roll them into rectangles on a lightly floured surface with a rolling pin. Spread the chocolate filling over each rectangle with a knife or offset spatula (to easily scrape the sides of the bowl).
Roll & seal the dough: Roll each rectangle (starting at one of the long edges) into a tight roll. Pinch the end to seal.
Braid the bread: Cut each roll into two pieces and twist the two pieces together (with the cut sides facing up) to form the babka roll. Press them together to seal. (See photos below for a visual guide).
Move the babka to loaf pan: Move each roll into a loaf pan. Cover them with a towel and let them rise in a warm spot for 45 minutes.
Hot tip: For a crunchy streusel topping, grate four tablespoons of frozen butter into a bowl with 1/2 cup of flour. Add five tablespoons of brown sugar, stir, then put on top of the babka before baking.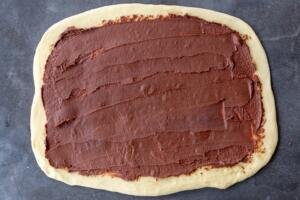 Baking & Applying the Syrup
In the last 5-10 minutes of the babka rising, preheat the oven to 375°F. While you wait, make the babka syrup.
Bake the babka: Remove the towels and bake the babka loaves in a preheated oven for about 30 minutes or until the tops are golden brown.
Make the soaking syrup: Combine the water and sugar in a saucepan. Simmer and stir the ingredients until the sugar is completely dissolved.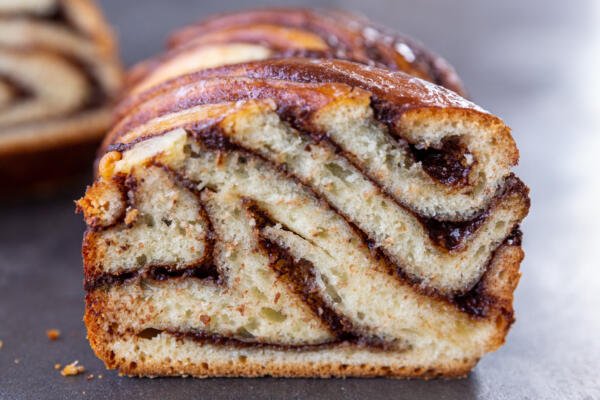 3 Tips for Bakery-Worthy Chocolate Babka
Is it your first time making babka? No worries! These pointers will help you make a chocolate babka worthy of any bakery window.
Use a standing mixer to speed up the process: To speed up the process (and make it easier), use a standing mixer with a dough hook attachment to make the babka dough.
Shape the dough on a well-floured surface: To prevent the dough from sticking and being too difficult to work with, shape it on a well-floured surface.
Opt for unsalted butter: Use unsalted butter for the dough and chocolate filling to avoid altering the sweet taste of the bread.
Prepping Chocolate Babka in Advance
Are you hoping to bring babka to brunch but are running low on time? Prep it ahead of time! There are two different ways you can prep your babka in advance – store the dough or freeze the babka unbaked.
Store the dough: Refrigerate the babka dough for up to two days. Prep the filling and syrup before assembling the babka.
Freeze the babka unbaked: Optionally, freeze the unbaked (but fully prepared) babka. After it is filled and shaped, place the babka on a parchment-lined sheet pan and freeze. Once fully frozen, transfer it to an airtight container. When ready to bake, allow the babka to thaw at room temperature for at least five hours before baking.
Storing Baked Chocolate Babka
Unless you're making babka for a whole party, chances are you will have leftovers. But — that's good news! That means more deliciousness for you! Follow these guidelines on how best to store your chocolate babka.
Room temperature: To store chocolate babka for up to three days, keep it in an airtight container at room temperature.
Refrigerator: To store for up to 2-3 weeks, tightly wrap the babka in plastic wrap or place into an airtight container and refrigerate.
Freezer: To store for up to one month, tightly wrap the babka in plastic wrap followed by foil, then freeze. To thaw, place it on the countertop for a couple of hours.
Reheating: For a warm babka, reheat it in the oven for a couple of minutes.
FAQ
Is chocolate babka a bread or cake?
Despite how sweet it is, chocolate babka is a bread and not a cake. However, some babkas do have more filling and toppings, making them even sweeter.
Is chocolate babka served warm or cold?
Chocolate babka can be served warm or cold – it's up to your preference. Eat it straight out of the oven or allow it to cool down and serve it as a pastry.
Are challah and babka the same?
Challah and babka have similar doughs that are egg-heavy. The main difference between the two is that challah is made with oil while babka is made with butter.
Is chocolate babka breakfast or dessert?
Chocolate babka is great for both breakfast and dessert. If you're having it at breakfast, pair it with coffee or tea. If you're eating it for dessert, warm it up and serve it with a scoop of vanilla ice cream on top.
What is the difference between babka and brioche?
Babka is made with brioche dough, so it falls into the brioche family. The big difference is that babka is often braided with different fillings like chocolate, cinnamon, or nuts.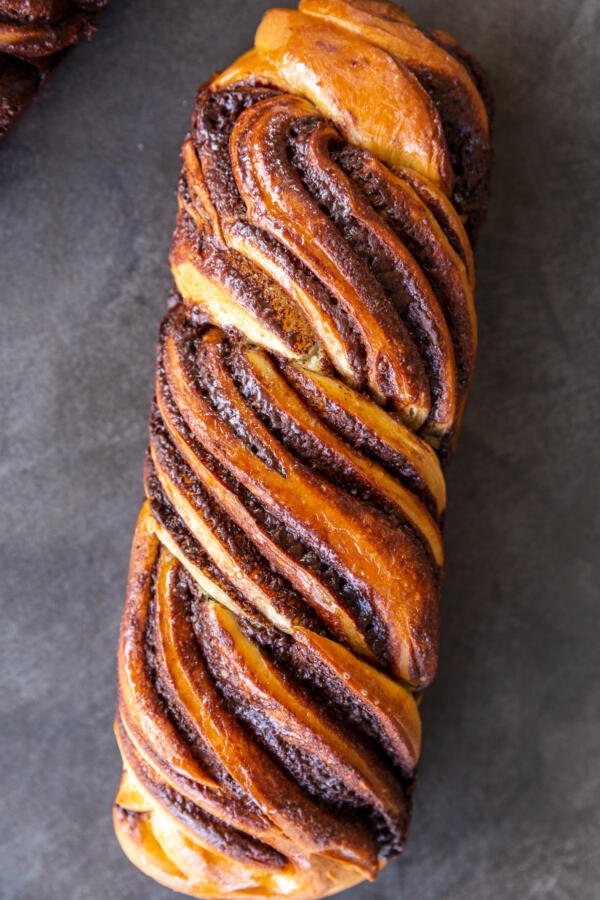 More of Brioche & Sweet Bread Recipes
Recipe
In this chocolate babka recipe, light and fluffy brioche bread is twisted with a layer of chocolate. There's nothing like a slice of this true work of art!
Ingredients
Instructions
Nutrition Facts
The best Chocolate Babka Recipe
Amount Per Serving
Calories 400
Calories from Fat 180
% Daily Value*
Fat 20g31%
Cholesterol 67mg22%
Sodium 90mg4%
Potassium 168mg5%
Carbohydrates 51g17%
Protein 6g12%
Vitamin A 464IU9%
Vitamin C 1mg1%
Calcium 24mg2%
Iron 3mg17%
* Percent Daily Values are based on a 2000 calorie diet.