Chocolate Babka is a real treat. Light, fluffy bread twisted with a layer of chocolate. You will be surprised at how simple the process is to make this beautiful work of art.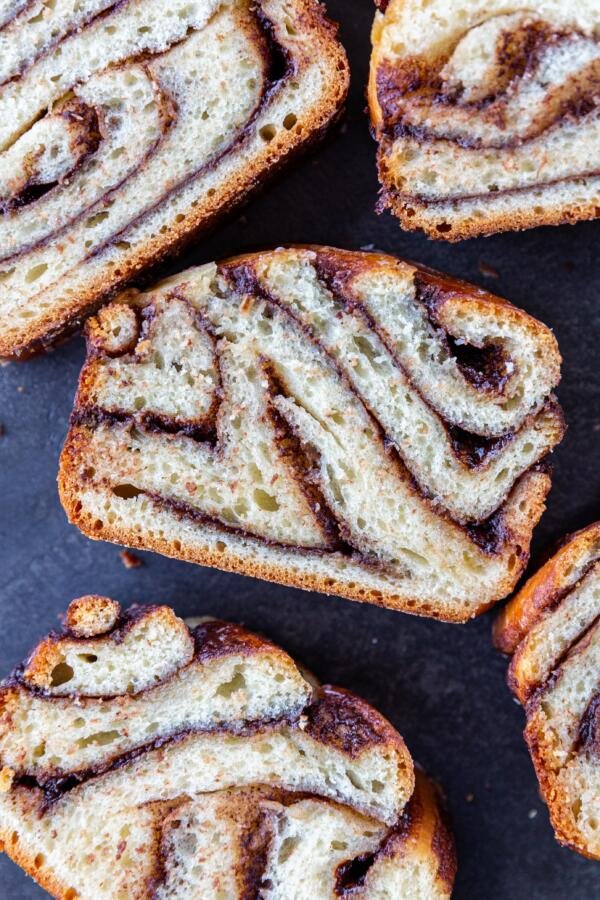 What is Babka
Chocolate Babka is a sweet braided bread. It's made by rolling a yeasted dough with a chocolate filling and then braiding the pieces together. Babka is tender, buttery, and is a beautiful presentation!
How to Make Babka Dough
Mix together the flour, sugar, yeast, and salt. Add eggs and water, then knead to combine.
Knead the dough while slowly adding the butter until the dough is shiny and elastic.
Allow the dough to rest in a covered, oiled bowl in the fridge for at least 6 hours. Allow the dough to sit at room temperature for 40 minutes before shaping.
How to Make Chocolate Babka Filling
Chop the chocolate and add to a saucepan with butter, sugar, and cocoa powder. Cook and stir until it becomes creamy and combined.
Set in the fridge to cool and thicken.
How to Shape Babka
Divide the dough into two pieces and roll into rectangles. Spread the chocolate filling over each rectangle.
Roll the rectangle (starting at one of the long edges) into a tight roll. Pinch the end to seal.
Cut each roll into two pieces and twist the two pieces (with the cut sides up) to form two babka rolls. Add shaped babka to prepared bread pans and let it rise, covered with a towel, in a warm spot for 45 minutes.
Baking Babka
Bake the babka loaves in a preheated oven for about 30 minutes or until the tops are golden brown.
While the babka is baking, make the syrup by combining the water and sugar in a saucepan and simmering until the sugar is dissolved.
Brush the baked babkas with syrup. Remove them from the pans and cool before serving.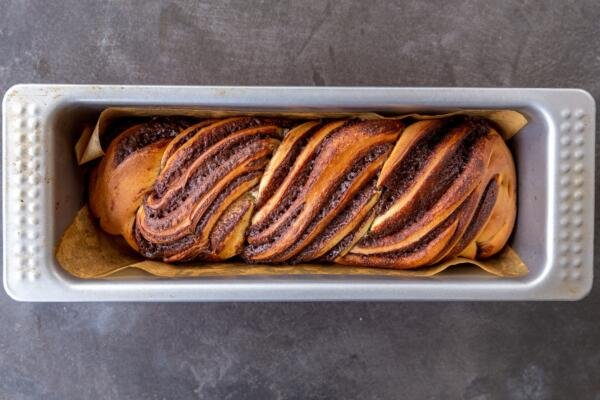 FAQ
Is Babka a brioche?
Babka is a sweet, braided bread that is made from a brioche dough. A brioche dough is a cross between a pastry and a bread that is very buttery, soft, and fluffy. Brioche can be made into a sweet or savory bread.
Where is chocolate babka from?
Babka is from the Jewish communities of Poland and Ukraine. It was developed in the Eastern European communities in the early 19th century. Chocolate was not originally used until the 20th century.
Why is my babka dry?
Your babka may be dry for several reasons such as too much flour was added to the dough or the babka was overbaked.
What ethnicity is babka?
Babka is an Eastern European sweet bread that originated in Jewish communities.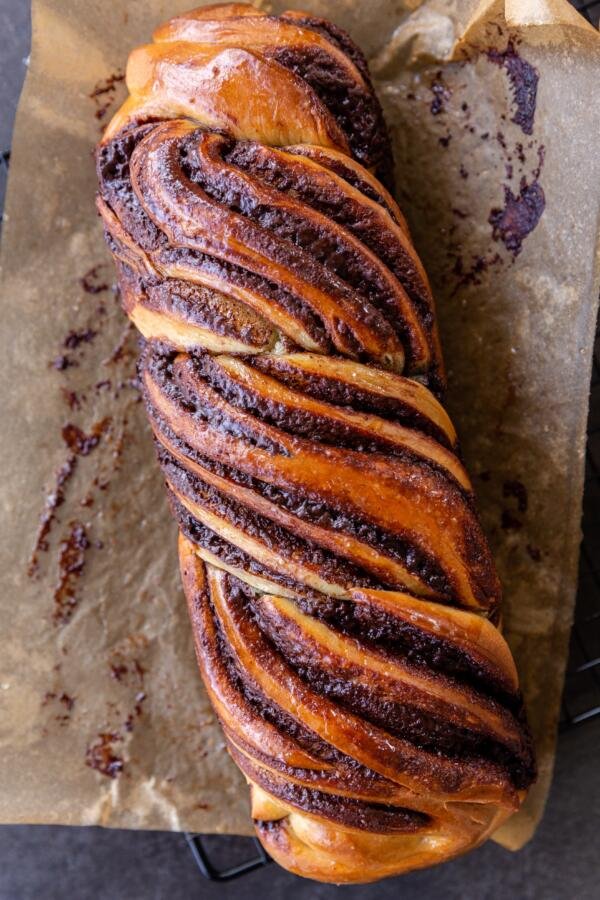 Making Chocolate Babka in Advance
To make chocolate babka in advance, you can refrigerate the babka dough for up to two days. You can also freeze the fully baked babka that has been tightly sealed and fully wrapped.
Optionally, you can freeze the unbaked babka. After you form the babka into shape, place it on a parchment-lined sheet pan and freeze. Once fully frozen you can transfer it to an airtight container. When ready to bake, allow to thaw at room temperature for 5 hours before baking.
More of Sweet Breads
Recipe
Chocolate Babka is a real treat. Light, fluffy bread twisted with a layer of chocolate. You will be surprised at how simple the process is to make this beautiful work of art.
Ingredients
Instructions
Nutrition Facts
The best Chocolate Babka Recipe
Amount Per Serving
Calories 400
Calories from Fat 180
% Daily Value*
Fat 20g31%
Cholesterol 67mg22%
Sodium 90mg4%
Potassium 168mg5%
Carbohydrates 51g17%
Protein 6g12%
Vitamin A 464IU9%
Vitamin C 1mg1%
Calcium 24mg2%
Iron 3mg17%
* Percent Daily Values are based on a 2000 calorie diet.