This brioche bread pudding is heaven sent. Speckled with melted chocolate chips and pears, it's your new favorite guilty pleasure.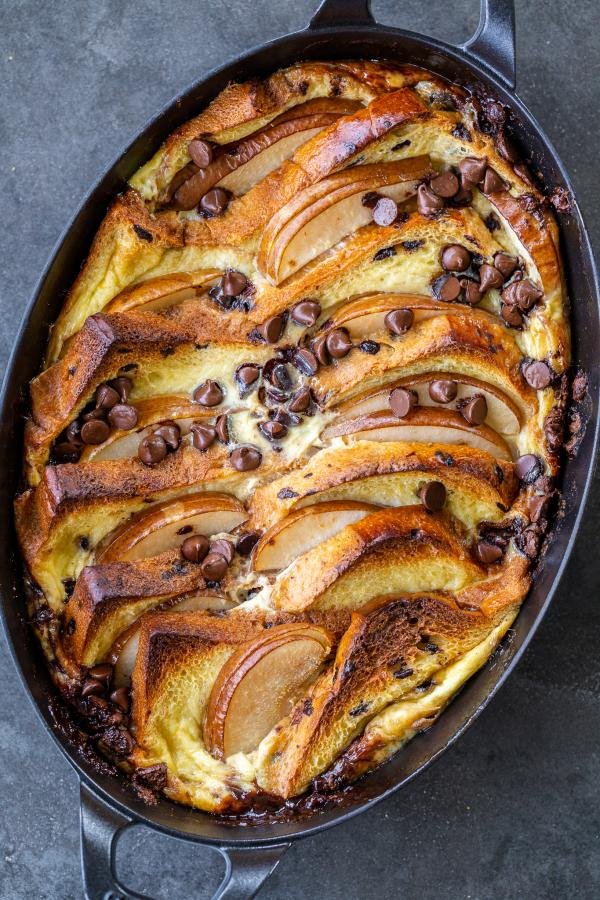 This is not your grandmother's bread pudding (although that's delicious too). This elevated, unique brioche bread pudding is a refreshing departure from the typical combo of cinnamon and raisins. When I have overnight guests, I love whipping it up for brunch or dessert. The smell that will fill your kitchen is otherworldly!
A Backgrounder on Brioche & Why it's Special
If you haven't used brioche much, you're in for a treat. From snacking to french toast to bread pudding, its texture and taste is unparalleled. Mildly yeasty, earthy, and sweet, it's great for desserts and breakfast. It also touts a beautiful, slighty yellow color – a true feast for the eyes!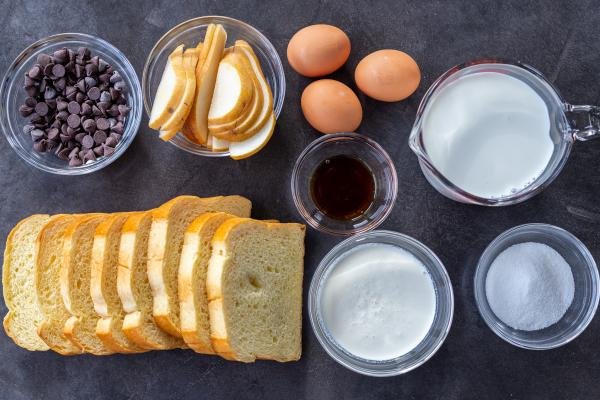 Assembling this Tasty Brioche Bread Pudding
Despite its beautiful presentation, this bread pudding only requires some light assembly.
Slice the Brioche: First, cut the slices of brioche in half and assemble them in your favorite baking dish (my fav is this oval one from Staub – it's pretty and so functional).
Add the Pears: Next, tuck a couple of slices of pear in between each slice of brioche.
Make the Custard: In a medium bowl, whisk the heavy cream, large eggs, vanilla extract, sugar, and milk together.
Soak the Brioche: Pour the egg mixture over the brioche and allow it to soak for 30 minutes. Sprinkle chocolate chips on top.
Bake the Bread Pudding: Finally, pop the brioche bread pudding in the oven and bake at 350°F for 35 minutes. Dig in!
Tips for the Restaurant-Worthy Bread Pudding
While this recipe is pretty straightforward, a couple of tips will help you nail it on the first go.
Slice the pears thin. To prevent chomping down on undercooked fruit, slice the pears in similar-sized, thin slices.
Don't skip the soak. Soaking the brioche in the custard is key to ensuring your bread pudding turns out moist. You want the custard to seep into every little nook and cranny!
Bake the bread pudding uncovered. To get a nice crisp on top, make sure to bake the bread pudding uncovered.
Serving Suggestion: Top the bread pudding with a scoop of vanilla ice cream, whipped cream, or a drizzle of warm caramel sauce.
Ways to Tweak Your Brioche Bread Pudding
Consider this recipe the perfect foundation to play around with and make your own. Below, find a couple of different ideas:
Opt for bread cubes over slices. For more texture, slice the brioche into 2-inch bread cubes versus slices.
Swap in different fruits. If pears aren't your thing, swap in apples or your favorite dried fruit (cranberries, raisins, and blueberries work great).
Add in some nuts for a crunch. Pecans and walnuts are both welcome additions. Give them a rough chop and sprinkle them right on top!
Add your favorite ingredients to the custard. The custard is delicious as-is, but feel free to add a splash of bourbon, nutmeg, or maple syrup to the mix. You can also brighten the bread pudding with a couple shavings of orange zest.
The Best Storing, Freezing, & Reheating Tips
Bread pudding is a great make-ahead dessert and it reheats ridiculously well.
Storing: To keep bread pudding on hand for up to a week, seal it in an airtight container and store it in the refrigerator.
Freezing: To have bread pudding on hand for up to a month, freeze it in an airtight container.
Reheating: Reheat refrigerated bread pudding in the microwave for about a minute. If reheating frozen bread pudding, always pop it in the oven to prevent it from turning soggy.
FAQ
How do you keep brioche bread fresh?
To keep brioche bread fresh, store it in a sealable storage bag or airtight container. It will stay fresh for 2-3 days at room temperature and up to a week in the fridge.
Can you use something besides brioche?
If you don't have brioche on hand, opt for challah instead.
Do you need to use day-old bread for bread pudding?
Unless you want your bread pudding extra crispy, there's no need to use day-old bread.
How do you know when bread pudding is finished cooking?
You'll know your bread pudding is done with the top is golden brown and a fork comes out clean after being inserted in the middle. That said, if you like a little "jiggle" feel free to pull it out a touch early.
Can you overcook bread pudding?
Although the custard makes it difficult to dry the pudding out, you'll want to be mindful the top doesn't burn and overcook.
More Tasty Treats to Try
Recipe
This brioche bread pudding is baked to perfection with thinly sliced pears and chocolate chips. The custard will have your mouth watering!
Nutrition Facts
Brioche Bread Pudding (Crazy Easy)
Amount Per Serving
Calories 297
Calories from Fat 153
% Daily Value*
Fat 17g26%
Cholesterol 126mg42%
Sodium 91mg4%
Potassium 208mg6%
Carbohydrates 29g10%
Protein 7g14%
Vitamin A 660IU13%
Vitamin C 2mg2%
Calcium 155mg16%
Iron 1mg6%
* Percent Daily Values are based on a 2000 calorie diet.