This easy chocolate mousse is infused with sweet homemade raspberry juice and is insanely decadent. Topped with fresh berries and served in individual cups!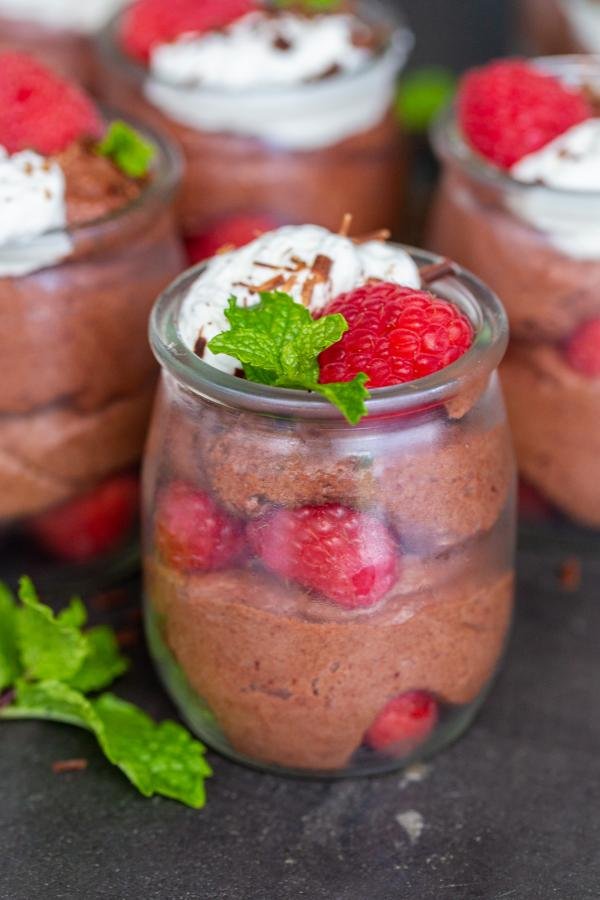 Perhaps the coolest part of this recipe is that it uses 100% whole ingredients to make a perfectly elegant easy chocolate mousse. Instead of fake flavoring, you'll cook down raspberries, strain out all the juice, and infuse the sweet sauce into the chocolate. Full of rich chocolate flavor and great for everything from Valentine's Day dessert to fancy dinner parties!
Components to Classic Chocolate Mousse with Raspberry
To make this easy chocolate mousse, all you need is four basic ingredients to get that perfectly smooth steakhouse-texture.
Fresh Raspberries – Fresh raspberries lend such a natural sweetness to the mousse. However, if you only have frozen, those will work totally fine too.
Sugar – Plain white sugar helps to highlight the natural flavors of the raspberries to create a sinful, fruity syrup.
Chocolate Chips – We like to use dark chocolate chips for their depth of flavor, but feel free to swap in milk chocolate chips or semi-sweet chocolate chips instead.
Heavy Whipping Cream – Heavy whipping cream will be the base for your fresh whipped cream – the binder that brings all the components together and turns the mousse super creamy!
Note: Some mousse recipes use eggs (typically egg yolks with the egg whites removed) whipped with sugar to aerate the mousse. We just use simple whipped cream in this recipe!
Tools You Need to Make Easy Chocolate Mousse
Here you'll find some handy tools to make this raspberry chocolate mousse. If you don't have all of them, no worries, we suggest a couple of substitutes and work arounds!
Making this Easy Chocolate Mousse Recipe
Making the perfect chocolate mousse is mainly a game of technique and combining the ingredients at the right time to get that creamy, airy texture.
Cook Down the Raspberries: First, combine the sugar and fresh raspberries in a saucepan and simmer them over medium-heat until jelly-like.
Strain the Raspberry Sauce: Next, strain the raspberry sauce through a fine mesh sieve to separate the liquid and strain out the seeds.
Melt the Chocolate Chips: Then, create a steam bath or use a double broiler to melt down the chocolate chips until creamy. Stir in the raspberry sauce to the melted chocolate.
Make the Whipped Cream: Next, whisk the heavy whipping cream until it reaches stiff peaks. In small portions, fold in the whipped cream into the chocolate mixture with a spatula.
Pipe the Mousse: Next, place the mousse in a piping bag and pip it into individual serving cups.
Decorate the Mousse: Top the mousse with a couple of raspberries, a dusting of cocoa powder or espresso powder, or shaved dark chocolate.
Refrigerate the Mousse: Lastly, chill the mousse in the refrigerator for a couple of hours to help it set. Dig in and enjoy!
3 Tips for Preparing Easy Chocolate Mousse
A couple of handy tips will help you prevent your mousse from turning out either too dense or too runny.
Use extra cold heavy whipping cream. Cold heavy whipping cream emulsifies better and turns into really fluffy whipped cream. If you have to, stick it in the freezer for 10 minutes before beating it.
Don't over mix the heavy whipping cream. Over mixing the heavy whipping cream will cause it to fall flat. Once it reaches stiff peaks, don't beat it anymore.
Allow the mousse to set for a couple of hours. Give the mousse at least 2 hours to set in the refrigerator before you serve it. You can even take this to overnight if you want to prep ahead of time.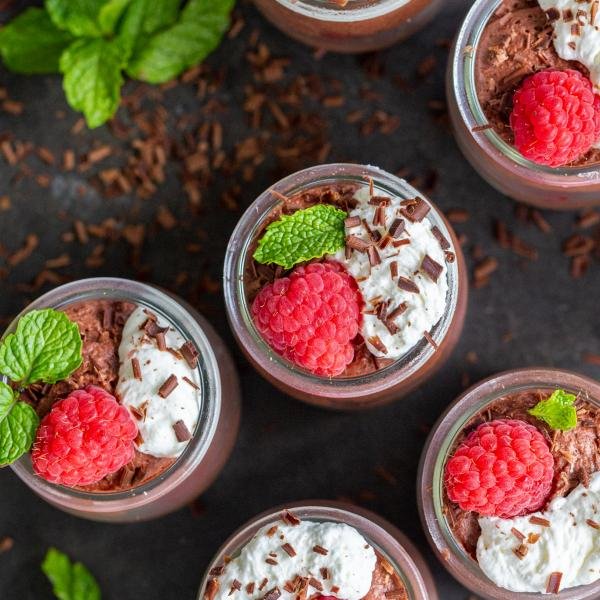 Storage Best Practices
To keep the chocolate mousse on hand for 4-5 days, keep it stored in the refrigerator. Make sure each cup is covered tightly with plastic wrap to prevent the mousse from soaking up any residual smells in the fridge.
FAQ
Why is my chocolate mousse not fluffy?
The main reason that chocolate mousse doesn't turn out fluffy is that the whipped cream was over beaten before it was incorporated. A good mousse is only as good as the airiness of the whipped cream used to make it!
What can you use instead of heavy whipping cream in mousse?
Sadly, there isn't another dairy ingredient that whips quite like heavy whipping cream. For best results, use a full-fat, extra cold heavy cream to get the fluffiest whipped cream possible.
Is chocolate mousse just whipped chocolate pudding?
Whipped pudding is a great way to describe the taste and texture of a chocolate mousse. However, the process to make mousse is much different that pudding.
How do you fix dense chocolate mousse?
If your mousse turned out extra dense, add a bit more whipped cream into it until it's the texture you prefer. Start will small amounts to avoid adding too much!
Why does mousse gets watery how can you avoid it?
The main reason that mousse turns out watery is if it was made with watery whipped cream. To avoid this mistake, beat the heavy whipping cream until fluffy, stiff peaks form.
Other Dessert Recipes to Try
Recipe
This easy chocolate mousse recipe is perfectly sweet and infused with homemade raspberry sauce. Best topped with fresh raspberries or shaved chocolate!
Nutrition Facts
Easy Chocolate Mousse Recipe With Raspberries
Amount Per Serving
Calories 312
Calories from Fat 189
% Daily Value*
Fat 21g32%
Cholesterol 49mg16%
Sodium 31mg1%
Potassium 68mg2%
Carbohydrates 28g9%
Protein 3g6%
Vitamin A 657IU13%
Vitamin C 6mg7%
Calcium 66mg7%
Iron 1mg6%
* Percent Daily Values are based on a 2000 calorie diet.