Juicy spiced apples, flaky pie crust, and a brown sugar crumb topping … this Dutch apple pie is irresistible. It's sweet and cinnamony — you'll need a second slice!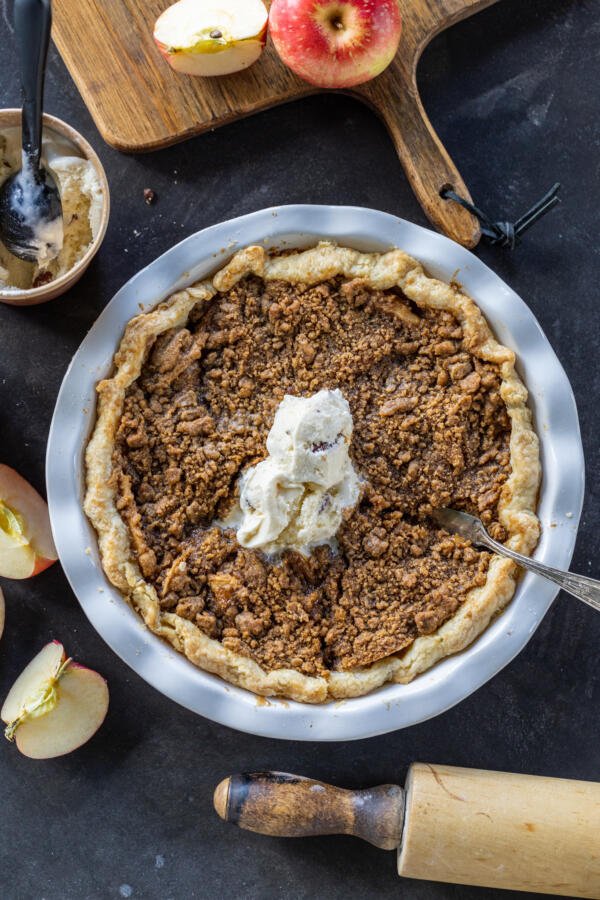 What Is a Dutch Apple Pie?
Dutch apple pie is a dessert comprised of a pie crust shell, apple filling, and crumb topping. The crumb topping is what differentiates this pie from a standard apple pie, which has a double crust. Dutch apple pie is flavored with sweet apples, cinnamon, and vanilla.
Contrary to its name, Dutch apple pie is actually not Dutch. True apple pie from the Netherlands is called 'appeltaart,' and it is more cake-like in texture with a lattice crust topping and raisins. Some speculate that Dutch apple pie derived its name from early methods of baking pie in a Dutch oven. The exact origins of this pie are unknown, but it is absolutely delicious regardless.
Dutch Apple Pie Video
How To Make Dutch Apple Pie
This Dutch apple pie recipe uses basic pantry ingredients and requires only a few simple steps — prepare the pie crust, make the filling and topping, and bake!
Preheat the oven: Preheat the oven to 375°F with the rack adjusted to the lowest position.
Mix the crumble topping: In a medium bowl, mix the crumble topping ingredients together with a fork or pastry cutter until crumbs form. Set aside in the fridge.
Make the apple filling: Peel and cut the apples into ⅛ to ¼-inch thick slices and place them in a large bowl. Add in the flour, sugars and cinnamon and toss until the apples are evenly coated.
Prepare the pie crust: Roll out a prepared pie crust to a 12 inch circle. Transfer the crust to a 9-inch pie pan and crimp or trim the edges.
Assemble the pie: Spread the apples in the crust-lined pie plate. Evenly sprinkle the crumble topping on top of the apples.
Bake the pie: Bake the pie for 50-60 minutes, or until the crumble topping is golden brown and the apple filling is bubbling. Allow the pie to set for atleast 10 min before serving. Enjoy!
Hot tip: Add oats or nuts to the crumb topping for more crunch!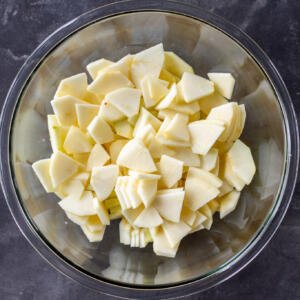 Picking the Right Apples
Apples are the foundation of Dutch apple pie, so it's important to understand the nuances between each variety. Here are a few examples (listed from tartest to sweetest) to help you choose the best apples for your pie.
Granny Smith: Granny Smith apples are known as the 'sour green apples' for their remarkable tartness. They are firm and hold up well in high temperatures.
McIntosh: These classic red apples have a crunchy bite, tart tang, and soft flesh that's perfect for baking.
Honeycrisp: Honeycrisp apples have a balanced sweet-tart flavor and an amazing aroma. They are also incredibly juicy!
Braeburn: Braeburns are mostly sweet, but they have a slight zip. They are crisp in texture with a cinnamon flavor.
Golden Delicious: These golden yellow apples are sweet with a mild flavor and a crispy snap.
Gala: Galas are exceptionally sweet — they are one of the most popular eating apples due to their vanilla flavor and floral aroma.
Can't decide which apples to use? Try a combination of varieties to add more flavor to your pie!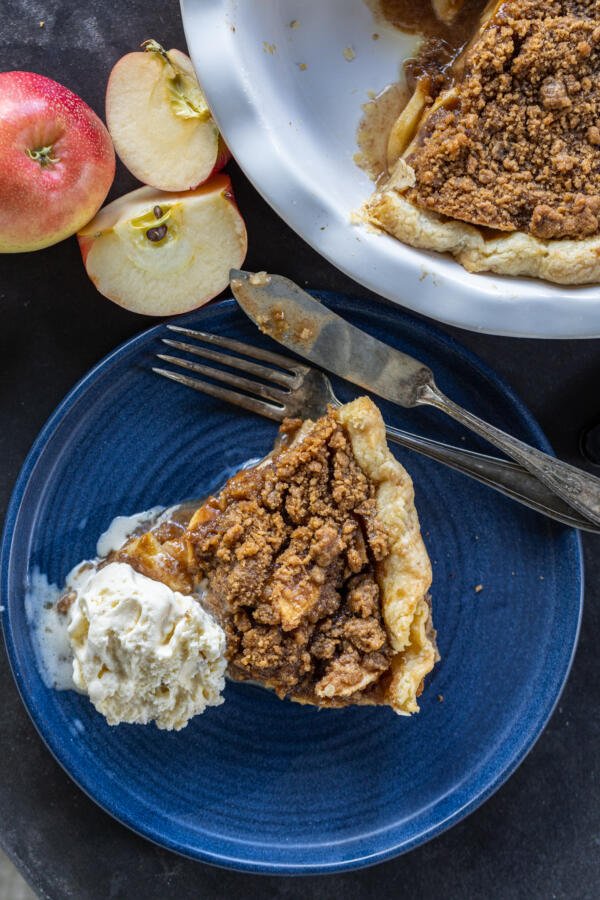 Tips From the Kitchen
Dutch apple pie is fairly straightforward, but it requires watchful consideration to turn out perfect. Keep these tips in mind to create an unforgettable pie!
Grate the butter. A box grater like this one is a wonderful tool for cutting butter into pastry dough. Use the large hole side to grate the butter directly into the flour for flaky, tender pie crust and crumb topping.
Slice the apples thinly. This ensures the filling has the best texture — where the apples melt in your mouth after baking. It also allows the apples to become uniformly tender.
Add more flavor to the filling. Mix in a teaspoon of vanilla extract or (if you're feeling fancy) the seeds of one vanilla bean for additional sweetness. To balance the sugar, add a squeeze of fresh lemon juice or a pinch of salt. If you like more spice, include 1/4 teaspoon of nutmeg.
Place a baking sheet underneath the pie dish. This is a great way to catch any juice drips from the pie. Slide the baking sheet under the pie, and enjoy a mess-free oven!
Cover the pie with foil if it browns too quickly. A loose foil cover protects the crumb topping from burning before the rest of the pie is baked through.
Allow the pie to set before cutting it. This helps to solidify the filling so the juices don't ooze out when you cut into it.
Make Ahead
Did you know Dutch apple pie can be prepared a few months in advance? Fully assemble the unbaked pie, wrap the pie dish in plastic wrap and foil, and place it in the freezer. Whenever you are ready for fresh apple pie, bake the frozen pie at 375°F for about one hour, and enjoy!
Storage & Reheating
If you're reading this, you must be lucky enough to have leftover pie! Now it's time to follow proper storage techniques to enjoy your pie for days to come.
Room temperature: To store for up to two days, place the leftover cooled pie in an airtight container and leave at room temperature.
Refrigerator: To store for up to five days, transfer the leftover cooled pie to an airtight container and refrigerate.
Reheating: For the best flavor and texture, reheat the leftover pie in the oven. Place the slices of pie on a parchment-lined baking sheet and bake at 350°F for 10-15 minutes, or until heated through. If you're short on time, reheat the pie in the microwave — but be aware the crust may lose its crispness.
More Apple Recipes
Recipe
Juicy spiced apples, flaky pie crust, and a brown sugar crumb topping … this Dutch apple pie is irresistible. It's sweet and cinnamony — you'll need a second slice!
Ingredients
Nutrition Facts
Dutch Apple Pie Recipe
Amount Per Serving
Calories 419
Calories from Fat 126
% Daily Value*
Fat 14g22%
Cholesterol 23mg8%
Sodium 97mg4%
Potassium 201mg6%
Carbohydrates 72g24%
Protein 3g6%
Vitamin A 325IU7%
Vitamin C 5mg6%
Calcium 44mg4%
Iron 2mg11%
* Percent Daily Values are based on a 2000 calorie diet.