This baked apples recipe features tender apples perfectly roasted with brown sugar, cinnamon, & chopped walnuts. A healthy dessert or ice cream topper!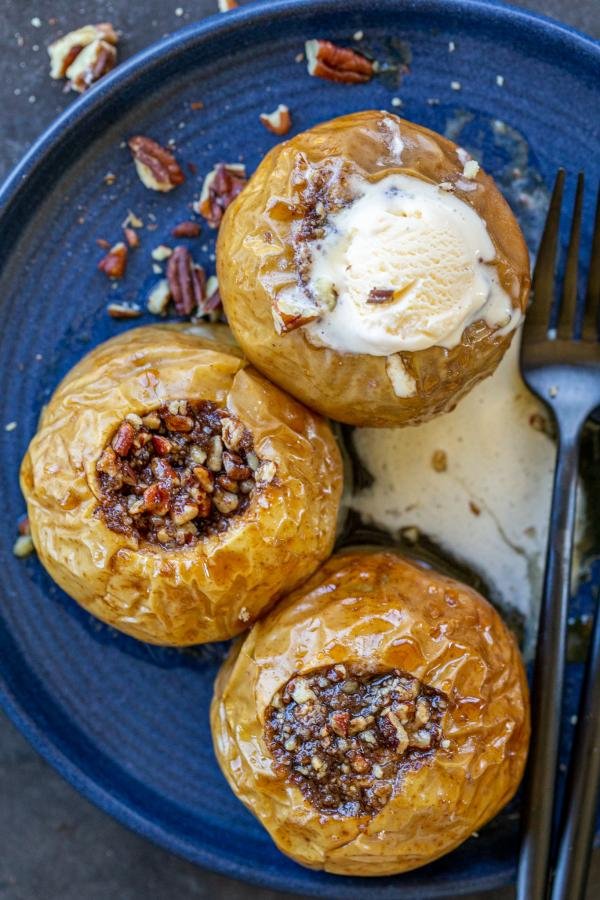 Back in the day, my grandma used to bake apples with sugar and butter for dessert. The simple combination brings back such wonderful memories for me. As an adult, I've reimagined her recipe, but dressed it up a bit with a fancy crunch from chopped walnuts. This is a great weeknight dessert to cozy up to during the fall season. They are also fast to prep, easy to serve, and virtually guilt-free.
Gluten-Free Alert: These baked apples are naturally gluten-free! If you want to make them dairy-free, swap out the butter for coconut oil instead.
The Best Apples to Use for Baked Apples
Don't just roast any old apple – some stand under the heat of the oven better than others. Our personal favorites include honey crisp, ambrosia, gala, and golden delicious. Other great options include fuji, braeburn, and jonagold. Feel free to use one kind or mix and match a couple of different varieties – you can't go wrong!
Kitchen Tool Recommendation: We love using this pan from Staub to make baked apples. It's sturdy and deep enough to hold the apples up.
How to Make these Easy Baked Apples
This easy-baked apple recipe couldn't be any simpler to prep. Here's the lowdown…
Remove the Seeds & Stem: Remove the stem and seeds from the apples.
Make the Sugar Mix: In a small bowl, combine the brown sugar, cinnamon, and walnuts or pecans.
Stuff the Apples: Fill each apple with the brown sugar mixture and top them with 1/2 tbsp of butter.
Assemble the Fruit: Place the apples on a baking sheet and pour the water into the bottom of the pan.
Bake the Apples: Bake at 350°F for about 40 minutes or until fork tender. Enjoy!
Hot Tip: Be extra careful when you take the apples out of the oven. Juices will have formed at the bottom of the pan and can spill over the sides of the lip on your pan isn't high enough.
Tips & Tricks
Here's a handful of pointers to help you make the most perfectly tender, melt-in-your-mouth baked fruit.
Use an apple corer to speed up the process. To make removing the stem and seeds super simple, invest in an apple corer. This wonder tool is a must-have for Fall baking.
Try to pick similar-sized apples. When you're picking up your apple haul, try and pick similar-sized apples so they bake evenly.
Tweak the ingredients to taste. If you want more depth of flavor, add some spices to the mix – ground ginger, nutmeg, cloves, or allspice are all great options. If you like a puckery sweet flavor, stir some raisins or cranberries into the sugar mixture. You can also squeeze lemon juice all over the top of the apples. Finally, you can substitute the walnuts for chopped pecans or slivered almonds.
Serving Suggestions
There are so many different ways to use your baked apples. Here are just a snippet of ideas to inspire you.
Ice Cream Sundae: Spoon the slices over a scoop of vanilla ice cream. Optionally, drizzle on some caramel sauce or maple syrup if you'd like.
Pie Filling: Chop them up into fine pieces and bake them into a flaky pie crust.
Topper for Pork Chops: Serve them alongside some air fryer pork chops. Nothing compares to the sweet and salty flavor!
Apple Crisps: Use them as the base for an easy apple crisp with a crumbly oatmeal streusel.
Oatmeal Mix-In: If you have leftovers from dessert, chop them up and mix them into creamy oatmeal pudding for breakfast.
Storage Best Practices
To keep baked apples fresh for up to a week, store them in an airtight container in the fridge. The best way to reheat them is back in the oven. To do so, place them in a baking dish covered with aluminum foil and cook them until warmed through at 350°F.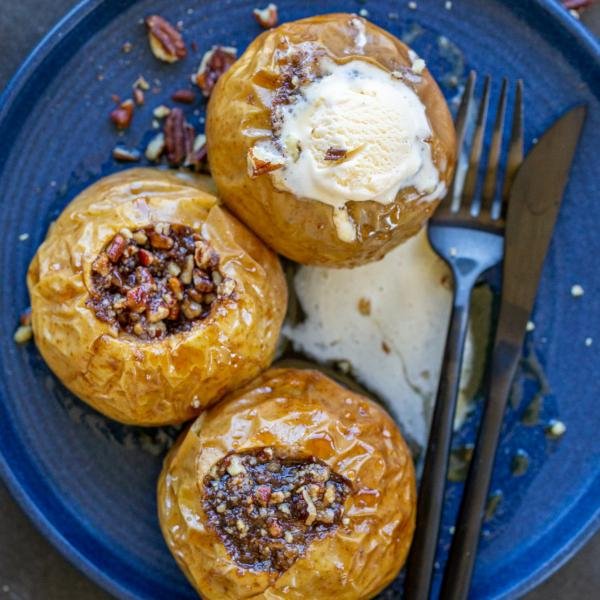 FAQ
How long does it take to soften baked apples?
It takes about 40 minutes in the oven at 350°F to soften apples. However, this can vary depending on how big your apples are and how hot your oven runs.
Are baked apples as healthy as fresh apples?
Of course not! Fresh apples have the most vitamins and nutrients, as they are undisturbed by heat. That said, baked apples are a healthy dessert or snack.
Should you peel apples before baking them?
No, you do not have to peel apples before baking them. In fact, the peel helps to seal in the moisture and turns incredibly tender during baking – it also packs a good amount of fiber. If you do end up peeling the apples, just be aware that they will cook a bit quicker.
Can you freeze baked apples?
Yes, you can freeze baked apples. To do so, allow the baked apples to cool down completely. Place the baked apples into plastic bags and pop them in the freezer. To thaw them, place a bag in the fridge overnight or on the counter for a couple of hours.
What's the best temperature to bake apples at?
Generally speaking, the optimal temperature to cook baked apples is 350°F. This is high enough that the apples won't take forever and a day to get tender, but low enough that they won't burn on the outside.
More Light Desserts to Try
Recipe
These tender, delicious baked apples are roasted to perfection with brown sugar, cinnamon, butter, and walnuts. Your new favorite healthy snack or dessert.
Ingredients
4

apples

1/4

cup

brown sugar

1

tsp

cinnamon

1/4

cup

walnuts or pecans

finely chopped

2

tbsp

butter

1/2

cup

water
Nutrition Facts
Easy Baked Apples (Old-Fashioned)
Amount Per Serving
Calories 241
Calories from Fat 90
% Daily Value*
Fat 10g15%
Cholesterol 15mg5%
Sodium 52mg2%
Potassium 242mg7%
Carbohydrates 40g13%
Protein 1g2%
Vitamin A 278IU6%
Vitamin C 8mg10%
Calcium 34mg3%
Iron 1mg6%
* Percent Daily Values are based on a 2000 calorie diet.