Apple Crisp is a classic treat that never gets old. Made in one pan, focus on indulging your sweet tooth — not doing the dishes.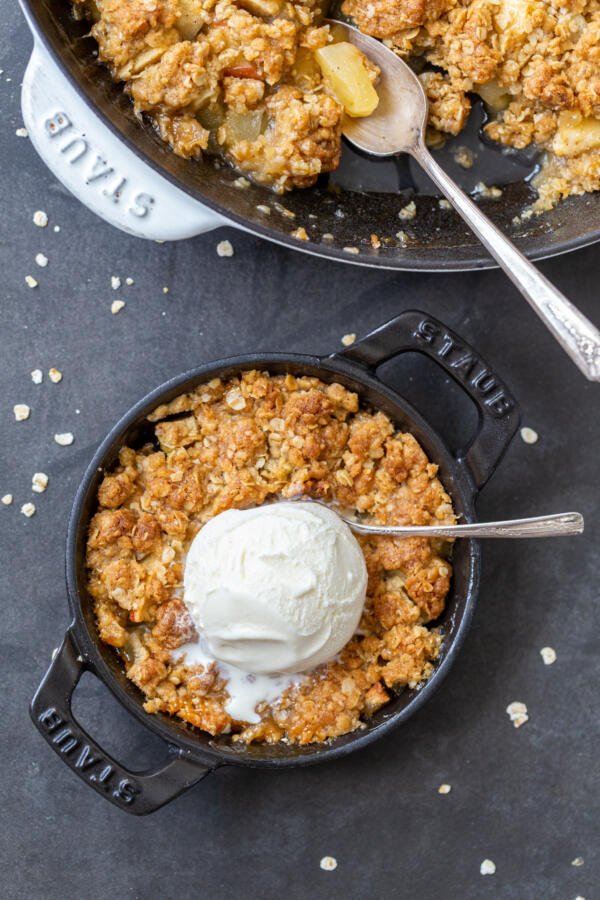 Apple Crisp is a fall dessert made of stewed apple filling and a crumble topping. Baked in the oven, Apple Crisp comes out with the best of both worlds when it comes to texture.
The inside is gooey and the oat crumble is crispy and crunchy. The only thing that makes this dish better? A heaping scoot of vanilla ice cream. Oh yeahhhhh…
Apple Crisp Video
How to Make Apple Crisp?
Peel and cut your apples. Set aside.
Combine sugar, lemon and cinnamon with sliced apples and toss.
Place apples in a baking dish.
Combine your dry ingredients to form the crumble.
Slice butter into small cubes and toss into the crumble.
Spread oat crumble on top of apples.
Bake until your apples are soft and the crumble is a beautiful, golden brown color. Serve hot with a ice cold scoop of vanilla ice cream or a heaping pile of whipped cream.
Best Apples for Apple Crisp
Any and all apples will work just lovely. However, I tend to use either Granny Smith or Fuji. They have a wonderful balance of sweet and tart which makes them great baking apples.
Feel free to mix and match the apples you use. It's fun to experiment with different combinations! Also, this is a great recipe to use up any apples that you might be on their way out.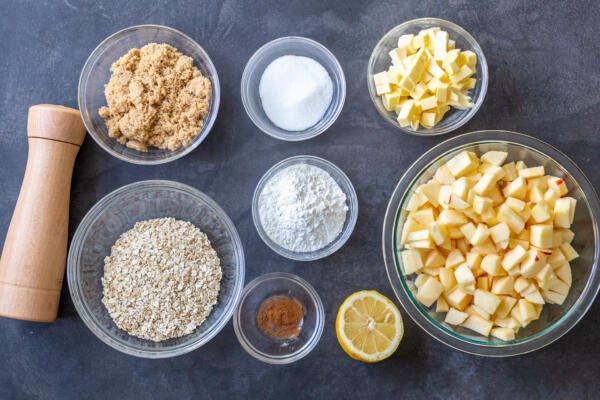 Tips for The Best Apple Crisp
Peel apples. The peels don't bake well and really mess up the texture. Peeled apples make for such a luscious filling!
Cut your apples into thin slices. The thinner your apples, the better the texture of the filling. 1/6-inch thickness is the sweet spot.
Don't over salt. Make sure you adjust the salt if you are using salted butter.
Use old fashion rolled oats. This variety of oats has the sturdiest texture and richest flavor.
Bake long enough for the apples to soften and the sauce to thicken. You don't want undercooked apples and runny sauce.
Serve Apple Crispy right out of the oven. Avoid getting a soggy topping by serving the apple crisp right away.
Serving Apple Crisp
Serve it with your favorite ice cream hot out of the oven. Old-fashioned vanilla, speckled vanilla bean or even caramel flavored ice cream work wonderfully.
If you're feeling extra decadent, drizzle on some hot caramel sauce to finish. Try your hand at making dulce du leche sauce homemade in the Instant Pot. You won't regret it…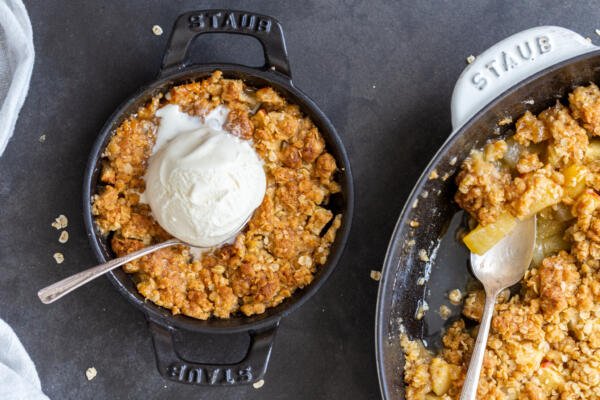 Make Apple Crisp In Advance
Don't skimp on the freshness with Apple Crisp. Fresh and hot is where it's at. However, you can prepare your apples in advance if you want to get a step ahead. Just make sure to mix up the crumble last, otherwise it could get soggy.
How Do You Store Apple Crisp?
If you have any leftovers (lucky you!), store them in an airtight container in the refrigerator. When you're ready to reheat them, do so in the oven to get the crumble crispy again and the sauce nice and bubbly.
Apple Crisp will last up to a week when stored properly.
Other Apple Recipes
Recipe
Apple Crisp is a classic treat that never gets old. Made in one pan, focus on indulging your sweet tooth — not doing the dishes.
Nutrition Facts
Apple Crisp
Amount Per Serving
Calories 362
Calories from Fat 108
% Daily Value*
Fat 12g18%
Cholesterol 31mg10%
Sodium 48mg2%
Potassium 228mg7%
Carbohydrates 63g21%
Protein 3g6%
Vitamin A 428IU9%
Vitamin C 7mg8%
Calcium 43mg4%
Iron 1mg6%
* Percent Daily Values are based on a 2000 calorie diet.