This apple cake comes out super moist and light each and every time. The batter is also made all in one bowl making for one crazy easy baking recipe!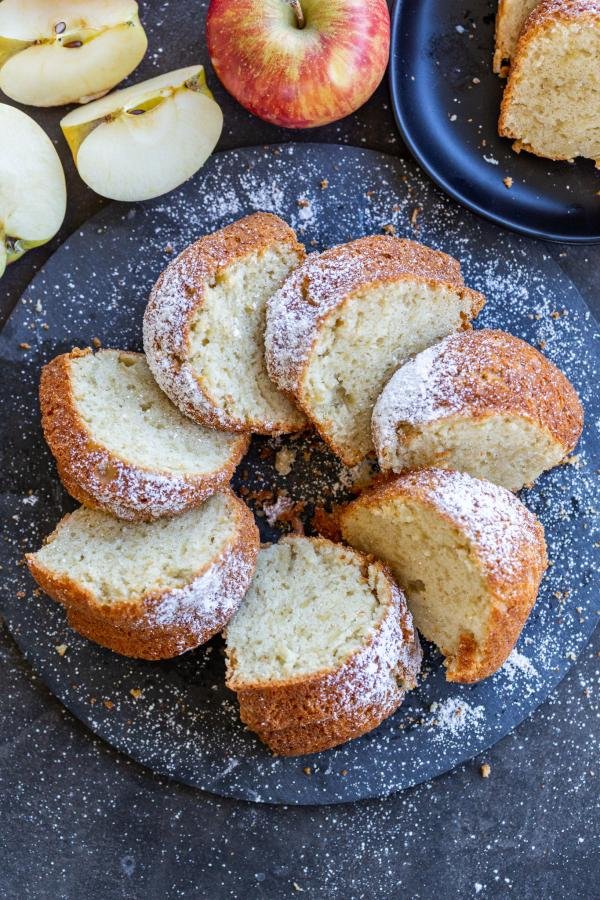 If you're not in the mood to bake a cake that feels like a science experiment, you're in the right place. Not only is this apple cake super low maintenance, but it's also super moist, light, and full of flavor. Top it with a scoop of vanilla ice cream for dessert or serve it alongside a cup of coffee for breakfast.
The Best Kinds of Apples for a Cake
While there are a ton of delicious apples out there, just four varieties stand out when it comes to making the best apple cake. Feel free to use one or a combination of a few!
Granny Smith Apples – Granny Smith Apples tout a bright green peel and a white flesh that's tart and tangy.
Honeycrisp Apples – Honeycrisp apples have beautiful red skin that's speckled with yellow and ultra-juicy and sweet flesh.
Fuji Apples – Fuji apples also have red and yellow skin with a flesh that almost resembles the taste of fresh-pressed apple juice.
Gala Apples – Gala apples have bright red skin and creamy flesh that touts notes of vanilla.
Hot Tip: Swap the apples out for pears if you'd like! Just make sure they aren't too ripe to the point where they won't grate well.
How to Make Moist Homemade Apple Cake
While you can make this apple cake without an electric stand mixer or hand mixer, the process is that much easier if you do have one.
Combine the Wet Ingredients: First, beat the large eggs, sugar, oil, teaspoon vanilla extract, and salt in the bowl until the mixture is fluffy.
Add the Dry Ingredients: Next, add the all-purpose flour and baking powder in small portions.
Grate the Apples: Using the large side of a cheese grater, grate the peeled apples and fold them into the cake batter.
Prepare the Baking Dish: Spray a bundt pan or baking dish with cooking oil. Pour the cake batter into the pan.
Bake It: Bake the cake in the oven at 325°F for about 50 minutes or until the toothpick comes out clean. Remove the cake, allow it to cool at room temperature on a wire rack, slice, and enjoy!
3 Tips for the Tastiest Apple Cake
To get that perfect light and airy texture, follow this handful of tips.
Sift the dry ingredients. To get a nice, consistent texture throughout the cake, sift the dry ingredients before incorporating them. Dry ingredients tend to have a propensity to get lumps, which can make portions of your cake drier.
Beat the wet ingredients until fluffy. You'll want to beat the egg mixture until fluffy before adding in the dry ingredients. This gives the cake its signature, airy texture!
Take the time to grate the apples. Some apple cakes require you to chop the apple into cubes, but we find grating the apples to be so much more effective in creating a killer texture. It's worth the extra labor!
Hot Tip: Add cinnamon to the batter during the fall for a little spice.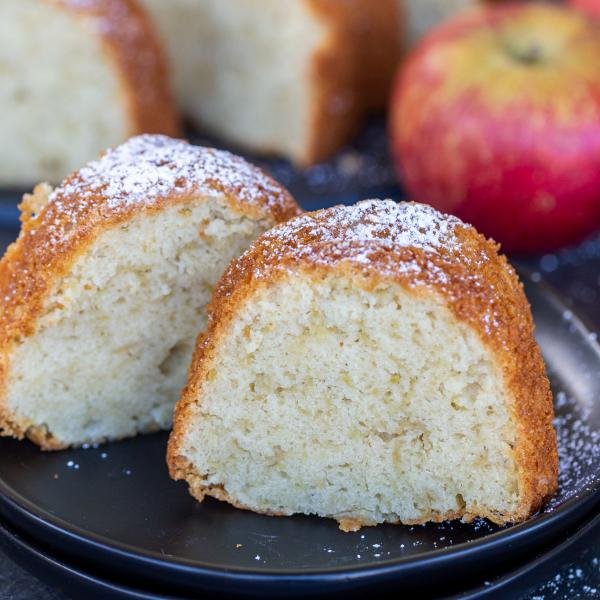 Storage Best Practices
Consider this apple cake a triple threat – it stores well on the counter, fridge, and freezer. Here's all you need to know.
Room Temperature: Keep it stored in an airtight cake container on the counter for 4-5 days. This will keep it from drying out!
Refrigerator: If you'd like to have the cake on hand for up to 2 weeks, keep it stored in the fridge in an airtight container. It's best to keep it whole in the fridge versus in individual slices, as this helps the cake retain more moisture.
Freezer: To freeze the cake, wrap it tightly in plastic wrap and aluminum foil after it's cooled down completely. Pop it in the freezer whole for up to 3 months. To thaw, leave it in the fridge overnight or on the counter for a few hours.
FAQ
Can you leave apple cake out overnight?
You can leave apple cake out overnight. Just make sure that it's wrapped in plastic wrap or stored in an airtight container.
What ingredient makes apple cakes fluffier?
A combination of ingredients helps to make apple cakes fluffier. These include creamed butter and sugar, baking powder, and eggs.
What icing is best for apple cake?
A simple powdered sugar frosting or cream cheese frosting goes well on apple cakes. Whip up your favorite recipe and slather it on top of the cake once it cooled down to room temperature.
How do you make apple cake moist?
The key to making apple cake moist is using oil over butter for the main fat. Contrary to popular belief, oil-based cakes tend to be more moister than butter-based cakes.
Can you make an apple cake with whole wheat flour?
You can make an apple cake with whole wheat flour, but the texture will likely turn out a bit dense. It's better to use half white flour and half whole wheat flour instead.
More Tasty Apple Recipes to Try
Recipe
This apple cake is the definition of baking made simple. With the batter made all in one bowl, even the most inexperienced bakers will enjoy whipping it up!
Nutrition Facts
Homemade Apple Cake Recipe (Crazy Moist)
Amount Per Serving
Calories 556
Calories from Fat 279
% Daily Value*
Fat 31g48%
Cholesterol 82mg27%
Sodium 39mg2%
Potassium 250mg7%
Carbohydrates 66g22%
Protein 6g12%
Vitamin A 136IU3%
Vitamin C 1mg1%
Calcium 84mg8%
Iron 2mg11%
* Percent Daily Values are based on a 2000 calorie diet.