Flaky pie crust is a must! This knock-out recipe requires only four ingredients and yields awesome results each time.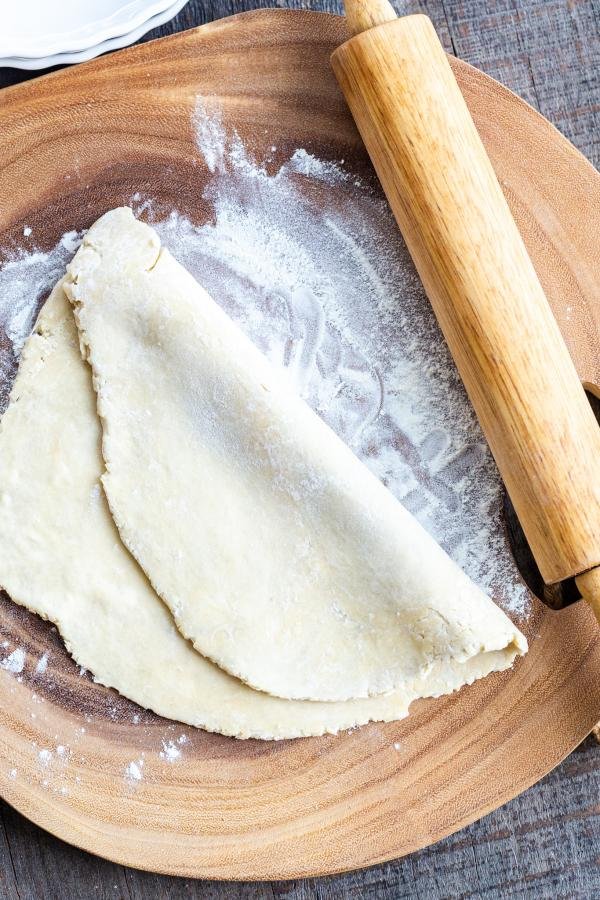 Cream pies, pumpkin pies, peach pies! Calling all pies! Get that pie dish out and dust off your favorite decorative pie plate. I mean, you already took the time out of your day to Google "pies", so you might as well give into the craving. And, my friend, you have come to the right place.
Flaky pie crust is a necessary foundational recipe to put in your home chef tool belt. Whether you are baking an apple pie or using up leftover veggies to make an impromptu quiche, this crust makes for a perfectly, buttery base.
I'm not going to lie. I have spent lots of time perfecting pie crust. Pies are perfect for every season and I find myself making one about once a month. Because of this year-round pie obsession, I knew I needed a reliable pie crust recipe and I am so happy to share the fruits of my labor with you.
What Makes This Pie Crust so Flaky?
Butter is the key to a flaky pie crust! But, have you ever used room temperature butter and gotten a super flat and dense crust? I know, it is the worst. But let me tell you why it happens — room temperature butter melts quickly in the oven.
Here's my favorite hack: Instead of using room temperature butter, grate frozen butter into shreds for the dough. Why? The tiny, frozen pieces of butter will melt slowly while baking, making those signature flaky layers everyone wants in a pie crust.
Pie Crust Ingredients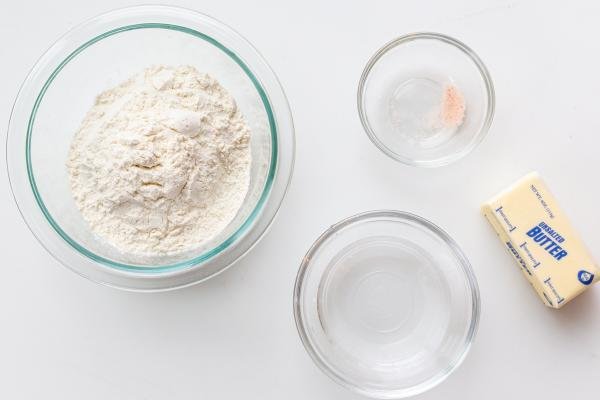 This pie crust requires four ingredients:
Butter: I like using European butters like Kerrygold or Plugra. They have a higher fat content and a much richer taste.
Flour: Bob's Red Mill All-Purpose Flour is my personal favorite. But, any Canadian brand will work great. They tend to have a higher protein content, which makes for a more pliable and sturdy dough.
Salt: A good dash of salt helps enhance the flavors of the pie crust.
Water: Use filtered water if you can, as it carries less impurities and flavors than tap. I have a nifty water filter attached to my kitchen sink, which makes baking and cooking with filtered water super simple.
Tips for THE BEST Pie Crust
Use frozen, grated butter. The little grated pieces will make your crust oh-so flaky. Trust me.
Use ice-cold, filtered water. The colder the water you use, the less likely it will be to melt your butter and affect the flakiness of your crust.
Toss your butter as you grate it. When you grate your frozen butter, make sure you lightly toss it into your flour mixture as you go to prevent any sticking.
Use top-quality butter. Butter is KING when making pie crust. Don't skimp here. Purchase a high-quality European butter. You know, the kind that has that beautiful golden hue to it.
Rolling out Pie Crust
So, you have made your dough, wrapped it tightly in plastic wrap and let it set it the fridge for at least four hours. Now it's time to get rolling. Never done this before? Don't worry, it's much easier than pie-baking legend has it.
You've heard it from your grandmother time and time again and your mother scolded you for skipping this crucial pie-making step at least once before. But, for the sake of the good old times, let me remind you again — roll out your dough on a well-floured surface. If you don't, you will have an icky-sticky mess that will drive you nuts.
Alright, let's get to it! First, you will pull out your chilled, dough disc from the fridge. Place it on a well-floured surface. Applying an even and gentle pressure with your rolling pin, flatten the dough moving from the center to edge. You want to be mindful not to tear the dough. Using a dough scraper (or careful hands), lift your dough and turn it 90 degrees (make sure to reflour the surface to prevent sticking). Repeat this process of rolling and turning your dough until it is as flat and even-textured as possible.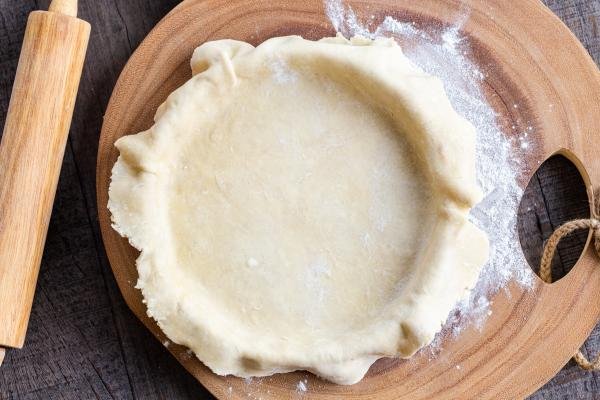 Note: While you are in the thick of forming your dough with your rolling pin, you may notice chunks of butter fat. THIS IS WHAT YOU WANT. These are your frozen butter shreds hard at work, making sure you get perfectly flaky crust!
Ways To Use This Recipe
Recipe
Flaky pie crust is a must! This knock-out recipe requires only four ingredients and yields awesome results each time.
Nutrition Facts
Flaky Pie Crust Recipe
Amount Per Serving
Calories 115
Calories from Fat 72
% Daily Value*
Fat 8g12%
Cholesterol 20mg7%
Sodium 116mg5%
Potassium 14mg0%
Carbohydrates 10g3%
Protein 1g2%
Vitamin A 236IU5%
Calcium 4mg0%
Iron 1mg6%
* Percent Daily Values are based on a 2000 calorie diet.