Easy cinnamon rolls are made with no-need-to-knead dough. Despite the short cut, these rolls come out ultra-fluffy and perfectly sweet.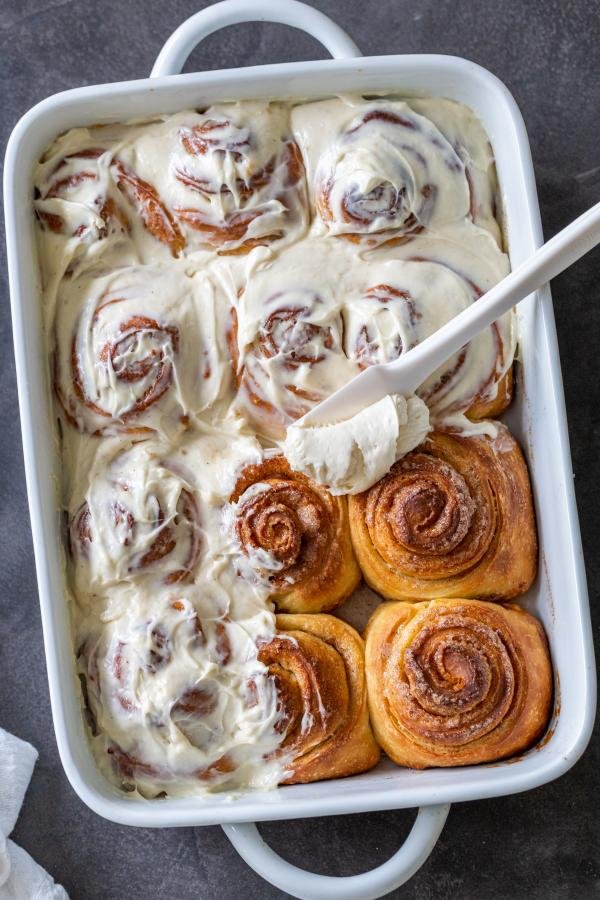 Easy cinnamon rolls are your new go-to when you have a sweet tooth but are short on time. Literally, you can whip these rolls up in minutes!
This recipe is perfect for meal-prepping. That's right — not all meal-preppers are stowing away boiled chicken and broccoli for the week! I like to have something naughty on hand too. That way I know that when a craving for junk food strikes, I have something less processed to turn to.
Making Cinnamon Rolls
The road to perfect cinnamon rolls is paved with easy steps. Here's an overview:
Dough: Prepare your dough and let it rest in the refrigerator for at least 12 hours.
Filling: Butter, sugar and cinnamon — that's all you need!
Forming: Dust a countertop with flour. Then, place your dough on top and roll it out with a rolling pin into a rectangle shape.
Topping: Spread the filling over the top of the rectangular dough shape in as even a layer as possible. Then, starting with the longer side, roll the dough up into a cylinder shape. Cut into nine even pieces.
Baking: Place nine rolls into a baking dish. Cover with a towel and let rush for an hour. Preheat the oven to 350 ℉ for 30-40 minutes, or until golden brown.
Cinnamon Roll Icing
Combine cream cheese, powdered sugar and vanilla extract. Using a hand mixer, whip together the ingredients until they turn luscious and fluffy. Just like that, you have the perfect cinnamon roll icing! Gotta love the tasty simplicity of cinnamon rolls…
Hot tip: Add in a little orange zest if you like! This will add a wonderful pop of citrus to your icing.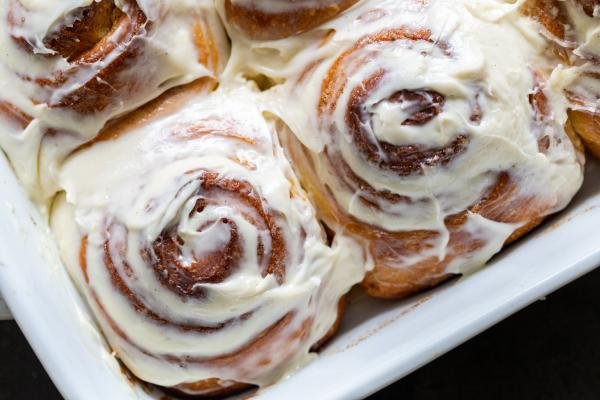 Make Cinnamon Rolls In Advance
Whether you are hosting Sunday brunch or just like to have a dozen on hand for your kids on the weekend, cinnamon rolls can be made in advance to make your life that much easier (and sweeter).
Do all the heavy lifting and roll them up the night before. Then, all you have to do is pop them in the oven right before serving. Baked cinnamon rolls can be refrigerated for several days. Reheat them in the oven for a few minutes. Just make sure to only add the icing right before you serve to prevent them from getting soggy. They will taste just like fresh!
Hot Tip: Feel free to make your dough a couple of days in advance.. So long as you keep your dough covered (but not airtight), it will keep in the fridge for up to four days.
A Few Other Variations of Rolls
Cinnamon rolls are just one way to enjoy this classic treat. Try these other variations:
Sugar Buns: This recipe is a copy-cat of Starbucks' beloved Morning Buns. Made with the same no-knead dough, you can whip them up super quick.
Poppy Seed Rolls: Our family favorite poppy seed filling makes for an AMAZING breakfast treat.
Nutella Rolls: Spread nutella on top of the no-knead dough for a chocolate-hazelnut spin on classic cinnamon rolls.
Nuts: Add some finely chopped walnuts or pecans to the cinnamon, sugar and butter mixture for that extra crunch.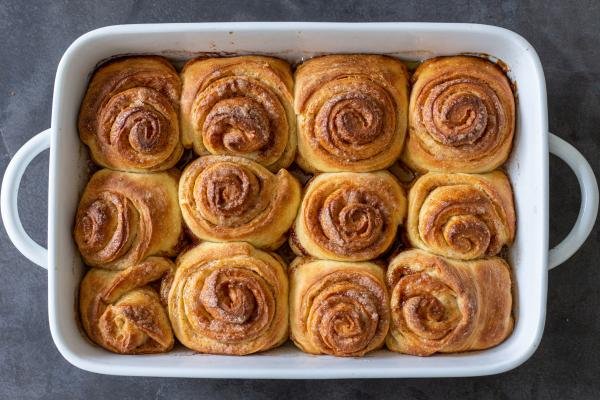 Other Pastries to Try
Love our cinnamon rolls? Try your hand at making some of our other favorite sweet treats:
Fruit Piroshki Recipe – Stuffed with puckery jam, these piroshki were one of the best parts of my childhood.
Blueberry Scones – These scones taste straight-out-of-the-bakery.
Apple Turnovers – Puff pastry is delicately wrapped around stewed, spiced apples in this classic turnover recipe.
Recipe
Easy cinnamon rolls are made with no-need-to-knead dough. Despite the short cut, these rolls come out ultra-fluffy and perfectly sweet.
Ingredients
Nutrition Facts
No-Knead Cinnamon Rolls (So Easy)
Amount Per Serving
Calories 480
Calories from Fat 198
% Daily Value*
Fat 22g34%
Cholesterol 89mg30%
Sodium 232mg10%
Potassium 111mg3%
Carbohydrates 65g22%
Protein 7g14%
Vitamin A 782IU16%
Calcium 56mg6%
Iron 2mg11%
* Percent Daily Values are based on a 2000 calorie diet.