These easy no-knead cinnamon rolls are made with a killer no-need-to-knead dough. Despite the shortcut, these rolls come out ultra-fluffy & perfectly sweet.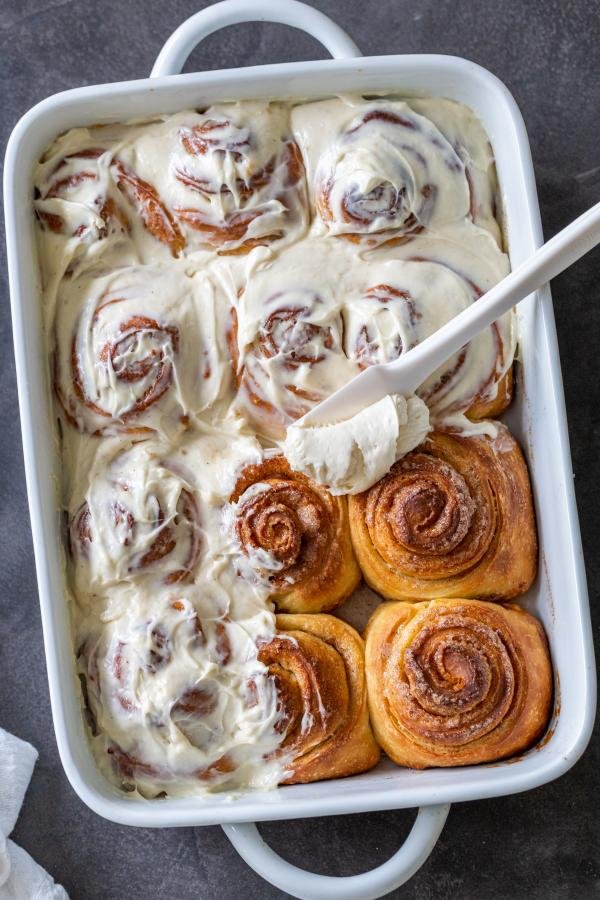 Easy cinnamon rolls are your new go-to when you have a sweet tooth but are short on time. You can whip these rolls up in minutes! This recipe is perfect for meal-prepping. That's right — not all meal-preppers are stowing away boiled chicken and broccoli for the week! We like to have something naughty on hand too. That way I know that when a craving for junk food strikes, I have something less processed to turn to.
Our 3-Ingredient Cinnamon Roll Icing
There's much debate surrounding what frosting is best for cinnamon rolls, but we are wholeheartedly on team cream cheese frosting. To make our simple 3-ingredient icing, combine cream cheese, powdered sugar, and vanilla extract using a hand mixer or stand mixer until luscious and fluffy. Just like that, you have the perfect cinnamon roll icing!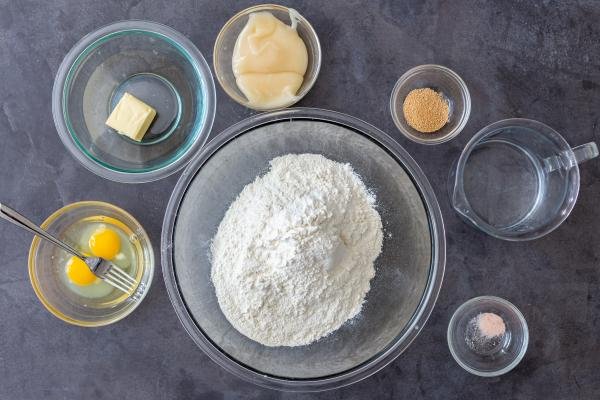 Making No-Knead Cinnamon Rolls from Scratch
The road to perfect cinnamon rolls is paved with just a few easy steps. Here's an overview…
Make the Dough: First, whisk the lukewarm water, instant yeast, salt, eggs, and melted butter together in a large bowl. Next, stir in the all-purpose flour and place the dough in the fridge for at least 12 hours.
Prepare the Filling: Next, whisk the sugar and cinnamon together and melt the butter in a small bowl.
Roll the Dough Out: On a well-floured surface, roll out the dough into a rectangle with a rolling pin.
Assemble the Rolls: Next, pour the melted butter on top and then sprinkle the cinnamon-sugar filling over the dough. Starting from the longer side, roll the dough up and cut it into 12 even pieces seam-side down.
Bake the Cinnamon Rolls: Assemble the cinnamon rolls on a baking dish and cover them with a towel. Allow them to rest at room temperature for an hour. Preheat the oven to 350℉ for 30-40 minutes, or until golden brown.
Make the Frosting: Next, mix the powdered sugar with softened cream cheese and vanilla extract until creamy.
Frost the Cinnamon Rolls: Finally, frost the cinnamon rolls and enjoy them fresh out of the oven!
3 Tips for Nailing Our No-Knead Cinnamon Rolls
For perfect, bakery-worthy cinnamon rolls, there are a few pointers to follow when using our no-knead dough method.
Make sure to stir all the lumps out of the flour. Since you won't be kneading the dough whatsoever, you'll want to make sure you stir out any dry lumps or clumps before letting it rest in the refrigerator. This is key because you don't wait to bake any lumps or clumps in!
Slice the dough roll with a floured sharp knife. To prevent the knife from squishing the rolls as you slice them, dust it with flour first. Alternatively, you can use plain dental floss to get a super clean slice!
The longer the dough sits, the better the rolls will be. The longer the dough sits, the better tasting the dough will be. You can keep it stored in the refrigerator for up to 4 days!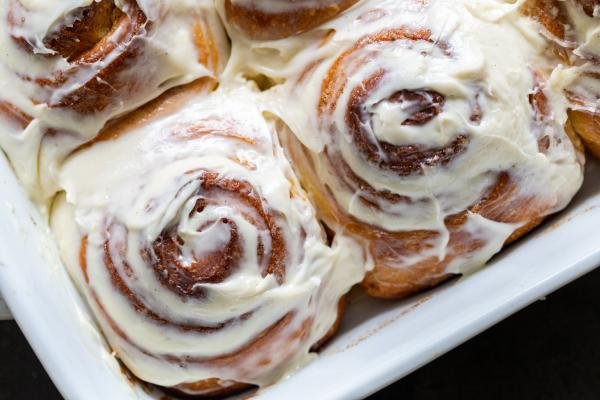 Making Cinnamon Rolls in Advance
Whether you are hosting Sunday brunch or just like to have a dozen on hand for your kids on the weekend, cinnamon rolls can be made in advance to make your life that much easier (and sweeter). Do all the heavy lifting and roll them up the night before. Then, all you have to do is pop them in the oven right before serving.
Storing & Reheating Tips
Baked cinnamon rolls can be refrigerated for 3-4 days in an airtight container. To reheat them, pop them in the oven for a few minutes or in the microwave. Just make sure to store the frosting separate and only spread it on right before you serve them prevent them from getting soggy.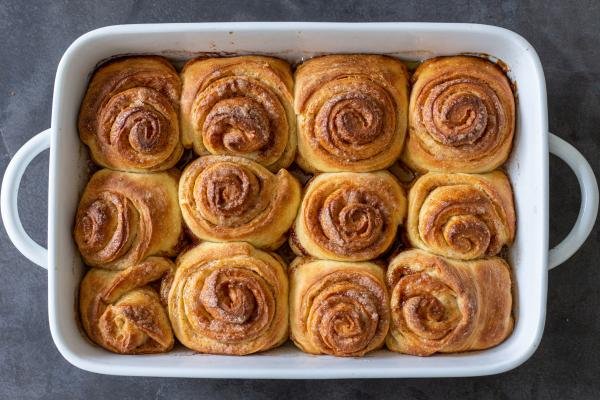 A Few Fun Variations
A classic cinnamon-sugar filling is just one way to enjoy this classic treat. If you are in the mood to experiment, try these other fun variations.
Sugar Buns: This recipe is a copycat of Starbucks' beloved morning buns. Made with the same no-knead dough, you can whip them up super quick.
Poppy Seed Rolls: Our family favorite with poppy seed filling and raisins makes for an AMAZING breakfast treat.
Nutella Rolls: Spread Nutella on top of the no-knead dough for a chocolate-hazelnut spin on classic cinnamon rolls.
Nuts: Add some finely chopped walnuts or pecans to the cinnamon, sugar, and butter mixture for that extra crunch.
FAQ
What's the difference between cinnamon rolls and cinnamon buns?
Cinnamon rolls and cinnamon buns are quite similar in shape but have differences in their fillings and toppings. Buns will often come with nuts on the inside and are topped with a thick glaze – giving them their signature stickiness. On the other hand cinnamon rolls often feature a simple filling of cinnamon and sugar and are topped with a frosting of some sort.
Why did your cinnamon rolls turn out so dry?
Adding too much flour to your cinnamon roll dough is one of the main reasons they came out dry. Excess flour makes the dough super dense and will cause the wet ingredients to be completely overtaken.
How do you keep baked cinnamon rolls soft?
To keep baked cinnamon rolls soft, you must keep them stored in an airtight container. The more they are exposed to air, the quicker they will turn stale and tough. If this happens to you, simply nuke them in the microwave to soften them up.
Why is your cinnamon roll dough not rolling out easily?
The main reason that your cinnamon roll dough is too difficult to roll out is that you likely added too much flour. Remember, the proper way to measure flour is loosely in a measuring cup, not tightly packed.
Other Pastries to Try
Recipe
This super simple recipe for no-knead cinnamon rolls is so soft, fluffy and sweet. Packed with cinnamon & sugar and topped with cream cheese frosting!
Ingredients
Nutrition Facts
No-Knead Cinnamon Rolls (So Easy)
Amount Per Serving
Calories 480
Calories from Fat 198
% Daily Value*
Fat 22g34%
Cholesterol 89mg30%
Sodium 232mg10%
Potassium 111mg3%
Carbohydrates 65g22%
Protein 7g14%
Vitamin A 782IU16%
Calcium 56mg6%
Iron 2mg11%
* Percent Daily Values are based on a 2000 calorie diet.