These homemade dinner rolls are wickedly soft and fluffy. What's better? They require no special equipment or kneading to make.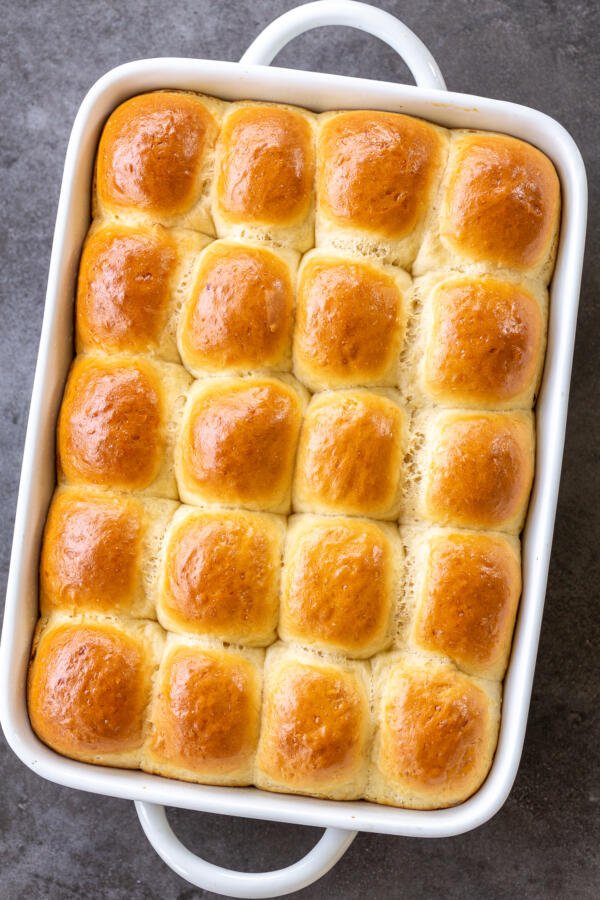 This dinner rolls recipe is your new go-to when you need bread in a pinch. It requires no kneading (yay to saving your forearms!), dough hook, or stand mixer, yet the rolls come out perfectly soft and golden brown each time. If you're a first-time baker and want to try your hand at making your own bread, this recipe has your name all over it…
But there's more to love. From prep to finish, the bread takes just shy of an hour to make. That means you can tend to the main course and sides while your bread proofs and bakes. By the time dinner is on the table, fresh rolls will be coming out of the oven! What's not to love about synchronicity?
How to Make No-Knead Dinner Rolls
Making no-knead dinner rolls only requires a few ingredients you likely have hanging around in your kitchen and a couple simple steps. Below, find a quick hitter overview of the recipe before you dive in.
Make the Dough: Combine the water with sugar and yeast and let it sit at room temperature for about 5 minutes. Whisk eggs, salt, and butter into the yeast mixture. Add flour into the mixture in small portions, stirring until a dough ball forms.
Divide the Dough: Divide the dough into 20 pieces and roll them up into balls. Place the dough balls into a well-greased baking dish.
Proof the Rolls: Cover the rolls with a towel. Allow them to rise for at least 30 minutes.
Bake the Rolls: Bake at 375°F in a preheated oven for about 35 minutes. Serve warm and enjoy!
Tips for Making the Best Dinner Rolls
Below, find a collection of tips and tricks to help you make the best no-knead dinner rolls on the planet.
Allow the bread to proof for at least 30 minutes. This will result in the fluffiest, softest dinner rolls. If you have the time, you can allow it to proof overnight for even better results.
Use high-quality all-purpose flour. Bob's Red Mill All-Purpose Flour is a wonderful option.
Separate the dough using a dough slicer. A dough slicer is a bread baker's best friend. This tool makes divvying up bread dough so simple.
Serve the rolls fresh out of the oven. There's nothing better than a fresh dinner roll! Try to time your meal around when they will come out of the oven.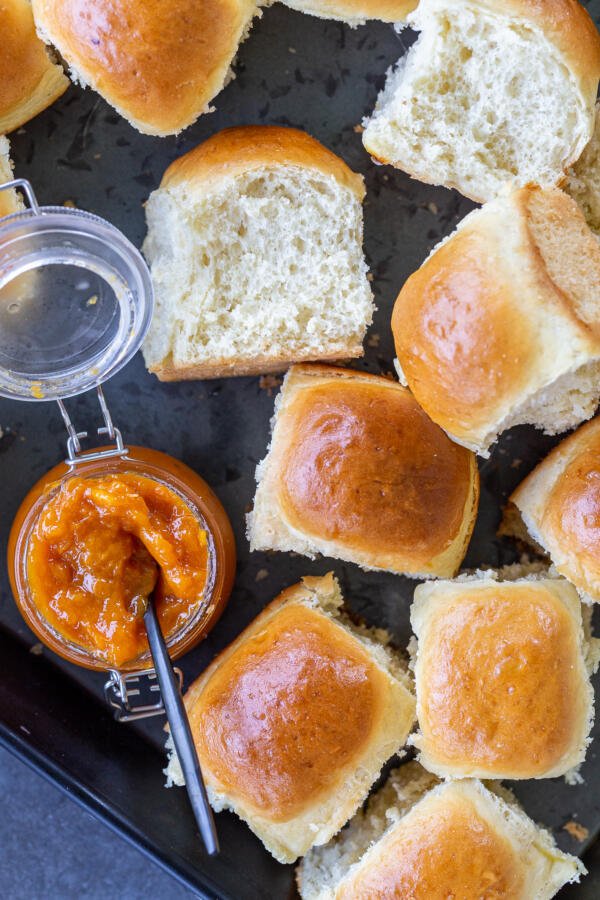 Serving No-Knead Dinner Rolls
No-knead dinner rolls are the perfect addition to your Thanksgiving, Christmas, Easter, or other holiday spread. However, since they are so simple to make, you can easily whip them up on a weeknight. Pair them with a homemade caesar salad, minestrone soup, or a classic ribeye steak dinner. p.s. or apricot jam is the perfect dessert!
Storing No-Knead Dinner Rolls
Room Temperature: Store dinner rolls at room temperature in an airtight container for 2-3 days.
Refrigerator: To keep the rolls fresher longer, store them in an airtight container in the fridge for up to a week.
Freezer: To freeze baked dinner rolls, allow them to cool completely. Place them on a baking sheet lined with parchment paper and pop the entire baking sheet into the freezer. Once frozen, transfer the rolls to a freezer-safe plastic bag. They will keep for up to three months. To freeze raw dinner roll dough, follow the exact same process.
Reheating Tip: Reheat dinner rolls by simply placing them in the oven until soft and warmed through. You can also pop them into the microwave for 30 seconds.
FAQ
What is a dinner roll?
Dinner rolls are small, round pieces of bread typically served as a side dish for dinner. They are extremely popular around the holidays but can be eaten all year round.
Can I use whole wheat flour instead?
You can use whole wheat flour, but the rolls will turn out denser. If you can, do 2/3 white flour and 1/3 of wheat to strike the perfect balance.
What does "proofing" the dough mean?
Proofing the dough refers to the last fermentation stage before baking where you allow the yeast to activate. In this recipe, you only need to proof the dough for 30 minutes.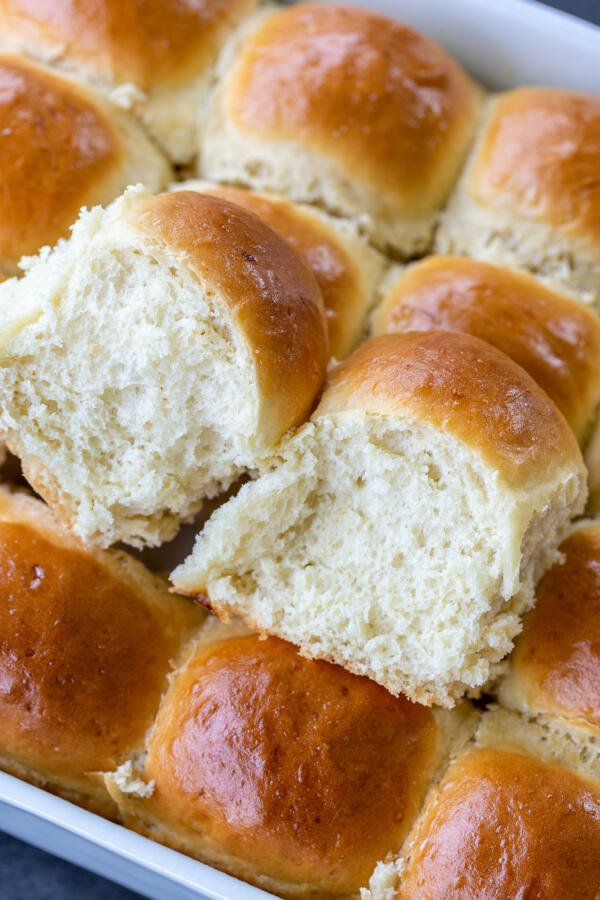 More Easy Bread Recipes
Recipe
These homemade dinner rolls are wickedly soft and fluffy. What's better? They require no special equipment or kneading to make.
Nutrition Facts
Easy No-Knead Rolls Recipe
Amount Per Serving
Calories 170
Calories from Fat 18
% Daily Value*
Fat 2g3%
Cholesterol 28mg9%
Sodium 138mg6%
Potassium 61mg2%
Carbohydrates 32g11%
Protein 5g10%
Vitamin A 71IU1%
Vitamin C 1mg1%
Calcium 11mg1%
Iron 2mg11%
* Percent Daily Values are based on a 2000 calorie diet.