Charcuterie boards don't always have to be savory! This fruit charcuterie board is full of fresh fruits and dips and is almost too pretty to eat…almost.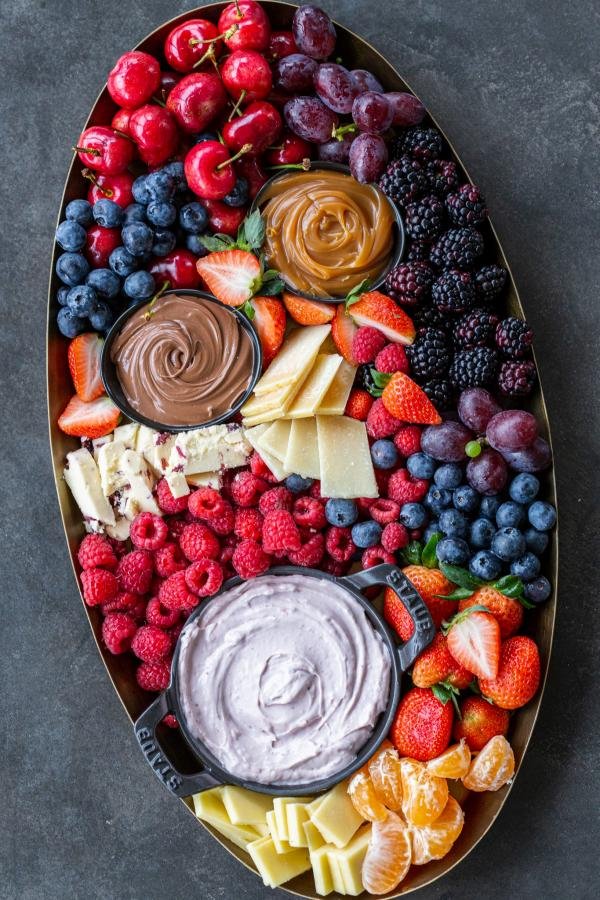 Wondering what kind of appetizer to serve for your next party or brunch soiree? Look no further than this fruit charcuterie board. That's right, charcuterie boards don't always have to be packed with cured meat and olives. They can be made with fresh fruit, too!
Tools for a Perfect Fruit Charcuterie Board
To put together the perfect dessert charcuterie board, here are all the tools and kitchenware that you'll need to make snacking seamless.
Large Cutting Board – To assemble all the goodies, you'll need a large charcuterie board or simply just a large cutting board. Either will work just fine!
Small Bowls – These small bowls are perfect for all your dips.
Charcuterie Utensils – This set contains spoons, tongs, and spreaders that are key for easy serving. If you love making boards, investing in a set is well worth it.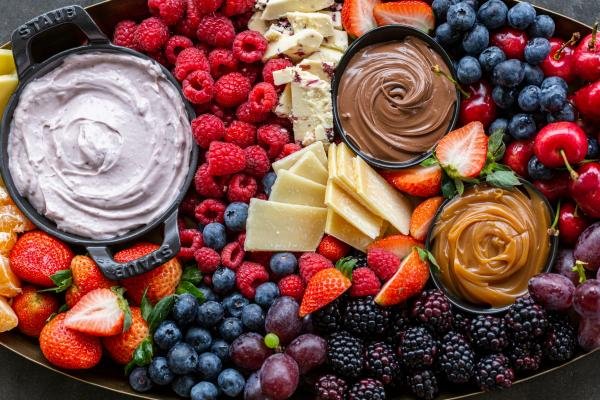 How to Make a Simple Fruit Charcuterie Board
Preparing a fruit board is an art of placing and presenting all the fruits in dips in the best way possible. It's really simple once you get the formula down pact!
Assemble the Dips: Place the dips in small bowls in different parts of the board.
Clean & Assemble the Fruit: Clean, slice, and assemble the fruits in groups around the dips.
Add Some Cheeses & Dried Fruits: Sprinkle in pieces of your favorite hard cheeses and dried fruits. Now it's time to get to snacking!
3 Tips for the Best Fruit Charcuterie Board
If this is your first time trying out the fruit charcuterie board trend, follow these 3 pointers to make it a breeze.
Make sure the fruit you pick is ripe. If you are going to whip up your board straight away, make sure that your fruit is ripe. You want it to be as flavorful as possible!
Slice each fruit into similar shapes. For each fruit you are using, try to cut it into similar sizes and shapes. This will be key to making the presentation stand out.
Use a sharp knife to slice the fruit. You want the slicing to be pristine, so make sure your knife isn't dull before you start chopping up your fruit.
Different Fruits, Dips, & Cheeses to Use
Variety is the spice of life, so feel free to get creative with the fruits, dips, and cheeses you use on your fruit charcuterie board. Here are some suggestions to inspire you…
Fresh Fruits
The most important thing to consider when selecting your fruit is color. You want to pick fruits you love to eat, but several different colors and textures will make for such a pretty presentation.
Berries: Strawberries, raspberries, blackberries, and blueberries.
Melons: Honeydew, watermelon, & cantaloupe.
Bananas: Make sure you only cut the banana right before you plan to serve the tray to prevent it from browning.
Kiwi: You can slice the kiwi with the skin on or off – it's edible!
Tropical Fruits: Mangoes (slice them into cubes), pineapple, and papaya.
Hard Fruits: Apples and pears are always a welcome addition. They are wonderful for dipping!
Stone Fruits: Cherries, peaches, apricots, & nectarines should have the seed removed before adding them to the board for easy snacking.
Grapes: Add a combination of green and red grapes for extra color.
Dried Fruits: Optionally, add in some dried fruits for variety. Dates, apricots, & dried mangoes are our favorites.
Tasty Fruit Dips
Add as many dips as your heart desires. Again, variety is key, so don't be shy.
Nutella – Nobody ever will shy away from everyone's favorite chocolate hazelnut spread. It pairs wonderfully with apples, pears, strawberries, and even mangoes.
Sweet Cream Cheese – In a stand mixer, beat room temperature, softened cream cheese with a teaspoon of vanilla and 1/2 cup of granulated sugar. This dip is basically like cheesecake and it's so simple to make!
Chocolate Ganache – A simple 2 ingredient decadent spread. All you need is your favorite chocolate and some cream!
Honey – Keep it simple and put out your favorite, high-quality honey.
Caramel Sauce – Snag a jar of your favorite jarred caramel sauce. You can also make some Instant Pot dulce de leche.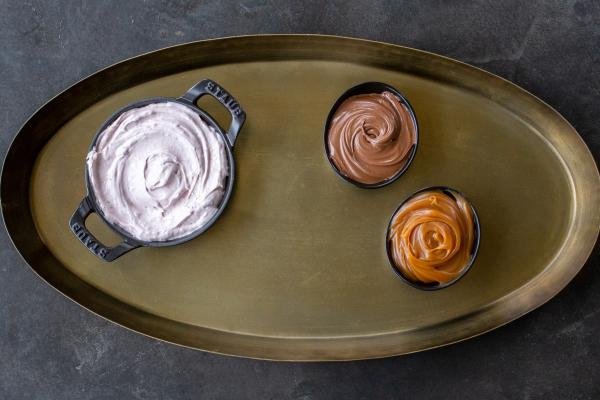 Hard Cheeses
Hard, aged cheeses are our favorite for a fruit board. They are so easy to pick up and they add a deep flavor that contrasts so well with the vibrant flavors of the fruit.
Gouda
Cheddar
Parmesan
Manchego
Hard Blue Cheese
Hot Tip: If you like a little crunch, feel free to sprinkle on some nuts as well. Walnuts and pecans are our favorites.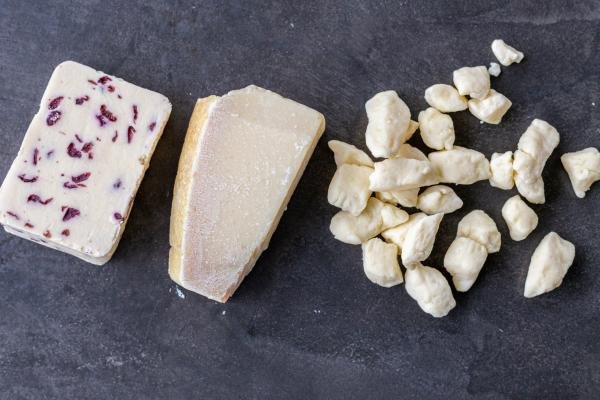 Make-Ahead Tips
If you want to get a head start on your prep for your fruit charcuterie board, feel free to pull it together the night before and cover it tightly with plastic wrap. However, if you're going to use apples or bananas be aware that they turn brown the longer they sit. These are best sliced right before you plan to serve them.
FAQ
What fruits can you put on a fruit charcuterie board?
You can use whatever fruits you like best for a fruit charcuterie board. From hard fruits to softer fruits, you really can't go wrong. Simply use whatever you'd put on a typical fruit tray.
What cheeses go well on a fruit charcuterie board?
The best cheeses to serve on a fruit charcuterie board are hard cheeses. You want your guests to be able to easily pick them up and nosh on them. Stray away from using soft cheeses like burrata, goat cheese, and brie, as they are best served as spreads for crackers or bread on a traditional cheese platter.
How do you cut fruit for a fruit charcuterie board?
When you're making a fruit charcuterie board, it's best to cut your fruits into pieces that are easy to grab and hold. Don't cut the fruit too thin, or it will be difficult for your guests to dip them.
More Helpful How-To Guides to Check Out
Recipe
This easy guide on how to make a fruit charcuterie board is a fun way to mix up your appetizer spread. Full of fresh fruits & dips, it's so snack worthy!
Ingredients
3

lb

fruit

1/2

cup

Nutella

1/2

cup

caramel

1/2

cup

cream cheese fruit dip

8

oz

cheese slices
Instructions
Nutrition Facts
How to Make Fruit Charcuterie Board
Amount Per Serving
Calories 538
Calories from Fat 234
% Daily Value*
Fat 26g40%
Cholesterol 47mg16%
Sodium 404mg17%
Potassium 423mg12%
Carbohydrates 66g22%
Protein 14g28%
Vitamin A 1281IU26%
Vitamin C 5mg6%
Calcium 370mg37%
Iron 2mg11%
* Percent Daily Values are based on a 2000 calorie diet.