This breakfast charcuterie board is a fun way to host a big group for Sunday brunch. It's the perfect balance of sweet & savory bites, and a crowdpleaser!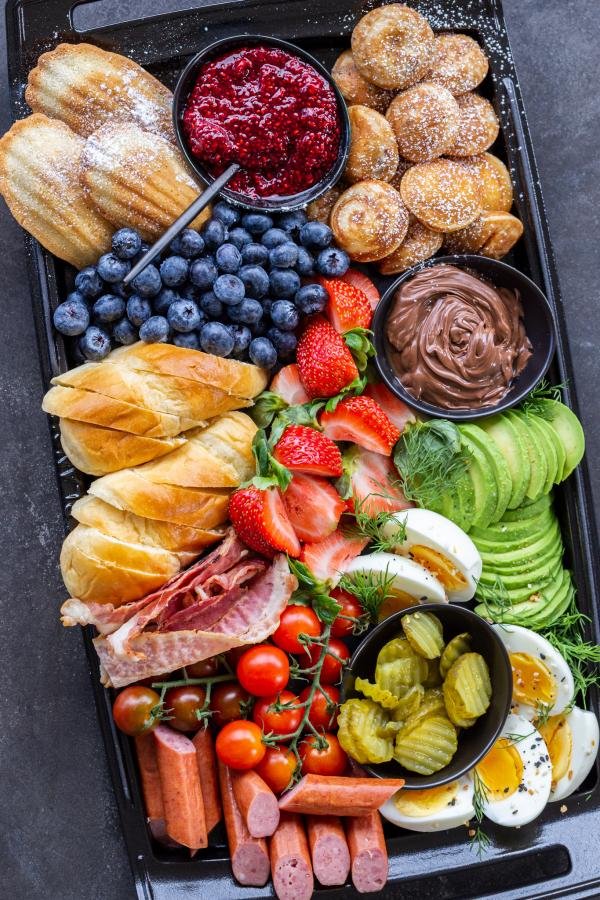 If you haven't done a brunch charcuterie board before, you're in for a treat. Much like traditional charcuterie boards, you can add in all your favorite breakfast goodies and let your guests snack to their heart's desire. In this guide, we'll share everything you need to know about the tools you need to build the board, to what kind of goodies are best to put on it.
What Exactly is a Breakfast Charcuterie Board?
A breakfast board doesn't have a hard-lined definition. It consists of a wide variety of breakfast and brunch classics assembled on a large serving tray. Whether you're hosting a large group or having an intimate 4 person brunch, it's a wonderful way to make sure that everyone gets to build their perfect meal. It's also incredibly decorative and so fun to assemble!
What to Add to a Breakfast Charcuterie Board
There are a million and one different flavors and textures that you can add to a breakfast board, but here are several categories you simply can't live without.
Breakfast Proteins: Air fryer bacon, oven-baked bacon, breakfast sausage links, ham steak, and prosciutto.
Sweet, Carby Dishes: Cottage cheese pancakes, buttermilk pancakes, crepes, french toast, muffins, and waffles. Don't forget the maple syrup, raspberry jam, yogurt, and high-quality butter to serve alongside!
Savory, Carby Treats: Sourdough bagels and cream cheese, English muffins, and various sliced and buttered toasts. You can scatter your favorite cheeses around these, such as gouda, brie, or goat cheese.
Fresh Fruit: Oranges, bananas, kiwi, watermelon, cantaloupe, raspberries, strawberries, grapes honeydew melon, and apple slices.
Eggs: Bacon egg bites, egg omelette roll (Gyeran Mari), or simple hard-boiled eggs will do the trick.
Herbs: Add a pop of color by garnishing the board with green onion, parsley, or dill.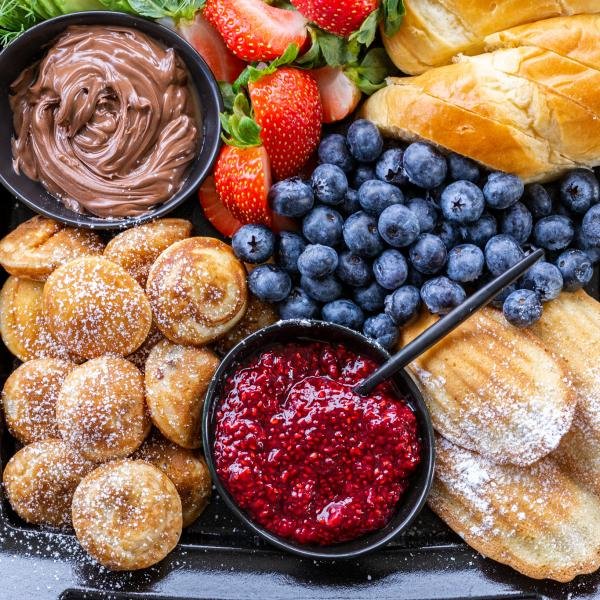 All the Tools You'll Need to Assemble a Breakfast Charcuterie Board
To put together the perfect breakfast board, here are all the tools and kitchenware that you'll need to make snacking seamless.
Large Cutting Board – To assemble all the goodies, you'll need a large charcuterie board or simply just a large cutting board. Either will do!
Syrup Pitcher – We love using this cream and sugar set for syrup and jam. It works so well and makes for a beautiful presentation.
Small Bowls – These small bowls are perfect for jam, nuts, honey, dried fruit, cream cheese, and beyond.
Charcuterie Utensils – This set contains spoons, tongs, and spreaders that will make serving a no-brainer. If you're a big fan of making various snacking boards, investing in a set is well worth it.
How to Put Together a Breakfast Charcuterie Board
After you whip up all the individual dishes, putting together your brunch board requires simple assembly.
Assemble the Waffles, Pancakes, or Other Carby Goodies: Place the waffles, pancakes, crepes, or other sweet treats in the very center of the board. Surround them with bowls of different syrups, jams, and butter.
Add the Eggs & Bacon: Assemble the eggs and bacon all around the waffles, pancakes, & crepes.
Finish with Fresh Fruit: Sprinkle the berries or other fresh fruit all around the sides of the board. Dig in with friends and family!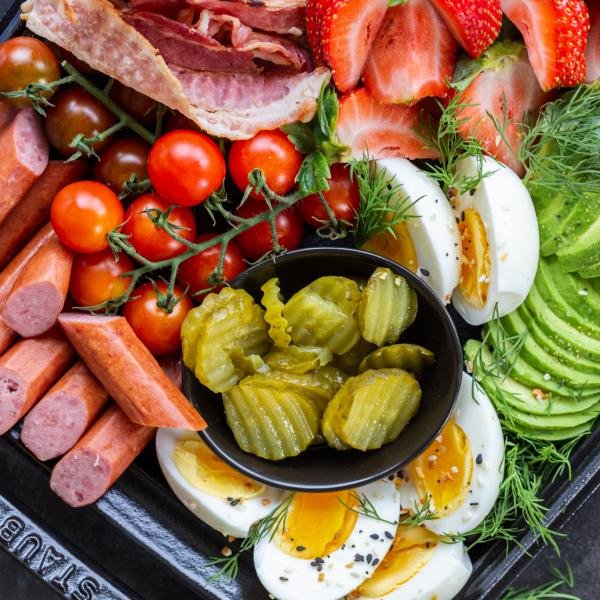 3 Tips for Assembling the Best Breakfast Charcuterie Board
If this is your first time making a breakfast board, follow these 3 pointers to help you nail it.
Play around with different board designs. Everyone's board is a different size or shape, so feel free to experiment with different designs. As a general rule of thumb, you'll want to put the largest or heaviest items in the center and build out the board to the edges with lighter items. This keeps the board balanced.
Time it so all the hot foods come out at similar times. To ensure all the hot foods are fresh, try and time out the cooking so that they come out at the same time. If you have to, keep them warm in the oven until you're ready to assemble the board.
Play around with your favorite ingredients & dishes. If you didn't see your favorite breakfast item listed, feel free to swap it in. There are no rules! You can get as specific as making a bagel board (think: cream cheese, cold-smoked salmon, pickled red onions, capers, & heirloom tomatoes) or as broad as you want and simply throw a hodgepodge of your favorite goodies on the board.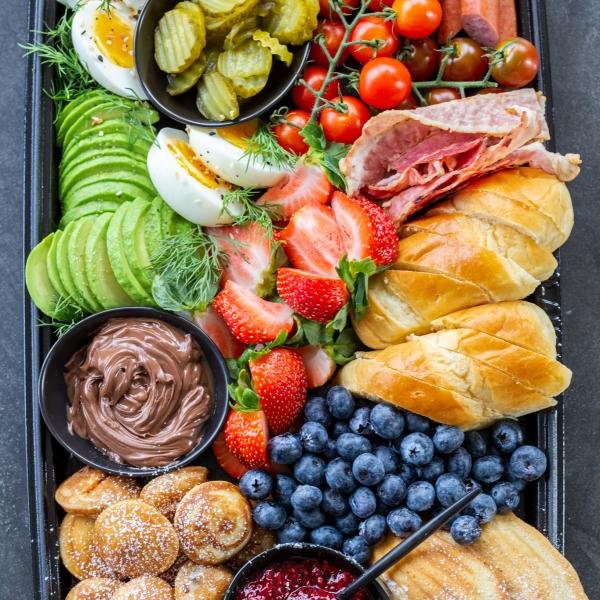 FAQ
Can you have a charcuterie for breakfast?
Yes, you can have a charcuterie for breakfast. To make it more appropriate for morning time, swap in some of your favorite breakfast foods. That said, nobody is going to stop you from enjoying a plate of cured meat, fine cheese, and crackers in the morning hours!
How do you keep a breakfast charcuterie board warm?
To keep your breakfast board warm, place the hot items on a baking sheet in an oven preheated to 200°F. When you're ready to assemble the board, simply pull them out and put it together.
Is a breakfast charcuterie board a meal or appetizer?
A breakfast charcuterie board can either be an appetizer or a full-blown meal. It depends on what kind of goodies you put on it. If you're doing lighter bites, such as muffins, fresh fruit, croissants, and cheese, it can easily be served for snacking before a more elaborate brunch spread. If you want it to serve as the main course, load it up with protein, pancakes, granola, yogurt, and any other of your favorites.
Can a charcuterie board be made ahead of time?
Yes, you can prep your breakfast charcuterie board ahead of time. That said, some things like pancakes and fresh eggs are best prepared fresh. Be discerning about which dishes you prep early!
More Tasty Breakfast Recipes to Try
Recipe
This super festive breakfast charcuterie board features a combo of sweet & savory bites to nosh on. Great for feeding large groups & highly customizable!
Ingredients
1

lb

berries

1

lb

cooked bacon

1

lb

pancakes

1

lb

waffles

4

eggs

1

cup

sauce

berry jam, Nutella or maple syrup
Instructions
Place the waffles, pancakes, or crepes directly in the center. Surround them with bowls of different syrups, jams, and butter.

Assemble the eggs and bacon all around the waffles, pancakes, & crepes.

Sprinkle the berries all around the sides of the board. Enjoy!
Nutrition Facts
Breakfast Charcuterie Board (Great for Hosting)
Amount Per Serving
Calories 699
Calories from Fat 315
% Daily Value*
Fat 35g54%
Cholesterol 275mg92%
Sodium 1636mg68%
Potassium 536mg15%
Carbohydrates 62g21%
Protein 33g66%
Vitamin A 1289IU26%
Vitamin C 2mg2%
Calcium 289mg29%
Iron 6mg33%
* Percent Daily Values are based on a 2000 calorie diet.