This chicken liver pate transforms chicken liver, herbs, veggies, and brandy into a rich, creamy spread. It's the best addition to your charcuterie board.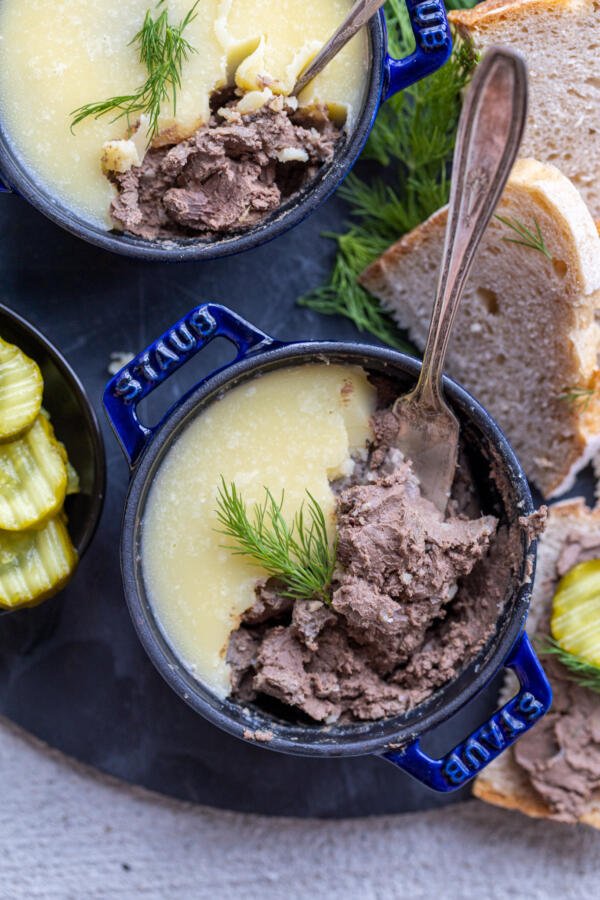 What is Chicken Liver Pate?
Chicken liver pâté is a pureed blend of ground poultry, vegetables, and a combination of dry seasonings. It has a smooth and creamy texture with an earthy and meaty taste. It takes less than 30 minutes to prep, and is served at both informal or formal occasions.
In French, "pâté" means "paste". Pâté's are most often associated with French cuisine, but various versions of pâtés exist around the world. Each culture uses a slightly different blend of proteins, vegetables, and seasonings most frequently found in each region.
Key Ingredients (And Options) for Liver Pate
Use these simple and affordable ingredients to make your chicken liver pâté. If you haven't tried pâté before — you'll fall in love with it in no time!
Chicken liver: The main ingredient is chicken liver. We love chicken for its mild flavor, but duck, turkey, pork, or beef liver can be used as well for more variety.
Veggies: Shallots and garlic are the regular veggies to add into pâté, but yellow onion or chives work well too!
Herbs: Dried thyme is a "must" for a fantastic pâté. For more herb diversity, add dried or fresh herbs like dill or parsley.
Seasoning: Salt and black pepper go a long way to flavor the pâté, so adjust the amount of these to taste. For even more flavor, consider adding spices like cumin, paprika, red pepper flakes, or allspice.
Fat: Our go-to fat choice for making the pâté creamy is butter, but lard is also a good substitute.
How to Make Chicken Pâté
Chicken liver pate is essentially a puree of all the ingredients, with a tiny bit of cooking involved. Follow this guide to make the most of the flavors and ingredients.
Melt the butter: Place butter in a small pan and cook butter on low heat until melted and lightly browned. Remove from heat and set aside.
Sauté the veggies: In a separate large skillet, sauté the additional butter, shallots, and garlic on medium heat until the shallots are translucent.
Add chicken liver: Add chicken liver to the pan and cook until browned on all sides. Chicken liver is fully cooked at 165°F.
Cook the liquids: Remove the skillet from heat and quickly add seasoning and brandy. Return to the stovetop, and on high heat, cook the mixture until it turns into a syrup. Remove from heat and allow to cool.
Blend the mixture: When the mixture is cooled, blend mixture in a blender or food processor until creamy and smooth.
Top with butter: Pour the melted butter from the small pan on top of the pâté. Refrigerate until ready to serve.
Tips from the Kitchen
It's easy to make chicken liver pâté, but follow these tips to make it the perfect pâté for your table!
Soak the chicken liver: Soak the chicken liver in milk for about an hour to make the liver taste more mild.
Choose a pale chicken liver: When able to choose, buy pale chicken livers. They tend to have a more mellow, rich flavor compared to red-colored livers.
Blend well: Blend the ingredients well, unless you like a chunkier pâté. I used this blender, but if you'd rather use a food processor, this one has great reviews. We like our pâté perfectly smooth, so blend away!
Serving Chicken Liver Pâté
Chicken liver pâté is a great appetizer for any occasion. It is inexpensive enough to serve as a snack, but also fancy enough for a holiday charcuterie board. Place the smooth pâté in a small bowl and serve it beside a bowl of tortilla chips, sourdough crackers, or a thin slice of toasted whole wheat baguette or french bread.
Or, serve it as part of a larger charcuterie board spread with air fryer bacon, sliced cheese, fresh fruit, egg bites, and/or crepes.
Use pâté as a type of sandwich spread like in our Danish pickled beets and pâté smørrebrød recipe, or on any other sandwich you like!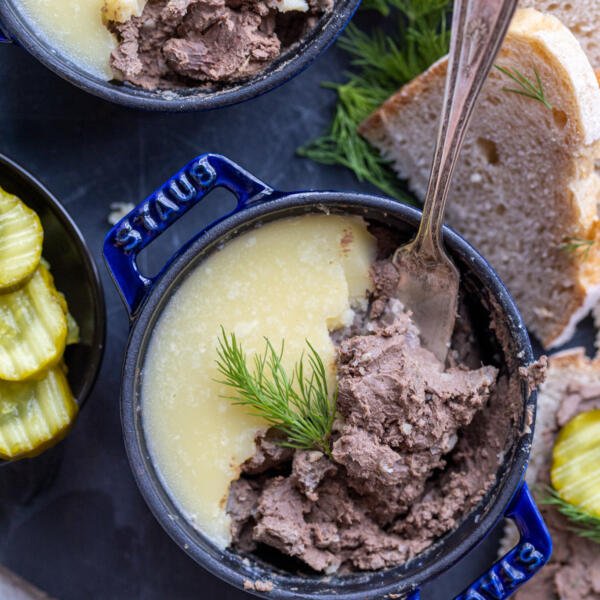 Storing Tips
Liver pâté is best enjoyed when chilled or at room temperature, but the best flavors develop after it has been chilled for at least a day. Store it in either the refrigerator or the freezer for continued enjoyment.
Refrigerator: To store for up to two weeks, transfer pâté into an airtight jar or container. Then, cover it with a thin layer of melted butter. The butter will "seal" the pâté. Each time you dip into the pâté, reseal the top with butter to continue preserving.
Freezer: To store for up to three months, place pâté in an airtight and freezer-safe container. Thaw in the refrigerator overnight before serving.
Serving tip: The flavor of pâté improves after being chilled for a few days, making it a perfect make-ahead appetizer!
FAQ
Is chicken liver pâté good for you?
Chicken liver is known as a great source of nutrients such as iron, folate, and a variety of other vitamins and minerals. It is also a rich source of protein, which is an important part of a balanced diet.
Why is my chicken liver pâté grainy?
Liver pâté can be grainy because it has not been blended well enough to a puree texture, or the liver was overcooked. Cook chicken liver until all sides are lightly browned and the internal temperature is 165°F.
Is chicken liver pâté or beef liver pâté better?
Beef and chicken liver are both high in nutrients, with beef usually having a slightly higher concentration of nutrients. However, you won't go wrong with either one!
More Rare Poultry Meat Recipes
Recipe
This chicken liver pâté transforms chicken liver, herbs, veggies, and brandy into a rich, creamy spread. It's the best addition to your charcuterie board.
Ingredients
8

tbsp

unsalted butter

divided

1/2

cup

shallots

minced

1

garlic clove

minced

1

lb

chicken liver

tissue and fat trimmed

1

tsp

dry thyme

1

tsp

salt

adjust to taste

1/2

tsp

ground black pepper

adjust to taste

1/4

cup

brandy
Nutrition Facts
Chicken Liver Pate
Amount Per Serving
Calories 131
Calories from Fat 81
% Daily Value*
Fat 9g14%
Cholesterol 150mg50%
Sodium 223mg9%
Potassium 125mg4%
Carbohydrates 2g1%
Protein 7g14%
Vitamin A 4429IU89%
Vitamin C 8mg10%
Calcium 11mg1%
Iron 4mg22%
* Percent Daily Values are based on a 2000 calorie diet.