Learn how to make a colorful and delicious Crudités platter of fresh veggies and tasty dips. It's perfect for parties, gatherings and a fun way eat more veggies!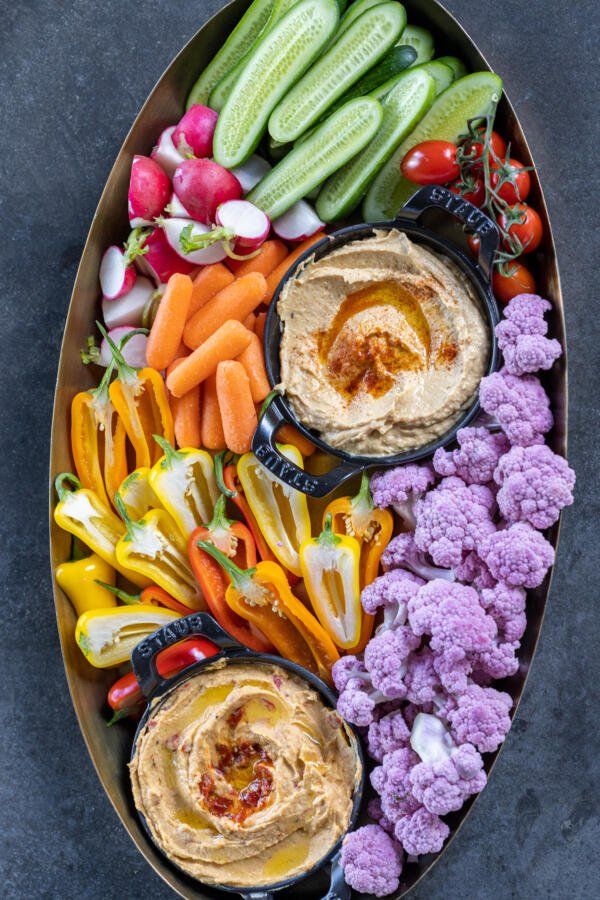 Say goodbye to the store-bought veggie tray and make this crudités platter instead!
What Is A Crudités Platter?
Crudités is a French word that means "raw things," therefore, a crudités platter is an appetizer made of raw vegetables. The vegetables are left whole or cut into small pieces and served with dips. The platter makes for a beautiful, colorful display – plus it's a great way to eat more of your favorite veggies and introduce new ones!
A crudités platter is very similar to a charcuterie board. Both platters originated in France and are arrangements of small finger foods presented on a cutting board. The difference is that a crudités platter contains raw vegetables while a charcuterie board usually contains different cuts of meats, crackers, cheese, and fruit.
Crudités Platter Video
How to Make A Simple Crudités Platter
Assembling a crudités platter is like making fun art. All you need is a large cutting or serving board, small bowls for the dips, and creativity to assemble this platter.
Assemble the dips: Place the dips into small bowls and arrange them in different areas on the cutting board.
Prep the vegetables: Clean and cut the vegetables into sizes sturdy enough for dipping.
Arrange the veggies: Be creative and arrange the vegetables in groups around the dips. Have fun with it — there's no wrong way to do it!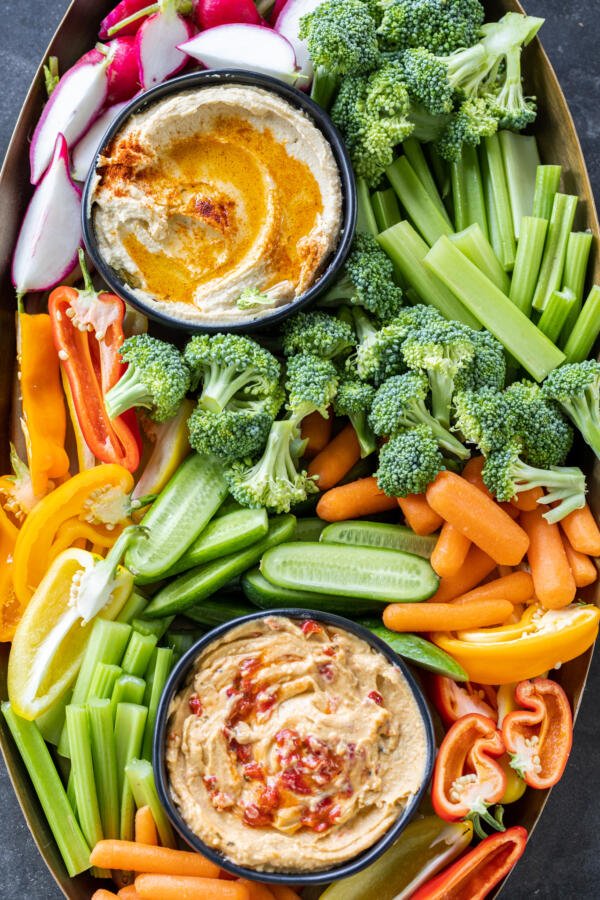 Veggie & Dip Options for Crudités Platter
Elevate your crudité platter with a variety of flavors. Include various vegetables rich in colors and nutrients, and serve it with at least two dips to satisfy everyone's taste buds.
Veggies
Bell peppers: Slice the bell peppers into strips or cut off the tops and use the bottoms as a bowl for dip. If you are using mini bell peppers, slice them in half lengthwise for the perfect dipping size.
Cucumbers: Cucumbers are crisp, mild and pair well with a variety of dips. Persian cucumbers cut in half lengthwise are the perfect dipping size.
Carrots: Carrots are sweet and earthy with a satisfying crunch. Both baby carrots or whole carrots are a great addition to the platter.
Radishes: Add radishes for a bold, zesty flavor. Cut the smaller radishes in half or slice the larger ones for an optimal dipping size.
Tomatoes: Juicy cherry tomatoes on a vine elevate the platter by bringing a pop of color.
Cauliflower: Mild and nutty in flavor, cauliflower is a wonderful complement to the dips. Opt for purple or another colored cauliflower for an extra colorful veggie platter.
Broccoli: Broccoli is vibrant in color and earthy in flavor. Cut off the stalk and slice the broccoli into florets for a nutritious bite.
Sugar snap peas: Small and crunchy, sugar snap peas are a great addition to crudités. Crack a few open for an even prettier presentation.
Dips
How To Blanch Veggies
Traditional crudités consist of raw vegetables; however, some versions also include blanched vegetables such as broccoli or cauliflower. Blanching is a process that tenderizes the veggies, making them softer. It also helps maintain the vibrant colors of the vegetables.
Prepare the ice water: Fill a bowl with ice water.
Boil a pot of water: Bring a large pot of water to boil on the stovetop.
Blanch the veggies: Submerge the veggies into the boiling water for one to two minutes.
Stop the cooking: Remove the veggies and immediately place them into the ice bath to stop them from further cooking. Drain the water and and pat the veggies dry.
Repeat the process: Repeat until all desired vegetables have been blanched.
Hot tip: Blanching is optional but works best for fibrous vegetables such as peas, green beans, and asparagus to remove the fibrous content.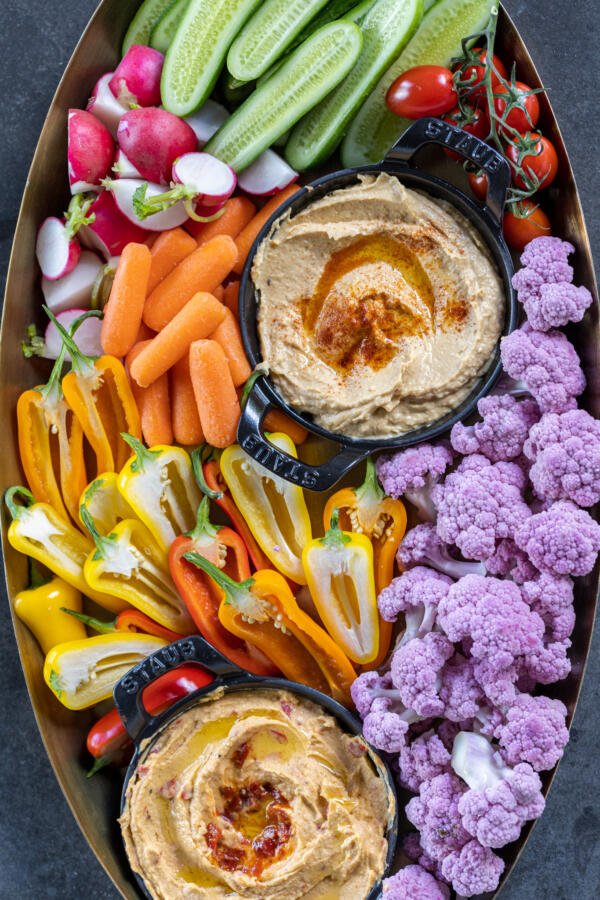 Serving Ideas
This fabulous crudité platter is an ideal party appetizer. Combine these fresh, crunchy veggies and dips with other delicious dishes and appetizers. If you're looking for a protein to add to your table, wings are delightful option. Make our baked chicken wings, crispy air fryer wings, or grilled chicken wings. For a more filling dinner entreé, serve the platter with easy cheeseburger sliders or Philly cheesesteak sliders. Or, make these decadent chicken bacon canapés or crab mushroom canapés and serve with the fresh veggies for a refreshing balance.
Make-Ahead & Storage
There are two options to make this platter ahead of time. Either assemble all elements of the platter now, or prep the ingredients and assemble the platter later.
Assemble the platter: Make the platter with dips and veggies no more than a day before serving. Wrap it in plastic wrap and store it in the fridge until ready to serve.
Prepare the veggies and dips: Prepare and keep the veggies and dips in separate airtight containers in the refrigerator. Within a couple of days, arrange the veggies and dips on a platter to be enjoyed.
Hot tip: Store any leftovers in an airtight container and refrigerate for up to three days.
FAQ
Why is it called a crudités platter?
Crudités platter gets its name from the French word "crudités" which means "assorted raw vegetables." In America, a crudités platter is also known as a vegetable platter.
What is the difference between a crudités platter and a charcuterie board?
A crudités platter and a charcuterie board both contain an assortment of various foods, but a crudités platter is made with raw vegetables while a charcuterie board usually offers different cuts of meats, crackers, cheese, and fruit.
Do the vegetables need to be cooked before serving?
Traditionally, crudités are made of raw vegetables and do not need to be cooked or blanched.
More Recipes For Hosting
Recipe
Learn how to make a colorful and delicious platter of fresh veggies and tasty dips. It's perfect for parties, gatherings and a fun way eat more veggies!
Instructions
Nutrition Facts
Crudités Platter (All the Tips)
Amount Per Serving
Calories 204
Calories from Fat 72
% Daily Value*
Fat 8g12%
Cholesterol 5mg2%
Sodium 344mg14%
Potassium 431mg12%
Carbohydrates 29g10%
Protein 9g18%
Vitamin A 8745IU175%
Vitamin C 18mg22%
Calcium 94mg9%
Iron 2mg11%
* Percent Daily Values are based on a 2000 calorie diet.