Piroshki are a classic Eastern European treat. Traditional piroshki recipes can be a bit time-consuming, but this recipe gets these yummy pastries on the table at breakneck speed!
Quick Fruit Piroshki are filled with whatever jam or fruit. You can add a bit of farmer's cheese to these for a cheesecake-like dessert.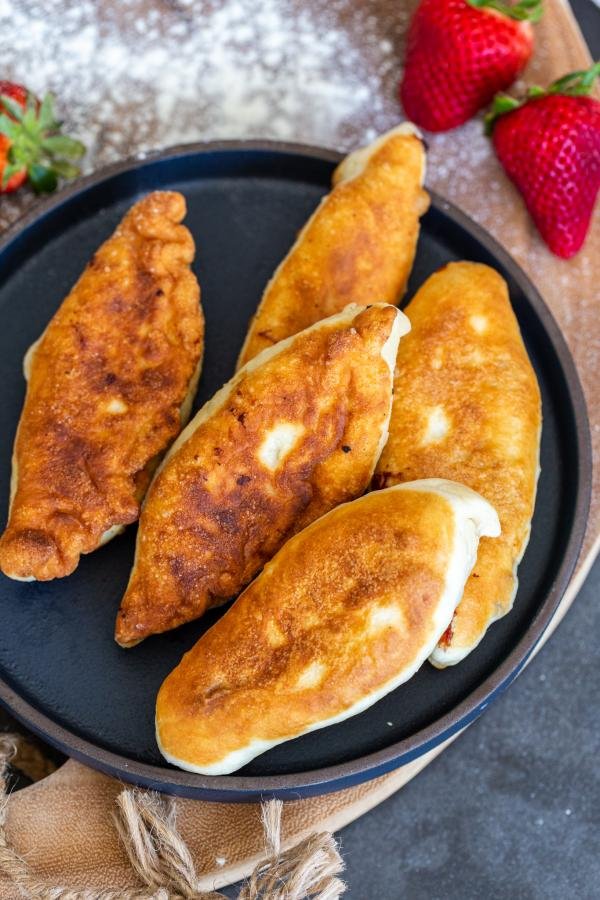 My quick fruit piroshki require no yeast. Yes, that means no time spent letting the dough rise! When I am feeling ambitious on the weekends, I will whip these up before my kids get up and surprise them with the smell of piroshki frying in the kitchen…
Quick fruit piroshki take me right back to my childhood. In the summertime in Ukraine, my mother would pick fresh fruits straight from our garden. She would always make this quick and easy dough. Since she had a farm to run, she used this no-yeast dough to get a treat on the table for us quickly!
What are Piroshki (Pirozhki, Piroshky)?
There are so many different types of Eastern European dumplings out there. It can be dizzying to keep them all straight! Typically, piroshki are made with yeast and flour dough and then stuffed with a sweet or savory filling. Then, they are deep-fried. The end result is a crispy outer layer and a piping hot, gooey center.
To speed things up, I removed the yeast from the recipe. You don't need to wait for the dough to rise like you do with more traditional recipes. This allows you to whip these treats up at the drop of a hat. I mean, sometimes the craving just can't wait…
Quick No-Yeast Piroshki Video
How to Make Quick No-Yeast Piroshki
Making pastries can be a little intimidating. Making pastries from a different culture can be even more intimidating. Follow these step-by-step instructions to get perfectly cooked piroshki every time:
Measure out all your ingredients for the dough.
Combine buttermilk, baking soda and sugar into a bowl together. Slowly incorporate the flour until you get a smooth, even texture.
Work the dough with your hands for a couple of minutes. Leave it uncovered for 10 minutes.
Dive into equal pieces and form into small balls.
Roll dough out into an oval shape. Fill each piece of dough with filling and roll it up tightly.
Fill a deep skillet with oil over low-heat. Fry each side for several minutes, or until golden brown.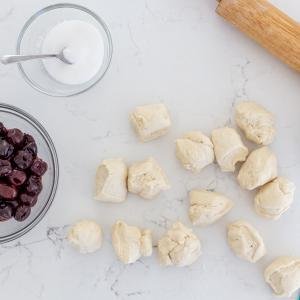 How do you Reheat Piroshki?
The best way to reheat piroshki is in the oven for a couple of minutes. This will bring it back to its original crispy state. You can also zap it in the microwave, but it might come out a bit soggy.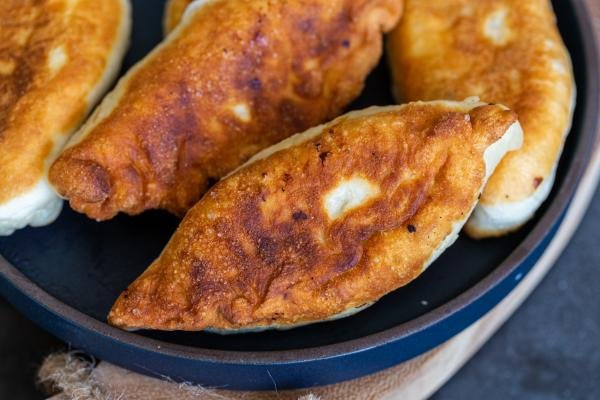 Serve Piroshki With…
Sweet piroshki are best served with a cup of milk or kompot (a sweet strawberry drink Ukrainian children grow up craving). But, a cup of coffee is currently my favorite companion to a fresh-out-of-the-skillet piroshki.
If you are hosting a weekend brunch, these are a great substitute for pancakes or waffles. Pair them with the usual suspects — eggs, bacon and breakfast potatoes — for a well-rounded Sunday spread.
More Versions of Piroshki
There is nothing quite as dear to a Ukrainians heart as a deep-fried piroshki. They bring me right back to my childhood. I am happy to share some of my most treasured family recipes with you:
Fruit Piroshki Recipe – If you have the time to make yeast-based dough, try this more traditional family recipe out!
Potato Piroshki Recipe – Packed with savory potatoes and onions, this piroshki is perfect for those who don't have a sweet tooth. Serve these with a little sour cream.
Savory Piroshki – Stuffed with ground pork or chicken, these piroshki can stand on their own as a meal!
Recipe
Piroshki are a classic Eastern European treat. Traditional piroshki recipes can be a bit time-consuming, but this recipe gets these yummy pastries on the table at breakneck speed!
Nutrition Facts
Quick Fruit Piroshki
Amount Per Serving
Calories 156
Calories from Fat 9
% Daily Value*
Fat 1g2%
Cholesterol 2mg1%
Sodium 90mg4%
Potassium 64mg2%
Carbohydrates 35g12%
Protein 3g6%
Vitamin A 32IU1%
Vitamin C 1mg1%
Calcium 23mg2%
Iron 1mg6%
* Percent Daily Values are based on a 2000 calorie diet.