Kale Quinoa Salad is a bowl of vibrant flavors and colors. Tossed in a zesty homemade dressing, this filling and seasonal salad will brighten any wintertime meal.
Feel like you always botch quinoa? Become an expert with our How to Cook Quinoa guide!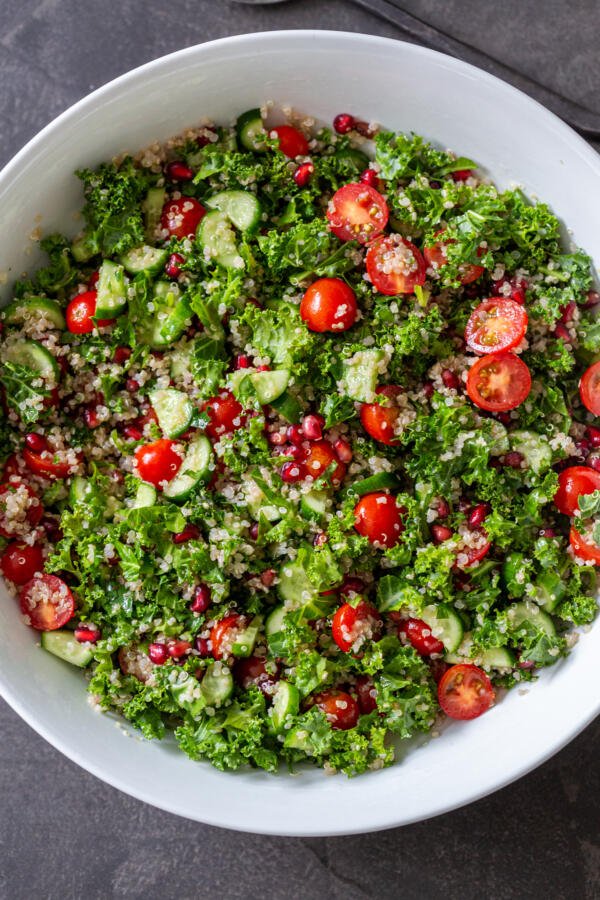 Quinoa Salad always makes me think of the holiday season. Not only do the colors scream Christmas, pomegranates and kale are at their peak flavor during the winter months.
Amongst all the rich and fatty holiday foods, Quinoa Salad is a refreshing and welcome dish to mix things up. It's healthy, perfect potlucks and your new secret weapon to keeping off those extra holiday pounds.
Make a big batch and eat it for lunch throughout the week. You'll be shocked at how filling it truly is!
What Quinoa Salad is Made Of
My Quinoa Salad is made of kale, quinoa, pomegranate seeds, tomatoes and cucumbers. It's an absolute rainbow!
If you're not super into the above combination, feel free to switch things up. Swap the pomegranates for raisins, oranges or cranberries. Kale can be substituted for spinach, arugula or Swiss chard. Also, you can always trade avocado oil for good quality olive oil. If you don't have any lemons, feel free to trade in apple cider vinegar or red wine vinegar to add that puckery goodness.
In terms of veggies, add any crispy and crunchy one you like. The possibilities are limitless! From raw bell peppers to roasted butternut squash, quinoa pairs well with almost any produce.
One of my other favorite combinations is quinoa, tomatoes, red onion, cucumbers, feta cheese and balsamic vinaigrette. It's like a Greek salad with an extra kick of protein.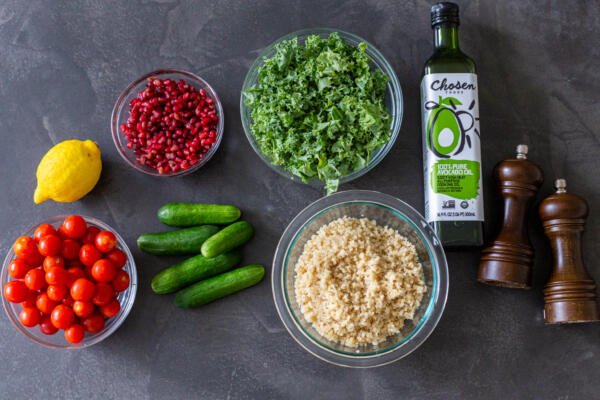 How to Make Quinoa Salad
The beauty of salads is that they come together quickly and require little fuss. In just three easy steps, you will create a Quinoa Salad that will absolutely "wow" your guests:
Whisk to together your dressing and set to the side.
Place all your veggies and fruits and the cooked quinoa in a large bowl.
Drizzle the dressing and toss right before serving.
Making Quinoa Salad Ahead
Quinoa Salad is the perfect made ahead dish. It can be made hours in advance and still remain fresh and crunchy. I would recommend mixing it right before you plan on serving.
Refrigerating Leftovers – If you can help it, keep your dressing and quinoa salad in separate airtight containers. It will keep this way for up to a week and a half. If you store the salad tossed, it will stay fresh for 2-3 days.
Other Salad Recipes
Crazy for salads? Us too. Here are a couple other of our favorites:
Beet Quinoa Salad – Beets and quinoa? This salad couldn't be healthier or more tasty.
Italian Pasta Salad – Everyone needs a solid Italian Pasta Salad recipe on hand. Pair a scoop with a cold sub sandwich and bring it along on your next picnic.
Caesar Salad – Learning how to make your own homemade, tangy Ceasar dressing is a game changer.
Avocado Salad – My all-time favorite summertime salad.
Recommended Tools for This Recipe
Rice and Grains Strainer – Rinse and clean your quinoa, rice, barley or farro in this handy, finely porous strainer. Never lose a grain to sloppy straining again!
Glass Bowls – Use these every single day. My all-time favorite set!
A Sharp Knife – This knife won't disappoint. Love this one!
Recipe
Kale Quinoa Salad is a bowl of vibrant flavors and colors. Tossed in a zesty homemade dressing, this filling and seasonal salad will brighten any wintertime meal.
Ingredients
2

cups

cooked quinoa

1

cup

pomegranate seeds

2

cups

cherry tomatoes

sliced

1

cup

cucumber

sliced

2

cups

kale

chopped

1

lemon

juiced

1/2

tsp

black pepper

2

tbsp

avocado oil

1/2

tsp

salt

adjust to taste
Instructions
Nutrition Facts
Kale Quinoa Salad
Amount Per Serving
Calories 166
Calories from Fat 63
% Daily Value*
Fat 7g11%
Sodium 214mg9%
Potassium 443mg13%
Carbohydrates 24g8%
Protein 5g10%
Vitamin A 2490IU50%
Vitamin C 51mg62%
Calcium 60mg6%
Iron 2mg11%
* Percent Daily Values are based on a 2000 calorie diet.