This farro salad recipe with lemon vinaigrette is the perfect balance of sweet and salty. With apples, feta cheese, & cranberries, it's filling and so satisfying.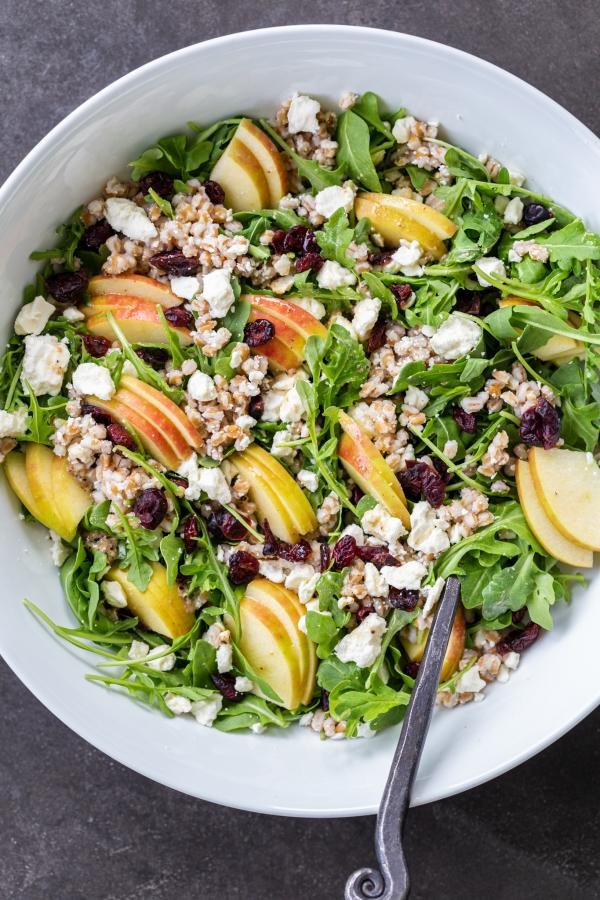 This farro salad recipe touts a tart, vibrant taste that you won't soon forget. To top it off, it's super filling and can easily be served as a singular side dish or meal on its own. If you haven't cooked with farro yet, you're in for a treat. Learn everything you need to know to whip it up using our foolproof guide on how to cook farro.
A Quick Farro 101
Farro is an ancient whole grain that's high in protein and fiber. It dates back to the Mesopotamia era and has been nourishing humans ever since. With a chewy texture and nutty flavor, farro is fairly similar to barley and can be used in everything from soups to salads. In terms of health benefits, it's packed with magnesium, zinc, and b vitamins. The only downside? It's not gluten-free if you have an allergy.
Hot Tip: Opt for pearled farro or semi-pearled farro over the whole farro. Since the former has the bran fully or partially removed, it cooks much faster and doesn't require overnight soaking.
How to Make this Farro Salad Recipe with Lemony Vinaigrette
Making this simple farro salad recipe only requires some light assembly and a canning jar trick to help you make the perfect dressing.
Build the Salad Base: Place the baby arugula into the bottom of a large serving bowl. Top it off with the cooked farro.
Lay on the Toppings: Next, add the sliced apples, feta cheese, and dried cranberries (you can also use dried cherries).
Make the Salad Dressing: In a canning jar, combine the olive oil or avocado oil, dijon mustard, fresh lemon juice, salt, and black pepper. Seal the lid and shake until the dressing is well-combined.
Assemble the Salad: Drizzle on the dressing and serve immediately.
Topping Tips: Opt for Honeycrisp, fuji, or pink lady apples for this salad – they have the perfect amount of sweetness and crunch. Also, if you can, get your hands on fresh, water-packed feta cheese.
Tips for Tweaking this Farro Salad Recipe
To make this salad your very own, check out some of these tasty tweaks and ingredient substitutions.
Add in some pickled onions. For a pop of tart flavor, add in some pickled onions.
Swap in pears for apples. Swap out the apples for your favorite variety of pears.
Use different cheese. If you like it tangy and creamy, substitute the feta cheese with goat cheese or parmesan cheese.
Add in some crunchy nuts. If you want to add more texture, add rough-chopped almonds, pistachios, pecans, or walnuts.
Load in more veggies. Don't be afraid to pack in the veggies. Cherry tomatoes, cucumber, sliced radish, baby spinach, and red onion are all great options.
Switch up the grain. Swap the farro out for quinoa or brown rice.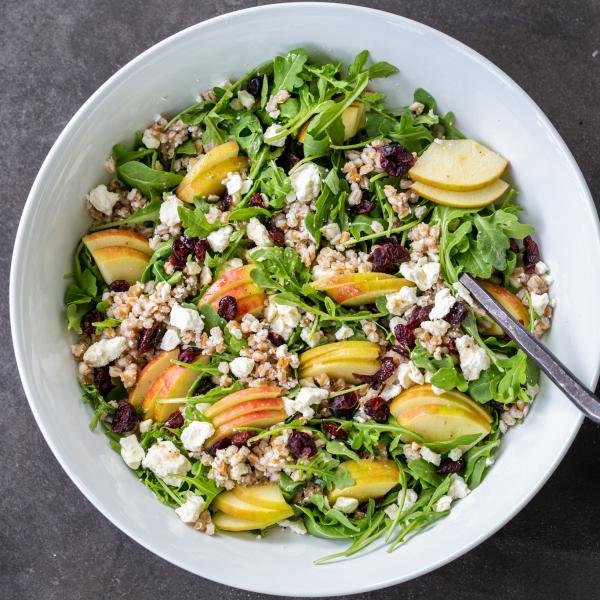 Serving Suggestions
Serve this tasty farro salad as a simple side dish or topped with protein for a full-blown meal. We like to slice up some grilled chicken thighs or a cast-iron ribeye steak. It's also wonderful as part of your next BBQ or outdoor cookout spread, paired with all the usuals like juicy ribs or beef shish kabobs.
Make-Ahead & Storage Tips
If you are the kind of person who likes to meal prep, this farro salad is for you. To cut down on day-of prep, it can be stored for quick meals throughout the week. To do so, store all the ingredients in separate airtight containers in the fridge for up to 5 days. Never toss the salad before storing it in the fridge, as the arugula will get soggy.
Looking for some great containers? We love these airtight containers for organizing the fridge and storing leftovers throughout the week. The snap seal truly makes all the difference and they are so stackable!
FAQ
What dressing goes with farro salad?
The best kind of dressing for farro salad are kinds that are vinegar or citrus forward. This cuts the earthiness of the farro and brings a nice, light taste. In general, you can avoid creamier dressings like ranch or caesar – but there are truly no rules!
Is farro better for you than rice?
Yes, farro is better for you than rice. Farro contains much more protein, vitamins, and nutrients than plain white rice and can be eaten in substitution in most cases.
Is farro a carb or protein?
Farro is considered a carb, but it is also very high in protein. Unlike white rice or starchy potatoes, it's super filling and whole grain. In other words, it's a win-win kind of situation for folks looking to fill up and eat healthily.
Is quinoa or farro healthier?
Neither quinoa nor farro are much healthier than one another. Both are powerhouse foods that should be eaten with wild abandon. That said, the main difference between the two is that quinoa is gluten-free while farro is not.
How can you make farro taste better?
You can make farro taste better by cooking it in broth instead of water. You can use chicken broth, vegetable, or beef broth. You can also toss in some bay leaves and garlic to add even more flavor.
Can you freeze farro for later?
Yes, you can freeze farro for later. To do so, cook it completely, allow it to completely cool, and spread it in a single layer on a baking sheet lined with parchment paper. Place the baking sheet in the freezer for up to 2 hours. Transfer the farro to a freezer-safe bag for up to 3 months.
More Filling Salad Recipes to Try
Beet and Goat Cheese Arugula Salad – Sweet and salty arugula salad
Pesto Pasta Salad with Mozzerella – Peppery arugula base tossed with tomatoes, mozzarella pearls, rotini and pesto.
Israeli Couscous Salad – A medley of couscous, veggies, herbs and an easy dressing!
15-Minute Broccoli Cauliflower Salad – Broccoli, bacon, and sunflower seed salad
Easy Cobb Salad with Tuna – Egg, tuna, & veggie salad
Quinoa Kale and Avocado Salad Recipe – Grain, avocado, and egg salad
Taco Salad – Ground beef and all the classic taco toppings
Recipe
This bright farro salad recipe features apples, feta cheese, and cranberries. Drizzled with a tangy lemon vinaigrette, it's perfectly sweet and salty.
Ingredients
7

oz

arugula

1 1/2

cups

cooked farro

1

cup

feta

1

large apple

sliced

1/3

cup

cranberries
Nutrition Facts
Farro Salad With Lemon Vinaigrette
Amount Per Serving
Calories 204
Calories from Fat 117
% Daily Value*
Fat 13g20%
Cholesterol 22mg7%
Sodium 499mg21%
Potassium 217mg6%
Carbohydrates 18g6%
Protein 5g10%
Vitamin A 914IU18%
Vitamin C 8mg10%
Calcium 184mg18%
Iron 1mg6%
* Percent Daily Values are based on a 2000 calorie diet.