This berry salad is the perfect balance between sweet and salty. It's packed with fresh berries and tangy feta, then tossed with a garlic vinaigrette!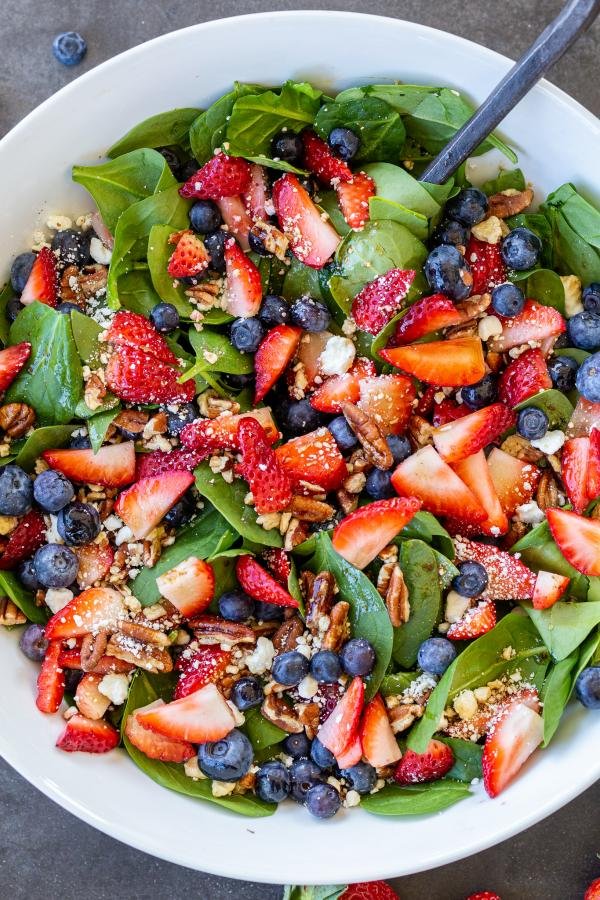 Spinach berry salad is one of those unexpected dishes that sneaks right up on you and makes you fall in love. The first time I tried it, I was hanging out at a friend's house. She brought out this beautiful bowl of berries, cheese, and greens and I was…shocked. Fruit…in salad?! After I took my first polite bite, I was floored. Not only was this perfect side dish delicious, but the fruit also complemented the savory ingredients so well.
Hot Tip: This berry salad is made with honey-infused balsamic vinegar. If you want to go the store bought route, I love this brand brand. Alternatively, if you have honey and balsamic on hand, simply whisk 1/4 cup of balsamic with a tablespoon of honey.
What is Berry Spinach Salad?
Spinach berry salad is a leafy green salad with fresh berries and toasted nuts. It's best described as the perfect combination of a berry fruit salad and a classic garden salad. Serve it during the summer months when berries are in peak season, or year-round to complement just about any protein. Below, find a rundown of the flavor, texture, and prep time for this recipe.
Flavor: The flavor of this berry salad is the perfect balance of sweet berries, salty feta, and earthy toasted nuts. This is all brought together by a sweet, garlicky dressing of olive oil and honey-infused balsamic vinegar.
Texture: This berry salad is full of texture from the juicy fruit, crunchy nuts, and soft feta. You'll find yourself trying to get the perfect forkful of all the ingredients with each and every bite.
Time: From prep to table, this salad takes a quick 15 minutes to prepare.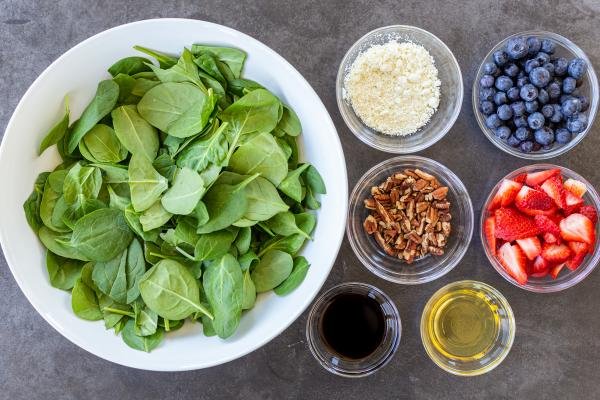 How to Make Spinach Berry Salad
Making spinach berry salad only requires a handful of wholesome ingredients and some quick assembly. Below, find a brief overview of the process before you dive in.
Toast the Nuts: Toast the pecans in a skillet until golden. Then, set them aside to cool.
Assemble the Salad: Into a large bowl, add the fresh blueberries, sliced strawberries, toasted pecans, and feta cheese.
Make the Dressing: In a small bowl, whisk the balsamic vinegar with olive oil.
Toss the Salad: Toss the salad in the dressing. Serve immediately and enjoy!
Hot Tip: After you rinse your lettuce, it holds onto quite a bit of moisture that can water down the taste of your salad. Invest in a salad spinner like this one to wick off the moisture from the leaves without damaging them.
Protein to Add
While this salad is great as a side dish, it's easily turned into a well-rounded meal with the addition of protein. Below, find a couple of tasty suggestions:
Other Toppings to Add to Berry Salad
If you want to experiment with different toppings, this salad is the perfect foundation to do so. So long as you stick to a basic formula of tangy cheese, berries, and toasted nuts, you can't go wrong. Below, find a couple of other options to play around with.
Cheese – Goat cheese or blue cheese
Berries – Fresh raspberries or blackberries
Veggies – Thin slices of red onion, cucumbers, or avocado
Nuts – Walnuts, hazelnuts, almonds, or pistachios
Greens – Arugula, romaine, or kale
Different Dressings to Try
Here you'll find a handful of other dressings besides the garlicky vinaigrette to use for this salad.
Beet Salad Dressing – A tangy balsamic dressing that goes super well with all beet salads, but could also be used for this berry salad
Light Ranch Dressing – A guilt-free ranch dressing made with fresh dill and parsley
Olive Oil, Vinegar, & Lemon Juice– There's nothing wrong with keeping it simple and tossing the salad in high-quality olive oil, balsamic or red wine vinegar, and a spritz of lemon juice (the toppings alone pack a ton of flavor)
Olive Oil, Mustard, & Vinegar – If you like a bit of extra tang, make a quick vinaigrette of olive oil, balsamic, dijon mustard, salt, and pepper
Raspberry Vinaigrette – Make a quick raspberry vinaigrette by whisking 1/4 cup of raspberry puree into your favorite balsamic dressing
Hot Tip: Elevate the flavors of this salad even more by adding in a handful of herbs. Fresh mint leaves or rough-chopped basil work super well.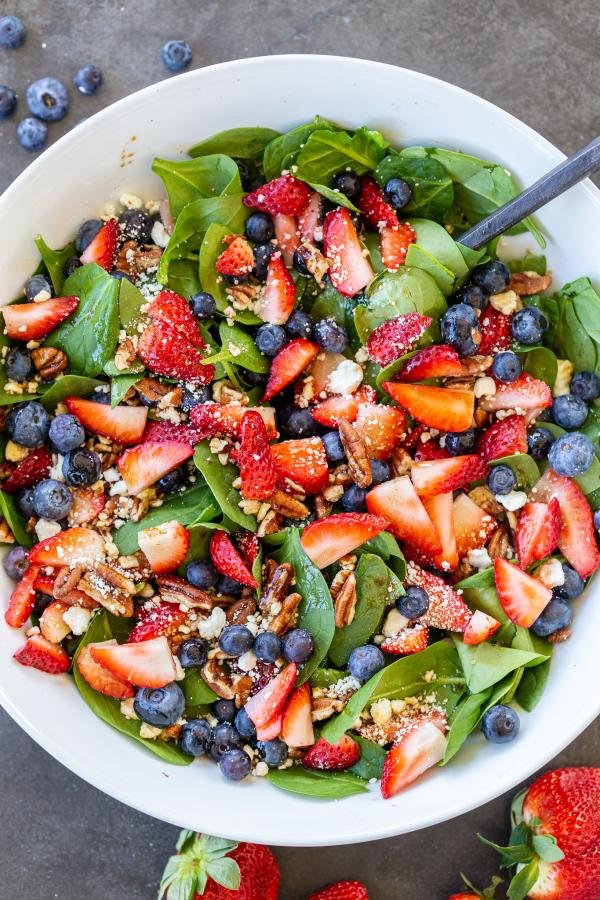 FAQ
What is the healthiest salad dressing?
Generally speaking, the healthiest salad dressings are vinegar-based versus mayo-based. Balsamic vinaigrettes, Italian dressings, and classic olive oil and vinegar are all great options and tend to be lower in calories and sodium than ranch or caesar dressing.
How many types of berries are there?
There are dozens of different berries out there, but the most common in American cooking include blueberries, raspberries, strawberries, and blackberries.
What foods go with balsamic vinegar?
While balsamic vinegar goes super well with a ton of different dishes, it pairs extra well with fruit. This might seem counterintuitive, but a drizzling of this stuff over berries or stone fruit salads is a must-try.
How long does spinach berry salad last in the fridge?
When kept separate from the dressing, this spinach berry salad will keep for 2-3 days when stored in an airtight container in the fridge.
How can you make this salad more filling?
Add some protein to the salad to make it more filling. If you're a vegetarian, toss in a cup of cooked quinoa for extra fiber.
More Healthy Salad Recipes
Recipe
This berry salad is the perfect side dish or quick weeknight dinner with your favorite protein. Made with fresh berries and tangy feta cheese!
Nutrition Facts
Berry Spinach Salad Recipe
Amount Per Serving
Calories 352
Calories from Fat 279
% Daily Value*
Fat 31g48%
Cholesterol 17mg6%
Sodium 250mg10%
Potassium 418mg12%
Carbohydrates 15g5%
Protein 6g12%
Vitamin A 4330IU87%
Vitamin C 38mg46%
Calcium 159mg16%
Iron 2mg11%
* Percent Daily Values are based on a 2000 calorie diet.