Beet Quinoa Salad is filling, delicious and healthy! Using just five ingredients, you can create a dish that looks impressive yet is so easy to prepare.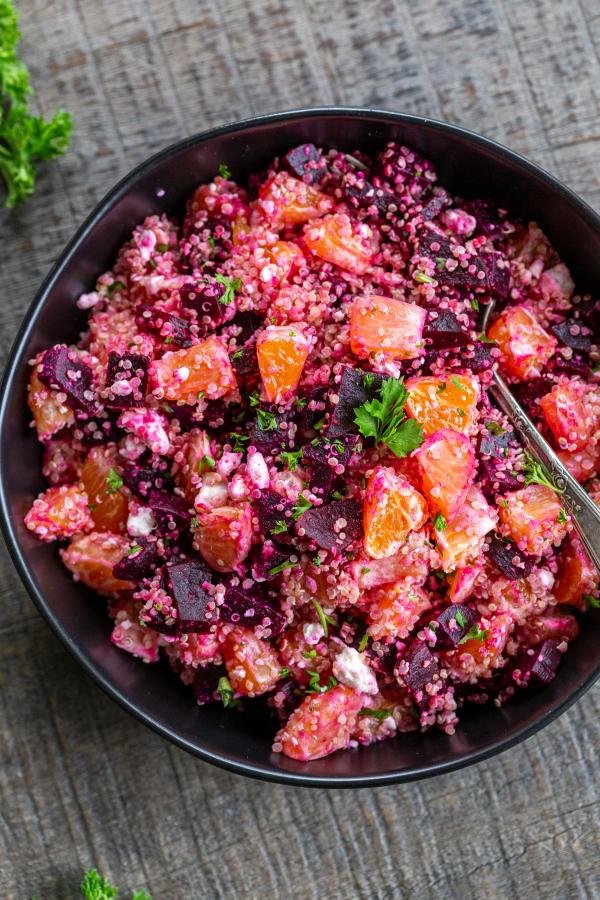 Beet Quinoa Salad is a perfect side dish. If you are wondering what to bring to your upcoming holiday potluck or party, look no further. This salad can act as a full meal for your vegetarian friends, or as a great accompaniment to meat for the carnivores in your life.
Never cooked with quinoa before? Don't worry! Quinoa is an awesome substitute for brown or white rice, pasta, farro or any other grain out there. Follow my guide for cooking the perfect quinoa and nail it every time.
The kicker? This salad is packing some big nutrition. Quinoa is gluten-free, full of protein and low-fat. Add in some beets, mandarin oranges and goat cheese, and you have yourself a well-rounded meal!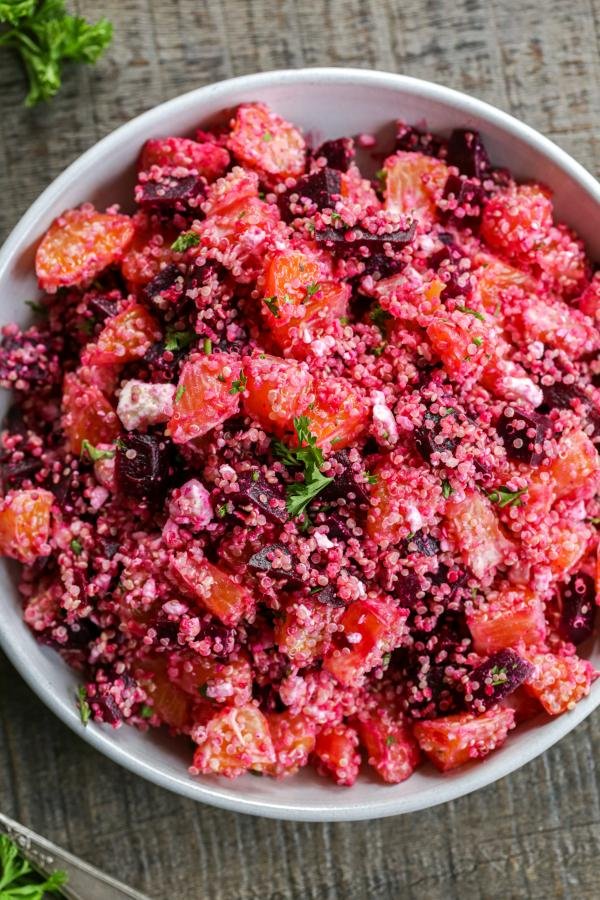 Ingredients for Beet Quinoa Salad
The best thing about this salad is that it is insanely easy to prepare. All you need to do is cook your quinoa and toss in the rest of the ingredients. This makes it the perfect dish for those hot summer nights when you don't want to turn on the oven. It is also a great fall-back dish for potlucks, family parties and BBQs. Here are the ingredients you need to make it and how to use them:
Quinoa: Quinoa is the base of this yummy salad. To make your life easier, prepare a big batch of quinoa a day or two in advance so it is already cooled and ready to be used for salad. Bonus: You can use your leftover quinoa to make my Superfood Quinoa Kale Salad.
Goat Cheese: Creamy, tangy and decadent, goat cheese is the necessary fat that ties this yummy salad together. Looking for a substitute? Feta cheese works great too.
Mandarin Oranges: Mandarin oranges are sweet, bite-sized and perfect to toss into salads. Often referred to as "cuties," these little oranges are much more flavorful than navel oranges. When you are peeling them, make sure to take off as much of the white, bitter rind that you can.
Fresh Herbs: Adding a little bit of fresh dill, green onion or parsley brings a pop of freshness to this dish.
Beets: You can use boiled or pickled beets. Dice them up into uniform cubes for the best presentation.
Other Ingredients to Add: Looking to mix things up a bit? Feel free to add pomegranates, apples, kale, almonds, cranberries or raisins to the mix.
Can you Prepare Beet Quinoa Salad In Advance?
If you are looking to prepare this dish early, do so only a day in advance. Keep it sealed in an airtight container in the fridge and only add the goat cheese in right before serving.
What to serve with Beet Quinoa Salad?
Although this salad can stand all on its own as a meal, it is also great as a side dish. Here are some of my favorite pairings:
Recipe
Beet Quinoa Salad is filling, delicious and healthy! Using just five ingredients, you can create a dish that looks impressive yet is so easy to prepare.
Ingredients
1

cup

cooked quinoa

2

medium beets

cooked

3

medium mandarins

1/2

cup

goat cheese

(feta is another great option)

2

tbsp

Italian parsley

for garnish
Instructions
Nutrition Facts
Beet Quinoa Salad (Just 5 Ingredients)
Amount Per Serving
Calories 184
Calories from Fat 63
% Daily Value*
Fat 7g11%
Cholesterol 13mg4%
Sodium 142mg6%
Potassium 333mg10%
Carbohydrates 23g8%
Protein 9g18%
Vitamin A 925IU19%
Vitamin C 22mg27%
Calcium 81mg8%
Iron 2mg11%
* Percent Daily Values are based on a 2000 calorie diet.