Make all your Korean BBQ dreams come true with this simple, sweet, and spicy beef bulgogi. Best over a bowl of steamed rice!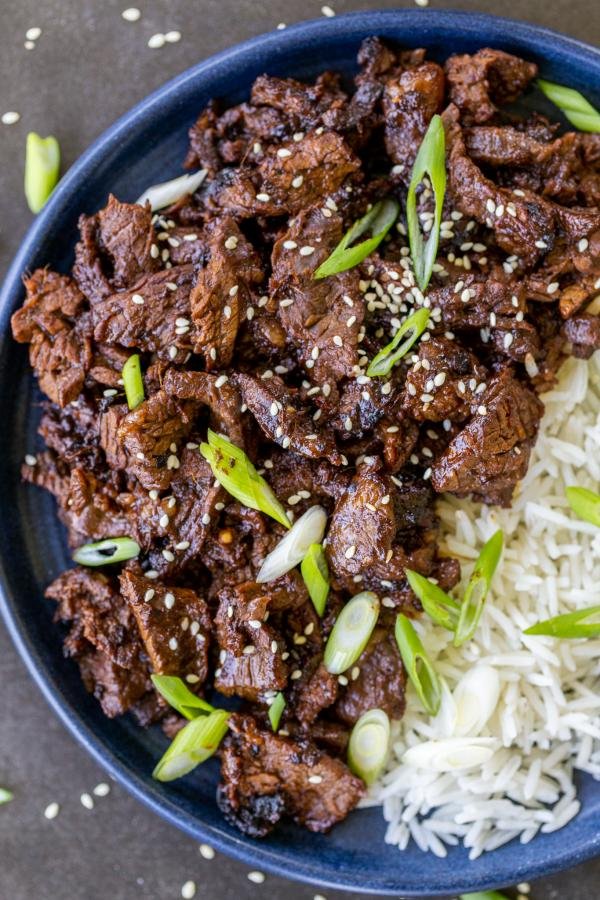 There's nothing quite like the smell of bulgogi searing on a cast-iron skillet. If you're obsessed with Korean BBQ and hot pot dinners, but hate shelling out the big bucks to eat it at a restaurant, try your hand at making it homemade. With the help of the Korean wonder pepper paste gochujang, all it takes is some quick assembly.
Where can you find gochujang? This Korean red pepper paste is sold in most specialty Asian stores and has even found its way into big box grocery stores lately. If you can't get your hands on it in-store, snag some off Amazon.
What Exactly is Bulgogi?
Bulgogi is a type of grilled Korean dish, or "gogi", that has made a huge splash stateside alongside kalbi (marinated short ribs). You'll find it served everywhere from street stalls to BBQ restaurants and for good reason – it's so, so, so good!
Flavor: Bulgogi is the perfect trifecta of fruity sweetness, earthy spicy peppers, and savory beef.
Texture: The marinated, tender beef is draped in a silky pepper sauce.
Time: From prep to table, this bulgogi recipe takes just 30 minutes of prep and cook time. However, account for allowing the beef to marinate for at least two hours (you can pump this up to overnight if you'd like).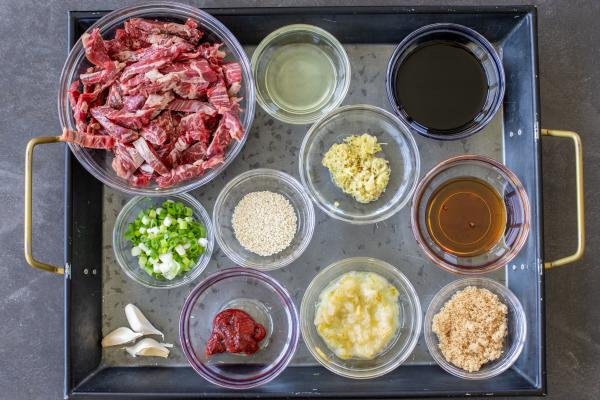 The Best Cuts of Beef for Bulgogi
Bulgogi can be made with several different cuts of beef. Below, find a couple of our favorites to use:
Ribeye: If you're willing to splurge a little, ribeye is our choice cut for it's nice marbling and ultra-tender texture. Just make sure to trim off any excess fat before cooking.
Flank: Flank is the next best option and is a bit more affordable than ribeye. It's pretty lean and prone to drying out, so make sure to slice it thin and avoid overcooking. Best marinated overnight for maximum tenderness.
Sirloin: Sirloin is the most affordable of the three, and also the leanest. Same rules apply as flank steak.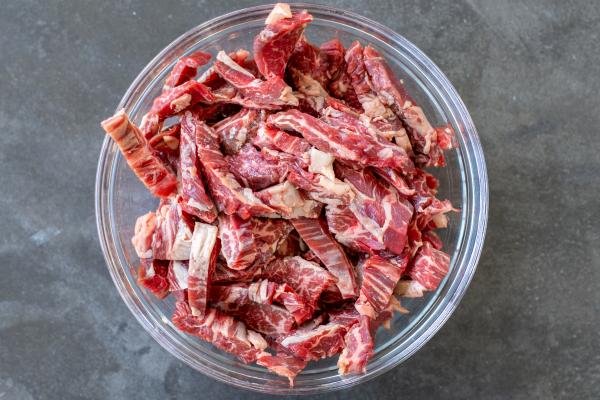 How to Make Bulgogi from Scratch
Making bulgogi only requires a bit of prep and marinating. Find an overview of the recipe below.
Slice the Beef: Firstly, slice beef against the grain into thin slices. Place the sliced beef in a resealable plastic storage bag.
Make the Marinade: Next, whisk the sauce ingredients together in a large bowl.
Marinade the Beef: Pour the marinade over the beef and massage it in until well distributed. Pop the bag in the fridge for at least 2 hours.
Cook the Beef: Next, cook the beef over high heat in single layer batches in a cast-iron grill pan. Top with sesame seeds and minced green onion. Dig in and enjoy!
The Secret to Perfect Bulgogi Sauce
The flavorful profile of bulgogi is dependent on a balance of sweet, savory and spicy flavors. As it cooks, the sugar caramelizes and turns the sauce into a thick and sticky delight. Below, find all the marinade ingredients and what they bring to the table:
Sweet: Brown sugar, grated Asian pear, grated ginger
Savory: Sesame oil, pressed garlic cloves, soy sauce
Spicy: Gochujang sauce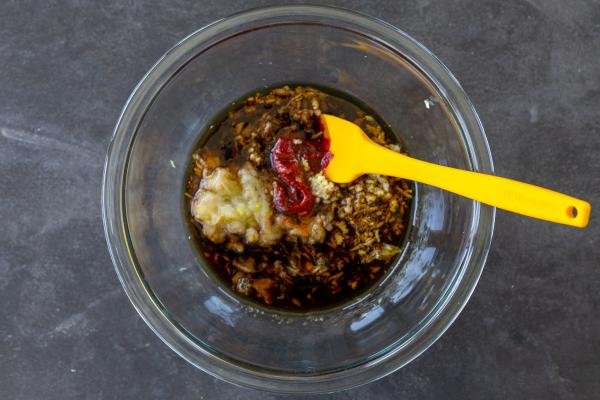 3 Pro Tips for the Best Bulgogi
A couple of tips will help you make bulgogi as good as your favorite Korean restaurant.
Pop the beef in the freezer before slicing. Place the beef in the freezer for about 20 minutes before you attempt to slice it. This will make it so much easier to get those signature, thin slices.
Cook the beef in small batches. Avoid overcrowding the bulgogi in the skillet by cooking small batches at a time to yield a nice, even crust.
Allow the beef to marinate overnight if you have time time. 2 hours will do the trick, but an overnight marinade will yield the best depth of flavor.
Ways to Serve Sweet & Salty Bulgogi
Serve bulgogi over a bowl of steamed white rice or brown rice. If you want to keep it traditional, pick up a jar of kimchi (Korean fermented cabbage) or other fermeted korean side dishes (seaweed salad, pickled cucumber, or pickled radish) to eat it with. If you're trying to nix carbs, pair it with some air fryer broccoli.
Storing, Freezing & Reheating Tips
Whether you have some leftovers to stow away or would like to batch cook and freeze some bulgogi, find all the best practices below.
Storing: To keep bulgogi on hand for up to 5 days, store it in an airtight container in the fridge.
Freezing: If you want to have bulgogi on hand for up to a month, allow it to first cool down completely. Next, pour the bulgogi in a resealable plastic bag and freeze it. To thaw, place in the fridge overnight.
Reheating: The best way to reheat bulgogi is back in a skillet with a little sesame oil or in the microwave until warmed through.
FAQ
What is the texture of bulgogi?
The texture of bulgogi features tender beef marinated in a silk sauce.
Is there sugar in bulgogi sauce?
Yes, there is a bit of brown sugar in bulgogi to help with the caramelization as it cooks.
Is there MSG in bulgogi?
There is no MSG in this bulgogi recipe.
Can bulgogi be served cold?
Bulgogi is typically served hot off the grill Korean barbecue style, but it can be chilled and used as a salad topper as well.
More Asian-Inspired Recipes
Recipe
If you're a fan of Korean BBQ, you know all the wonders of beef bulgogi. Sweet, salty, and spicy, it hits every flavor you're craving!
Ingredients
2

lbs

beef ribeye

boneless

1/4

cup

green onions

sliced

1

tbsp

sesame seeds

2

tbsp

oil

canola, olive or vegetable
Nutrition Facts
Korean Beef Bulgogi (Crazy Easy)
Amount Per Serving
Calories 465
Calories from Fat 306
% Daily Value*
Fat 34g52%
Cholesterol 92mg31%
Sodium 592mg25%
Potassium 521mg15%
Carbohydrates 9g3%
Protein 32g64%
Vitamin A 73IU1%
Vitamin C 2mg2%
Calcium 39mg4%
Iron 3mg17%
* Percent Daily Values are based on a 2000 calorie diet.