Air fryer broccoli is a healthy side dish you can whip up in a fraction of the time! That's right! In just 10 minutes this broccoli turns ultra-crispy,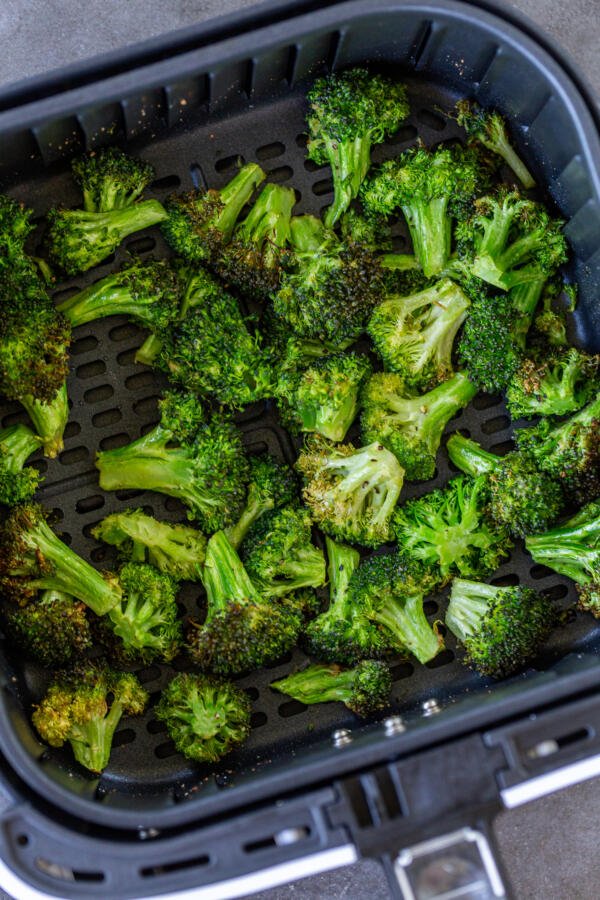 Air fryer broccoli is a surefire way to ensure you get vegetables on the table, no matter how strapped you are for time. In just 10, short minutes, this broccoli comes out as juicy and crispy as it would have if you roasted it in the oven.
What's better? There's no need to use a ton of oil in the air fryer. Just a couple of tablespoons of olive oil will do the trick. Now that's healthy eating…
Whether you're looking for a quick side dish or planning to add crispy broccoli to your favorite pasta dish, this recipe will soon become your go-to. Grab a head of broccoli and let's get started!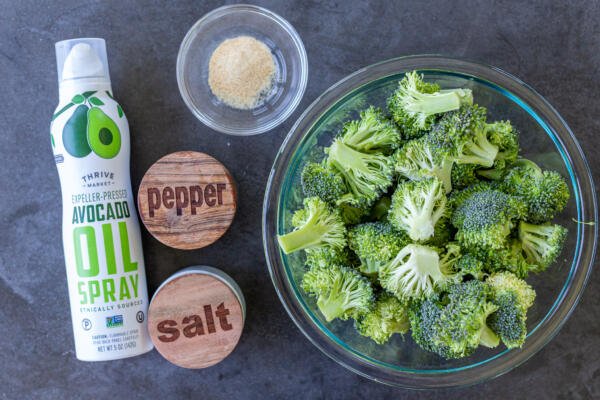 How to Make Air Fryer Broccoli
Air fryer broccoli takes only 5 ingredients and three easy steps to make. Below, find a quick rundown of the recipe.
Season the Broccoli: Grab a large bowl and pop broccoli florets inside. Toss the broccoli with seasoning and oil, evenly coating each floret.
Place Broccoli in Air Fryer Tray: Place broccoli in the air fryer basket in a single layer.
Air Fry and Serve: Air fry for 8-10 minutes at 370°F, flipping halfway through. Enjoy!
Hot Tip: Uplevel the broccoli by adding freshly grated parmesan cheese in the last 4 minutes of air frying. Hello, cheesy crust!
Looking for an air fryer? Right now, I'm obsessed with my COSORI Air Fryer Max XL. It has 13 different presets and a tray big enough to feed 3-5 people. It's perfect for a meal prep pro or a family of four.
Tips for the Best Air Fryer Broccoli
Below, find a couple of tips to help you make the best air fryer broccoli.
Slice your florets into equal-sized pieces. To promote even cooking, slice your florets into as equal-sized pieces as possible. If you want to cut a corner, you can find pre-cut florets in the refrigerated aisle of the produce section.
Switch up the seasoning. Branch out from garlic powder, salt, and pepper and add any dry seasoning you like. Cumin, red chili flakes, and Italian seasoning are all great options. You could even squeeze lemon juice on top of your florets for a pop of citrusy flavor.
Use a bowl to season broccoli. Instead of seasoning broccoli directly on the air fryer tray, season it in a bowl first. This allows you to toss the broccoli in the oil and seasonings and distribute it more evenly, coating all the nooks and crannies of each floret.
Serve broccoli fresh. Air-fried broccoli is best served fresh. If you let it sit too long, it will lose its crispiness and turn a bit soggy.
Add a tablespoon of water for more tender broccoli. If you like broccoli to be a bit more on the tender side, add a tablespoon of water to the air fryer to help it steam.
Fresh Broccoli vs. Frozen Broccoli: It's best to use fresh broccoli in the air fryer. While you can air fry frozen broccoli, it won't get as crispy due to its higher moisture content.
Serving Air Fryer Broccoli
Serve air fryer broccoli anywhere you would serve oven roasted broccoli. Add it to a heaping bowl of shrimp fettuccine alfredo or pair it with a leg of lamb for a healthy dinner. You could even use cold leftover air fryer broccoli as a substitute to raw in our broccoli cauliflower salad – it will add such a nice touch!
Storing Air Fryer Broccoli
Refrigerating: Store air fryer broccoli in an airtight container in the fridge. It will keep fresh for up to a week when stored properly.
Freezing: Freezing your air fryer broccoli is not a good idea. It doesn't tend to reheat well and turns out mushy.
Reheating Tip: Pop the broccoli back in the air fryer for a couple of minutes to make it crispy again. You could also reheat it in the microwave.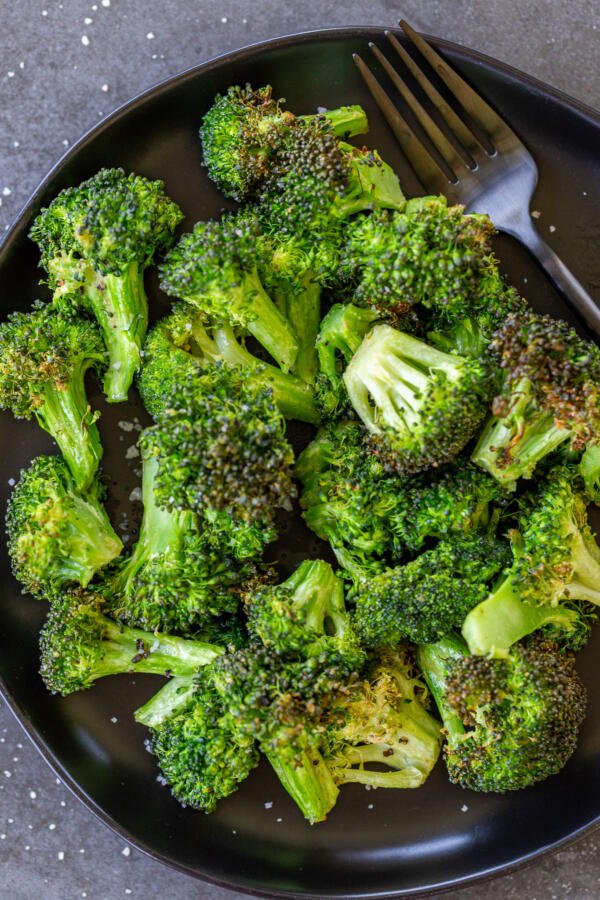 FAQ
Is broccoli good in the air fryer?
Broccoli is wonderful in the air fryer. It gets super crispy super fast.
Do you steam broccoli before air frying?
There's no need to steam your broccoli before air frying it. If you like broccoli a little more on the tender side, add a tablespoon of water to the bottom of the fryer to create a steaming effect.
Can you air fry frozen broccoli?
You can air fryer frozen broccoli, but it won't turn out as crispy. Use fresh broccoli whenever you can.
Can you put aluminum foil in the air fryer?
You can, but it's not necessary. Aluminum foil can actually prevent the hot air from circulating, causing uneven cooking.
More Air Fryer Recipes
Recipe
Air fryer broccoli is a quick, healthy side dish! In just 10 minutes this broccoli turns ultra-crispy, while maintaining it's crunch!
Instructions
In a large bowl, toss broccoli florets with salt, garlic powder, pepper, and olive oil. Use a spoon to distribute oil and seasoning evenly.

Place broccoli in the air fryer tray in a single layer. Air fry at 370°F for 8-10 minutes. Toss halfway through to promote even cooking.
Nutrition Facts
10 Minute Air Fryer Broccoli Recipe
Amount Per Serving
Calories 185
Calories from Fat 135
% Daily Value*
Fat 15g23%
Sodium 638mg27%
Potassium 550mg16%
Carbohydrates 12g4%
Protein 5g10%
Vitamin A 1061IU21%
Vitamin C 152mg184%
Calcium 82mg8%
Iron 1mg6%
* Percent Daily Values are based on a 2000 calorie diet.