Leg of Lamb is the best way to really fancy up your dinner with very little effort. Despite its impressive appearance, it's actually quite simple to make and the oven does all the work for you!
If you are into this lamb dish, you will love our lamb should chop recipe.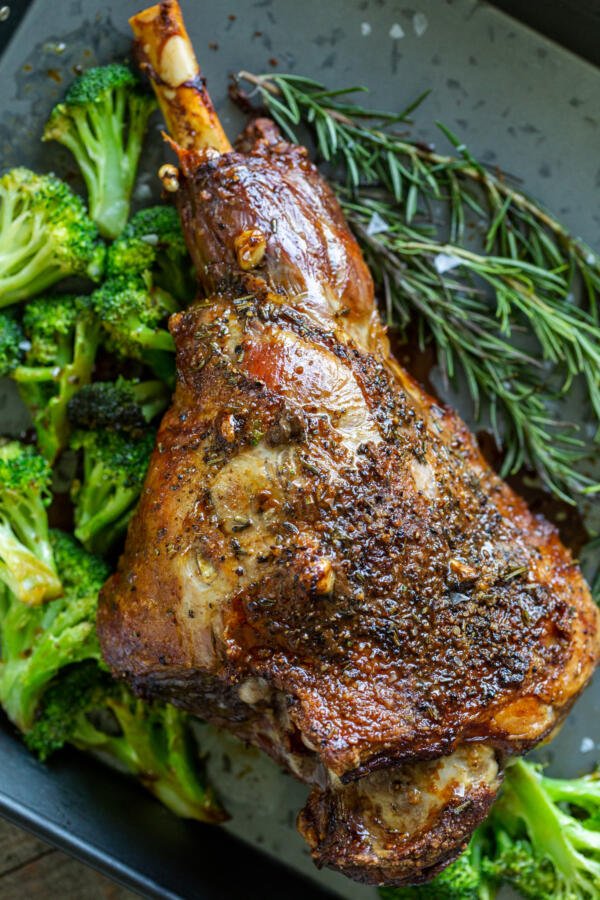 Leg of Lamb is one of those dishes that looks so fancy. Despite this, the prep is so so so easy! Guaranteed, you will WOW your friends and family with this recipe. I am so excited for you to try it.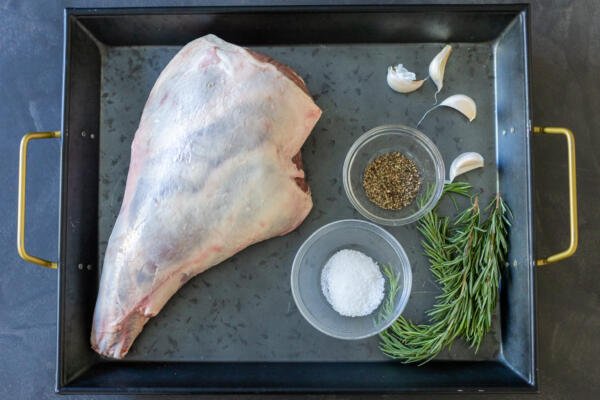 How to Cooke Leg of Lamb
In a small bowl, mix your rub by combining salt, black pepper and chopped rosemary.
Poke holes in the leg of lamb and stuff in pieces of garlic.
Generously coat the entire leg with your dry rub.
Place the leg of lamb on a baking dish.
Bake at 350°F for 90 minutes. During the last 20 minutes cover the lamb with foil or a lid. Leg of lamb is fully cooked when the internal temperature reads 145°F. Let it rest for 10 minutes before serving.
Tips for The Best Leg Of Lamb
Season – The key is to really season the lamb generously. When I say coat the entire outside of the lamb with dry rub, I mean it! The salt and herbs will seep into the leg of lamb during cooking and ensure the meat comes out tender, juicy and full of flavor.
Cover During Baking – Wrap the leg of lamb with foil or place a lid on top of the baking dish towards the last 15 minutes of baking. This will prevent it from drying out and burning that delicious, outer crust.
Serve with Fresh Rosemary – There is nothing like fresh rosemary. It adds so much flavor and depth to any meat dish.
Spice it Up – You can really adjust the seasoning on this dish. Add your favorite spices. I would highly recommend freshly ground black pepper be apart of whatever concoction you choose.
Let it Rest – Once the leg of lamb is fully cooked, let it rest for 10 minutes before serving.
FAQ
What is the cooking time for a leg of lamb?
Your leg of lamb will take about 90 minutes in the oven at 350°F. Then, you will need to let it rest for about 10 to 15 minutes at room temperature to trap all the juices inside.
Is the leg of lamb tender?
Leg of lamb can be so tender when it's cooked correctly. Low temperatures and a lot of seasoning can turn this meat into an absolutely mouth-watering experience.
Should I marinate the lamb leg?
Since leg of lamb is such a tender cut, it doesn't require marinating. Instead, a flavorful dry rub will go a long way. Also, cooking the meat low and slow ensures that it comes out juicy and tasty.
What is leg of lamb? How to buy it.
Leg of lamb is literally the upper portion of a lamb leg. It's tender and a bit on the pricey side. Most typical grocery stores don't supply it and you will have to go to a specialty butcher to purchase it.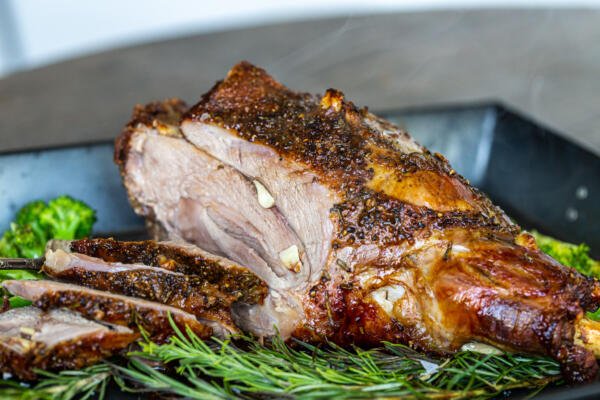 Storing Leftovers
Refrigerating – Refrigerate your leftover leg of lamb by storing it in an airtight container. It should keep for up to a week when sealed up properly.
Freezing – Slice up your leg of lamb and place it in a freezer safe plastic storage bag. It should keep for up to three months. When you are ready to eat a portion, remove it from the freezer and let it thaw in the fridge overnight. Reheat it by cooking it in an oven or an air fryer until crisped and warmed through.
More Similar Recipes
Lamb Kabobs – Bust out the BBQ and make a batch of lamb kabobs. Yum!
Rib Roast Recipe – With the holidays around the corner, it's crucial to have a great rib roast recipe. Look no further.
Instant Pot Pot Roast – The Instant Pot just make meat so tender so fast. This pot roast is a weeknight dinner hero!
Air Fryer Steak Bites – Steak…in the air fryer? Yes, you read right. This recipe results in the most tender and juicy steak bites I've ever had.
Recommended Tools for This Recipe
Glass Bowls – I use these every single day. My all-time favorite set!
Baking Pan – This Staub can really last forever! Not only does it cook everything from meats to stews well, it's absolutely stylish.
Recipe
Leg of Lamb is the best way to really fancy up your dinner with very little effort. Despite its impressive appearance, it's actually quite simple to make and the oven does all the work for you!
Ingredients
6

lbs

leg of lamb

2

tbsp

fresh rosemary

chopped

3

tbsp

seas salt

2

tbsp

ground black pepper

4

garlic cloves

1

tbsp

herbs

garnish
Nutrition Facts
Leg of Lamb
Amount Per Serving
Calories 375
Calories from Fat 117
% Daily Value*
Fat 13g20%
Cholesterol 183mg61%
Sodium 3666mg153%
Potassium 860mg25%
Carbohydrates 2g1%
Protein 59g118%
Vitamin A 86IU2%
Vitamin C 1mg1%
Calcium 36mg4%
Iron 6mg33%
* Percent Daily Values are based on a 2000 calorie diet.