Pressure Cooker Pot Roast is the quickest way to get one of the most comforting dishes in existence on your table. Always a crowd pleaser, this tender roast falls apart in your mouth and tastes like it's been slow cooking for HOURS.
We partnered with Beef. It's What's for Dinner., on behalf of the Beef Checkoff to show you how to make great tasting roast with no waste!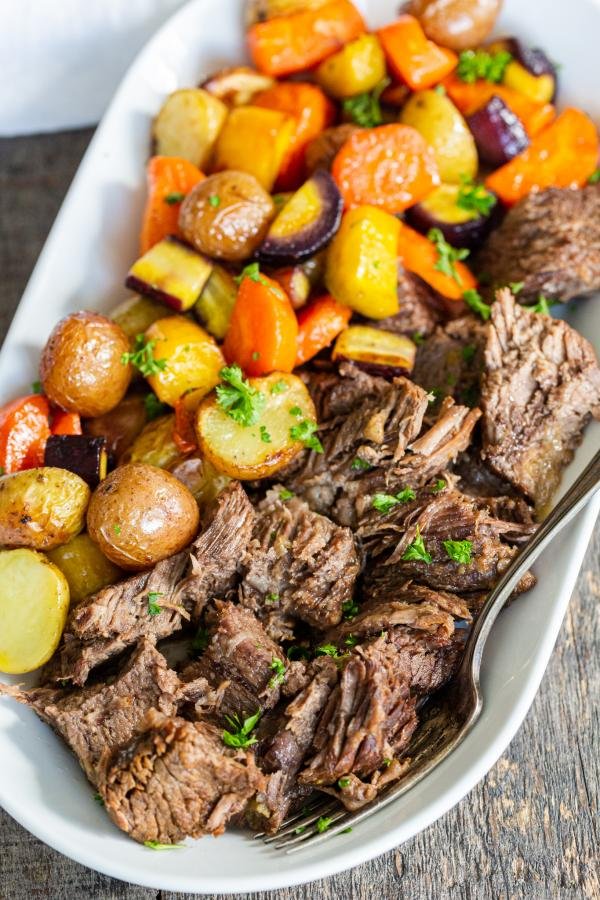 Pressure Cooker Pot Roast won't just bring your family together, it will feed them throughout the week! This dish is truly the gift that keeps giving. Make a ton and use the leftovers for sandwiches and salads.
Food waste is a big no-no in my house. I love repurposing food and my boys can attest to the creative ways I ensure we don't throw anything away. This is one of the dishes I know we will munch on until the very end. And at the end of the day, that's what it's all about.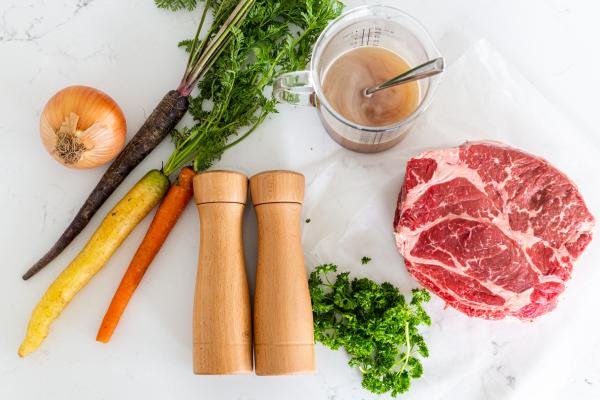 Tips for the Best Pressure Cooker Pot Roast
Season your roast generously. This is a large hunk of meat you are dealing with!
Go for quality broth. If you have some homemade beef broth on hand, put it to good use! However, if you are in a pinch and need to use store bought, go for Better than Bouillon Beef Base. This stuff is seriously good. Always keep it on hand!
Don't skip the sear. Sear your beef in the Pressure Cooker before adding any of the other ingredients in. This will give the roast a nice bite.
Veggies are the perfect sidekick. Celery, onions and carrots are the classic additions to any pot roast for a reason. They add SO much flavor to your beef. Don't take them for granted.
Invest in a meat thermometer. Insert an instant-read thermometer at the end of the cooking time for about 15 seconds. Remove the thermometer; continue cooking, as necessary.
Give it a rest. Let your roast rest for at least 10 minutes. This makes sure your beef stays nice and juicy. The internal temperature of your roast will continue to rise during this rest period.
Cooking a Roast in the Pressure Cooker
In just over an hour, you will have an absolutely tender and delicious roast. If you haven't used a pressure cooker before, you are in for a treat. The extreme high-heat that this appliance will make your beef nice and tender.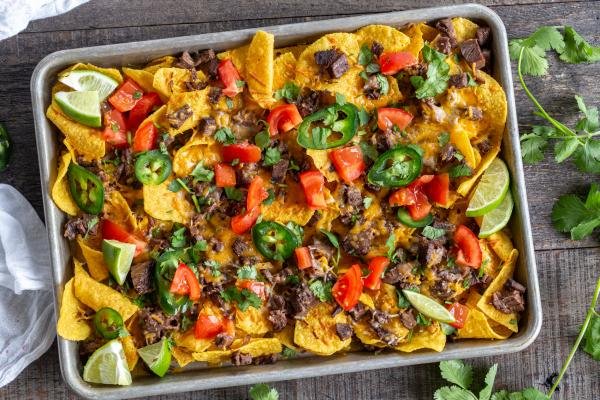 Using All Those Glorious Leftovers
Did you know that 40% of food in American homes is simply wasted? It's a shame. Prevent this from happening to you by educating yourself on how to store your food for later use. Below, I will share my best tips and tricks.
Leftovers from the beef roast will provide you with some pretty awesome dishes throughout the week. As a busy mom, leftovers are a lifesaver. During hectic weeks, I depend on roasts to make my life a little easier. Here are some of my favorite ways to repurpose beef: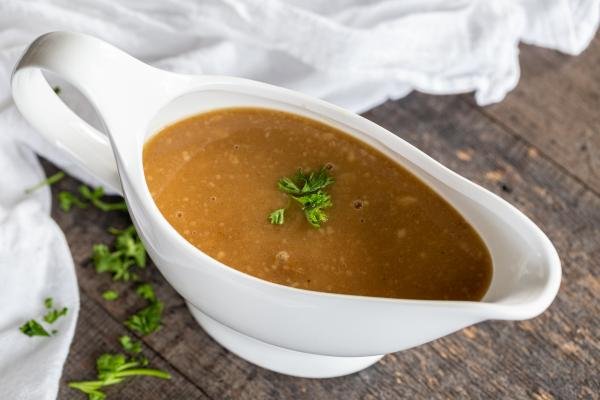 Use juices from the beef pot roast and make gravy that you can pair with mashed potatoes. Trust me, it is the best ever next day dish!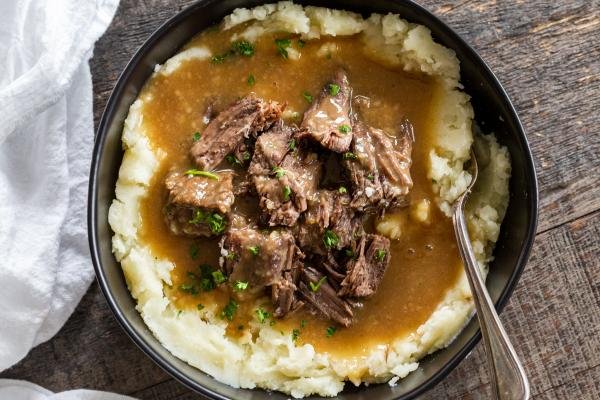 Nothing calling your name from my above suggestions? Find other great recipes for using leftover beef roast at BeefItsWhatsForDinner.com.
Tips For Storing Beef Roast
Although beef is one of the least wasted commodities produced in the U.S., we can still do much better. About 20 percent of beef goes wasted, but with smart shopping practices and a meal prepper's mindset, we could get this figure down to at least 10 percent.
Do your part to reduce waste by making sure you know how to store what you can't eat! The key to keeping your beef fresh throughout the week is storing it properly. Whether you are planning on storing leftovers in the fridge or freezer, here is all you need to know:
Refrigerating
Store leftovers in an airtight container to keep contents fresher for longer. It's so sad to see a bunch of leftovers go to waste because they aren't stored well. I love using these Rubbermaid containers for meal prepping. The less oxygen that hits your meat, the better! Trust me, it makes all the difference.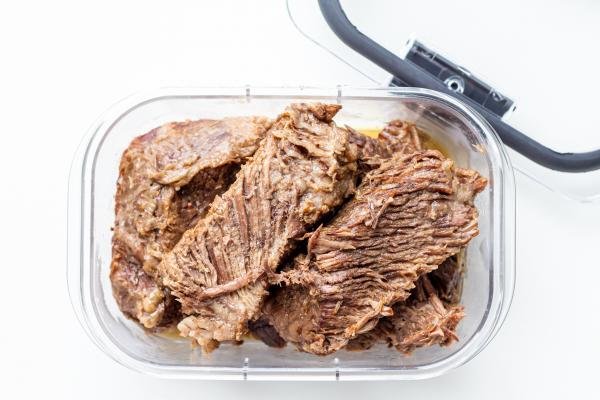 Freezing
Make sure you let your beef cool down completely before you pop it in the freezer. You can either freeze it in an airtight container or a ziplock bag. Just make sure whatever vessel you use to store it is sealed tight. The less oxygen you let in the more you ensure that your beef won't get freezer burn. The kicker? Fresh beef lasts between 6-12 months in the freezer and cooked leftover beef can last 2-3 months in the freezer but cooked leftover beef is 2-3 months per FDA.
Recipe
Pressure Cooker Pot Roast is the quickest way to get one of the most comforting dishes in existence on your table. Always a crowd pleaser, this tender roast falls apart in your mouth and tastes like it's been slow cooking for HOURS.
Nutrition Facts
Pressure Cooker Pot Roast
Amount Per Serving
Calories 356
Calories from Fat 198
% Daily Value*
Fat 22g34%
Cholesterol 125mg42%
Sodium 1037mg43%
Potassium 711mg20%
Carbohydrates 3g1%
Protein 36g72%
Vitamin A 3113IU62%
Vitamin C 2mg2%
Calcium 45mg5%
Iron 4mg22%
* Percent Daily Values are based on a 2000 calorie diet.