This flavor-packed roasted rack of lamb looks and tastes holiday-worthy, but is effortless enough to make even on a regular weekday. It's the perfect versatile addition to your meal rotation.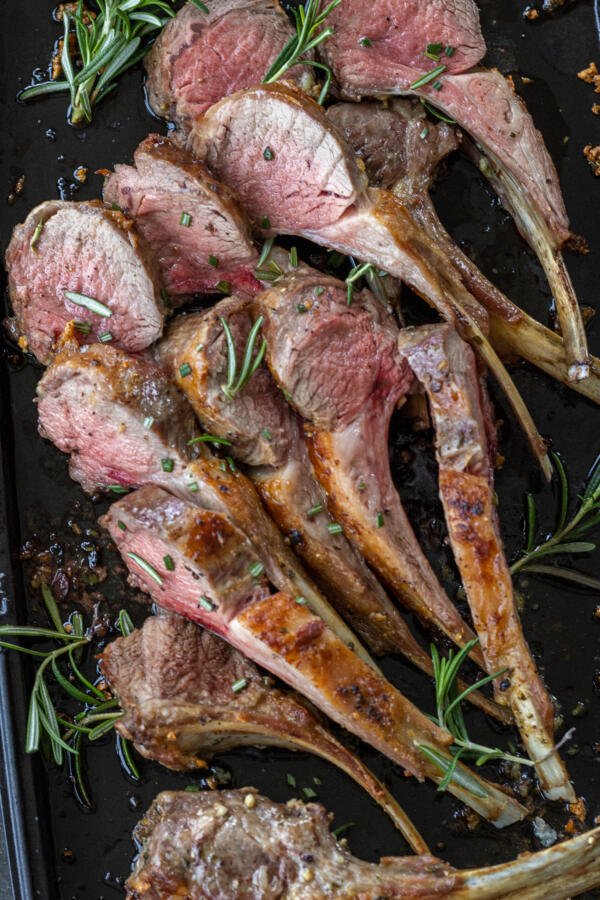 What is Roasted Rack of Lamb?
Roasted rack of lamb is a savory meat dish made of marinated lamb ribs that are briefly roasted in the oven. "Rack of lamb" refers to a section of ribs containing lamb meat that is tender and mild in flavor.
Roasted rack of lamb is an incredibly simple entrée to make, with preparation and baking both very easy and brief. The majority of the total time is actually spent away from the kitchen while the meat is marinating. It's a perfect delectable but no-fuss entree!
Rack of Lamb vs Other Lamb Cuts: What's the Difference?
It can be hard to know the difference between various cuts of lamb. Lamb meat generally has a robust, savory flavor. However, the main difference is in the texture of the cuts. Here's a quick summary of a few of the most common types.
Rack of Lamb: A rack is the most expensive cut of lamb made of a section of lamb ribs or lamb chops. Lamb rack is best when quickly roasted.
Loin chop: These "mini steaks" are the most tender and flavorful cuts of lamb. These are usually used in grilling or barbecuing.
Lamb shoulder: Lamb shoulder is a sweet but tough cut of meat. Lamb shoulders are usually used for stewing or slow-roasting.
Lamb leg: Similar to shoulder, this cut is also tough. It is often roasted on the barbecue.
How to Make Roasted Rack of Lamb
Roasted rack of lamb is crazy quick and simple to make. Follow these steps to get you on your way to enjoying a savory bite of lamb rack.
Combine the spices: In a medium bowl, combine the oil and spices.
Marinate the lamb rack: Coat all sides of the rack of lamb with the spice mixture. Cover with plastic wrap and marinate for a minimum of 90 minutes.
Roast the lamb: Preheat the oven. Roast the rack of lamb in a roasting pan for about twelve minutes or until the internal temperature reaches desired doneness.
Rest the roast: Remove lamb from the oven and allow it to rest for at least 10-15 minutes. Slice and enjoy!
Hot Tip: Eight garlic cloves may seem like a lot, but they are vital to achieve the best flavor. If you prefer, remove a portion of the garlic before roasting.
Choosing the Right Rack of Lamb
In general, lamb meat is more expensive compared to other types of meat, so it's important to choose and buy the best rack of lamb for the price. When choosing a rack of lamb, look for meat that is pink or rosy red. Dark red is a sign of older meat which is less tender.
Rack of lambs are typically sold either "frenched" or "not frenched". Frenched lamb has some of the meat and fat scraped off of the ribs. Typically, frenched ribs are slightly more expensive than non-frenched ribs. It is up to personal preference, but we prefer non-frenched lamb ribs for the little bit of fat that turns crispy when roasted.
Rack of Lamb Temperature & Doneness Guide
Use this guide to roast your rack of lamb according to your preferred doneness. Keep in mind, the lamb will cook a bit more as it rests, so remove the lamb about 3-4 degrees shy of desired temperature. Use our favorite meat thermometer for instant temperature readings!
Medium rare: 125°F
Medium: 130°F
Medium-well: 145°F
Well done: 150°F
Tips and Tricks For the Best Lamb Roast
Lamb can be an intimidating cut of meat to cook well, but there's no need to worry. We've got you covered with a few techniques that will help you make the best roasted rack of lamb — ever!
Sear the meat (optional): Although not absolutely necessary, sear the rack of lamb in a skillet for a few minutes just prior to roasting. This will create an extra crispy and browned crust.
Marinate the lamb well: Marinate the meat for at least 90 minutes for the best infusion of flavor.
Modify the marinade: To create a smoother marinade, blend the fresh rosemary with garlic and a tablespoon of olive oil.
Roast on top rack: For the desired golden color, roast the lamb on the upper rack in the upper half of the oven.
Wrap the bones in foil: Prevent the bones from burning by wrapping them in foil before roasting.
Broil (optional): Broil the lamb for a few minutes for a darker brown-golden color and slightly crispier crust.
Rest the meat: Cover the meat with foil and let the meat rest and cool for 10-15 minutes before cutting into it. This will keep the lamb juicy and moist.
Season to taste when serving: Everyone's flavor preferences are slightly different. Lay out a container of flaky salt or black pepper while serving to further elevate the flavor of the meat to individual preferences.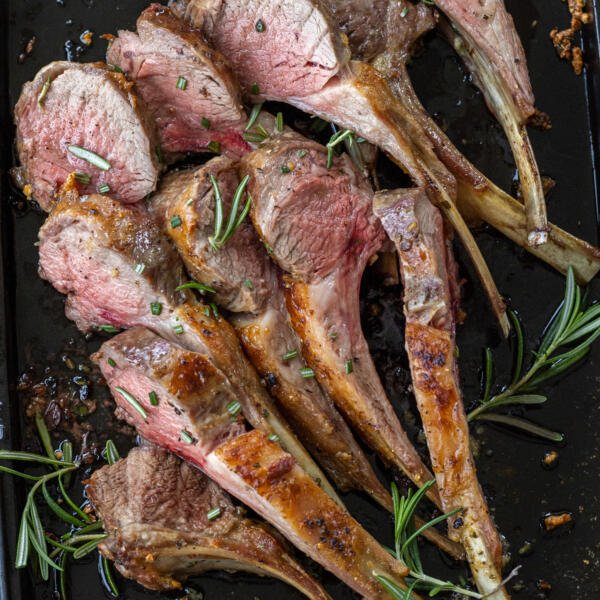 Ways to Serve Lamb Roast
We wouldn't blame you if you ate this lamb roast by itself — it's that good! However, for a fantastic and well-rounded meal, serve it with a side of veggies, carbs, and sauce. Here are some ideas to inspire you.
Storing and Reheating Techniques
It is best to avoid freezing roasted lamb as the texture and flavor can change substantially after thawing and reheating. However, if you have leftovers, here are our tips to best store and reheat your lamb in the short term.
Refrigerator: To store for up to three days, place lamb in the fridge in an airtight container.
Reheating: For optimal flavor, place the lamb in a covered baking dish and warm to desired temperature in the oven at 375°F. This will keep the juices in the meat as it warms. If short on time, cover and reheat refrigerated lamb on 50% power in the microwave until warmed through.
FAQ
Does a rack of lamb need to be frenched before being roasted?
It is up to personal preference to have a frenched or non-frenched roasted rack of lamb. Non-frenched racks have more fat that turns crispy while roasting, whereas a frenched rack has a slightly "cleaner" visual appearance.
Why is my rack of lamb tough?
Roasted rack of lamb may be tough for a few reasons. The top reasons are that it is overcooked or it may not have rested appropriately. Also, older lamb meat tends to be less tender than fresh meat.
Is there a difference between lamb ribs, rack of lamb, and lamb chops?
Lamb chops and lamb ribs are essentially the same cut of meat. Rack of lamb is simply an entire section of lamb chops/ribs.
Additional Lamb Recipes to Try
Recipe
Learn how to make the fanciest roasted rack of lamb, in the simplest way possible. Holidays will become something to look forward to.
Nutrition Facts
Roasted Rack of Lamb (Herb & Garlic)
Amount Per Serving
Calories 704
Calories from Fat 594
% Daily Value*
Fat 66g102%
Cholesterol 126mg42%
Sodium 966mg40%
Potassium 344mg10%
Carbohydrates 2g1%
Protein 24g48%
Vitamin A 28IU1%
Vitamin C 1mg1%
Calcium 44mg4%
Iron 3mg17%
* Percent Daily Values are based on a 2000 calorie diet.