Popeyes chicken sandwiches are so incredible but homemade is even better! Instead of waiting in the drive-thru, make them in the comfort of your own home to share with friends.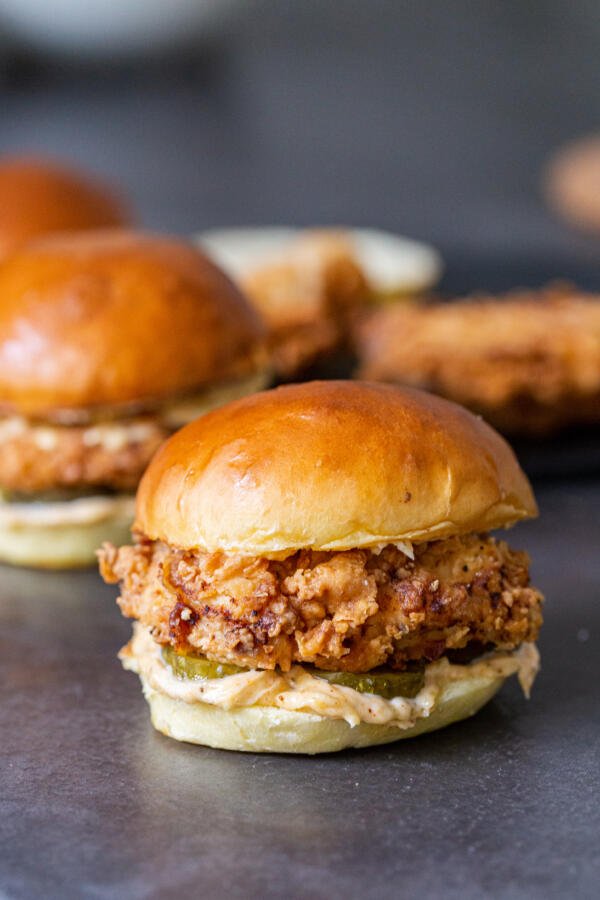 Even the most foodie of foodies love Popeyes chicken sandwiches and who could blame them? The crispy southern fried chicken is always perfectly cooked and sandwiched between two soft brioche buns. Oh, and don't forget about the crunchy pickles and hefty slather of spicy mayo.
Fast food can be sooo bad for you that it's good. Skip the guilt that comes along with a value menu and make this copycat recipe. With fresher ingredients and a home cooked touch, it blows the original out of the water.
Try your hand at whipping it up and let me know what you think in the comments!
Tips for The Best Popeyes Chicken Sandwich
Pound the chicken. Make each filet uniform by pouding the chicken to about ½-inch thick.
Allow the chicken to marinade. The acid in the buttermilk tenderizes the chicken and makes it super juicy and moist.
Toast the buns. Right before you're ready to assemble your sandos, melt butter in a cast iron skillet over medium. Place your buns face down into the ban and toast them up.
Add a drizzle of buttermilk into the flour. Drizzle two to three tablespoons of buttermilk batter into the flour. This will create those signature crunchy bits on the chicken.
Make spicy sauce ahead of time. Combine 1/2 cup of mayo with a couple dashes of hot sauce, paprika, and garlic powder. Adjust according to how spicy you like it (add more or less hot sauce) and pop into the fridge while you fry the chicken. This will give the flavors time to meld together. The aioli will stay fresh for up to a week.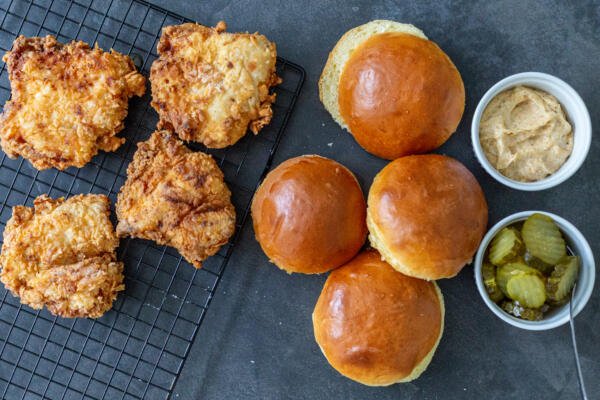 How to Make Popeyes Chicken Sandwich
Chicken Marinade – After pounding your chicken cutlets, get to making the chicken marinade. In a large bowl, mix buttermilk, paprika, garlic powder, salt & black pepper. Dunk the cutlets in and place in the fridge to marinate for up to 24 hours.
Breaded Coating – In a shallow bowl, whisk the flour, cornstarch and spices together until evenly combined. Drizzle a couple tablespoons of the buttermilk marinade directly into the breading and roughly mix through with a fork.
Cooking Chicken – Fill a deep skillet halfway with oil. Preheat it to 350 ℉. Dredge one piece of chicken at a time in the flour mixture, making sure to press the flour on each side to create a thick coating. Transfer chicken to the hot oil and fry for around 3-5 minutes per side (check that the internal temperature has reached 165 ℉)
Spicy Mayo – Prepare your spicy mayo and set aside.
Pickles – Slice your pickles into medallions. Extra-crunchy sweet pickles are your best bet.
Buns – Brioche buns make all the difference.
Make-Ahead Popeyes Chicken Sandwich
Make it a party and invite your friends and family over for a fried chicken sandwich party. You can fry the chicken to order and let everyone assemble their own sando just the way they like. Order up!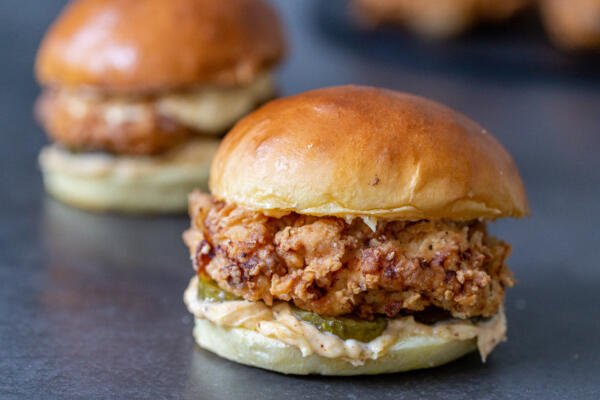 Little Bonus
Some like to keep it classic, but you can spruce up your chicken sandwich anyway you like. Add shredded lettuce, coleslaw, cheese, tomatoes or red onion rings. The star of the show will always be the crispy chicken and the rest is truly up to you!
A Few More Sandwich Recipes
Recipe
Popeyes chicken sandwiches are so incredible but homemade is even better! Instead of waiting in the drive-thru, make them in the comfort of your own home to share with friends.
Ingredients
Instructions
Nutrition Facts
Popeyes Chicken Sandwich
Amount Per Serving
Calories 994
Calories from Fat 567
% Daily Value*
Fat 63g97%
Cholesterol 227mg76%
Sodium 1990mg83%
Potassium 545mg16%
Carbohydrates 70g23%
Protein 38g76%
Vitamin A 1347IU27%
Vitamin C 2mg2%
Calcium 121mg12%
Iron 3mg17%
* Percent Daily Values are based on a 2000 calorie diet.