This Cuban pork sandwich is made with succulent slow cooked roast pork, melty swiss cheese, and garlic sauce. It will transport you straight to Miami!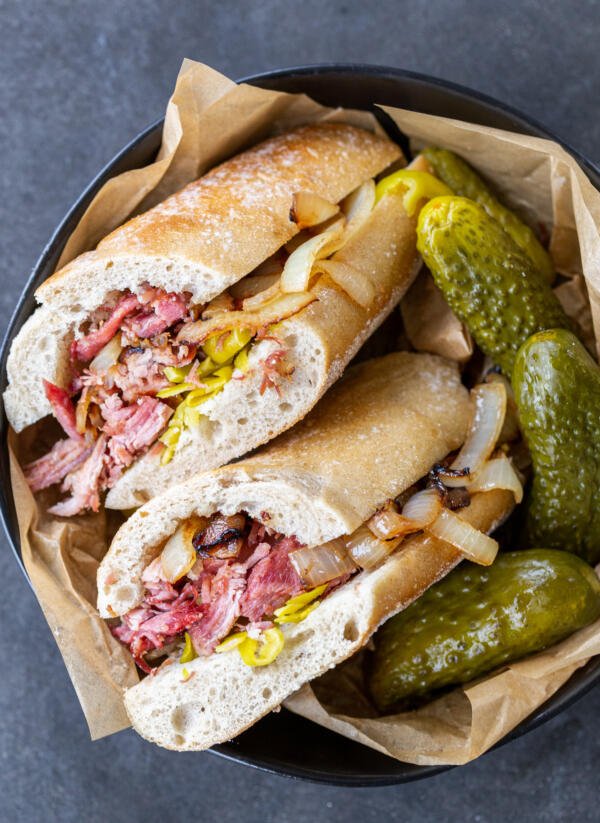 My version of a classic Cuban pork sandwich, or "cubano", is inspired by my all-time favorite sandwich shop in Seattle called Paseo. The line would literally be wrapped around the block whenever I would go and for good reason – their cubano is no joke. Like a true fan girl, I've tried to get as close as I can to replicating it for all you folks out there who can't make it to Seattle for the real deal. You're going to love it!
Note: You'll want to use a Dutch oven to slow cook your pork if you have one. If you don't and need a solid recommendation, consider this one. It's my fav!
What is a Cuban Pork Sandwich Made of?
A classic cubano is made with pork, deli ham, swiss cheese, pickle chips, mustard, and aioli. In Florida, particularly Miami and Tampa, you'll find this Cuban-American staple served just about everywhere. In this version, we skip the ham and use all roasted pork instead. Below, find an overview of the taste, texture, and time it takes to whip our cuban pork sandwich up.
Flavor: The flavor of this sandwich is a trifecta of citrusy roast pork, nutty swiss cheese, and tangy aioli and pepperoncinis.
Texture: In terms of texture, you'll get a nice crunchy bite of bread followed by a gooey center of cheesy, melt-in-your-mouth roast pork.
Time: Regarding cooking time, you'll need to account for the fact that the pork should be marinated at least overnight and up to 24 hours. For day-of prep, it takes about 3 hours of slow cooking in the oven and a bit of easy assembly thereafter. Don't fret – the process is really easy and well worth the wait!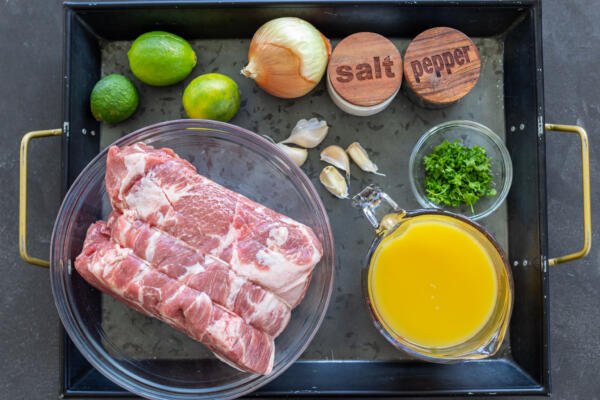 All About Cuban Pork Sandwich Bread
Let's talk about finding the right bread for your Cuban pork sandwich. A traditional Cuban sandwich is typically made with Cuban bread, or"pan cubano", which is similar to French bread with the exception it's made with a little sugar and lard. In this recipe, we swap it out for a baguette since most of you out there can't get your hands on the authentic stuff. If you're feeling extra ambitious, you can always make it homemade using our easy baguette recipe.
Assembling the Perfect Cuban
Assembling the perfect cuban takes a little patience, wholesome ingredients, and some really simple prep. Below, find a rundown of the recipe before you get to work.
Marinate the Pork: In a large bowl, marinate the pork overnight (or up to 24 hours) with orange juice, lime juice, garlic, onion, parsley, salt, and pepper.
Slow Cook the Pork: Remove the onion and garlic from the marinade. Next, place the pork and liquid marinade in the oven and bake it at 250°F for 3 hours with the lid on (you can also use a slow cooker). Using a fork, shred the pork and allow it to sit in the juices while you prepare the onions and sauce.
Sauté the Onions: Slice the onions into strips and cook them in a skillet with a little olive oil until golden.
Make the Garlic Spread: In a small bowl, combine the mayo, parsley, and pressed garlic.
Assemble the Sandwich: Slice the loaf of bread in half lengthwise. Next, spread the garlic sauce on the top half, followed by a layer of swiss cheese. On the other half, start with the pepperoncinis and top with pork, pork juice, and the sautéed onions. Top the sandwich with the cheese half. Slice and enjoy!
Don't have a Dutch oven? Cover an oven-safe pot tightly with a couple layers of foil. While this won't have the same steaming effect as a heavy cast-iron lid, it will get the job done and more importantly – get those Cuban sandos on the table.
3 Tips for an Amazing Cuban Pork Sandwich
Here you'll find our top tips for nailing this cuban pork sandwich recipe on the first try.
Marinate the pork for 24 hours if you can. While you can get away with an overnight marinade, a full 24 hours will really elevate the pork's tenderness. You can even push it to 48 hours if you're in the mood to prep ahead.
Play around with the marinade. If you want a more earthy pork, add in some dried oregano and cumin to the marinade.
Add some cured meat. Traditional cuban sandos do have a slice of ham, so feel free to add it if you're in the mood. A couple slices of genoa salami wouldn't hurt either.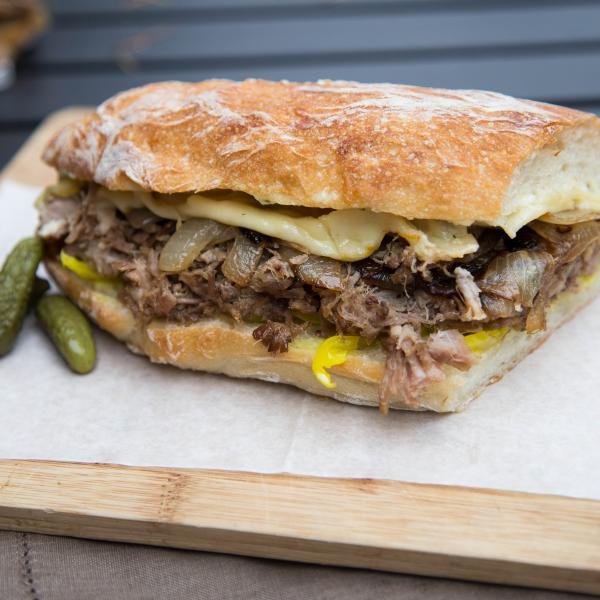 What Goes Well With a Cuban Sandwich
A Cuban sandwich is filling as-is for lunch or dinner. For a more well-rounded meal, pair it with a side or two. Serve your Cuban sandwich alongside some air fryer potato chips or a handful of cornichons or dill pickles. You could also whip up some black beans and cilantro lime rice for a full blown Cuban feast.
Hot Storage Tip: If you don't plan to eat your Cuban right away, keep the meat stored in an airtight container and only assemble the sandwiches right before you plan to serve them.
FAQ
What kind of pickles are typically served with a Cuban pork sandwich?
Cuban sandwiches are typically served with super crunchy pickle chips. Other times, the pickle comes on the side as a spear.
Where did Cuban sandwiches originate from?
Cuban sandwiches were born out of Florida (that's right, not Cuba!), where there is a large Cuban-American population. They are a hodge-podge of traditional Cuban cooking and America's love of a good sandwich.
Should you cook the pork covered or uncovered?
You should cook the pork covered in a Dutch oven or another oven-safe pot with a lid. This creates a steaming effect that turns the meat ultra-tender.
What cut of pork should you use?
Use a lean cut of pork such as pork shoulder, pork butt, or pork tenderloin.
Can you substitute a different kind of meat?
It's not recommended that you substitute a different kind of protein in for the pork. The Cuban sandwich depends on the porky flavor! If you absolutely must, use a lean cut of beef instead (chuck roast).
Other Sandwiches to Try:
Recipe
This Cuban pork sandwich is the epitome of comfort food. Packed with slow cooked pork, melty swiss, and garlic spread!
Ingredients
Cuban Meat Marinade
Cuban Sandwich
2

baguettes

2

medium onions

1

cup

pepperoncinis

8

slices

swiss cheese
Nutrition Facts
The BEST Cuban Pork Sandwich
Amount Per Serving
Calories 748
Calories from Fat 477
% Daily Value*
Fat 53g82%
Cholesterol 134mg45%
Sodium 1081mg45%
Potassium 687mg20%
Carbohydrates 31g10%
Protein 36g72%
Vitamin A 390IU8%
Vitamin C 39mg47%
Calcium 257mg26%
Iron 3mg17%
* Percent Daily Values are based on a 2000 calorie diet.