This Panera Bread tuna sandwich will bring you straight back to childhood cravings. Simple, satisfying, and perfect for kids and adults!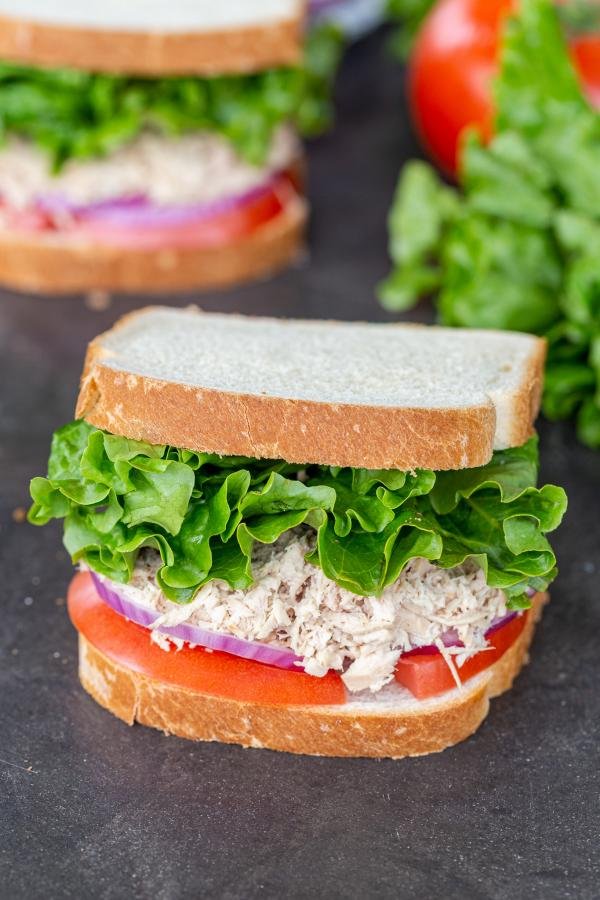 Are you obsessed with Panera Bread's tuna salad sandwich? It's one of those dishes that just hits the spot. Now you can make this copycat recipe in the comfort of your own home. The best part? You can whip it up faster that a takeout! If you want a hot sandwich that utilizes this convenient and tasty pantry staple, try our recipe for tuna melts!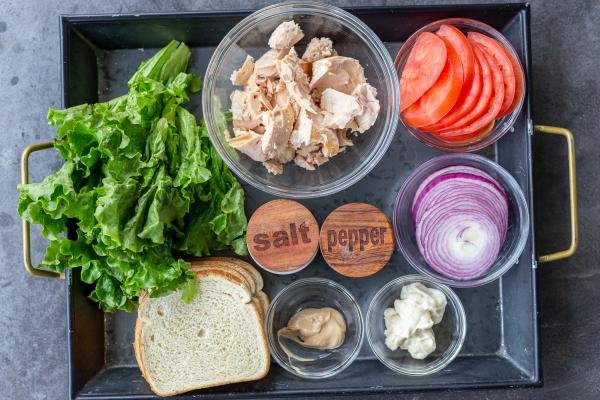 Are Tuna Salad Sandwiches Healthy for You?
Despite being made with a bit of mayonnaise, tuna sandwiches are pretty healthy for you overall. They contain a good amount of nutrition from the canned tuna, which contains omega-3 fatty acids that lower cholesterol. More so, they're packed with protein. A great addition to any low-calorie diet!
How to Make a Copycat Panera Bread Tuna Sandwich
To make the perfect Panera tuna sandwich, first drain your favorite can of albacore tuna of all the excess liquid.
Make the Tuna Salad: In a medium bowl, combine the tuna, mayonnaise, and dijon mustard. Season to taste with sea salt and ground black pepper and break apart the larger chunks with a fork.
Assemble the Sandwiches: Next, place the sliced red onion and tomato on one side of the bread. Top the veggies with a heaping scoop of tuna salad, followed by a couple of pieces of leaf lettuce.
Slice and Serve: Pop the second piece of bread on top and slice the sandwich in half. Enjoy!
Not a fan of mayo? Use a mixture of extra virgin olive oil and balsamic vinegar instead.
3 Tips for the Best Panera Bread Tuna Sandwich
Drain the canned tuna of excess liquid. Prevent your tuna salad sandwich from turning out watery by draining the canned tuna of as much liquid as possible.
Thinly slice the veggies. For an easy-to-bite sandwich, slice the veggies super thin.
Eat the sandwich straight away. Tuna salad is prone to turning bread soggy if it sits to long, so make sure to serve the sandwich straight away.
Tasty Variations to Experiment With
Looking to make this copycat Panera tuna salad sandwich recipe your very own? Here's a couple ideas and ingredients to inspire you.
Add in some crunchy veggies. If you like a bit more texture, add in some thinly sliced cucumbers or stalk celery to the salad.
Play around with different spices. Add in a little minced garlic, fresh herbs, turmeric, or ground red pepper for an extra kick of flavor.
Add in some tang. A bit of pickle relish, vinegar, or lemon juice concentrate will add a nice, refreshing kick.
Use your favorite bread. Honey wheat bread, rye, or sourdough are all great options.
Watching your carbohydrates? Skip the bread and serve the tuna salad on crisp lettuce leaves instead.
What to Serve Alongside Your Sando
For a more well-rounded meal, serve your sandwich alongside air fryer potato chips or baked tortilla chips. If you want to go lighter, pair it with a fresh avocado salad or a steaming bowl of fresh garden soup.
Best Practices for Storing
To prevent your sandwiches from turning soggy, always store the tuna salad in a separate airtight container in the refrigerator. When you're ready, prepare the sandwich right before you plan to serve it.
FAQ
What can you use in tuna instead of mayo?
If you're not a fan of mayo, swap in Miracle Whip or Greek Yogurt instead.
Is canned tuna bad for you?
There are so many different kinds of high-quality, healthy canned tunas out there. Opt for low-sodium, water-packed, and wild-caught tuna when you can.
Can you use a different canned meat than tuna?
Swap in canned salmon or canned chicken if you'd prefer.
Is tuna salad good for meal prep?
If you plan to eat your tuna salad within a couple of days, it's a great option for meal prep. Otherwise, we don't like to keep it on hand for more than 3 days.
More Tasty Sandwiches to Try
Recipe
This Panera Bread tuna sandwich is simple eating at its finest. Serve it as-is or paired with your favorite soup, salad, or chips.
Instructions
In a medium bowl, combine the tuna, mayonnaise, and dijon mustard. As you stir, break apart the larger chunks of tuna.
Nutrition Facts
Panera Bread Inspired Tuna Sandwich
Amount Per Serving
Calories 218
Calories from Fat 72
% Daily Value*
Fat 8g12%
Cholesterol 34mg11%
Sodium 995mg41%
Potassium 339mg10%
Carbohydrates 17g6%
Protein 20g40%
Vitamin A 2091IU42%
Vitamin C 10mg12%
Calcium 70mg7%
Iron 3mg17%
* Percent Daily Values are based on a 2000 calorie diet.