Marinated Beet Salad is as vibrant as it is delicious with sweet and sour flavors. It stays fresh for weeks, making it the perfect candidate for meal prep.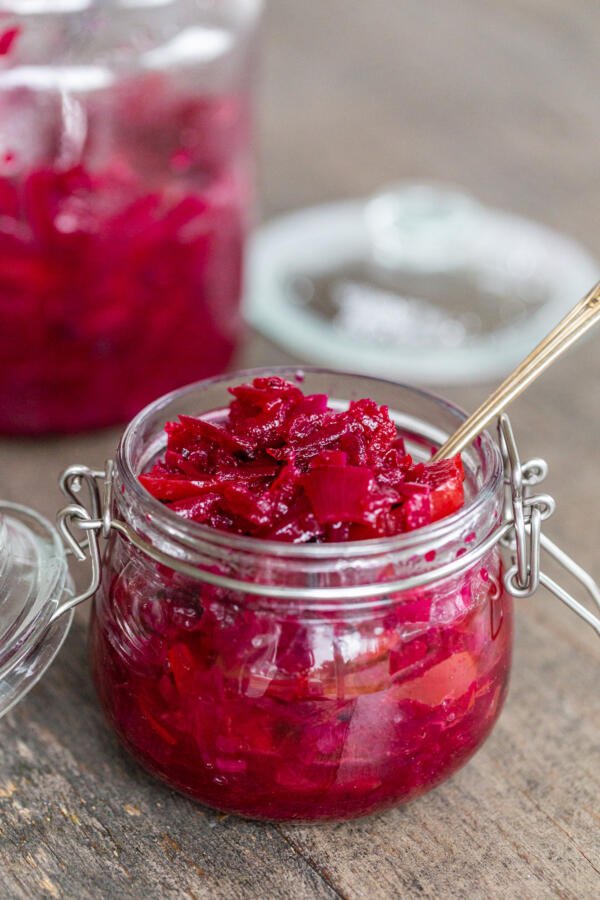 This recipe makes for a large portion of marinated beets. They're great to have on hand for unexpected guests or on the nights that you are feeling too lazy to cook.
Why marinated beets over fresh? Eastern Europeans are no stranger to a harsh winters with limited crop yield. The processes of pickling and marinating helped ensure that folks in this region didn't go entire seasons without eating a single veggie.
Today we don't face this same issue with the grocery store down the street, but this recipe is still great for when you don't have the will to prepare a veggie dish from scratch.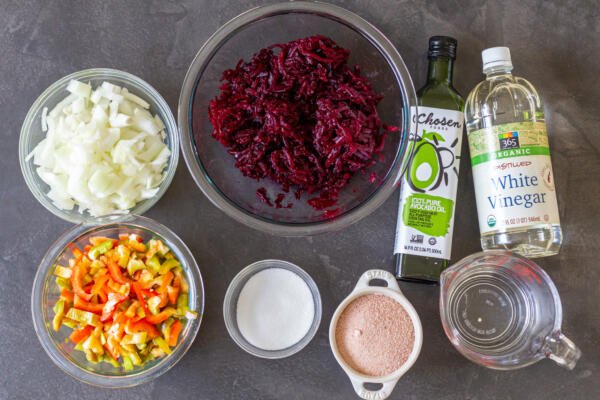 How to Cook Beets
There's two ways you can cook the beets before you marinate them — roasting or boiling. Boiling is preferred in my book, but find the directions for both methods below:
Roasting Beets – Wrap beets in foil and bake at 350°F for 45-60 minutes. Keep in mind that roasting time may need to be adjusted due to beet size.
Boiling Beets – Add beets into a big pot of boiling water for 45 minutes. Make sure the beets stay completely submerged.
How to Make Marinated Beet Salad
Marinating is much simpler than pickling. Prep is done in under 20 minutes and cook time clocks in at about 25 minutes. Follow these easy steps below to make this killer salad:
Grate cooked beets on the largest setting of a cheese grater. Chop your onions and bell peppers.
Create your marinade by combining water, oil, vinegar, sugar and salt. Cook on the stove top until the mixture simmers.
Add in the onions and bell pepper to the marinade and cook for 10 minutes. Add in the beets and cook for an additional 15 minutes.
Allow the salad to cool down. Store in jars or any other airtight container. Keep refrigerated.
Storing Marinated Beet
Store your Marinated Beet Salad in a Mason Jar or other airtight container. When stored properly, this salad will keep for several weeks in the refrigerator.
FAQ
Is it better to roast or boil beets?
It really depends on your preference. Some folks like the crunch of the roasted beets, while others love the smooth texture of boiled. It's completely up to you.
Do I need to peel beetroot before roasting or boiling?
It's up to you if you want to peel your beets. When roasting them, the skin is much like that of roasted potato. If you like that texture, keep the skin on, and just make sure that you clean each beet thoroughly with a kitchen sponge. Good on you for getting that extra bit of fiber in your diet.

If boiling and you don't want the skin on, don't bother peeling beforehand. Boil the entire beet and allow to cool. The skin will slip off easily and save you prep time.
What are the health benefits of beet salad?
Beets tout some major health benefits. They are packed with fiber, folate, magnesium, potassium, iron, vitamin C and much more. On top of this, they have been associated with increased blood flow, circulation, and lower blood pressure. Consider them a superfood.
How should I chop my beets?
Always try to chop your beets (and any veggie for that matter) into same-sized pieces. This will promote even cooking and an overall better aesthetic of your dish.
Serving Marinated Beet Salad
Marinated Beet Salad is good all year long. Serve it alongside our BBQ Ribs or with a couple of Shish Kabob Recipe. The vinegary flavor of the salad is the perfect contrast to savory and fatty meat.
Other Beet Salads
Roasted Beet Salad – Love roasted beets? This salad combines roasted beets with arugula, apples, walnuts, goat cheese and cranberries.
Pickled Beet Salad – Quick pickled beets are a game changer.
Shuba Salad – All known as the "Fur Coat Salad". This is perhaps the most impressive and beautiful Eastern European salad classic.
Beet Quinoa Salad – Beets and quinoa team up for a healthier than healthy salad.
Try the Beet Salad Dressing! It'll make the perfect dressing for most of your favorite beet salads.
Recipe
Marinated Beet Salad is as vibrant as it is delicious with sweet and sour flavors. It stays fresh for weeks, making it the perfect candidate for meal prep.
Nutrition Facts
Marinated Beet Salad
Amount Per Serving
Calories 182
Calories from Fat 126
% Daily Value*
Fat 14g22%
Sodium 907mg38%
Potassium 220mg6%
Carbohydrates 14g5%
Protein 1g2%
Vitamin A 712IU14%
Vitamin C 33mg40%
Calcium 15mg2%
Iron 1mg6%
* Percent Daily Values are based on a 2000 calorie diet.