This beet salad dressing is so simple to make you'll wonder why you ever purchased store-bought. Drizzle it on any of your favorite leafy greens or roasted beet salads!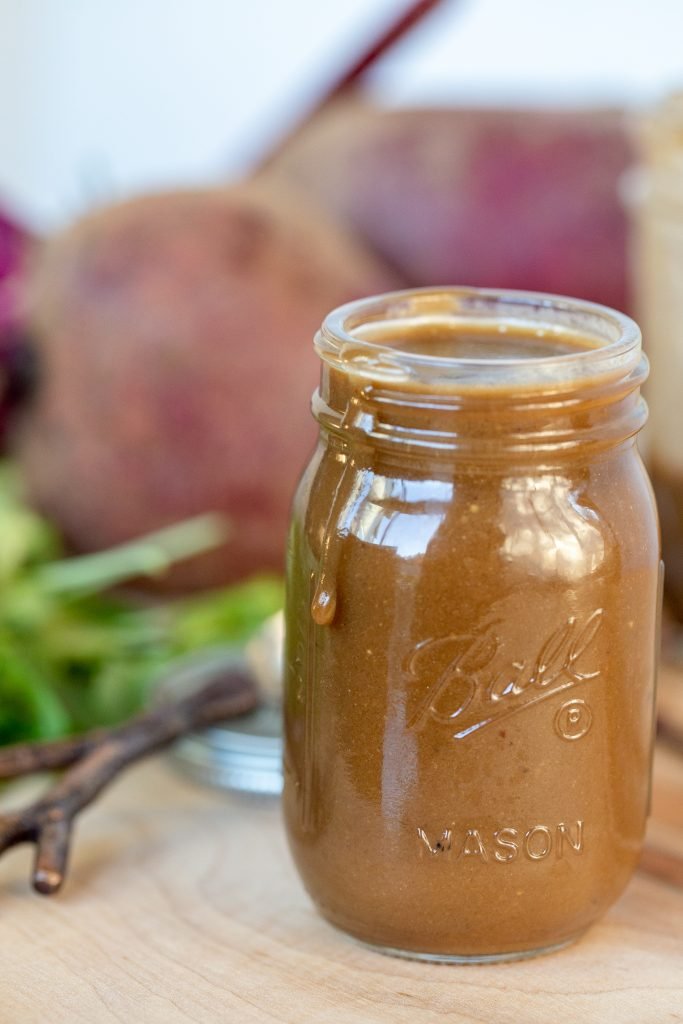 Beet salad dressing is super versatile and can be tossed into any beet-centric salad. You're going to absolutely love this dressing and will soon keep a jar of it on hand at all time for whenever a beet craving comes a knockin'!
In this recipe, you'll learn one of the most foolproof, simple ways to make dressing at home. Instead of fussing around with whisking or blending, you'll shake all the ingredients together in a sealable canning jar. Yes, that means no dishes or annoying clean-up necessary.
What's better? You can double or triple the recipe and pop the jar right into the fridge for on-demand dressing throughout the week. Let's get to it!
Did you know? In Canada and the United States, the taproot portion of the plant is simply referred to as "beets". In Britain, it's referred to as "beetroot". If you ever get tripped up on a menu or find yourself across the pond, now you know!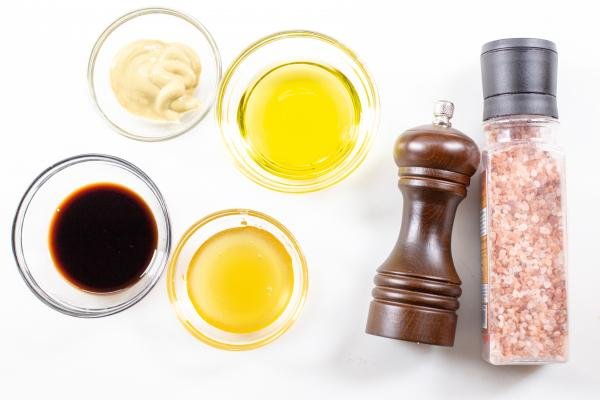 What is Beet Salad Dressing?
Beet salad dressing is a standard dressing you can use for any salad that calls for roasted or pickled beets. It's similar to a balsamic vinaigrette, but the depth of flavor is deepened with zesty dijon mustard and rich honey. Below, find a rundown of the flavor, texture, and time it takes to whip it up.
Flavor: Beet salad dressing is a little sweet and a little tangy.
Texture: The dressing should be a smooth, creamy consistency.
Time: From start to finish, this dressing only takes 5 minutes to make.
How to Make Beet Salad Dressing
Making beet salad dressing is so simple, you'll never buy store-bought dressing again. Below, find a quick (and we mean quick!) overview of the recipe before you dive in.
Pop Ingredients Into a Sealable Jar: Place all the ingredients into a Mason Jar or other sealable canning jar. Shake vigorously until the dressing turns a consistent shade of creamy brown.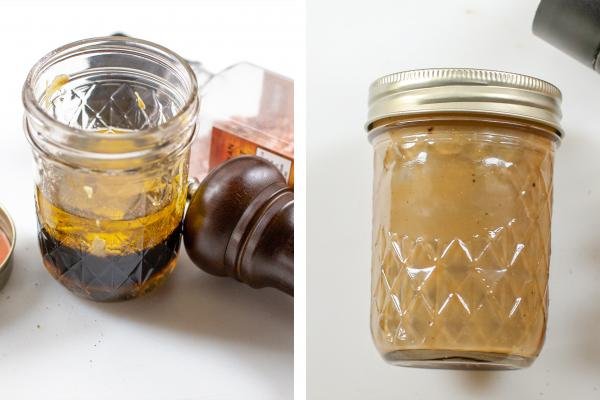 Tips for Making Beet Salad Dressing
Below, find some quick tips for making the best beet salad dressing.
Store beet salad dressing in a sealable jar. Storing your beet salad dressing in a Mason Jar between uses will keep it from absorbing any lingering smells in your refrigerator. It will also make it easy for you to shake the dressing back to creamy brown after it naturally separates.
Taste test the dressing before serving. Do you like it a bit more vinegary? Add a little balsamic. Do you want the dressing more tangy? Pop in some more dijon. How about more sweet? Whisk in some honey. Don't be afraid to tweak the ingredients any which way to make this recipe your own!
Use high-quality olive oil. When making homemade dressing, using really solid olive oil is key. The flavor depends on it! Stay away from olive oil blends and buy a bottle of 100% unfiltered olive oil. You'll notice the difference.
Swap out the honey for maple syrup. For a nice fall-inspired dressing, use maple syrup instead of honey.
Serving Beet Salad Dressing
You can serve beet salad dressing on any leafy green or beet-centric salad you love most. The versatile, tangy flavor always elevates roasted or pickled beets! If you need a couple of beet salads to add to your rotation, try beet and goat cheese arugula salad (creamy, crunchy, and a little spicy), beet goat cheese salad (the classic beet salad), or quinoa beet salad (perfect for work lunches).
Storing Beet Salad Dressing
Store beet salad dressing in a sealable canning jar in between uses. It should keep in your refrigerator for up to two weeks. As the dressing sits in the refrigerator, you'll notice a bit of natural separation. That's perfectly normal! Give the dressing a couple of vigorous shakes and it will turn creamy brown again.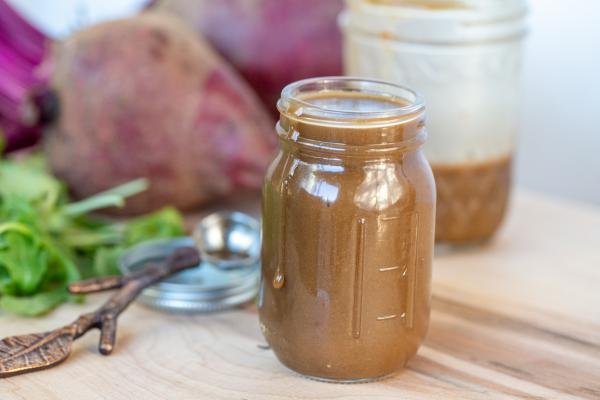 FAQ
What cheese goes best with beets?
Soft cheeses like goat cheese, feta cheese, and blue cheese go best with beets.
How do I add flavor to beets?
You can add flavor to beets by roasting and salting them, pickling them, or tossing them in a tangy dressing. Naturally, they have a sweet flavor that doesn't need to be fussed with too much.
What goes with beets?
Beets pair perfectly with soft cheeses (goat cheese, feta cheese, and blue cheese), nuts, arugula, dijon mustard, quinoa, and citrus. You'll find one or several of these components in most beet salad recipes.
Can I eat raw beets?
Yes, you can eat raw beets. Finely shredded beets can be added to salads for a beautiful pop of color.
What is considered a serving of dressing?
A serving of dressing is about 2 tablespoons.
Other Tasty Salad Dressings to Try
Recipe
Drizzle this beet salad dressing on any of your favorite leafy greens or roasted beet salads! It only takes 5 minutes to make.
Instructions
Nutrition Facts
Beet Salad Dressing (Quick & Easy)
Amount Per Serving
Calories 102
Calories from Fat 81
% Daily Value*
Fat 9g14%
Sodium 335mg14%
Potassium 14mg0%
Carbohydrates 5g2%
Protein 1g2%
Vitamin A 3IU0%
Vitamin C 1mg1%
Calcium 4mg0%
Iron 1mg6%
* Percent Daily Values are based on a 2000 calorie diet.