This beet and goat cheese arugula salad is the perfect balance of sweet and salty. Great as a side dish or topped with protein!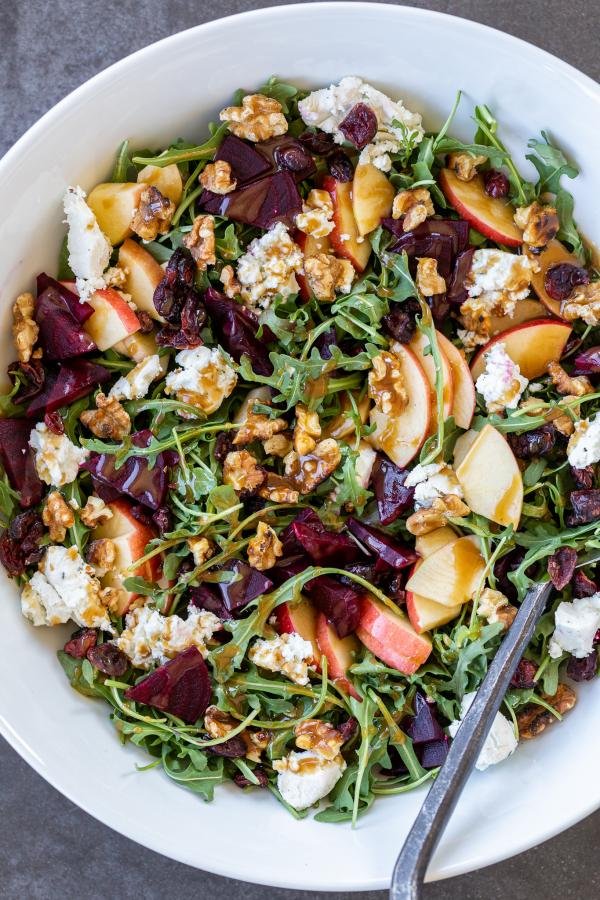 There's nothing quite like the sweet and salty flavor combination of beets and goat cheese. It's almost like they were put on this planet to be in a salad together. Whether you're looking for a quick side dish or a healthy lunchtime salad, this recipe only requires some light assembling and tastes 100% restaurant-worthy.
Two Different Ways to Cook Beets
It's perfectly acceptable to use store-bought marinated beets, but why not make them yourself? Below, find two foolproof methods to do so or see this handy guide for more methods.
Roast Beets
Clean the Beets: First, rinse the beets under cold water in the sink and slice off the greens Next, peel them or leave the skin on (it's up to you!).
Slice the Beets:Slice the beets into evenly-sized pieces.
Season the Beets: Lay the beets out in a single layer on a baking sheet lined with parchment paper. Season with olive oil, salt, and black pepper.
Bake the Beets: Bake the beets in the oven for 35-40 minutes at 400°F. Allow the beets to cool completely before adding them to the salad.
Boiled Beets
Boil Water: First, bring a pot of salted water to boil.
Clean the Beets: Rinse the beets under cold water in the sink and slice off the greens.
Boil the Beets: Boil the beets for 30-40 minutes depending on the size.
Peel the Skins Off: Once the beets have cooled enough to handle, rinse them under cold water and peel the skins off (they should slide off super easily). Slice the beets into bite-sized pieces and sprinkle on your salad.
Hot Tip: Keep the stems on the beets if you boil them. This will keep the red pigment from seeping out of the beets and dying your pots and pans. It will also help them retain flavor!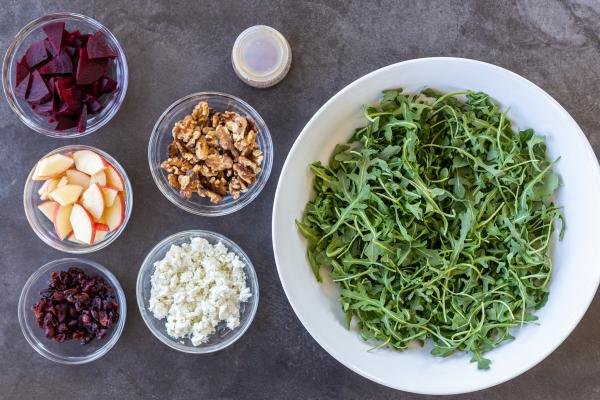 How to Put Together this Beet Arugula Salad
​Making this salad is so simple, you can hardly call it a recipe.
Make the Dressing: Whisk together the ingredients for our beet salad dressing.
Assemble the Salad: Place the arugula, sliced apples, and beets in a large bowl. Next, top the salad with chunks of goat cheese, roasted walnuts, and cranberries.
Toss the Salad: Drizzle the dressing into the salad and toss it right before you plan to serve it. Enjoy as a side dish or topped with your favorite protein.
Homemade Vinaigrette Hack: Don't want to fuss around with dishes? Pop all your dressing ingredients into a Mason Jar and vigorously shake it until the ingredients are well-combined.
3 Tips for Tweaking Your Beet Arugula Salad
Make this salad your own by swapping in whatever you're craving at the moment.
Use your favorite cheese. Swap in feta cheese or blue cheese.
Swap in different fruits. Switch out the apples for orange wedges, pears, or strawberries.
Play with other roasted nuts. Replace the walnuts with pecans, hazelnuts, or pistachios.
Different Ways to Serve Beet Arugula Salad
Serve this simple salad alongside a bowl of minestrone soup or chicken dumpling soup. Or, top it with air fryer salmon, cast-iron ribeye, or our perfect grilled chicken. If you're vegetarian, add some cooked quinoa on top for added protein and fiber.
Make Ahead Tips
If you're planning to make this salad ahead of time, assemble the produce, cheese, and nuts and store them in an airtight container. To prevent the salad from turning soggy, store the dressing in a separate airtight container. It should keep for 1-2 days.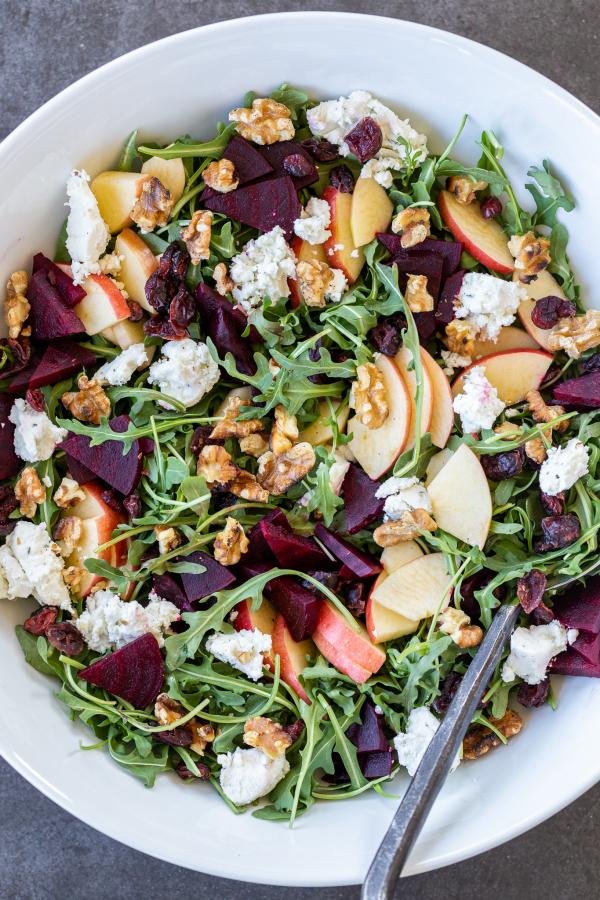 FAQ
What pairs well with beets?
The light sweetness of beats pairs well with tangy dressings and cheeses. They also bring out the earthiness of nuts.
What does arugula taste like?
Arugula has an earthy, slightly peppery flavor.
Can you substitute spinach for arugula?
Yes, you can swap in spinach for arugula in most cases. That said, spinach is much milder in flavor and won't add that subtle spice.
Can you use pickled beets instead?
Absolutely! Marinated beet will add a wonderful pop of tang.
Other Beet Salad Recipes
Recipe
This delicious beet arugula salad is tangy, sweet, and a bit salty. Perfect as a colorful side dish for just about any meal!
Ingredients
8

oz

arugula

3

oz

goat cheese

1

large apple

1

medium cooked beet

1/2

cup

roasted walnuts

1/3

cup

dried cranberries

1/3

cup

beet dressing
Nutrition Facts
Beet and Goat Cheese Arugula Salad
Amount Per Serving
Calories 115
Calories from Fat 63
% Daily Value*
Fat 7g11%
Cholesterol 5mg2%
Sodium 55mg2%
Potassium 195mg6%
Carbohydrates 10g3%
Protein 4g8%
Vitamin A 795IU16%
Vitamin C 5.8mg7%
Calcium 70mg7%
Iron 1mg6%
* Percent Daily Values are based on a 2000 calorie diet.